So, art fairs are not not overwhelming, and Armory is no exception. With the glut of eye-catching heavy-hitters on display, it can be tricky to hone in on the hidden gems buried amongst the booths. This year, a curatorial focus on identity and figuration has pushed bright, texture-heavy ruminations on selfhood to the fair's forefront. Should you be swinging by, be sure to check out these exciting up-and-comers—here are seven stand-out pieces, all for under $20,000!
DAVID SHROBE
Bloodshot, 2019
Jenkins Johnson, San Francisco
Booth F5, Pier 90
$14,000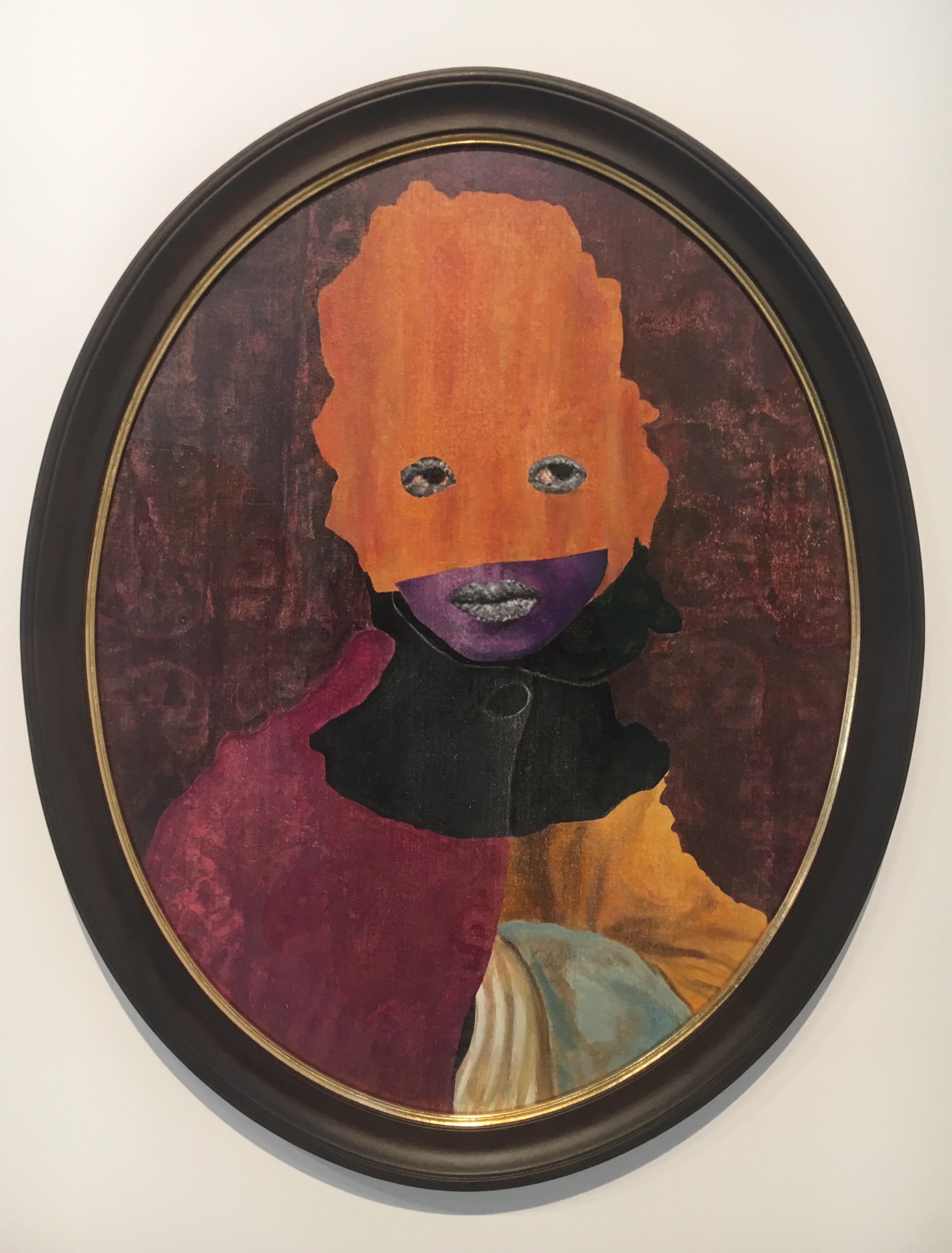 New York-based artist David Shrobe creates emotive, assemblage portraits from found detritus around his childhood home, grounding remnants of bygone domestic spaces with ink, paint, and watercolor. These visual poems intermingle figuration and abstraction to create a deeply personal sense of longing that feels almost too raw to stay still. Shrobe's work has recently been included at the Studio Museum in Harlem, the Bronx Museum, and the Lenfest Center of the Arts, and he's enjoyed solo turns at venues like Theirry Goldberg in New York and The Sugar Hill Children's Museum in Harlem, in addition to his most recent sold-out show at Jenkins Johnson Gallery in San Fransisco. This recent spate of attention is helping his work fly off the wall, and while the larger pieces project a certain quality of bass in the room, it's the smaller works, like modestly-sized Bloodshot, that traffic in a stirring, heart-wrought intimacy you won't be able to leave behind.
ZAK OVE
Remix Culture II, 2018
Lawrie Shabibi, Dubai
Booth F14, Pier 90
$9000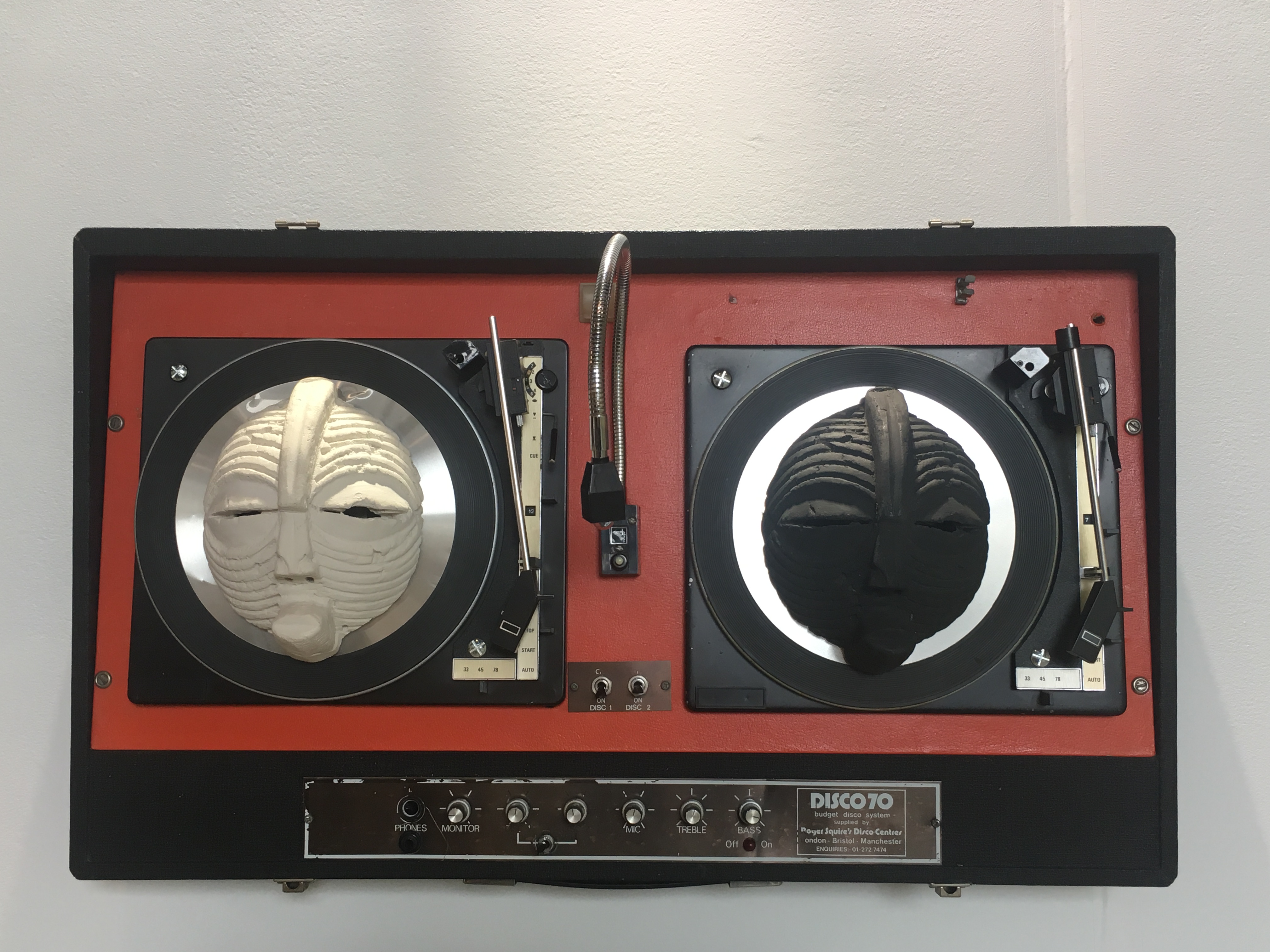 According to the gallerist on-site, Zak Ove is the son of legendary Black British filmmaker Horace Ove, so his focus on Trinidadian culture, diasporic identity, and mythology definitely runs in the family. Fun fact: he's also the first Caribbean artist to be commissioned by the British Museum, with his pair of Moko Jumbie sculptures being permanently installed in the institution's Africa Gallery back in 2014. Ove has shown all over the world, and his Shabibi booth reflects an interest in the material conditions of globalization. While much of his work on display at Armory is encrusted with pop-centric sparkle, Remix Culture II, which depicts two traditional masks sitting atop an old-school fiberglass turntable, intrigues with a more stoic, utilitarian color palette. In this piece, and its partner, Remix Culture I, the found-object element of his practice is more readily available to the viewer, underpinning the resonance of his multicultural commentaries.
ERIK THOR SANDBERG
Adrift, 2017
Connersmith, D.C.
Booth F7, Pier 90
$7500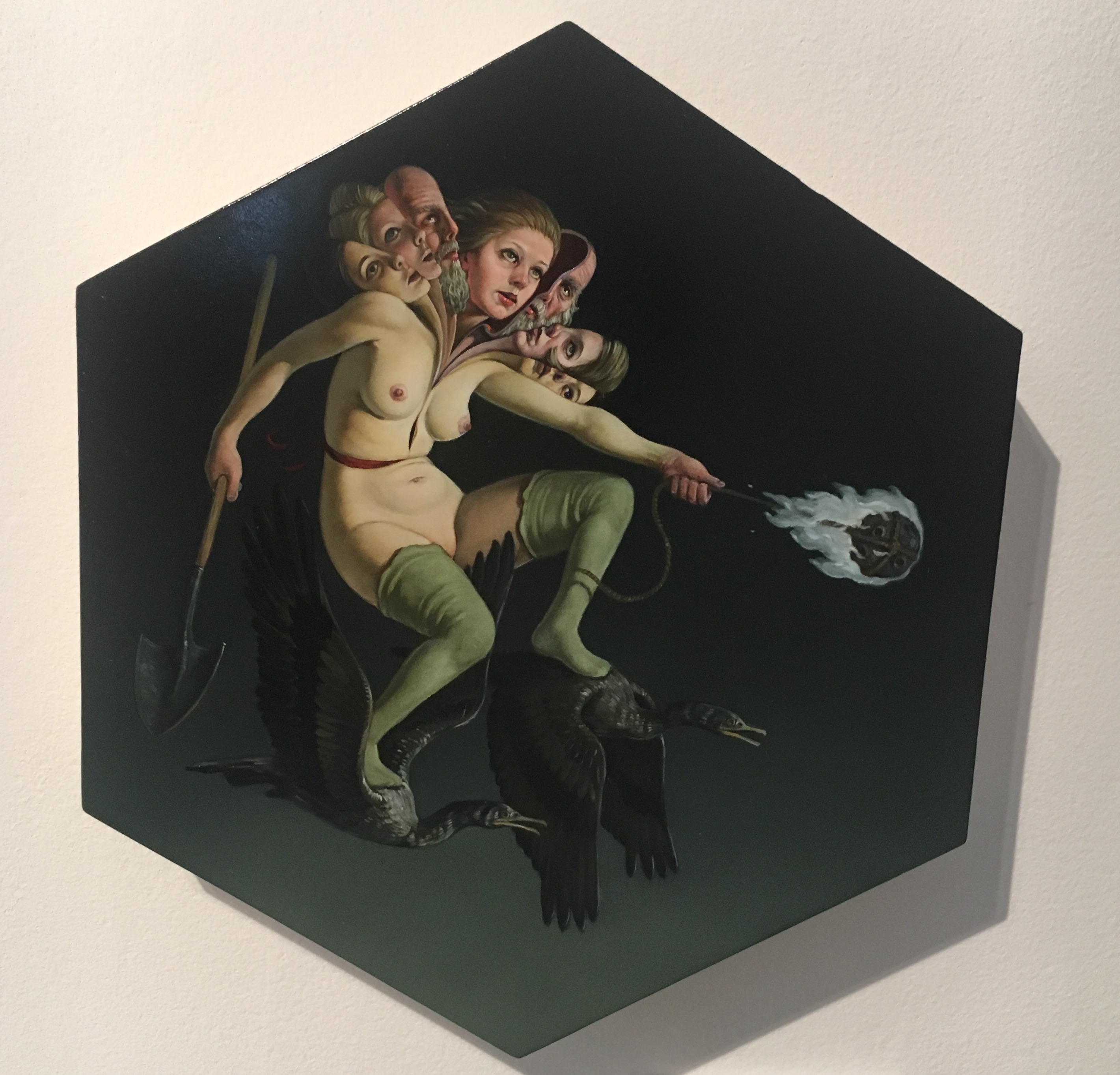 Full disclosure: this booth was getting enormous amount of attention, so if you want a Sandberg painting, you'd better act fast. The largest of Sandberg's hyper-naturalist, infinitely layered vivisections are selling for $30,000, but the more modestly sized hexagonal panels, measuring just 13 inches by 11 inches, are going for just under $8,000, a veritable steal considering the level of mastery on display. Sandberg, a D.C.-based artist whose skillful magical realism has landed him in major shows around the world, trafficks primarily in a post-surrealist grotesque that truly get to the Freudian meat of the matter, for lack of better phrasing. His smaller works rely less on the stately historical referents of Dali or Goya, instead leaning more into a late-Medieval relationship with pictorial space and symbol, a refreshingly dark, contemplative choice.
ALEX GARDNER
Wash Cold to Prevent Fading, 2019
The Hole, New York City
Booth F8, Pier 90
$15,000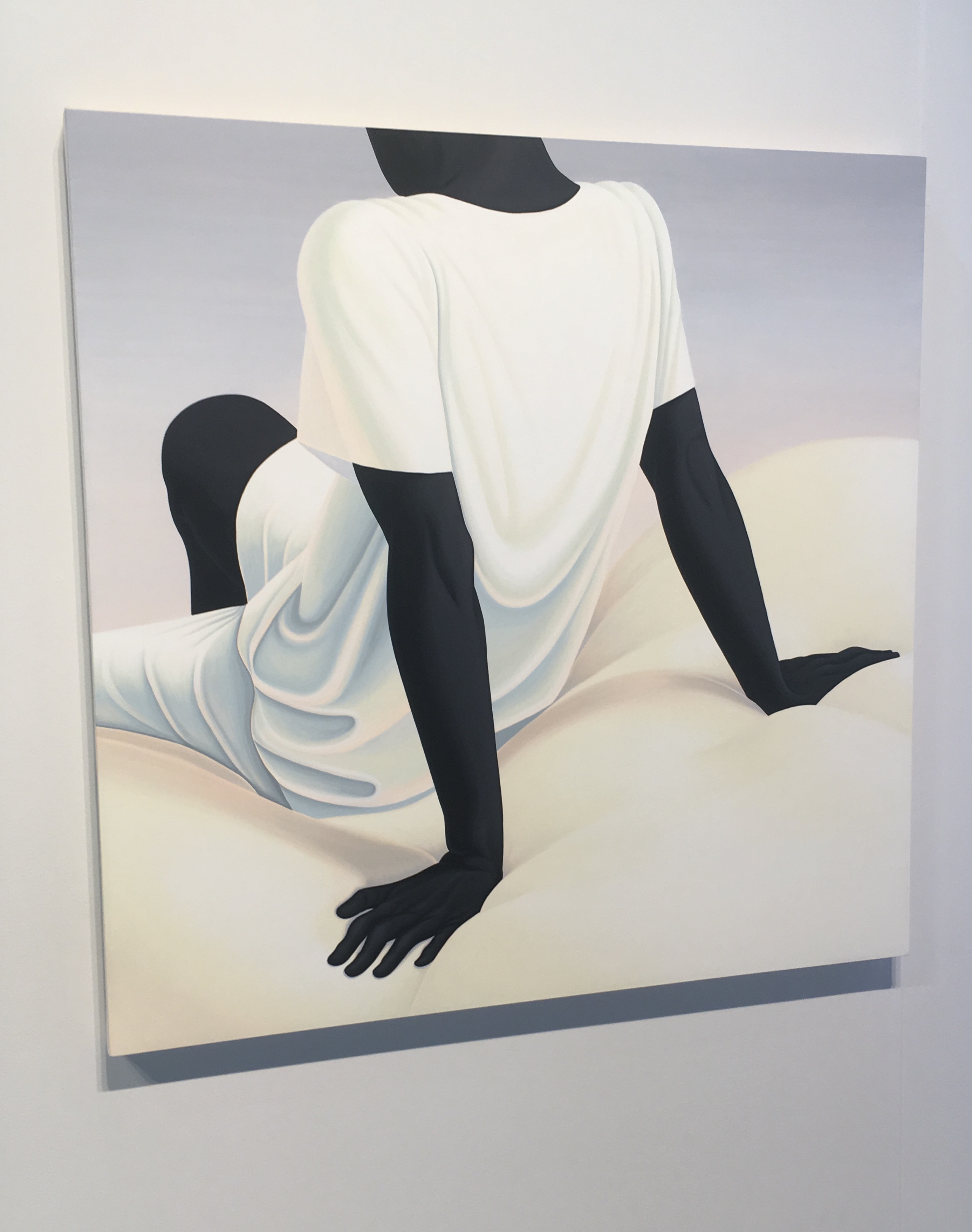 The Hole's booth at Armory is limned in white and lit with subtle neon, lending the work a clean, seductive, and incontrovertibly millennial ambiance. Gardner's big debut at Hole last year arrived on the crest of a slew of West-Coast shows, and his upcoming museum debut at SCAD has further electrified his trajectory into the art world upper echelon. His slick, aesthetic paintings, created in thin, individual glazes of color over a monochromatic underpainting, speak both to the uniformity and interior desperation of aspirational coupledom, isolation, and digitized experiential surveillance. The works photograph graphically, but in person, their flatness takes on a rich, velvety multivalence, graduating from a whisper of gray to warm, true black in surprisingly painterly strokes. Wash Cold to Prevent Fading was apparently titled upon arrival to the fair, and the nod to Gardner's preoccupation with deceptively crispy color binaries further nuances his implicit critiques on race relations in America.
MARGRET H BLONDAL
Untitled, 2016
i8 Gallery, Reykjavik
Booth 502, Pier 94
$2,000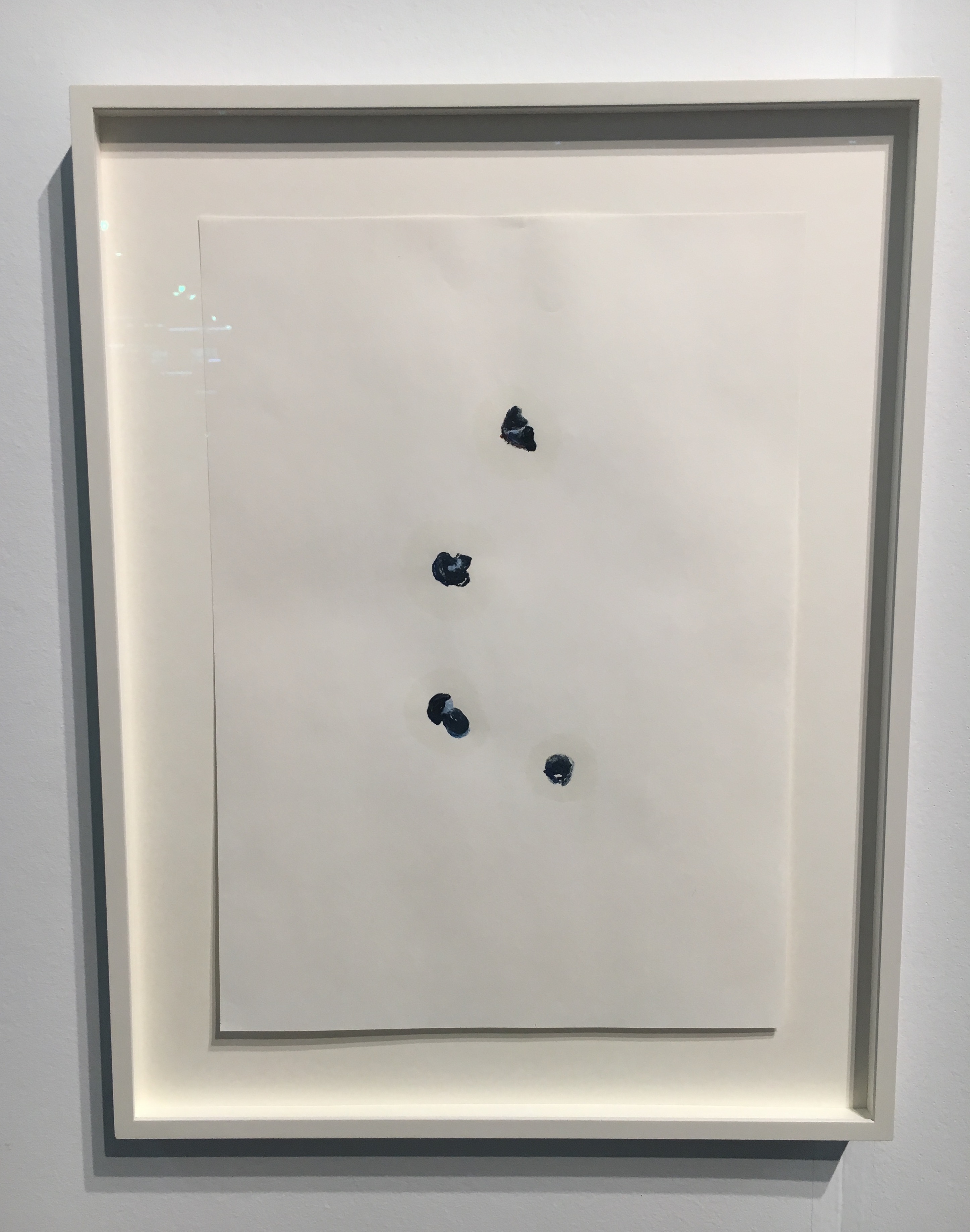 Art fairs are famously distracting venues in which view work, and with an optical cacophony of pieces vying for your eyeballs at any given time, it's rare that spare, subtle moments really draw a crowd. Enter 49-year-old Blondal's introspective watercolor series from 2016. i8's gallerist pointed out that Blondal cuts her watercolors with olive oil, excitedly gesturing at the faint green halos surrounding each amorphous, de-contextualized shape. These haunting little studies hold the gaze with a naked immediacy typically reserved for edgier work, but Blondal's long-entrenched love affair with organic shapes and leftover moments drives to the core of what makes spare compositions excel in noisy venues; tension, balance, and heart.
FLORINE DEMOSTHENE
The Premonition, 2019
Mariane Ibrahim Gallery, Seattle
Booth 720, Pier 94
$7000 (with frame)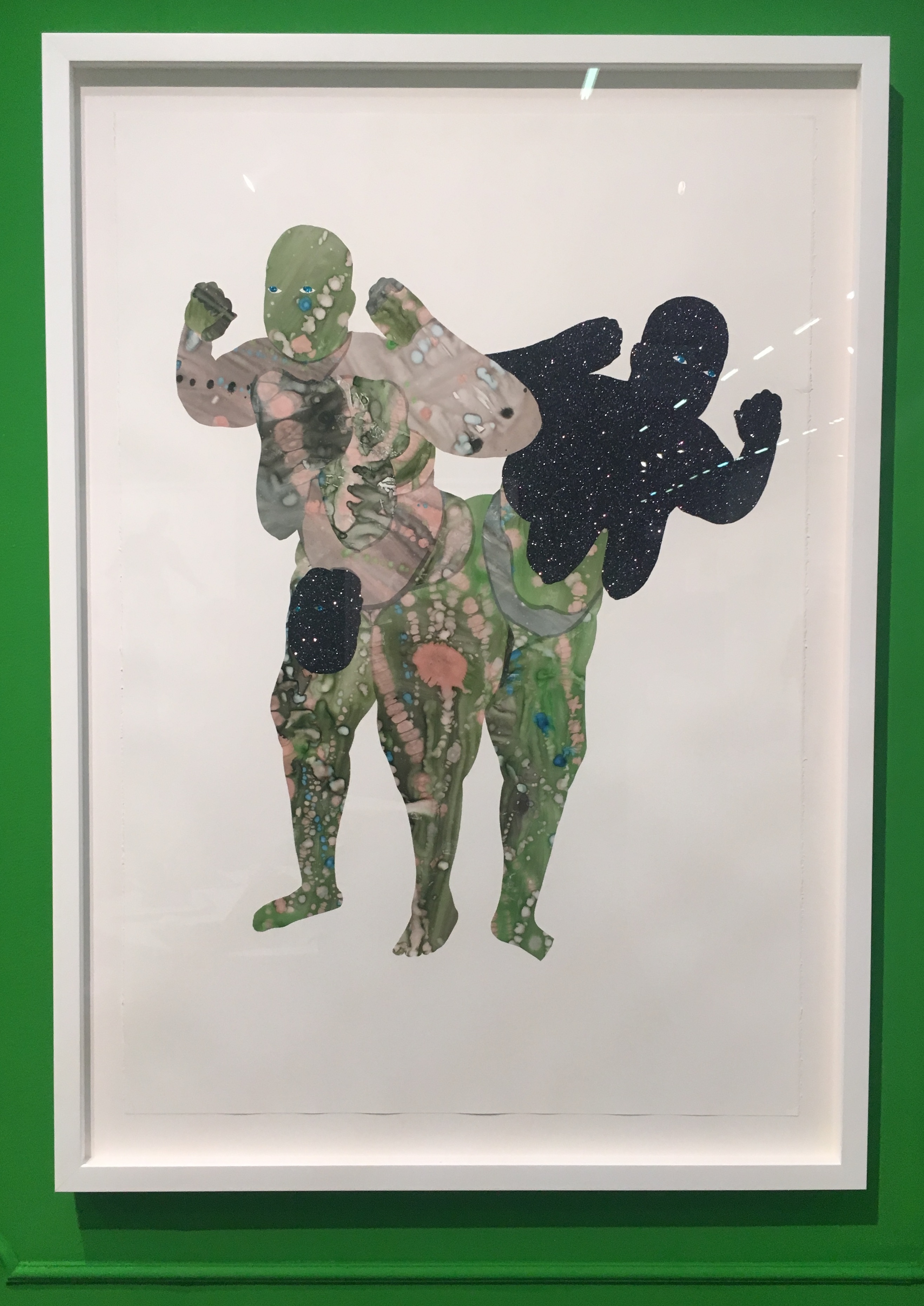 Haitian-American artist Florine Demosthene's sparkling collages center the female body as a site of flux and projection, infinitely capable but endlessly burdened by the racial, historical, and patriarchal forces enacted against it. She has stated, "I feel my work is more about femininity and sensuality and what it means to be a woman, within the body you reside (which is heavily coded with race, size, skin color etc.)," and her subjects serve as aesthetic anthropologists, reconstructing the persona of the black female heroine in explosive style. Demosthene has shown her work throughout the U.S., the Caribbean, Europe, and Africa, and has had her pieces included in the permanent collections of the University of South Africa and the Lowe Museum of Art. It will be fascinating to see how inclusion in THE Armory catapults her even further into the stratosphere.
APRIL STREET
Cloud Formation, 2018
Susanne Vielmetter Los Angeles Projects
Booth 803, Pier 94
$9000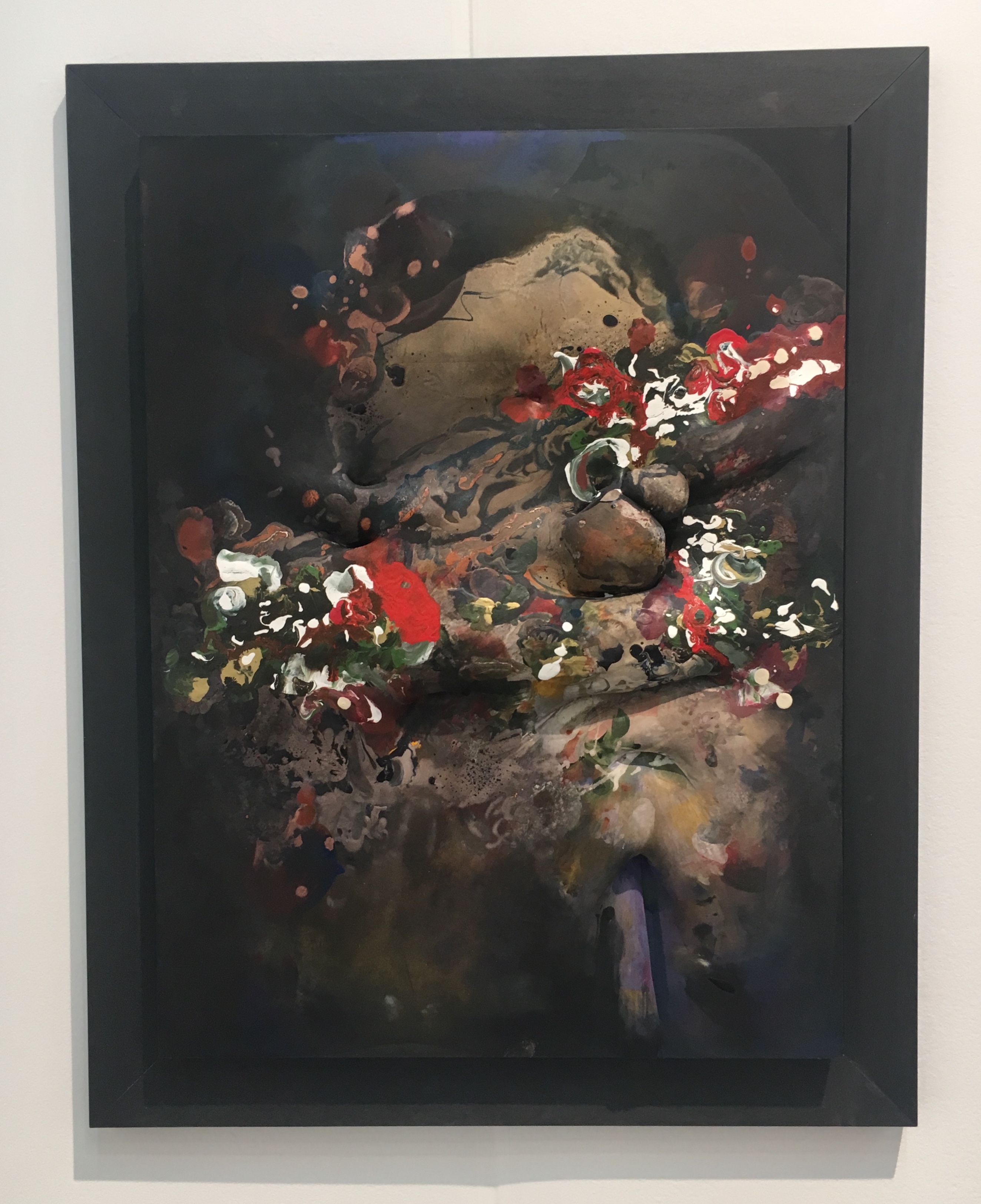 Tucked away in the corner of this champagne bar-adjacent booth, this small, dark painting was holding court with all sorts of Armory opening visitors. April Street's fabric reliefs recall both bodily and cerebral considerations. This body-imprinted nylon piece springs forth in three dimensions from a hand-painted frame, harkening back to the experimental lexis of '70s feminist material explorations while retaining a distinctly contemporary sensibility. In a rare, amber-fast reification of feeling, Cloud Formation drinks from the compositional font of Golden Age Dutch still-life to create an augural juncture, a marked departure from her large-scale, ambitious installation that just went down at the Santa Barbara Museum of Art. Street has shown all over the world, including recent exhibitions at Kinman Gallery in London and Five Car Garage in Santa Monica, CA, and we are all excited to bear witness to the future of this caustic, affecting series.
RELATED ARTICLES:
9 Exceptional Artworks from Spring/Break Art Show 2019 that Aren't Penile