This content is sponsored by Maison de la Luz, a boutique hotel in New Orleans opening Spring 2019.
Those that visit New Orleans often return home feeling as if they'd stepped into a time machine, traveled to a distant country, or fell into an alternate universe. The culture, architecture, and vibe of Louisiana's great city is so unique—there's truly no where else in the world like it. And while the Crescent City has always had a rich artistic history, it's also more recently become an international hub for contemporary art, especially within what's known as the Warehouse District, just a few blocks up the Mississippi River from the historic French Quarter.
The neighborhood is where old and new worlds dovetail; 19th-century architectural detailing and paving stones line streets that host some of the city's hippest new restaurants, bars, live music halls, dance clubs, and of course, art galleries. Every first Saturday of the month, the galleries that line Julia Street open their doors for an "art crawl," and the Ogden Museum of Southern Art's extensive collection is worth visiting any day. (Not to mention, the neighborhood boasts James Beard Award-winning chefs, a B-17 Flying Fortress named "My Gal Sal," rooftop pools with gorgeous views—and like anywhere else in New Orleans, strong, strong drinks.)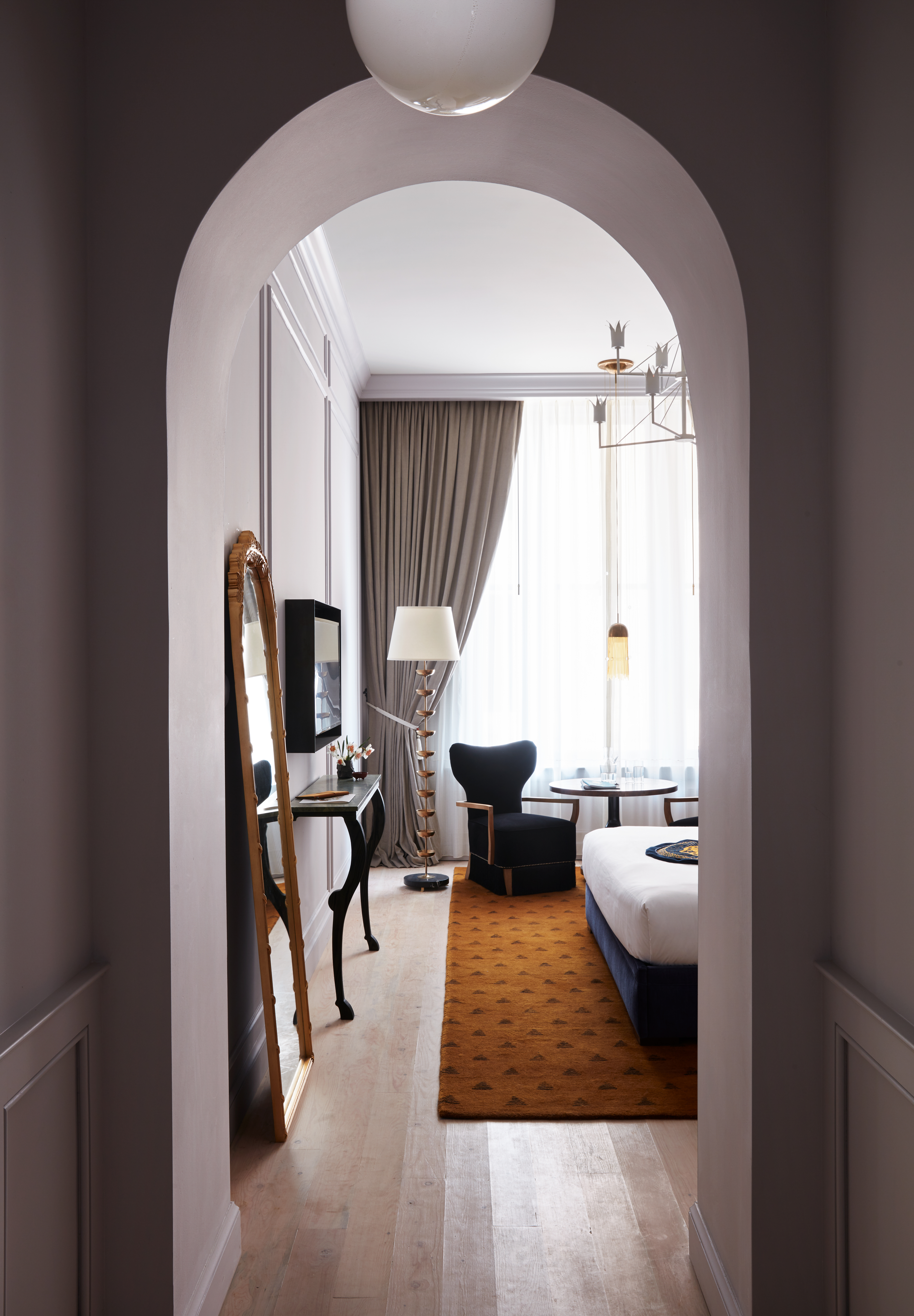 The Warehouse District is about to have even more charm; Maison de la Luz, a boutique hotel, will open this Spring, serving as an extension of the aspirational grandeur and sense of beauty of the city itself. Its high-finish, calm environment shares its influences in the form of eccentric luxuries and respect for beautifully designed furnishings, evoking the romance of old-world New Orleans juxtaposed with a modern concierge service. Designed in partnership with Studio Shamshiri, the rooms and Library Bar reflect a keen eye for detail, richness in history, and love for beauty in balance. The work of local artists fill each room with original art, pulling inspiration from the mystical sense of wonder and delight that New Orleans teems with. And the hotel itself is rich with antiques, curiosities, and design details that are highly considered, down to the last tassel. At the heart of la Luz is a feeling that its shape and purpose have always existed, that it's exactly where one must be to experience the very best of New Orleans.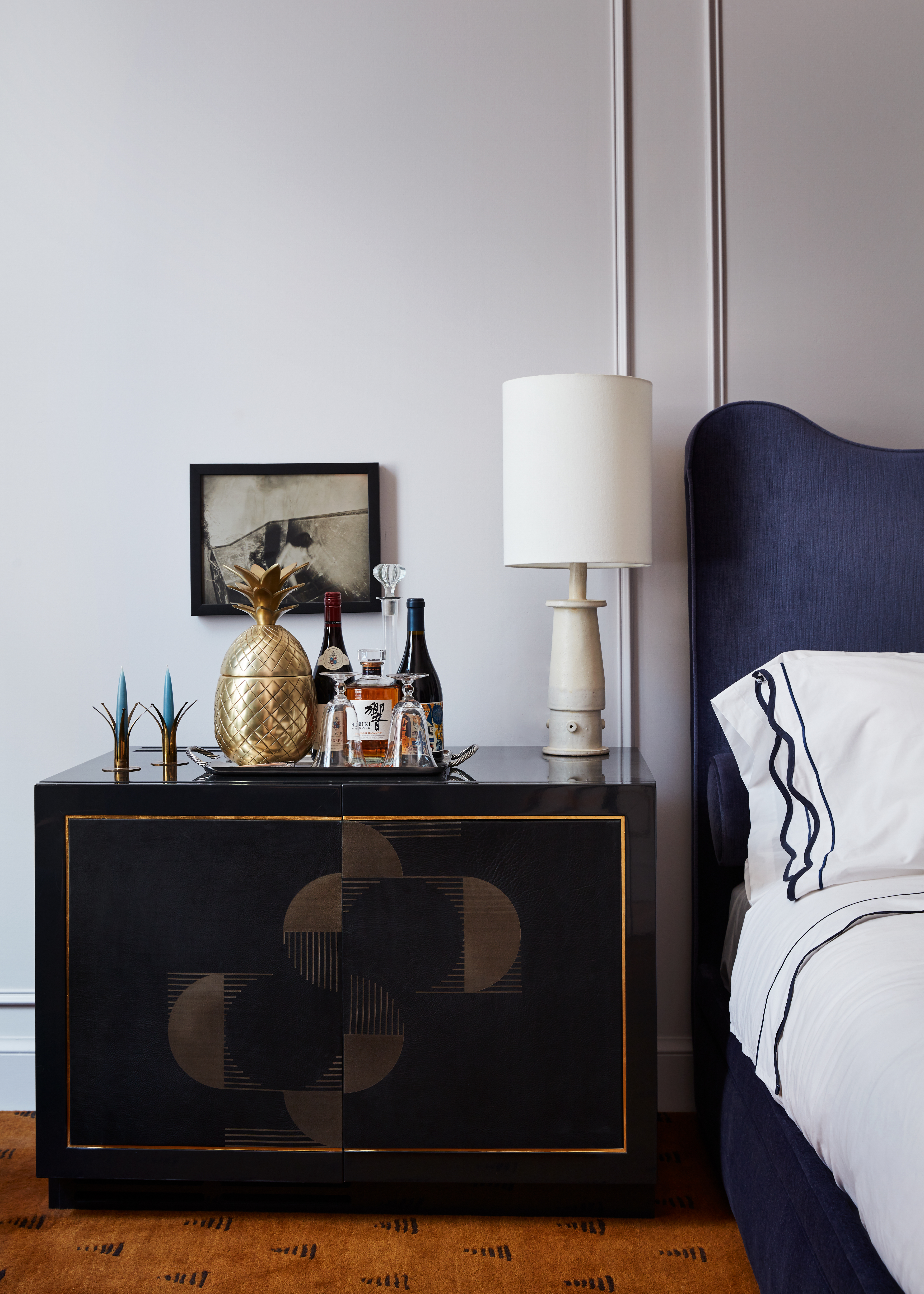 La Luz's involvement in the arts doesn't end in the Warehouse District, however. Expect to see them in Miami Beach December 5th through the 9th at the Untitled Art Fair, where they'll be designing idiosyncratic VIP lounges, both indoor and outdoor, where guests can enjoy a relaxing and private reprieve from the art fair.
Below, Kelly Sawdon, chief brand offer and partner at Atelier Ace, and Pam Shamshiri, founder and design principal at Studio Shamshiri, share their favorite things about their favorite city. Read their guide before you head to New Orleans (and if you don't plan to visit, you will after reading this!) and be sure to check out their VIP lounge a the Untitled Art Fair in December.
...
Favorite Gallery:
KS: Right in the Warehouse District is one of my favorite galleries, Arthur Roger. Not only do they have a great eye for balancing established and emerging artists, they also consistently show local and national artists on the same stage, furthering those conversations and connections. Arthur Roger has deep roots in New Orleans and his love for the city shows through in their exhibitions. They'll be at Miami Art Basel, and I can't wait to see what they bring.
PS: Pelican Bomb is my favorite for a surprising mix of artists. Clare Crespo did crochet oysters there early on and it blew my mind.
Favorite Museum:
KS: Ogden Museum of Southern Art is an amazing cultural institution and they're just a ten-minute walk from Maison de la Luz. They've done an impressive job redefining who a museum is for and how it can serve a community. And their collection is expansive—some of the work is as old as New Orleans. I love visiting their permanent collection of Clementine Hunter's work. I have their book of her paintings on my office desk.
PS: NOMA Sculpture Garden in City Park is so good. You can get beignets before going to the sculpture garden. It's truly surprising what they have, from Henry Moore to a Louise Bourgeois spider and an Oldenberg safety pin—all in a quintessentially Southern, oaky, mossy garden.
Favorite Spot for Inspiration:
KS: The graveyards—they're a special part of the city's landscape, and it's inspiring to stroll through such an important fabric of New Orleans' history, read the names, and see how far back the dates go. The architecture, and all the Spanish moss and lichen everywhere, makes it as Southern gothic as you can get.
PS: The mysterious hidden courtyards in the French Quarter—cats and all. And Mardi Gras costumes: the more laborious and loaded with ancestry, the better.
Favorite Place to Eat:
KS: Bacchanal. After a long day, it's my go-to place to unwind, drink good wine and take in live jazz. It's casual, easy, and it never fails to please—a true New Orleans institution. I never a miss a chance to visit when I'm in the city.
PS: N7 has a secret garden with old citrons in it. The food is delicious and based on canned fish. The French jazz transports you and the design of the restaurant is perfect and unfussy at the same time.
Favorite Place to Unwind:
KS: I try to spend time outdoors every day, and New Orleans' City Park is unlike any other public park. It has lush botanical gardens, a renowned sculpture garden, and is a perfect place to really relax. I feel like I could wander for hours and completely forget that I'm in an urban environment.
PS: I like Audubon Park for walks and naps. I always have good talks on that walk and there's great house-watching. A coffee at French Truck is always relaxing, and it's a nice way to reset while you sit on the porch. Also, a snowball at Hansens or Plum Street makes me so happy!
Favorite Place to See Architecture:
PS: I love taking the trolley up St. Charles. You can get off and walk around the Garden District or Uptown.
Best Place to See Live Music:
KS: Three Keys at Ace Hotel New Orleans and, of course, Preservation Hall, a 15-minute walk from la Luz. They're old friends, and what they've built is one of the most important spaces for collaboration, live music, and community, anywhere. I actually can't imagine New Orleans without them.
PS: Preservation Hall, for sure. The history is palpable, the music is serious, and the room is loaded with the weight of its history. It kills me that the pillows are on the ground and the benches. Truly special.
RELATED ARTICLES:
Yasss Queen: Body Positivity Via Fashion Design at the New Orleans Museum of Art
Destination: Bentonville, AR—An Art Lover's Guide