At Frieze New York, the heavy-weights are out in full force: Gagosian exhibited three walls packed with paintings and drawings by John Currin, almost all of which sold on preview day alone. But with the same galleries concurrently showing their own blockbuster shows, the real appeal to Frieze is hopping on a ferry and getting out of the city (even if Randall's Island is still technically in Manhattan). With this in mind, Artspace has put together a list of four galleries that a New Yorker can't go see any day of the week, representing South Africa, Romania, Argentina, and Brazil.
Goodman Gallery
Johannesburg & Cape Town South Africa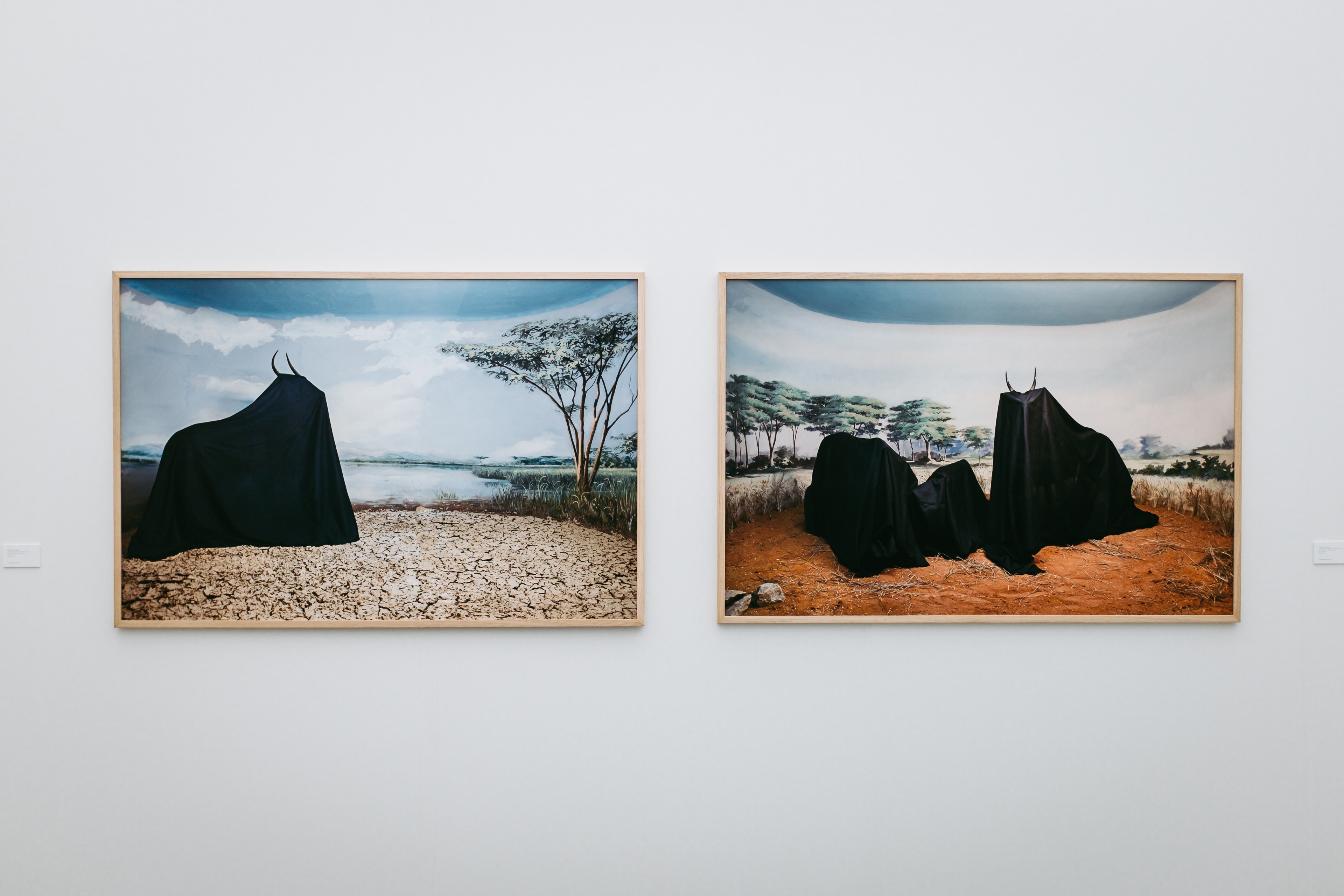 Kiluanji Kia Henda, In the Days of a Dark Safari #1 & #5, 2017
Goodman Gallery has spaces in Johannesburg and Cape Town, the two largest cities in South Africa. Representing about 45 artists across the continent, of the international Diaspora, and who "engage with Africa as a concept within their work," Goodman is showing recent work by three artists at Frieze: Kiluanji Kia Henda (Angola), Mikhael Subotzky (South Africa), and Hank Willis Thomas (USA), each of whom "deploy different visual strategies to disrupt dominant—colonially influenced—narratives of representation."
Tony East, Goodman's gallery manager, told Artspace that the Cape Town space (the newer of the two) was opened as part of the gallery's effort to bring the work of Pan-African artists to a wider global audience. The artists collected at Frieze, East said, "are looking at ways in which images manifest and are interpreted within various contexts."
Ivan Gallery
Bucharest, Romania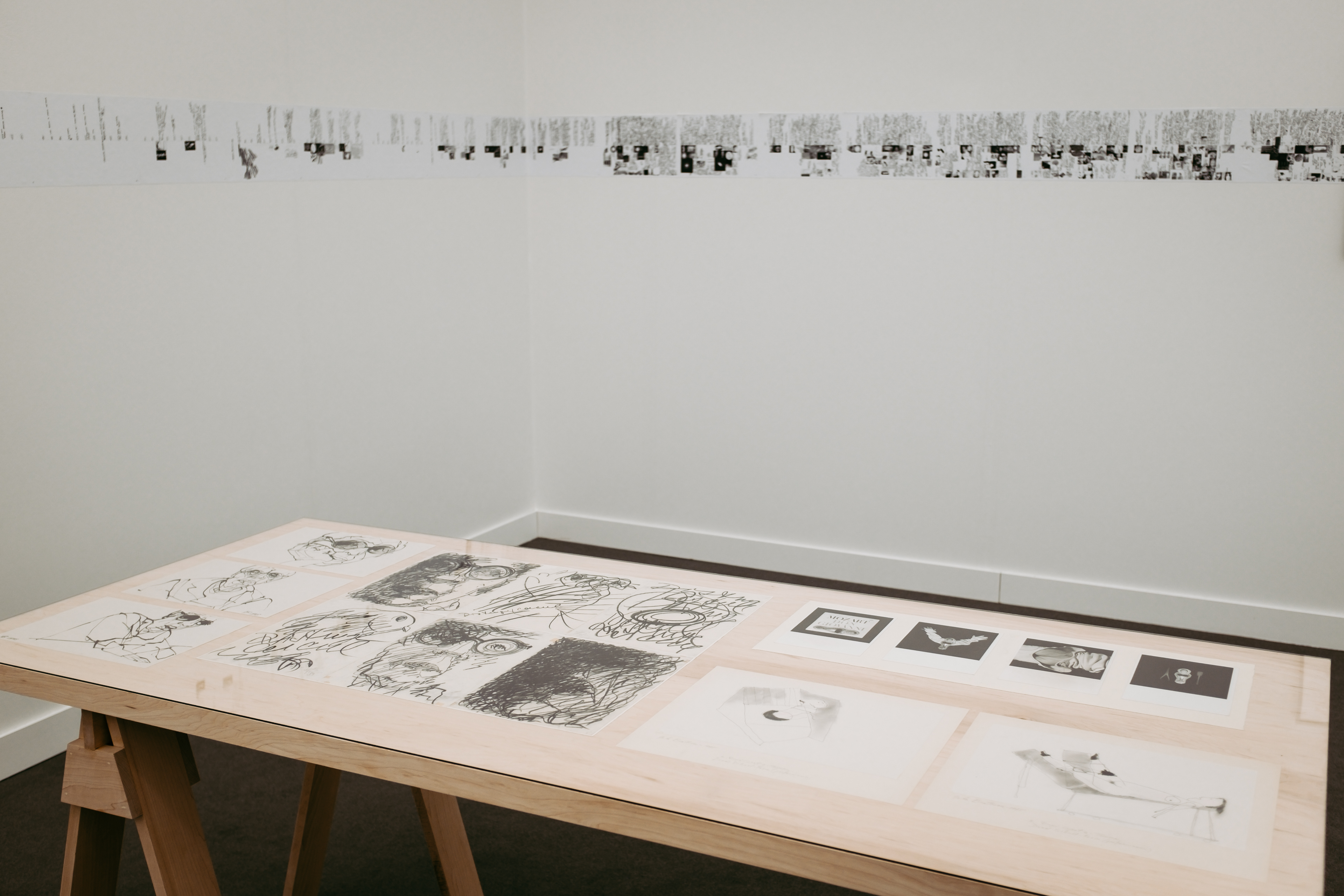 Drawings by Geta Brătescu (front) and Lia Perjovschi (back)
While the Romanian city of Cluj is growing into a notable city of art in its own right, Marian Ivan's eponymous gallery in Bucharest remains one of the preeminent representatives of Romanian artists in international contexts, including Geta Brătescu (who represents Romania in this year's Venice Biennale) and Lia Perjovschi, whom the gallery has brought to Frieze. Three works of Brătescu's cherished self portraits are available, alongside other recent works on paper in a style named "Dead School Form" after a kind of theater Brătescu developed in the 1970s. Perjovschi's exhibited works include diagramatic drawings related to historical events, and photographs of performances (of which the negatives have been destroyed, guarateeing single editions). Ivan Gallery told Artspace that the gallery's aim is to bring Romanian artists wider, more global instiutional recognition.
Walden
Buenos Aires, Argentina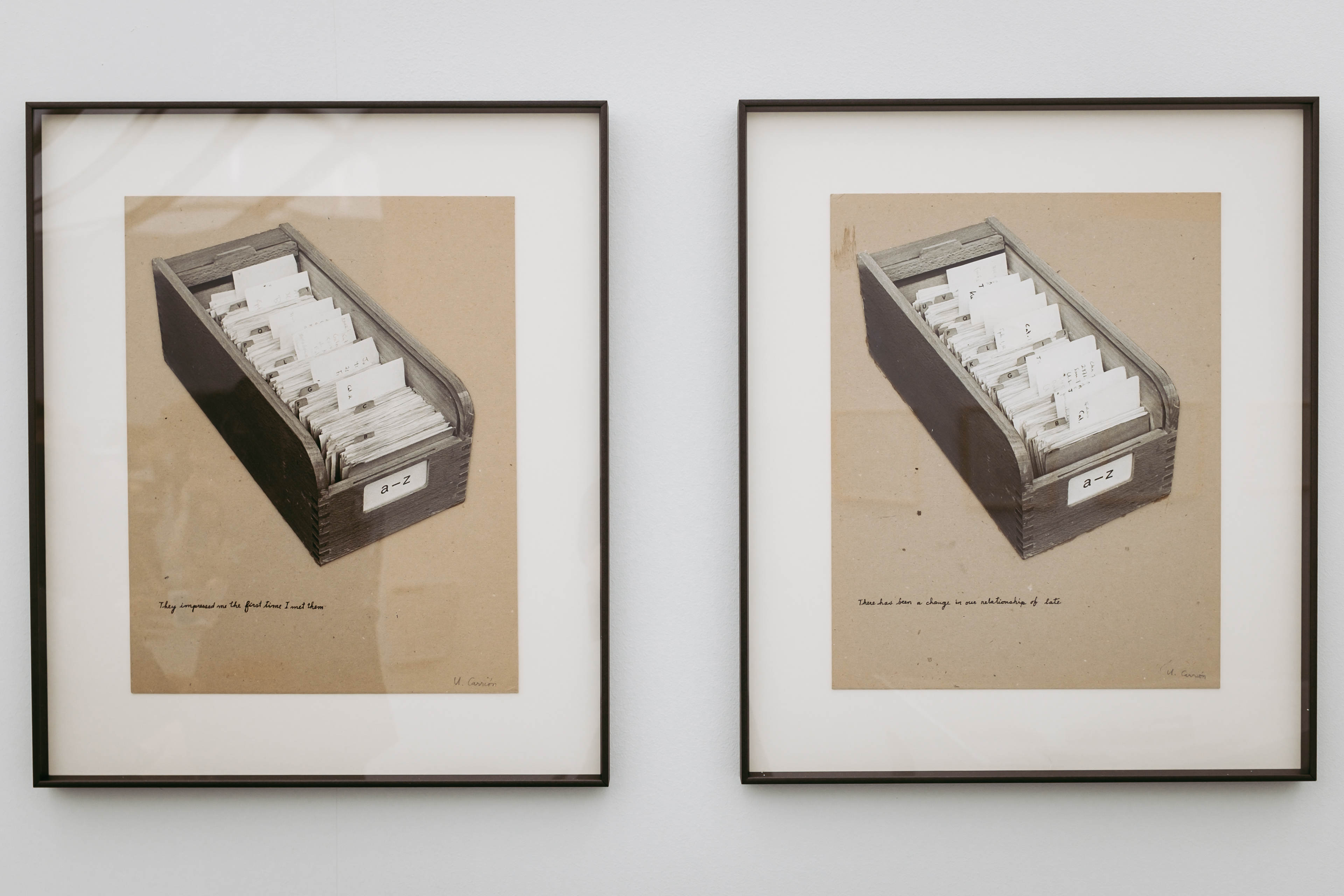 Ulises Carrión, They Impressed Me the First Time I Met Them (left) and There Has Been a Change in Our Relationship of Late (right)
Walden Gallery in Buenos Aires, Argentina, is dedicated to representing artists who work with documents, archives, and language, according to Tania Puente, an assistant with the gallery. The gallery represents fifteen artists, most of whom are Latin American, and they've dedicated their booth to the Mexican artist Ulises Carrión (1941–89), who made much of his work in Amsterdam. Puente notes that Carrión, who studied literature in university, developed a number of strategies for dealing with language and making it material. Two of Carrión's works (above) show the artist's obsession with cataloguing his own relationships, as he re-organized and photographed his rolodex based on idiosyncratic criteria: They Impressed Me the First Time I Met Them ($20,000) and There Has Been a Change in Our Relationship of Late ($23,000). Last year, Carrión was exhibited at the Reina Sofia Museum in Madrid in a retrospective that then travelled to the Jumex Museum in Mexico City.
Galeria Jaqueline Martins
São Paulo, Brazil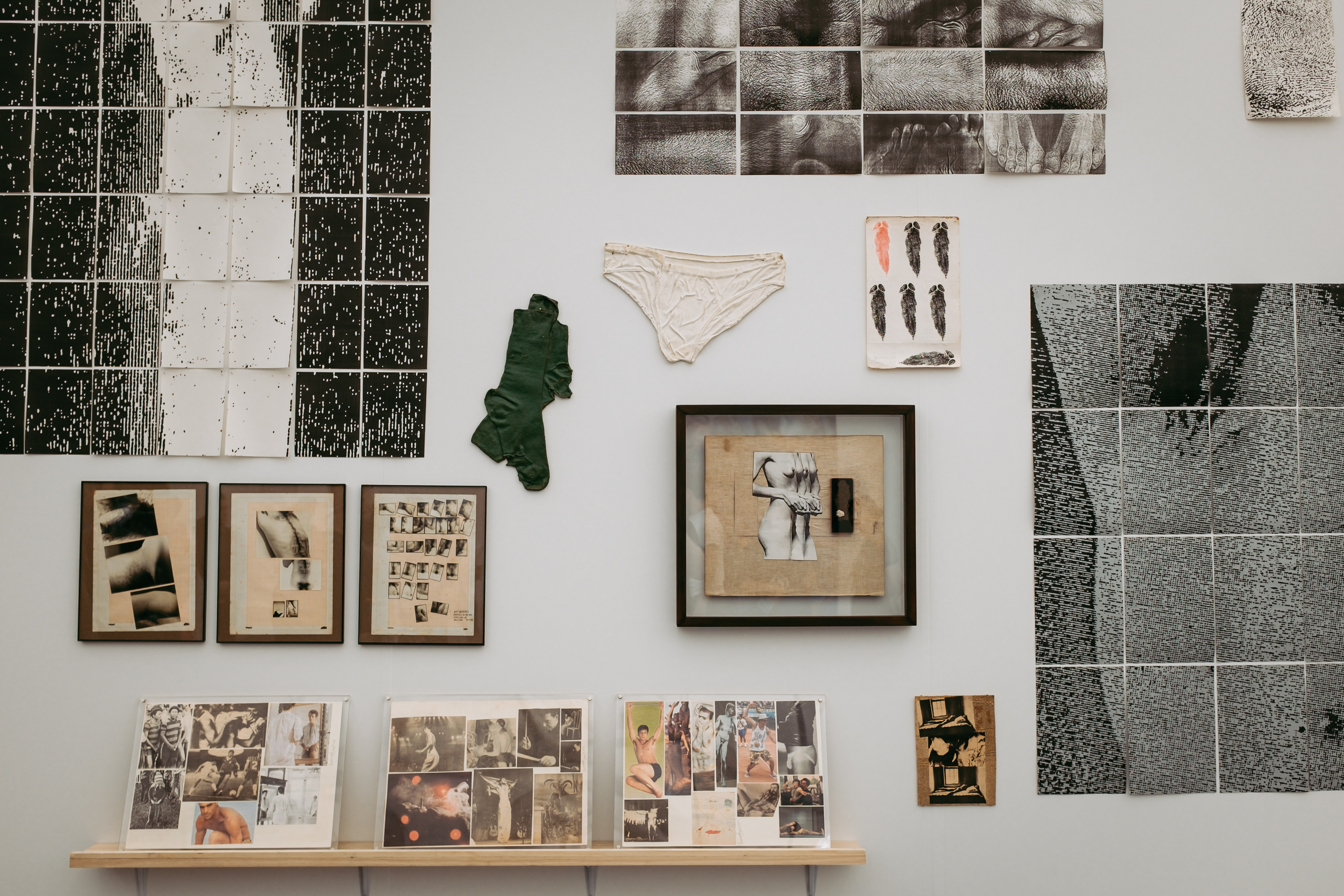 Works from Hudinilson, Jr., "Exercise of Seeing Myself" (1981–82)
Between April 1, 1964 and March 15, 1985, Brazil was ruled by a military dictatorship that seized power in a U.S.-backed coup. Galeria Jaqueline Martins in São Paulo, the largest city in Brazil, is dedicated to preserving the work of artists who worked during the dictatorial period. Luiza Calmon, a representative of the gallery, notes that about half of their artists are still living and working. Hudinilson, Jr. (1957–2013) was an early practioner of Xerox art, which also saw work by Felix Gonzalez-Torres and the Starn brothers. Exhibited at Galeria Jaqueline Martins are selections from Hudinilson's "Exercise of Seeing Myself" (1981–82), an autobiographical, diaristic series in which the artist returns again and again to his own body. Hudinilson was exhibited at the first Havana Biennial, and Jaqueline Martins has recently placed his work at the Museum of Modern Art. Prices range from $5,000–30,000.
[related-works-module]