In an interview with Artspace prior to the opening of this year's fair, LISTE founder Peter Bläuer expressed a feeling of impatience with much of the work that he sees in fashionable galleries across the major art cities—it's all so conservative, old-fashioned, and market-friendly, he said. Well, you might not know that from the edition that debuted last night, where toothsome paintings and sculptures are accompanied by no shortage of terrific pieces across media, ranging in tenor to from the hilarious to the truly disquieting. Here are some of the standout examples on view.
Related Link:
Jill Magid Unveils Ghoulish Plot to Free Luis Barragán's Archives at LISTE
DINA DANISH
All My Life I Had to Fit Cheese on Toast (2008)
Stigter van Doesburg (Amsterdam)
€3,200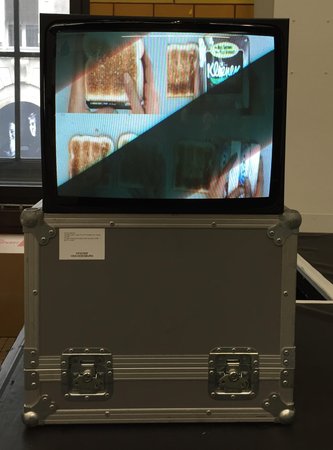 The young French-born Egyptian artist Dina Danish lives in a tiny apartment in Amsterdam, and one day, perhaps while making breakfast, she had the realization that pretty much everything she had in her diminutive home fit on a piece of toast. In this video, she sets to work demonstrating that fact, sandwiching her worldly possessions into conceptual versions of that the Dutch call toasties. The winner of the Present Future Prize and shortlisted for this year's Abraj Art Prize, Danish has already received an impressive amount of acclaim in Europe for her videos, installations, and photographs, which tend to have a playful wit that brightens up her sometimes trenchant observations of modern life.
LOLA GONZÀLEZ
Summer Camp (2015)
Marcelle Alix (Paris)
€6,000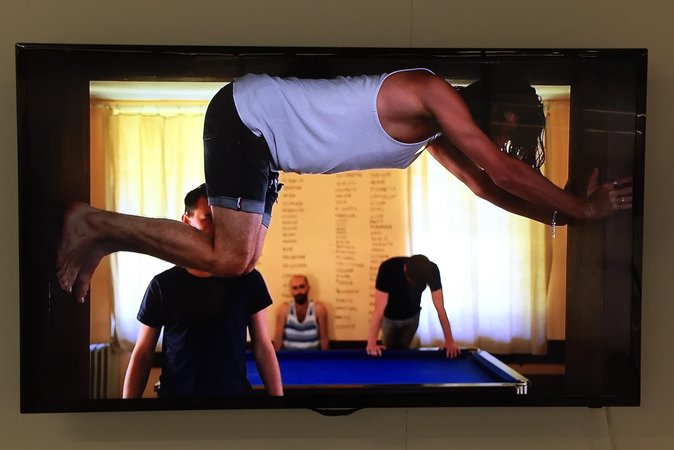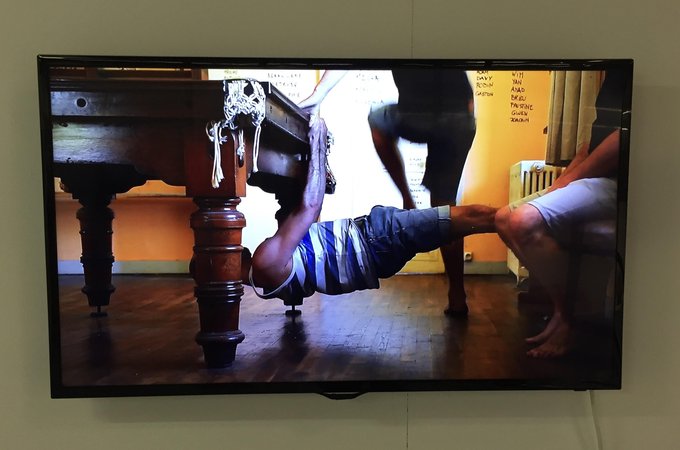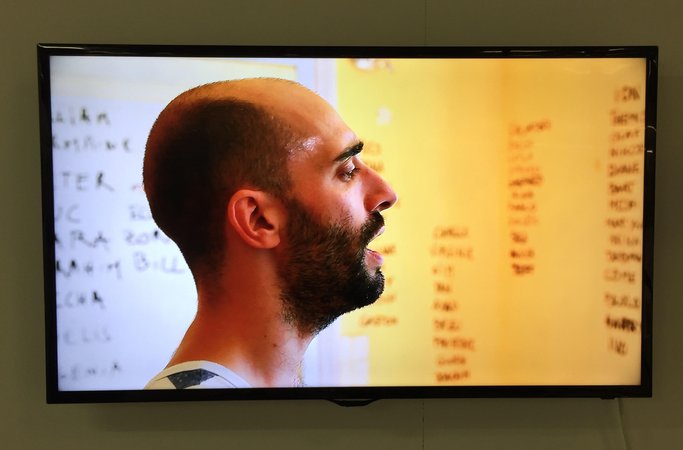 Last year, the 28-year-old French artist Lola Gonzàlez convened a group of her friends at her parents' spacious home in Charentes to film a video. She collected dozens of names from her social circle—either people that her friends loved or hated—and wrote them on the walls of the house, then filmed her youthful cast as they transformed the home into a training camp, doing absurdist exercises on the furniture. The video culminates with the group singing and chanting the names of the friends in a vaguely Middle Eastern cadence.
Filmed in the months preceding the terrorist attacks in Paris, the video captures a strange mood, hearkening back a bit to the radical leftist sympathies captured in 1960s films like Godard's Le Petit Soldat; when it was shown in the Lyon Biennial, it was paired with another, later video in which the cast of friends has guns. The artist "doesn't want to say too much about it," her dealer said of the video. It is unnerving, considering that it was youths of the same age who were killed at the Bataclan, and now Pulse in Orlando.
HIWA K
Tonight the Film Will Be Broadcasted in Color (2016)
KOW (Berlin)
€48,000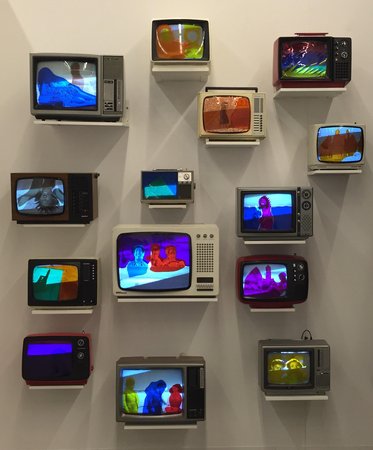 In 1979, when the then four-year-old Hiwa K was growing up in Kurdistan-Northern Iraq, a rumor circulated that the national television station would begin broadcasting one color movie every week. The only problem? No one had color TVs. Suddenly the artist's father had a lightning bolt of inspiration and ran out, returning with brightly colored cellophane sheets that he affixed to the family's television set so that they could experience color TV.
Later, Hiwa K—who would eventually flee Iraq, walking to Europe and gaining asylum in Rotterdam, where he studied philosophy and then apprenticed with the legendary Spanish musician Paco Peña, becoming a skilled flamenco guitarist—learned that everyone in his town had the same idea, and that in fact a store opened in the village simply to sell the plastic sheets.
At LISTE, the artist, who was in the last Venice Biennale and will be in the next dOCUMENTA, payed homage to this TV craze with an installation of 11 doctored black-and-white sets, playing scenes from his childhood shows on loops (so he doesn't have to worry about copyright). 
ERKKA NISSINEN
What Is Community (2016)
Ellen de Bruijne Projects (Amsterdam)
€8,500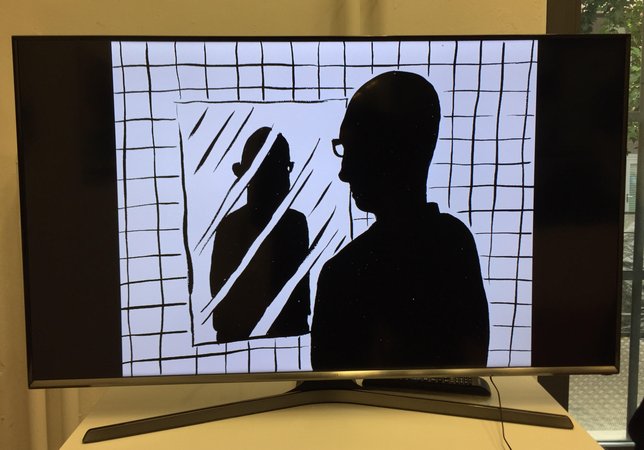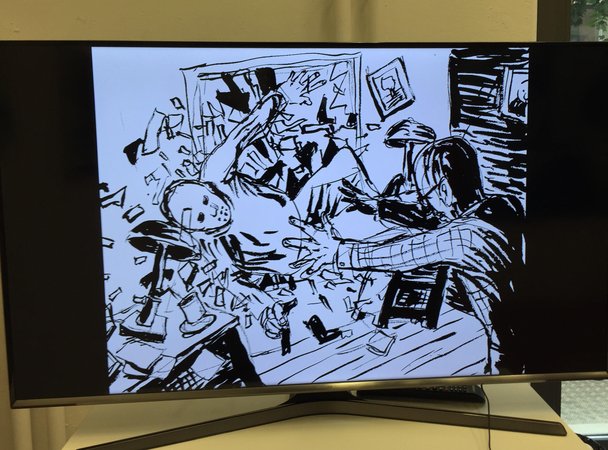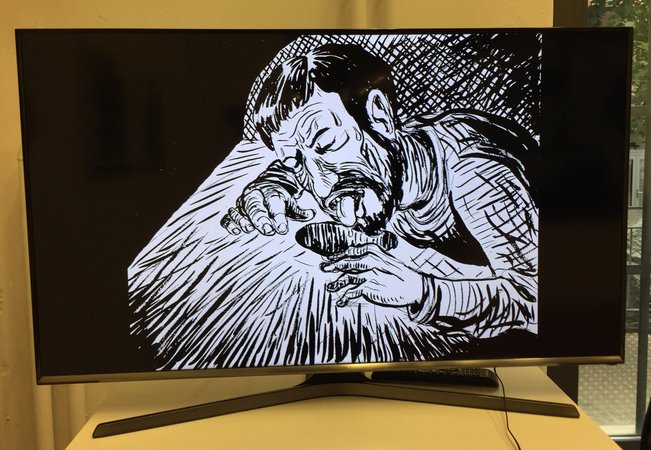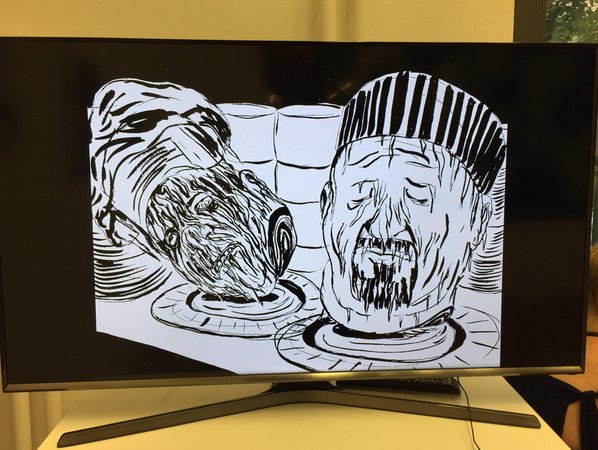 A 40-year-old Finnish artist who will represent his country in the next Venice Biennale, Erkka Nissinen has an animation of such surprising existential hilarity at LISTE that it's difficult to adequately synopsize. Suffice it to say it involves the artist seeking out community in various vignettes, including one in which he hires an actor to kill him to spice up a documentary he's making on normal, middle-class life; one where a man falls in lusty love with a pothole; and one where the closeted transsexual son of a conniving cheesemaster, who has taken the identity of a dead meatmaster, comes out about his desire to become a "gendermaster." Told in a thick Finnish accent atop a slide show of Nissinen's perfect drawings (also on offer at the fair), the 13-minute video will leave you transfixed, shocked, and chuckling. 
CHARBEL-JOSEPH H. BOUTROS
Mon Amour (2015-16)
Galeria Jacqueline Martins (São Paulo)
€7,000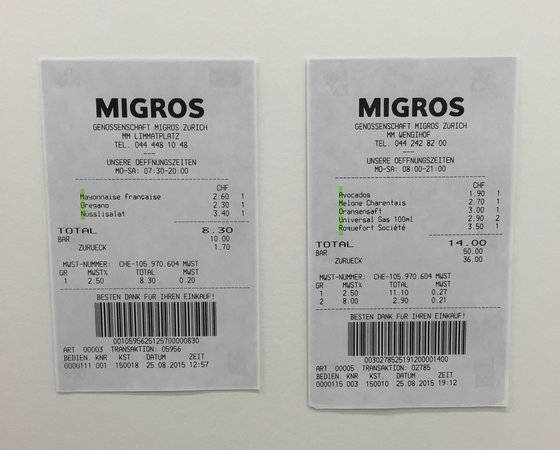 If there's any doubt that the Lebanese artist Charbel-joseph H. Boutros is a dyed-in-the-wool romantic, just go shopping with him. For the last several years, Boutros—who had a solo show at the Palais de Tokyo in 2014—has been frequenting convenience stores across Europe and buying groceries that, when itemized on receipts, spell out "Mon Amour." This example from the series places him in the noble lineage of contemporary receipt art, an art form that has been taken to epic dimensions by the artist Gabriel Kuri. 
SHANA MOULTON
Every Angle Is an Angel (2016)
Crèvecoeur (Paris) 
€9,000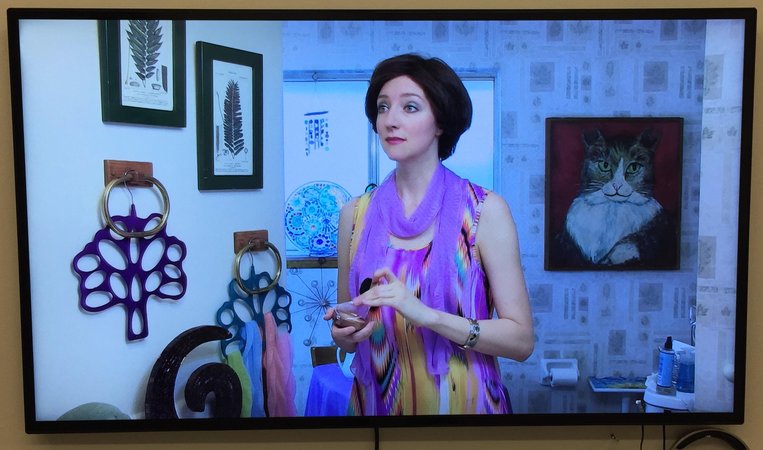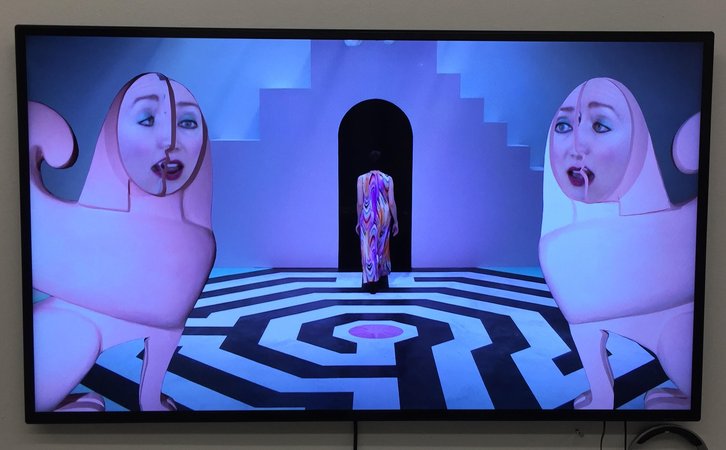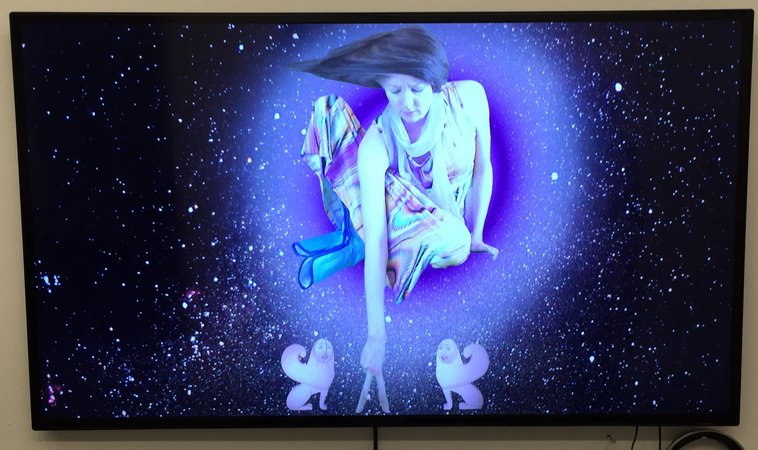 The video artist Shana Moulton has been working in the medium since 2002, when she came up with a generation of trailblazers like Ryan Trecartin, and over the years her surreal, autobiographical work has deepened and grown more eccentric, and sui generis. Like a TV series that is continually renewed, Moulton's videos (which are sometimes grouped under the rubric "Whispering Pines") feature her alter ego, Cynthia, who goes about her solitary life in a mutely imaginative way,  entertaining herself by engaging with assorted medical devices and inanimate objects, kind of like a hypochondriac female Pee-wee Herman. (Michael Smith, Tony Oursler, and Pipilotti Rist also come to mind.) Now 40, Moulton has a mini retrospective at the Palais de Tokyo running most of this year, and this video on view at LISTE derives from a set installed there.
FLAKA HALITI
Various works
Lambda Lambda Lambda (Prishtina)
€900 to €6,500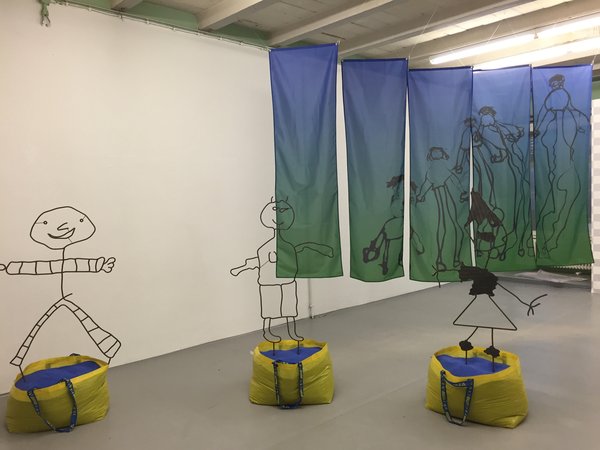 There is the artist Flaka Haliti, who represented her native Kosovo in its second-ever Venice Biennale appearance last year. And then there is Joe. A pranksterish collaborator of Haliti's, Joe is a fast-moving sprite that can assume any form he wants, appearing here and there in the form of an artwork—but always a style of artwork that is fashionable at that moment, because Joe is a bit of a hustler and wants to win at the art game. He's pretty funny, and very sneaky. Because Haliti is never entirely sure where he is, her suspected works are always titled, Is That You, Joe?
At the fair, Haliti had a solo booth dedicated to Joe, where there are some marble pieces (how Sam Moyer!), a few childlike drawings in space (perhaps Amalia Ullman?), and an array of fabric works (too many to name). For those hunting for Joe elsewhere, he also appears in the special Artspace Edition that Haliti created for LISTE, available at Artspace's LISTE booth and here.
MICHEL WINTERBERG
Mutant Tamagotchi 2016
Kaskadenkondensator (Basel)
€600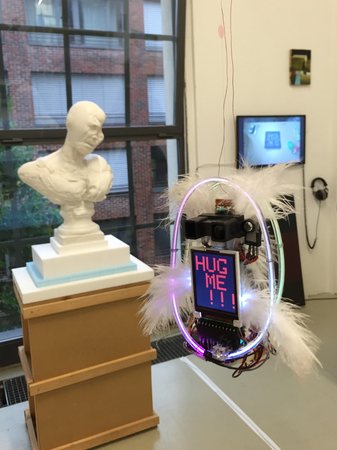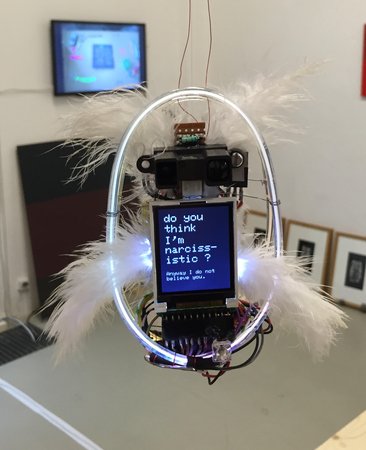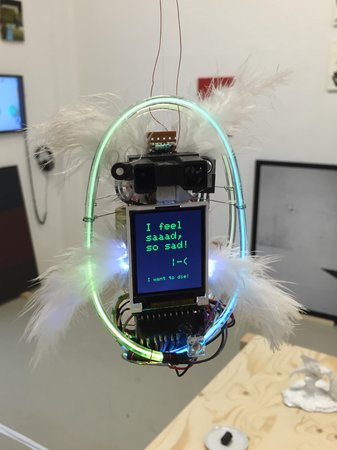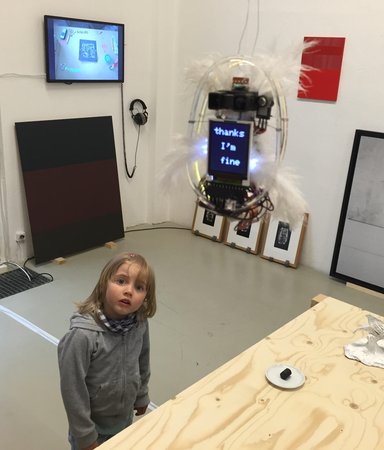 Remember Tamagotchis, those annoyingly needy little Japanese "pets" from the '90s? Well, outgrown and long neglected, these digital critters have apparently mutated over time, mating with Bluetooth technology and infrared sensors and becoming rather embittered along the way. Vengeance has arrived at LISTE in the form of a piece by the Swiss artist Michel Winterberg, who has alchemized a few chicken feathers and tech components to create a twitchy little critter that hangs from the ceiling and demands love and attention by beaming out passive-aggressive phrases and then going on the attack when an unsuspecting viewer comes too close, flashing lights and flicking its tail and generally going berserk. So far four of these unspeakable mutants exist—though from the reaction of some of the younger art patrons at the fair (and all of the older ones), there may be more of these hideous demons to come.
MAHMOUD KHALED
Do You Have Work Tomorrow (2016)
Gypsum Gallery (Cairo)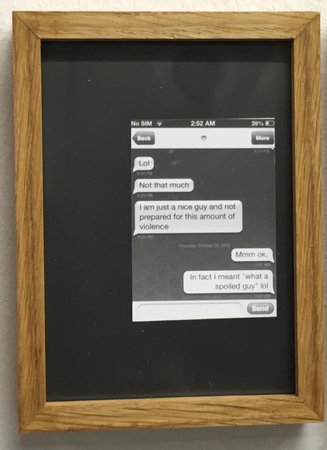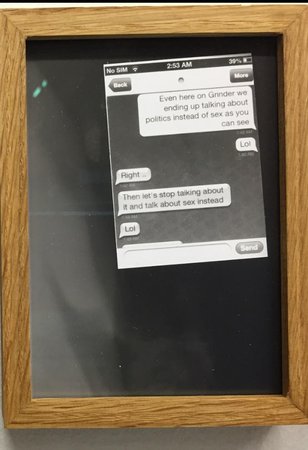 A 33-year-old Egyptian artist from Alexandria, Mahmoud Khaled lived thought the tumult of the Arab Spring and the subsequent crackdown in the wake of Tahrir Square, and he makes work about the experience that tends to be arch, oblique, at-a-distance. This piece, which was included in the Whitechapel Gallery's "Electronic Superhighway" show, is a clever example: made in 2013, it uses screengrabs to chronicle a (staged) conversation on Gridr in which a bantering pickup attempt morphs into a political discussion when it emerges that one of the men is cruising on the app while on neighborhood-watch duty. Funny and unexpected, it plays, like much of his work, on the fence between the personal and the political, the private and the public. Khaled recently moved away from the conservatism of Alexandria's art scene to get his MFA in Trondheim, Norway; he is now also shortlisted for this year's Abraj Art Prize.
MARK VAN YETTER
The Retired Idealist (2016)
Bridget Donahue (New York)
€6,000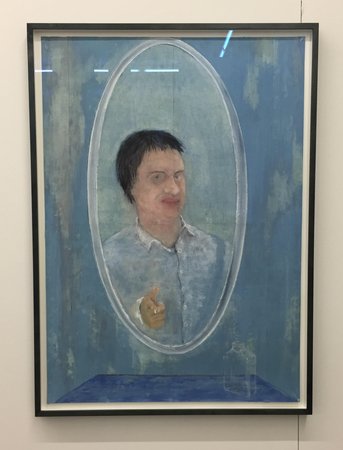 The title of this painting, of a smug, not-quite-young-anymore hipster admiring himself in the mirror, says it all. By Mark van Yetter, an artist who ran the Marquise Dance Hall record store in Williamsburg before moving it to Istanbul, then relocating to Berlin, it's a mordant commentary on aging—and, in an art fair with so much exceptional work in new media, it also works as a reflection of sorts on the medium of painting itself. Or are painters the real idealists? Brought by Bridget Donahue, the only new American gallerist admitted to LISTE this year, it seems pregnant with all kinds of associations.