As usual, the most thrilling moments at the fairs during Art Basel week in Miami Beach come with the discovery of artists who, either because their careers are just beginning or because they're finally being recognized, bring a fresh take to the contemporary-art conversation. At NADA, many of these artists continued the valiant struggle to make painting relevant in the year 2013, using new materials and conceptual gestures to say something novel about the medium of Velázquez, Raphael, and Picasso. (Not so easy, that.) Other artists presented personal visions from outside the mainstream, long-burning practical jokes, and assorted fantasias. Here are some of the most exciting talents at the fairs.
Cristina de Middel at the Black Ship's Pulse Booth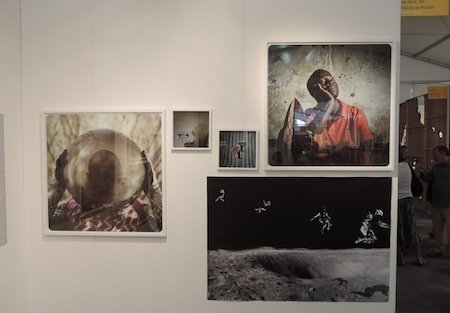 In 1964, a high school teacher in Zambia decided that his country needed a space program to race against the United States and the Soviet Union for the conquest of the solar system, so he concocted a rigorous and absolutely bizarre training program—involving putting cadets in barrels and rolling them down hills, and having them hang from ropes that were then cut to acquaint them with free fall—and petitioned the government for £700 million in funding. The artist Cristina de Middel, who mines historical archives for implausible true stories, came across a passing reference to this project online and restaged a few of its odder elements, photographing them to conflate fact and fiction. An in-demand artist who is currently on view at the Studio Museum in Harlem, de Middel was avidly sought-after at Pulse, where her pieces ($4,000-$10,000) were nearly sold out, four to museums.
Scott Schuman at Danziger Gallery's Pulse Booth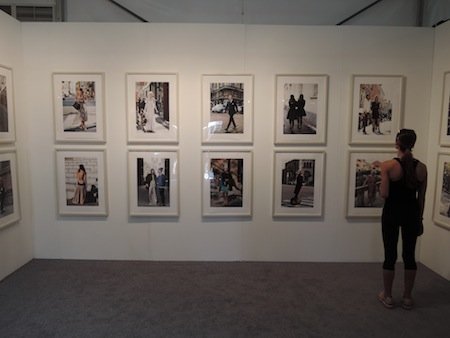 Eight years ago, Scott Schuman started posting photographs of impossibly chic people who he saw on the street in cities he traveled to as a fashion-industry sales representative. He called his blog the Sartorialist. This genre of photography—street style—is now lingua franca in the fashion world, pervasively infiltrating the visual culture that we experience every day through magazines and advertisements. At Pulse, his crisp photos, which he generally takes in the artist neighborhoods of fashion capitals like New York, Milan, and London (the creatives have the edgiest style, he finds), were available for $3,5000 apiece.
Michael Smith at Dan Gunn Gallery's NADA Booth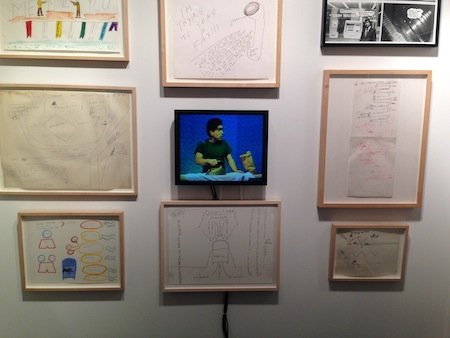 Like Mike Kelley, the artist Michael Smith has a vast, complex, utterly unique body of work from the 1980s to today that practically begs for institutional celebration—something that is beginning to happen this year with Smith's prominent inclusion in Jay Sanders's "Rituals of Rented Island" show at the Whitney. At NADA, the artist's work was showcased in the booth of Berlin gallery Dan Gunn, which featured a loop of clips from his films—absurdist lampoons of middlebrow culture in which Smith presents himself as a hapless, rumpled everyman for whom everyday activities become utterly surreal—alongside drawings and preparatory sketches he made for the movies. With a show of new work coming to Greene Naftali next year, Smith is primed to be the next big rediscovery. 
Jacolby Satterwhite at Recess Gallery's NADA Booth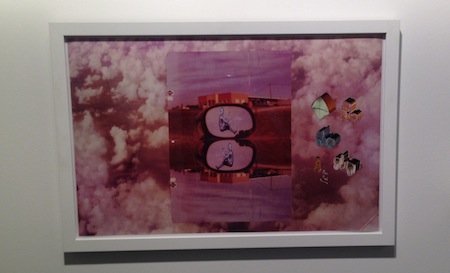 Known primarily for his whackadoodle performances involving futuristic costumes teched-out with video screens, Jacolby Satterwhite has been having a spectacular year since his August show at Recess. Capping off the year was the announcement of his inclusion in the next Whitney Biennial. Born in South Carolina, the 27-year-old artist explores speculative sci-fi scenarios as well as his own family history, as in the above piece that photoshops together found family photos, selfies in which he is covered in silver paint, and drawings done by his mother, who for years has doodled imaginary product designs. At NADA, this work, from an edition of 20, was available for $1,800.
Michael Manning at Bill Brady/KC's NADA Booth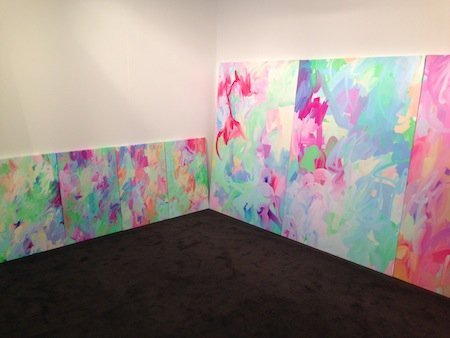 About an hour into NADA, Bill Brady/KC had sold out its booth packed with Michael Manning's tropically colorful abstractions that fetched $2,500 to $4,500 apiece. The paintings are fun, intentionally so. The 28-year-old, Los Angeles-based artist felt that contemporary art had gotten too somber and self-serious, so he put on Sheryl Crow's Pandora station and created these happy compositions on his iPad, then digitally transferred them to canvases. To add a touch of traditional painting to the works, he then overpainted the canvases with brushstrokes of clear gel to create a faux impasto effect. 
Lucie Fontaine at Sabot Gallery's NADA booth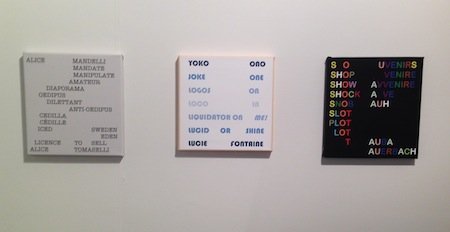 It's easy to have a soft spot for collectives masquerading as fictional artists, and Lucie Fontaine is one of the cuter ones, riffing as they do on Claire Fontaine (another fictional artist) and turning out brainy, ultra-self-reflexive, intertextual, meta stuff. One half of the pair behind Lucie is Nicola Trezzi, the curator and U.S. editor of Flash Art (a propitious perch previously held by Jeffrey Deitch and Massimiliano Gioni). Artist Alice Tomaselli is Lucie's other half. They've shown at the Palais de Tokyo, among other trendy spots, and have done projects everywhere from Japan to Israel, curating and creating exhibitions alike. The works on view at Sabot Gallery ($4,500 each) transformed posters for shows into paintings.
Chris Wiley at Nicelle Beauchene's NADA booth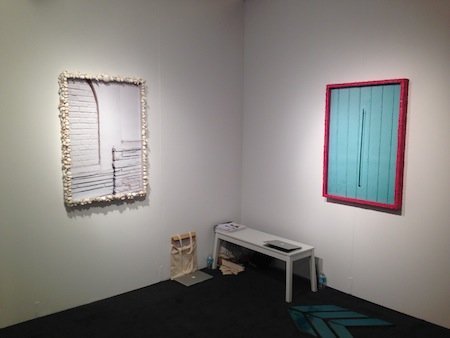 Chris Wiley is another writer and curator (he worked with Gioni on the last Venice Biennale, writing much of the exhibition's text) who is breaking out as an artist—he has a solo project coming up at MoMA PS1 in March. The works shown here are photographs that the 31-year-old artist takes of Los Angeles's urban landscapes and then encases in odd sculptural frames employing materials more typically used in home construction, from insulating foil to pink stucco, as well as seashells, that lend a touch of kitsch. Almost all of his works sold out in the first day ($8,500 each, editions of three) and .
Vern Blosum at Essex Street's NADA booth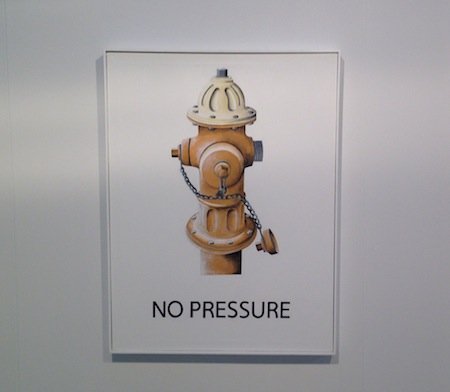 Like Lucie Fontaine, Vern Blosum does not exist. He's a character created by an anonymous abstract painter who gleaned in the early days of Pop that simple compositions of quotidian subjects were going to be a market hit. So he did work in that style—which he considered a sham—from 1961 to 1964 as a kind of prank. A very successful prank: his "Blosums" were shown by Leo Castelli, collected by the Tremaines and the Sculls, and featured in a special gallery at the Smithsonian for a time. Now 82 years old, the artist lives in Florida, where Essex Street tracked him down and found 30 paintings from the period in his garage, still packed in their Castelli wrapping. The pieces at NADA were priced between $22,000 and $40,000.
Ryan Foerster at Martos Gallery's NADA booth
The winner of this year's Artadia NADA Award for best artist in the fair, Ryan Foerster was living on Brighton Beach when Hurricane Sandy came along and inundated his studio, fusing stacks of his photographs into wads that he had to messily peel apart. The destruction served as inspiration, and the 30-year-old Canadian-born artist (who works in a photo lab as his day job) began seeking ways to replicate the damage that the storm had wrought on his images, taking photographic paper and leaving it outside in his back yard under rocks, bottles, and other objects and exposing them to the elements until he considered them done. These pieces, distinguished by their warped papers, aged patina, and efflorescences of improbable color, were priced as a set at $5,000.
Graham Collins at the Journal Gallery's NADA booth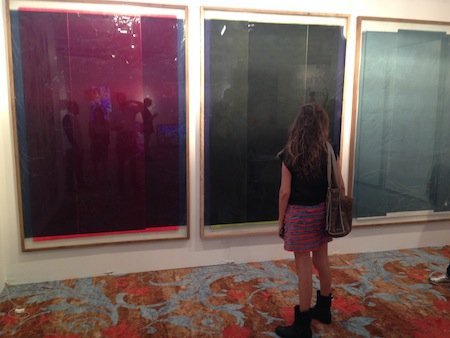 On the opening day of NADA, a waiting list of about 150 people had already accrued for work by Graham Collins, a fresh Hunter MFA graduate who just had his first show at Brooklyn's Journal Gallery in September. Pretty crazy, huh? The pieces on offer ($12,000 each) were 7-foot-tall combines, in the Rauchenbergian sense, composed of dyed burlap fronted by the tinted glass they use to make car windows—which affects the monochomes' color—all framed by wood that the artist reclaims from old barns.
Bert Benally at Eileen Braziel's Scope booth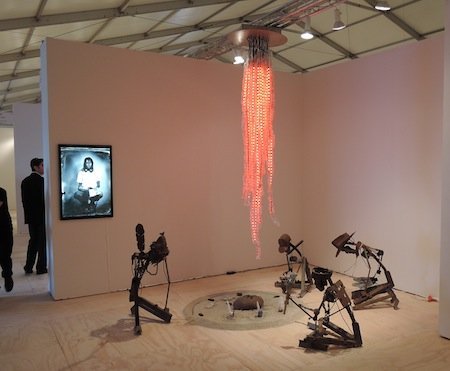 Burt Benally is a Navajo artist who makes animatronic sculptures out of bicycle parts that he finds on his reservation. The rusty quartet shown at Pulse represents the four stages of man: a boy, a man, a medicine man, and a spirit. Despite having been shown in the Smithsonian in 2010, the piece, called The Moving Metal Plan People, was available here for just $12,000. But an awful lot more attention will be coming his way soon—next year he'll be collaborating with Ai Weiwei on a project in Santa Fe's Coyote Canyon camping area. 
Karlheinz Weinberger at Rod Bianco Gallery's UNTITLED booth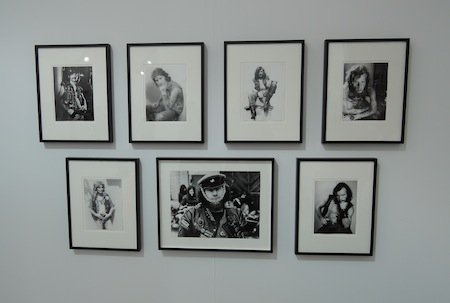 In the 1960s, Karlheinz Weinberger began taking photographs of the ebullient members of Switzerland's subcultures, from the bluejeans-wearing James Dean obsessives to the gay kids to the biker gangs. In those days, if you didn't have a permanent address you were not eligible for the country's generous social services, so Weinberger let his itinerant subjects use his address, and in exchange they let him take their photos, often naked, or partially clothed. After the artist, who lived in obscurity, died in 2004, his vast store of negatives was taken up by Rod Bianco Gallery—the Oslo project space founded by the artist Bjarne Melgaard—and he has since had critically acclaimed shows at White Columns and the Swiss Institute. At UNTITLED, his photos were available for $4,500 to $6,500.