Samara Scott is known for her inventive use of materials—ranging from nail polish, lettuce, fabric softener, avocado skins, and cigarette ash to toothpaste, soda, toilet paper, noodles, and eye shadow—employing them in ways that emphasize their aesthetic qualities and chemical properties, writes Madeline Weisburg in Phaidon's new book Prime: Art's Next Generation.
"In her sculptures and site-specific installations, foraged trash and supermarket-shelf miscellany come together in spontaneous petri dish–like tableaux, sometimes shown pooled in iridescent outdoor fountains, cut into the floors of galleries, stuck on gleaming glass windows, or stretched into vast suspended ceilings. In the case of her bold 2019 work The Glades, water, corn oil, pigments, nylon stockings, plastics, ice-cube bags, shampoo, leg wax, hair gel, foil, and sponges are poured into a rectangular Plexiglass case, appearing as an ultramarine liquid composition of natural and artificial material excess. As in many examples from Scott's oeuvre, in this work, components maintain a decipherable form; even so, when seen flattened and entangled in a landscape of things, they transform into strange, sickly substances, seemingly biological, manufactured, and virtual all at once.
Seen together, Scott's distinctive assemblages forge a type of postindustrial consumerist landscape, but, while located broadly in the world of consumer goods, consumption as seen in Scott's work denotes something bodily too; in a 2016 interview with Document, she called her compositions a "bulimic regurgitation" or "a mastication" of things. In the 2020 digital work Poster series, Scott's own backside is pressed against a scanner bed scattered with bits of trash, including sharp toothpicks, earring hooks, and chips of glass. Occupying the same compressed space, the body is not separate from the material landscape in which it exists." - Madeline Weisburg.
Scott, one of the break out stars of the recent New Museum Triennial show, is one of over a hundred contemporary artists to be featured in Prime: Art's Next Generation, Phaidon's new survey of promising contemporary artists. We asked her a few questions about her life and art. When you've read the story take a look at Scott's artist page on Artspace and check out her Artspace edition from earlier this year, Gargoyle, 2021. Samara Scott, installation view: The Doldrums, CAPC musée d'art contemporain de Bordeaux France, 2020. Picture credit: © and courtesy the artist and The Sunday Painter. Photo: Frédéric Deval
How would you describe what you do? I'm a collagist. I work with liquidity, spillage, regurgitations, glitches. I make soups, broths, viscous compositions, full of drowned things, traces and remnants, tracks and streaks left behind. I try to interfere with the gravity of things, their normal location but also the POVs - upturn and twisting orientation. I am a stirrer, interferer of puke, the ghosts in the things we make. I'm a bit of a scavenger of the past, archiving our own residue, smears and alchemic monsters really. I want to make work that inhabits both the gleam and the gloom. I've been reading the old Frankenstein again - and thinking of that creature that is decay collaged back to life - an animated ruin of sad and sweet flavors, the celebration, the lament, the collisions, the clashings.
How do you get this stuff out? Sometimes it's quite a corporal reaction, the contagion of it. An element of something confessional, but it's more reflexive than that, more bodily, like a rash, a moan, a cough, a puke. Another way of describing it also could be to say it's weather like; some days it rains, sometimes it's fog, sometimes an evaporation, sometimes allergic, sometimes lukewarm.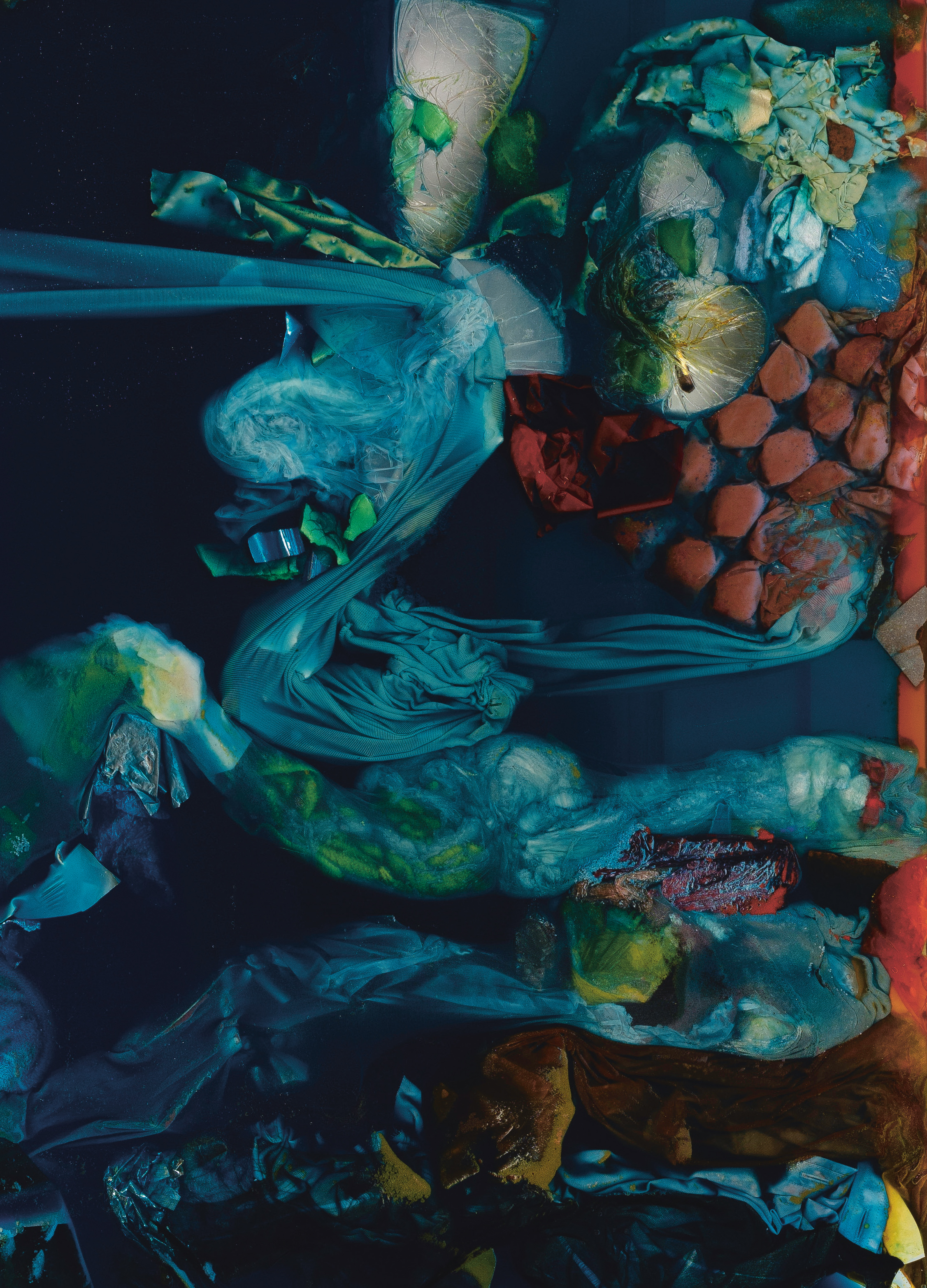 Samara Scott, The Glades, 2019 (detail), Plexiglas, water, corn oil, pigments, nylon stockings, plastics, ice-cube bags, shampoo, leg wax, hair gel, foil, and sponges, 27 1/2 x 70 7/8 x 2 in. (71 x 180 x 5 cm)
Whats on your mind right now? Human appetites. That we are killing the world - through a kind of mass malfunctioning consumption. The horror to the realisation that when I consume, I deplete my surroundings. I guess I think a lot about freedom - the paradox of it. Its brutality, the burning burden of dreams; the contradictions everywhere; the averted eyes. But it's so hard to look at everything all the time. We are all in the same camp, the same landscape. However you draw your freedoms, they are dependent on the unfreedom of others. Blood spills somewhere. Our comforts are so destructive, my complicity, our complicity, art's complicity. I feel a bit of grief. I am making sadder, more anguished work than I did before. It's a bit compulsive to make, make, make, but it's hard to feel right. But maybe feeling right, feeling great, feeling sure is very wrong.
I was thinking about shellfish and molluscs - they are kind of impotent beings, clinging muscles in the tide. Their mineral skins clenched shut with their fluid flesh inside. When they get poisoned and cancerous, they make pearls - pearls from wounds, shiny beauty is actually clotted mineral horror, allergic reaction. I wish I could do that kind of in-toxic elegy.
What are the hardest things for you to get right and what are your unique challenges? It's scary how complicated we've made things. We are so good at telling ourselves stories; delusions that allow us to move through the world smoothly. Through the beauty of connection, we've made a smaller world chained into long chains of exchange. I live opposite a port, and I see and hear all these trucks moving in and out all day all night. I think a lot about international waters; what that means, what it meant - borders and seams between things.
I'm interested in these living geographies and tissues of history; the lines we draw, on the soil, around objects, ownership, possession. Imaginary lines touching the soil, cutting through plants and the sands and the waves. That beautiful messy indifference of nature to our silly lines. Roots jostling under the surface, the water sloshing regardless, the wind currents flowing and tearing on, indifferent. There is something amazing about nature's indifference but, in rational human form, it translates with nihilistic and dangerous horror, cruelty.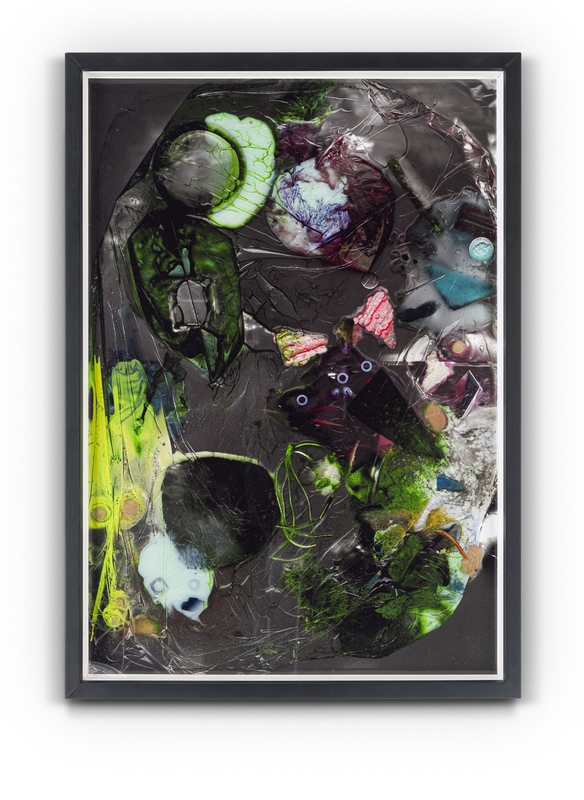 Digital C-print on Fuji Crystal Archive Digital Pearl Paper 24.00 x 16.50 in 61.0 x 41.9 cm Edition of 60 Artist signed and numbered label is affixed to the back of the edition
How does it fit together?
What is sand made of? Many people have told me that that satellite shot in Tarkovsky's Solaris (1972) of the swirling ocean's surface recalls my work. I keep thinking about it, and that curdling surface forming the silhouettes of repression, belching it.
In that shot the weeds in a lake morph into the surface of Solaris - it's about those amazing hallucinogenic uprisings from the brain-mash chowder surface saying, 'I SEE'. It's a moltened mirror conjuring up hidden things - but really obvious things. Lem who wrote Solaris once said - 'we don't need other worlds, we need mirrors.' I'd love to make work like that. I don't know how. I feel in the smog right now - It's hard to tell where edges are.
What do you think of when you think of the word prime? I see a blue curved arrow Amazon logo. Isn't it terrifying the way iconography seeps into your neural currents? You can't stop it.
What is a typical working day for you? I am quite chaotic and try to generate some kind of routine but I'm turbulent. I tend to work in fits and bursts.
In an Instagram age do art books still matter to artists? Yes, all forms can matter. It's what you do with them, it's how you work with them. Conditions are always changing, and they come with tragedy and new beauties, but I think it's important not to resist any medium, you risk isolation, you can also risk missing the creativity of limits.
I struggle with social digital platforms, and I am protective of my luddite habits, but I do feel it's possible to generate a lot with awkward and uncomfortable situations. Technologies can make things so easy, too easy - everything is constantly changeable, editable. I like the commitment of print.
To see more of Samara Scott's work, and that of the art world's most gifted next generation, order a copy of Prime: Art's Next Generation here.