New York's Armory Week is in full swing, meaning the city is mobbed with collectors, dealers, and reporters all dancing around the big name pieces on Piers 92 and 94. Meanwhile Independent, positioned as an alternative to the official Armory Show and the ADAA, is currently celebrating both its fifth year of operation and its full ascension to the status of "Must-See Art Fair." What, then, is more indie than Independent? One possibility: the various satellite fairs currently taking place around the city, especially the more rambunctious upstarts at the kids' table: The (un)SCENE Art Show and the Spring/Break Art Fair.
Smaller and looser than their more established counterparts, these scrappy young fairs focus explicitly on curators rather than galleries. The (un)SCENE, organized and directed by painter Mikel Glass and friends, is a cozy, one-story affair with a vibrant technology and performance schedule as well as works by emerging and established artists in a dimly lit room. It's a sight for sore eyes in this week of white walls—and the free Ben & Jerry's doesn't hurt, either. Spring/Break is far larger, occupying three wings and two floors of the historic James A. Farley post office with dozens of projects by curators selected by directors Ambre Kelly and Andrew Gori. Each show has its own special charms, so to help focus your wanderings we've selected the best "three to see" from both of these youthful fairs.
——THE(un)SCENE——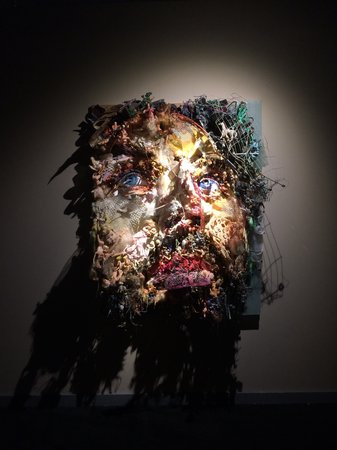 THOMAS DEININGER
Self-Portrait (2015)
Making cohesive collages out of smaller pieces is beyond old-hat—every undergrad stoner has that poster of Bob Marley made of smaller pictures of Bob Marley on display in their dorm room. Thomas Deininger's sculptural self-portrait is different. It would be one thing if he had just used colored toys and plastic ephemera to construct his face—perhaps slightly more interesting than the Marley poster, but not by much. But like putting an innocuous drop of pond water under a microscope, a closer look at Deininger's work reveals worlds within worlds. Each of the work's plastic figurines has been altered, worked over, and reconstructed before being frozen into an action-packed tableau that recalls Bosch's Garden of EarthlyDelights. This is a piece that rewards extended viewing.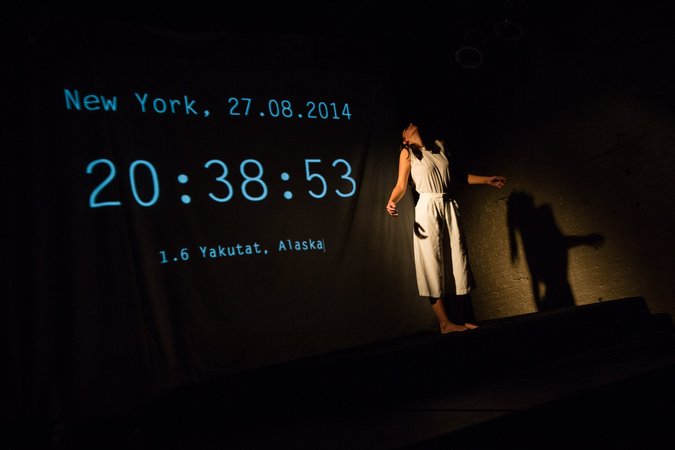 MOON RIBAS
Waiting for Earhtquakes (2015)
You know a piece is good if it gives you goosebumps, and Moon Ribas's performance Waiting for Earthquakes does so repeatedly. Ribas is a vocal member of the international cyborg community (she co-founded the Cyborg Foundation in 2010), and this performance arises out of one of her latest tech implants: a chip in her arm that vibrates when an earthquake takes place anywhere on earth. Her subtle performance, which takes place in a PVC pipe and plastic sheet cube, has the Catalan dancer and choreographer translating the vibrations she feels into dance, with quakes registering higher on the Richter Scale generating correspondingly more drastic movements. One 15-minute performance featured no less than five quakes registering over 1.0 on the scale, including a rumbling 5.5 that sent Ribas swishing around her cube. The most powerful moments, though, were those when Ribas (and the earth) stood still. On our constantly shifting planet, there's something comforting about a stationary cyborg.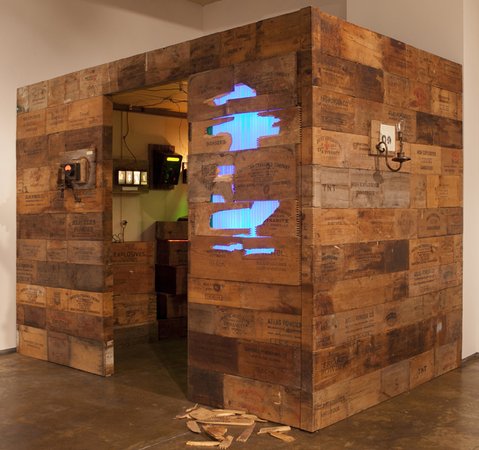 JERRY MEYER
My Great Grandfather's Attempts to Turn Sexual Energy into Electricity to Power Small Machinery Based on the Principles of Sigmund Freud and Nikola Tesla (2015)
Smirks, smiles, and snorts are a dime a dozen at these fairs, but rare indeed is the artwork that prompts a belly laugh. Jerry Meyer has achieved just that with his piece My Great Grandfather's Attempts to Turn Sexual Energy into Electricity to Power Small Machinery Based on the Principles of Sigmund Freud and Nikola Tesla, 2015. The installation presumes to reconstruct the medical/sexual/technological experiments of the artist's eccentric (and entirely fictitious) great-grandfather, which were supposedly conducted in a bunker made of dynamite boxes. Meyer uses 1920s technology and ads to create a portrait of a lovable "family eccentric," but the best part might be the catalogue essay accompanying the installation—the pseudonymous pseudo-intellectual author writes in a style that will be familiar to any regular reader of gallery press releases. Be sure to also check out the Freudian postcards at the end of the monograph, which pair family photos with psychoanalytic truisms.
——SPRING/BREAK——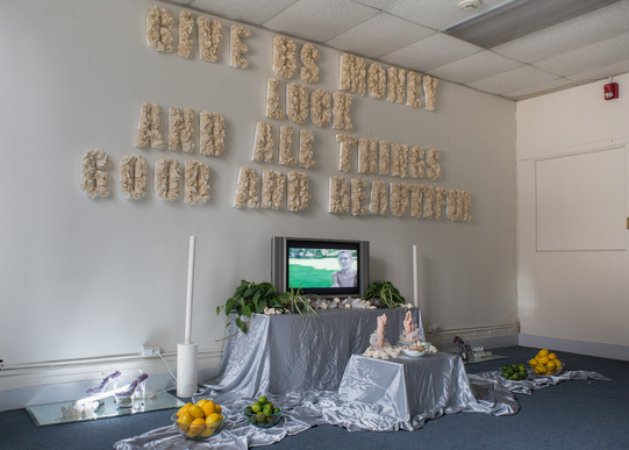 MYLA DALBESIO
curated by Ambre Kelly & Andrew Gori
It's easy to get lost in the warren of offices in Spring/Break's new space in the James A. Farley post office, and that's probably a good thing—it lends some of the better exhibits a real sense of discovery. Mayla DalBesio's installation (curated, as it turns out, by fair organizers Ambre Kelly and Andrew Gori) is certainly one example. Incorporating several video and sculptural pieces along with bowls of citrus fruit, live plants, aromatherapy dispensers, and lots of quartz crystals, the installation works surprisingly well in the office space—transporting the viewer into a New Ager's condo-cum-shrine. While hers isn't the most immersive project in the show (that award would likely go to the team of Dustin Yellin and Bazaar Teens, for better or worse), DalBesio's use of the New Age aesthetic walks a delicate line between sendup and sincere appreciation. The artist seems to be saying "Maybe this is a little corny, but I like it anyway." We did, too.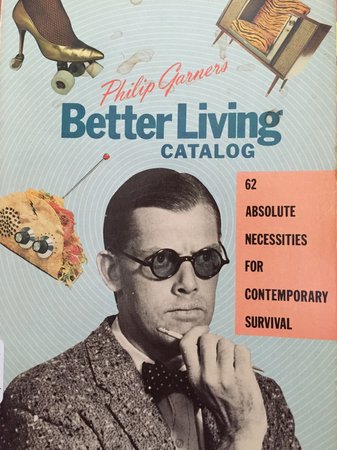 PHILIP/PIPPA GARNER
curated by Sam Parker
The abandoned office spaces of the James A. Farley post office lend many of the works in Spring/Break a retro vibe, replacing the requisite backdrop of white gallery walls with so-bad-it's-good faux-wood paneling. Most exhibitors seem to have either worked around or ignored this context, but a few have really used it to their benefit. Curator Sam Parker's display of the transgender artist Philip/Pippa Garner's humorous design objects seems to have sprung fully formed from the pages of Garner's 1982 Philip Garner's Better Living Catalogue, paneling and all. Presented as new inventions to streamline modern life, these gadgets (including Heels on Wheels and Wig Mop) are as surreal today as they surely were in the 1980s.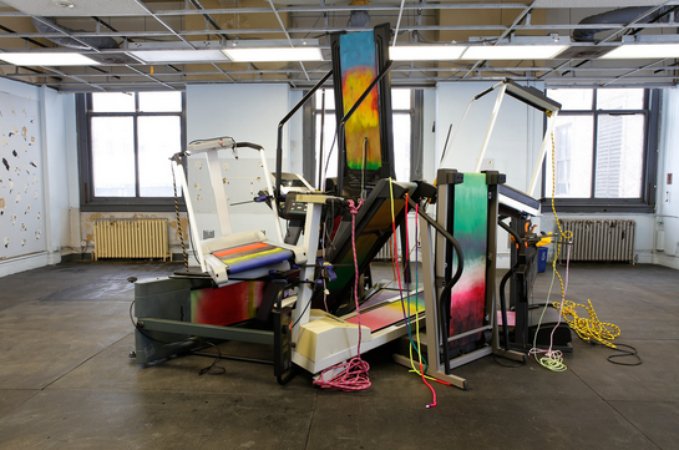 BRENT BIRNBAUM
curated by Elizabeth Denny and Craig Poor Monteith

Kinetic sculptures ruled at both fairs this year, with offerings by Tom Haney and Jakob Theileis at (un)SCENE and Alex Lombard and Daniel Kent at Spring/Break. One construction stood out from the rest: Brent Birnbaum's Untitled (2015), a pile of painted, moving treadmills held together with ropes and extension cords. Given a room of its own by curators Elizabeth Denny and Craig Poor Monteith, this precarious and psychedelic sculpture incorporates about ten treadmills that run at carefully calibrated speeds and make a soothing light whirring noise. Denny mentioned that she got lucky in terms of her room placement, as her space came preloaded with old rubber gym mats and a bizarre abstract "relief" on the wall created when the gym's mirrors were removed at some point in the past. Thankfully, there seems to be no trace of the room's previous smells.