Psychedelia as a genre is difficult to pin down. If thinking in broad terms of visionary work produced by artists in an 'expanded' state, one could go back to William Blake's celestial visions, Louis Wain's anthropomorphic cats or John Martin's imaginings of the apocalypse. Elements of the style – rich color contrast, warped geometric perspectives, imaginary creatures and trompe l'oeil occur everywhere from Art Nouveau and Op-Art to Surrealism and the Romantic movement.
To most art viewers, psychedelia as we now know it fully coalesces in the 1960s, as the visual wing of the LSD-fuelled dissolution of boundaries then occurring in music. Artists like Wes Wilson, Stanley Mouse, Rick Griffin and Victor Moscoso created a visual language that began on rock flyposters and album sleeves, but soon came to define an entire era and mindset: flickering day-glo color schemes, distorted typography, mandalas and op-art spirals, screen prints, irreverence and anti-naturalism. What started in the hippy communes of the West Coast of America soon became an internationally-recognised style.
The vaguery that makes the birth of psychedelia hard to pin down has also ensured it a long afterlife. Elements of it have proven to be irresistible to contemporary artists working in styles from American street art to Japanese Pop. And in the wider culture it's definitely having a 'moment', from Dries Van Noten's latest show with it's room-filling fluorescent projections, to Nike and others getting into tie-dye and Gucci's entire psychedelic Seventies collection . With that in mind, here are our favourite pieces currently on Artspace we consider definitely worth tuning in and dropping out for.
CHRISTOPHER MOSS - Remix #27, 2016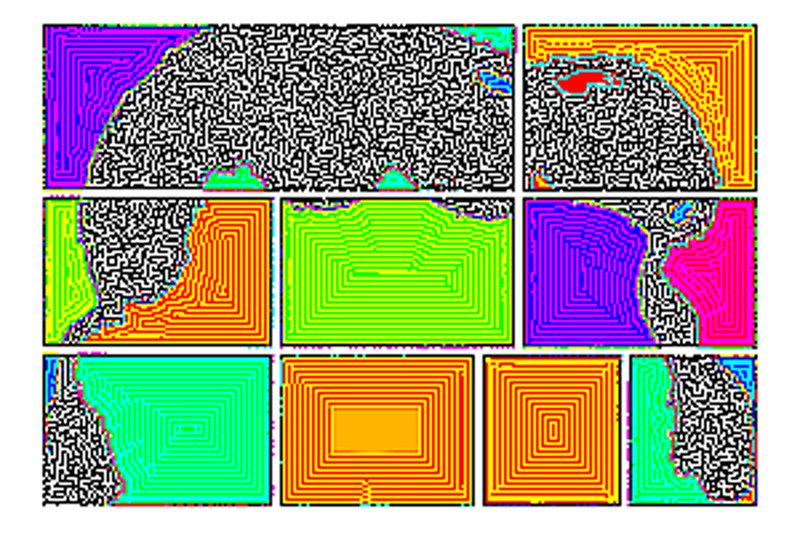 Christopher Moss grew up in rural Pennsylvania, receiving his MFA from CUNY Brooklyn College in 2006. Several of his works have riffed on the absurd cartoonish side of the first era of psychedelia – his 2017 show Pfft at Theodore Art, Brooklyn, reused old Peanuts cartoons, replacing dialogue with philosophy, inserting new characters and eventually replacing entire frames with rainbow-colored blocks. This piece from a year earlier pushes his psychedelic tendencies even further – lysergic colors (tangerine, acidic lime, throbbing purple) are intricately worked out in minute patterns that play with perspective and depth, while a teeming cloud of black and white doodles works its way across the image, breaking the frame of squares and rectangles which make up the whole. This inkjet print is an edition of 5, and comes signed.

KENNY SCHARF - Snail Nymphs, 1998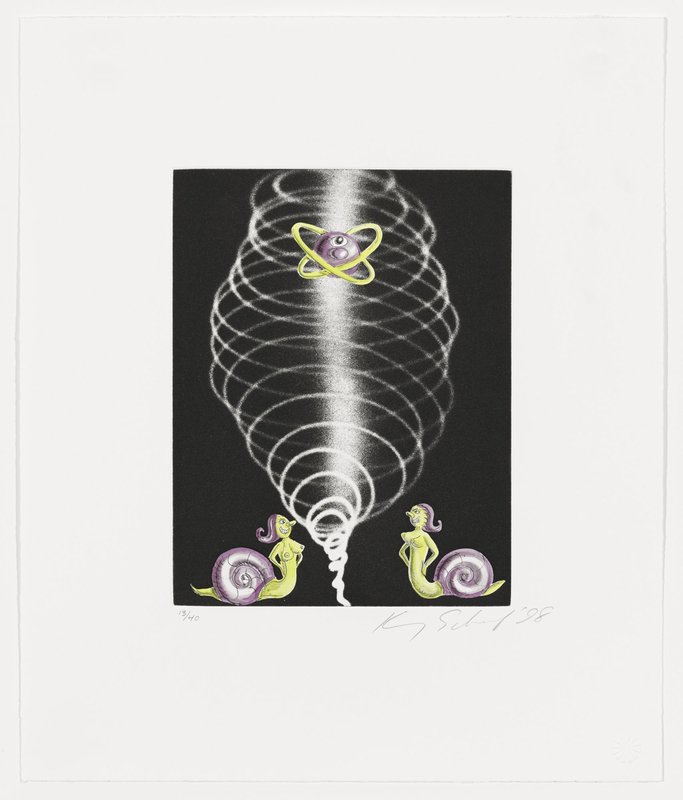 A contemporary of Jean-Michel Basquiat and Keith Haring, Kenny Scharf's brilliant, pop-psychedelic artworks operated in what Interview magazine described as "Another dimension where phantasmagoria and Hanna-Barbera cartoons reign supreme." In his quest to transform the mundane into the magical he's added his art to everything from broken vacuum cleaners to entire nightclub interiors, a funfair and a lifeguard tower. Rainbow colors, trippy visuals and melting, cartoonish faces are a recurrent theme. "Why are all telephones, and TV sets, and all these appliances that everybody uses so dull?" he asked an interviewer earlier this year. "Why can't we make them more fun and individual, and put some fantasy into our daily lives?" And in this piece from 1998 he does just that – cheery topless snail-nymphs facing down an approaching twister, crowned by the all-seeing eye of one of Scharf's typical cartoon faces. This print is a line etching and aquatint with hand painting and comes in an edition of 40, signed and dated.
MARC QUINN - Prismatic Labyrinth (354 U), 2018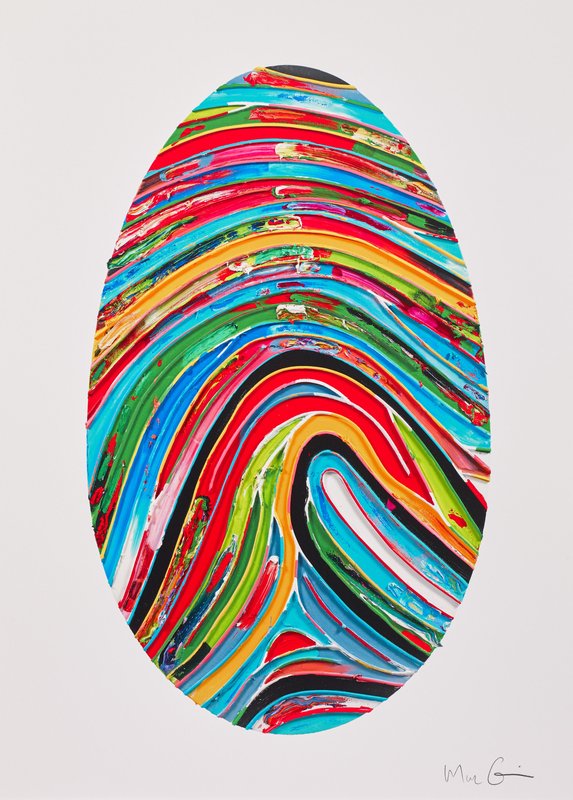 Emerging in the first wave of Young British Artists, Marc Quinn's work has often had an inherently psychedelic quality. Working with unusual materials, states, elements and scales, his art taps into the darker end of the genre where the world looks recognisable, but not-quite-right. Self (1991) was a naturalistic self-portrait cast of the artist's head, but made from a darkening waxy-looking blend of his own chilled blood; Garden (2000) comprises of a full botanical garden, at first appearing to be vibrantly alive but on closer inspection lifeless and frozen; 1+1=3 (2002) is a 20 metre completely synthetic rainbow. This print, from 2018, is inspired by his Labyrinth paintings that explored surveillance culture and the reduction of an entire identity to the whorls of a fingerprint. Rendered in vivid colors with screen-printed spot glaze, this is a very contemporary take on the portrait.
THOMAS RUFF - Substrat 21 III 2003/19, 2019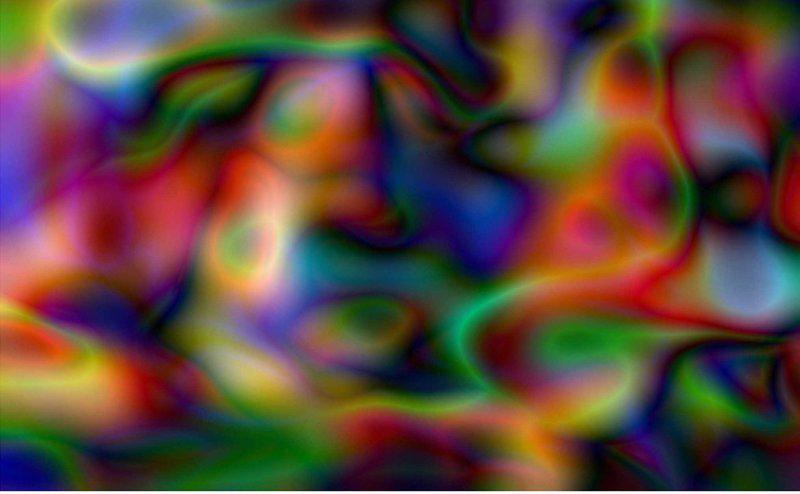 Thomas Ruff is one of the most important German photographers of the post-war period. Studying in Düsseldorf and working under Bernd and Hilla Becher at the Kunstakademie Düsseldorf with his peers Andreas Gursky, Candida Höfer and Thomas Struth, the portait style he developed in the early 1980s – passport-like, colored backgrounds, somewhat emotionless – largely defined what people came to think of as the 'Düsseldorf School' of photography. Since then, his style has evolved dramatically – through self-consciously dull architectural images, astronomical images of the night sky, found images from the internet and distorted, hugely magnified shots of newsreel. This image from 2003 is one of his most stunning – based on a source digital image of Japanese anime, repeatedly blurred, superimposed and shifted until the original has been rendered unrecognisable under multiple layers of color and form and the original 'reality' has completely dissolved. This chromogenic print is an edition of 300 and comes signed and numbered.
TAKASHI MURAKAMI - We Came to the Field of Flowers Through Anywhere Door (Dokodemo Door)!, 2019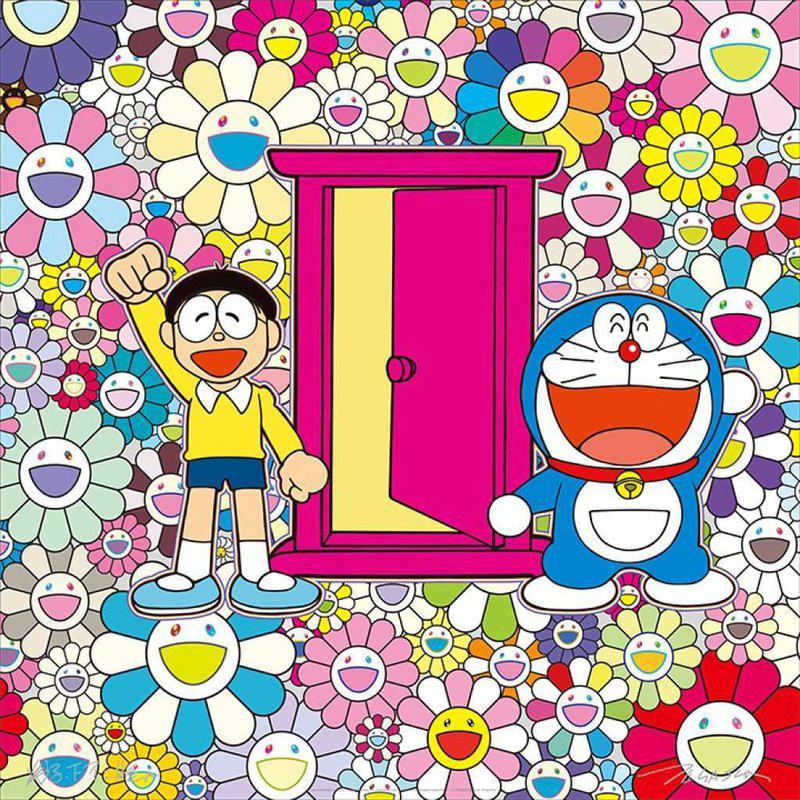 Pulling together influences from Warhol and anime to children's cartoons and streetwear branding, Murakami has created a truly contemporary take on psychedelia. While a lot of the elements would be familiar to an original Sixties 'head' – smiling flowers, fish-eye perspectives, day-glo colors and friendly animals – his clean execution and postmodern 'superflat' technique, push these far beyond a pastiche or period piece. With recurring motifs and characters, Murakami has built an immediately recognisable, self-contained world where anything goes – in this case, entire rooms filled with beaming flowers, where riotous feline sidekicks cheer and the floor has dropped away. Take a trip into this work as an offset print from an edition of 1000, signed, titled and numbered in silver pen by the artist.
CARLOS CRUZ-DIEZ - Induction Chromatique a double frequence Orinoco 5, 2018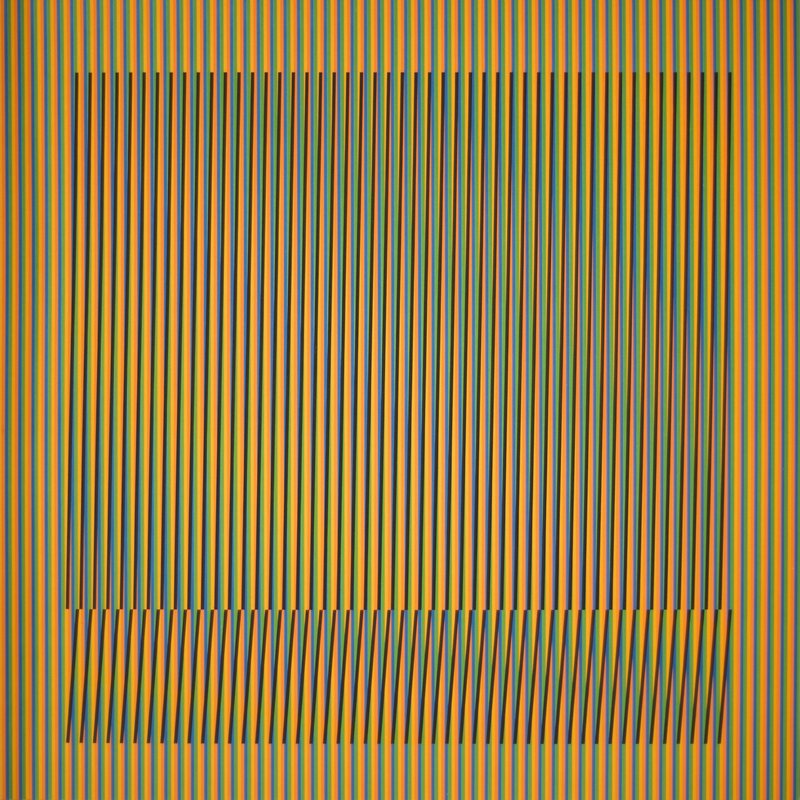 Carlos Cruz-Diez was born in Caracas, Venezuela in 1923. Relocating to Paris in 1960 he would become one of the leading protagonists in Kinetic and Optical art, using color and shape to highlight the fundamental instability of reality. This altering of perception dovetails with the main principles of psychedelia, although Cruz-Diez always maintained a strong sense of structure and form in his work. "In my works, color appears and disappears during the course of a dialogue with real space and time," he wrote in 1989. "What also emerges is the undeniable fact that the information we have acquired and the knowledge we have memorised throughout our lifetime are, probably, not true… at least to some extent." The artist died in 2019 – this piece, from a year before his death is a lithograph on Somerset paper, in an edition of 75 with a gallery certificate of authenticity.