Art is fun, but it can also kill you. From a statue that fell on its creator, an umbrella that electrocuted an art handler, and the multiple people hurt and killed by Richard Serra's giant metal sculptures, we trawled the internet for the most dangerous works of art. Perhaps most shocking was how many artists continued to make the same kind of extremely hazardous works, despite the harm that they had caused! And don't even get us started on art made of nuclear waste….
THE UMBRELLAS (1984-1991)
Jeanne-Claude and Christo
Ibaraki, Japan and the Lebec, California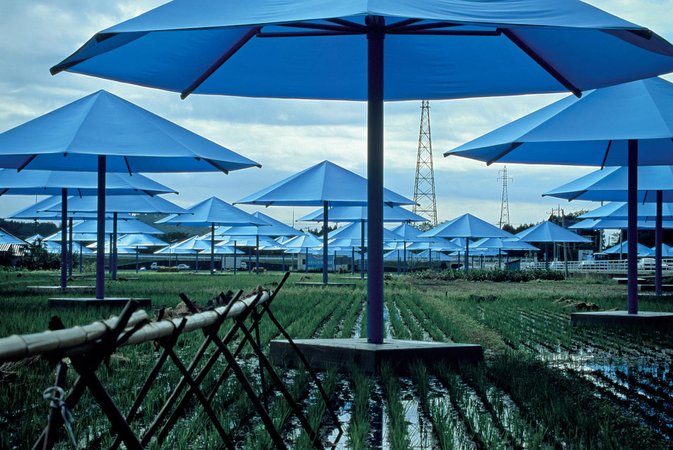 The Umbrellas by Jeanne-Claude and Christo (1984-1991), image via their website
In 1995, married couple Christo and Jeanne-Claude wrapped Berlin's entire Reichstag building (think of it as Germany's Empire State Building) in fabric. They also wrapped islands in Miami in pink fabric, in what became known as Surrounded Islands (1983), and Paris's Pont Neuf, the oldest bridge in Paris, which crosses the river Seine. But in The Umbrellas (1984-1991), the couple shifted away from wrapping buildings: instead, they decided to set up yellow umbrellas in California and blue umbrellas in Japan simultaneously. The $26-million-dollar production budget was entirely self-financed as the couple refused to take sponsorship, covering costs by selling preparatory drawings of their works. Unfortunately, on October 26th, 1991, one of the yellow umbrellas in California was blown over by high winds. Its steel base fell on a visitor, killing her. The couple ordered the exhibit to be closed immediately. A worker was also electrocuted while removing one of the 1,340 blue parasols in Japan.
DREAMSCAPE V (2006)
Maurice Agis
Durham, UK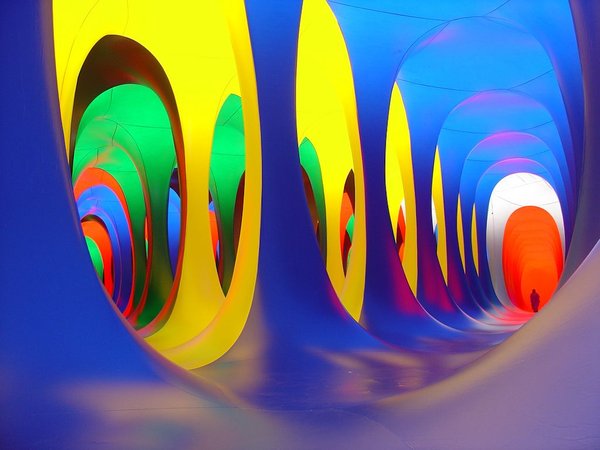 Dreamscape V by Maurice Agis (2006), image via Pinterest
In 2006, artist Maurice Agis, then 74 years old, had been making public art projects for over two decades. After becoming disillusioned with galleries and museums in the sixties, he began making fun, interactive large-scale works, often with the involvement of local schools and school children, in collaboration with an artist named Peter Jones. After the duo split up, Agis launched his first solo piece, Colorspace (1980), which was exhibited in the German town of Travemunde until it suddenly lifted off the ground, injuring five people. If only this were a one-off. Instead, on July 22nd, 2006, Agis installed Dreamspace V (2006) at Riverside Park as part of his British tour. The next day, Agis's piece once again lifted off the ground, soaring a whopping nine feet in the air before slamming into a CCTV poll, killing two people and injuring 13 others. Dreamscape V was seized by local police, who opened a vandalism inspection upon realizing that the piece had been slashed with knives two weeks prior, but ultimately Agis was charged with gross negligence manslaughter in 2009. He was eventually found not guilty in 2009 and fined $2,500. He died months later.
SCULPTURE NO. 3 (1971)
Richard Serra
Minneapolis, Minnesota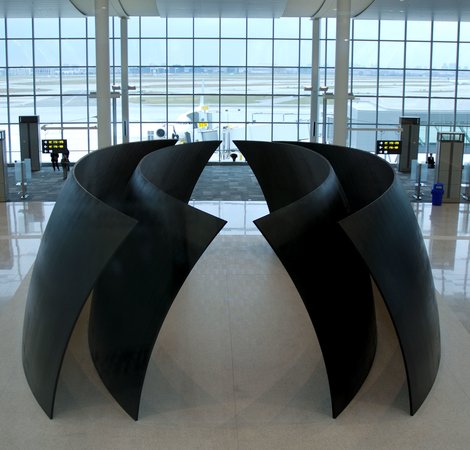 Sculpture No. 3 by Richard Serra (1971), image via Guff
Artist Richard Serra is known for his minimalist sculptures made of sheet metal. They are usually site-specific and massive, dwarfing viewers who walk inside, and can be found everywhere from the Gap, Inc. headquarters in San Francisco to the Guggenheim Museum Bilbao. Unsurprisingly, installing art made of very heavy materials is often dangerous work, as proved by Sculpture No. 3, which, in 1975, was being installed at the Walker Art Center in Minneapolis. The piece consisted of 8-foot square steel plates weighing 5,000 pounds each. During construction, one of the support braces holding up the plates broke, causing the sheet metal to fall on contractor Raymond Johnson, who was killed. Johnson's widow sued both Serra and the art handling company, but both were found not guilty. Instead, she received a $500,000 settlement from the steel fabricators once it was determined the company had taken a shortcut in making the brace that had snapped. In 1988, another Richard Serra piece, Reading Cones, fell on two workers who were deinstalling it, crushing one of the worker's legs below the knee and breaking two of the building's nine support beams, forcing an immediate evacuation.
BLUE MUSTANG (2008)
Luis Jiménez
Denver, Colorado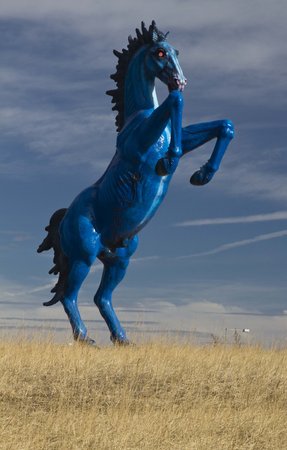 Blue Mustang by Luis Jiménez, image via Pinterest
Located at the Denver International Airport, Blue Mustang is 32 feet tall, has glowing red eyes, and is also known as Blucifer, perhaps because it killed its creator, Luiz Jiménez, when a section of it fell on top of him. Jimenéz was in his studio, working on the piece––a cast-fiberglass sculpture of a rearing mustang horse (painted blue, of course)––when its head fell on top of him, severing an artery in his leg. Post-mortem, the piece was finished under the supervision of his staff, family, and professional race-car painters Camillo Nuñez and Richard LaVato, and was finally installed in 2008. Unfortunately, almost as soon as the horse was unveiled, many Denver residents began petitioning to have it removed. Some took the horse's role in Jiménez's death as proof that the statue was cursed––others just thought the piece was ugly.
BODYSPACEMOTIONTHINGS (1971)
Richard Morris
London, UK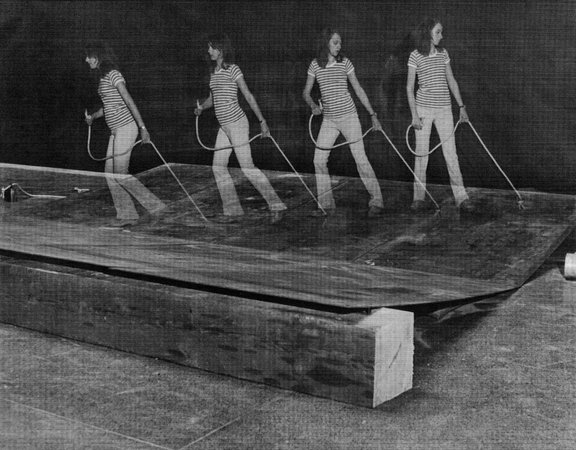 Bodyspacemotionthings by Richard Morris (1971), image via the Tate
In 1971, the Tate in London unveiled their very first interactive art experience, Bodyspacemotionthings by artist Richard Morris. The show resembled a cross between Ikea furniture and a minimalist playground: visitors could stand on something resembling an oversized see-saw, roll on logs, swing on ropes, and wobble around on giant white bouncy balls. To the Tate's delight, the show was a big success, bringing in 2,500 people within the first four days. Until, as one guard put it, the visitors "went bloody mad." People went so hard that Bodyspacemotionthings caused a series of minor injuries––splinters, bruises as visitors toppled off the various acoutrements. After just four days of usage, the show was also so destroyed that, combined with this slew of injuries, the Tate was forced to close the show, revamping it again in 2009 with newer and safer materials. Unfortunately, the new installation still caused over twenty ailments including rope burns, cuts, and head injuries.

KUI HUA ZI (SUNFLOWER SEEDS) (2010-2011)
Ai Weiwei
London, UK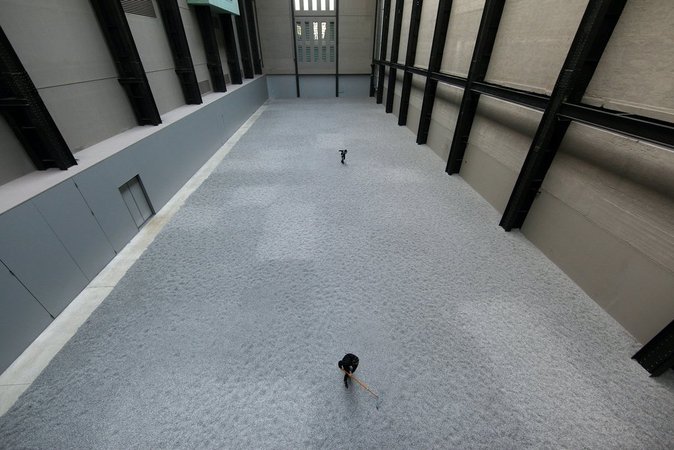 Kui Hua (Sunflower Seeds) by Ai Weiwei (2010-11), image via the New York Times
Two and a half years before Kui Hua Zi (Sunflower Seeds) officially unveiled, Chinese conceptual artist Ai Weiwei employed a team of workers in Jingdezhen––a town known as China's "Porcelain Capital" thanks to over a millennia of imperial porcelain production––to craft the 100 million porcelain sunflower seeds which eventually covered the floor of the Tate's 3,000 square foot Turbine Hall. Each seed was produced using a 30-step procedure, which included being hand-painted and fired at 1,300 degrees; the production eventually required more than 1,600 workers. Chairman Mao Zedong would frequently refer to himself as the sun and the Chinese people as seeds in sunflowers in political propaganda, a symbology that Ai hoped to upend by physically representing the sheer number of people in China––enough people to, conceivably, overthrow the Communist Party. Ai also sought to foreground the way Chinese mass manufacturing relied on western consumerism, which pushed for increasingly harsh and poorly compensated labor (conditions that Ai potentially replicated in the production of his piece). While visitors were initially allowed to walk across the sunflower seeds, the Tate quickly had to fence the exhibit off upon realizing that the installation in fact emitted dust which was harmful to the viewers' lungs.
BIG BAMBU (2010)
Doug and Mike Stearns
New York, NY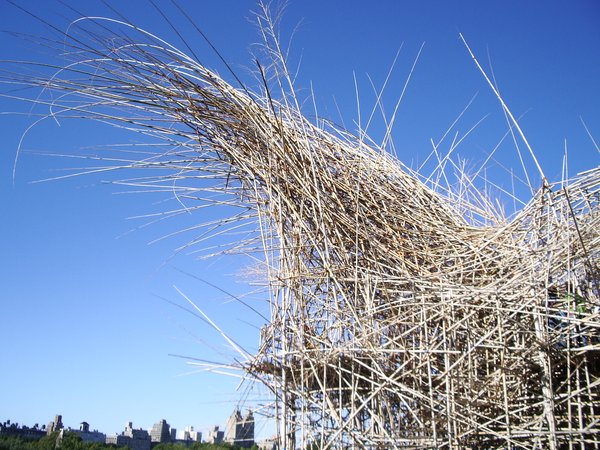 Big Bambú by Doug and Mike Stearns (2010), image via Art Stuff Matters
No one was harmed by Big Bambu (2010), the installation which was installed on the Metropolitan Museum of Art's roof, but that's perhaps only because visitors could only climb on it after signing a release which freed the Museum from any danger of a lawsuit (i.e. perhaps people were extra careful after realizing that they couldn't sue for healthcare coverage.) The piece, created by identical twin brothers Mike and Doug Starn, was a giant bamboo structure whose building progress visitors could witness from spring, summer, and through fall, or the length of the piece's production process, which also required help from a team of rock climbers.
BLACK SQUARE (2006-)
Taryn Simon
Athens, Greece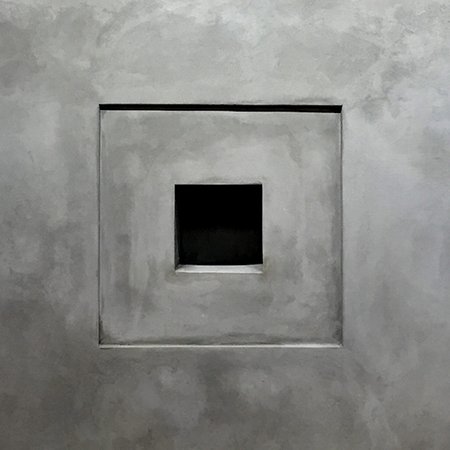 Black Square by Taryn Simon (2006-), image via Aperture
In 2006, artist Taryn Simon began collecting objects, documents, and individuals within a black field that has precisely the same measurements as Kazimir Malevich's 1915 work of the same name. Most of these look danger-free enough: Simon photographs a parrot, an open book, and a film camera, among other things, against a black background. But then there's the nuclear waste. On May 21st, 2015, Simon put nuclear waste in "a concrete steel container, within a holding chamber surrounded by clay-rich soil, at the Radon nuclear waste disposal plant in Sergiev Posad, located 72 km northeast of Moscow. It will reside at the Radon facility until its radioactive properties have diminished to levels deemed safe for human exposure and exhibition. Cast within the black square is a two-ply cylindrical steel capsule holding a letter to the future written by Taryn Simon," per the artist's website. When the square emerges, it is designed to go in that same frame––unless, of course, someone is contaminated by that square of nuclear waste in the meantime, or has been contaminated already…..
[related-works-module]
RELATED ARTICLES:
Art You Should Know: Seven 21st-Century Masterpieces
6 Reasons to Collect Eco-Feminist Chilean Artist Cecilia Vicuña
8 "Rules" to Becoming a Successful Artist––And Why They're Near Impossible to Follow Without Inherited Wealth