Six reasons to collect Cecilia Vicunña:
1. At age 70, Chilean-born artist Cecilia Vicuña is receiving the recognition and attention she's so long deserved. Just in the last year, she's had solo exhibitions at the Brooklyn Museum, the MFA Boston, and ICA Philadelphia, where her exhibition "Cecilia Vicuña: About to Happen" is currently on view until March 31st.
2. For the past 50 years, Vicuña has been making multi-disciplinary work about climate change, feminism, and ancestral and indigenous traditions. Also an educator, the artist sees the reclaiming of tradition as a tool of resistance, and intuition as a catalyst for activism in the face of ecological crises, patriarchy, white supremacy, fascism, and oppression. Though her work may seem particularly "trendy" in 2019, it's important to remember that the artist has consistently dealt with these themes since the early '70s.
3. In 1973, Vicuña went into exile in London, where she attended the Slade School of Fine Art, following the Chilean coup d'tetat led by General Augusto Pinochet. She became fiercely politically active, demonstrating in peaceful protests against fascism and human rights violations in Chile.
4. The famous and influential art critic Lucy Lippard wrote that Vicuña worked in the landscape before the Land Art movement begun. When later asked about how it felt when artists like Carl Andre and Walter de Maria were credited with inventing Land Art, Vicuña confidently responded, "How many extraordinary women had the very fact of their being silenced in art, philosophy, and science… in every field? So, I felt that I was in good company."
5. One of the artist's most well-known series is her quipus . From the Brooklyn Museum: "For millennia, ancient peoples of the Andes created quipus —complex record-keeping devices, made of knotted cords, that served as an essential medium for reading and writing, registering and remembering. New York-based Chilean artist and poet Cecilia Vicuña has devoted a significant part of her artistic practice to studying, interpreting, and reactivating the quipus , which were banned by the Spanish during their colonization of South America.
6. This uplifting silkscreen print encapsulates Vicuña's spirited approach to art and activism. It's small edition size of just ten makes the price of $2,500 a steal.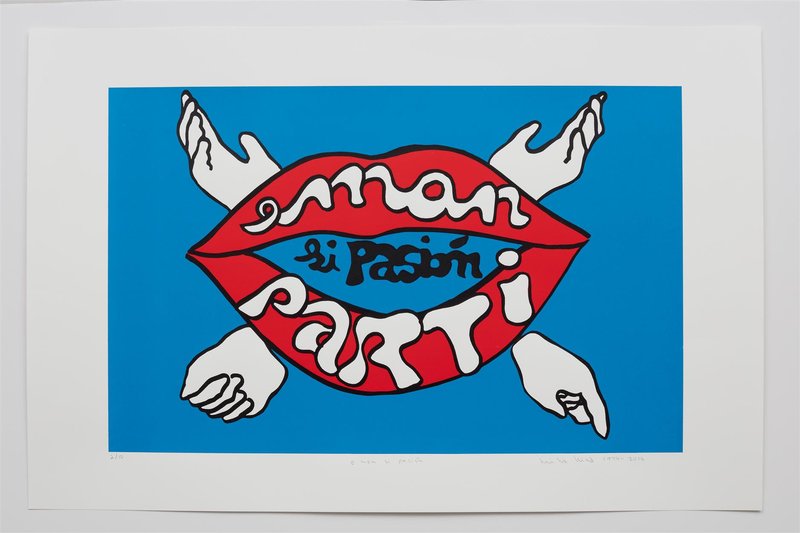 Eman si pasión / Parti si pasión (1974) is available on Artspace for $2,500
[related-works-module]