Artemisia Gentileschi was one of the most famous Italian Baroque painters, although you've probably never heard of her. Born in Rome in 1593, Gentileschi produced feminist masterpieces such as Judith Slaying Holofernes (c. 1614-20) and Self-Portrait as the Allegory of Painting (1638–39). Her work is in the permanent collection of museums like the Metropolitan Museum of Art in New York and the National Gallery in London. Here, we give you a brief introduction to Gentileschi and her badass art.
BEGINNINGS
Gentileschi lived at a time in which women were expected to be nuns or wives and mothers; aristocratic women, whose children were cared for by hired help, were sometimes encouraged to pursue art, but only as a hobby. But Gentileschi wasn't rich: her father, Orazio Gentileschi, was a painter, who brought on his young daughter as a studio assistant. Caravaggio was still the rage, and so Gentileschi was trained in his style: chiaroscuro, dramatic scenes, and realistic figuration.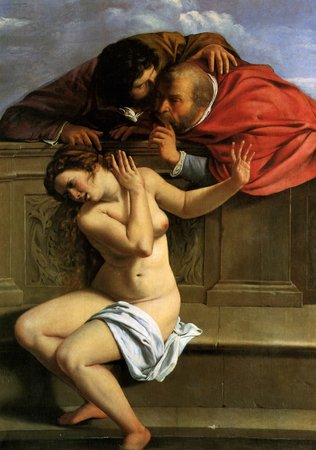 Susannah and the Elders by Artemisia Gentileschi (1610), image via Wikipedia.
While he appreciated her free labor, Orazio was hardly thrilled at the thought of his daughter becoming a professional painter. He tried sending his daughter to a nunnery on multiple occasions, but Gentileschi resisted. Eventually, her father caved, rapidly switching into promotional mode. In 1612, when Gentileschi was only 19, her father bragged that she had "become so skilled that I can venture to say that today she has no peer." Gentileschi had completed Susanna and the Elders (1610), her first major work at age 17, two years earlier. The painting, was, in many ways, typical of the period: it depicted a biblical scene––in this case, the story of Susanna, a virtuous Jewish woman who is prayed upon by lecherous male judges. But instead of using the parable to advocate religious faith or to focus on the lechers, Gentileschi, to quote her biographer Mary D. Garrard, offered "an image rare in art, of a three-dimensional female character who is heroic…. The expressive core of Gentileschi's painting is the heroine's plight, not the villains' anticipated pleasure."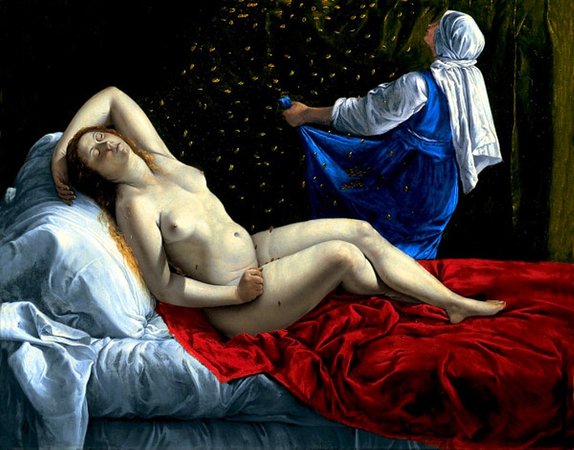 Danaë by Artemisia Gentileschi (1612), image via the St. Louis Art Museum.
In a horrific coincidence, Gentileschi's career would soon be overshadowed by a sexual assault committed by her father's business partner, Agostino Tassi, who took her virginity in the process. After the rape, Artemesia continued to have a sexual relationship with Tassi with the expectation that he would marry her, which he promised to do; despite the rape, marriage would restore her honor. But Tassi defaulted on his promise. When Orazio found out, he and Artemesia decided to press charges, not least because he claimed that Tassi had stolen a painting from the Gentischeli's household. The Gentileschis were, in fact, only able to press charges because Tassi took Gentileschi's virginity; rape was in itself not a punishable crime. Regardless, pressing charges on sexual misconduct of any kind was almost unheard of at the time, making Gentileschi both a heroine and a subject of ridicule.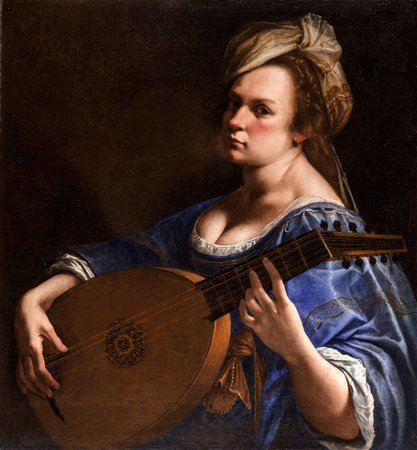 Self-Portrait as a Lute Player by Artemisia Gentileschi (1616), image via Wikipedia.
Gentileschi brought Tassi to court––and even more remarkably, she won. As with Dr. Christine Blasey Ford's case hundreds of years later, Gentileschi's trial was incredibly public, forcing her to recount the rape in granular detail to a large audience. She was also tortured via thumbscrews: ropes were tied to her fingers and then gradually tightened, which, at the time, was a mechanism used to tell whether or not people were telling the truth. After seven months, Gentileschi won the case; Tassi was sentenced to five years in prison, but never ended up serving time.
ENTERING THE BOYS' CLUB
After the trial ended, Gentileschi moved to Florence to be with her new husband, Pierantonio Stiattesi, a minor painter that her father had set her up with. She was ready to start her solo painting career but also, perhaps, to start over, far away from her father and the city in which the trial had taken place. She soon became an extremely successful court painter, taking commissions from the House of Medici, an Italian banking family and political dynasty. She also befriended Galileo Galilei, now regarded as the father of modern physics, and was the first woman to be admitted into the the Accademia delle Arti del Disegno (Academy of the Arts of Drawing). Admittance into this demi-guild allowed her to buy paint and supplies without a man's permission, travel alone, and sign contracts; it was also, as we would now call it, a superb networking opportunity.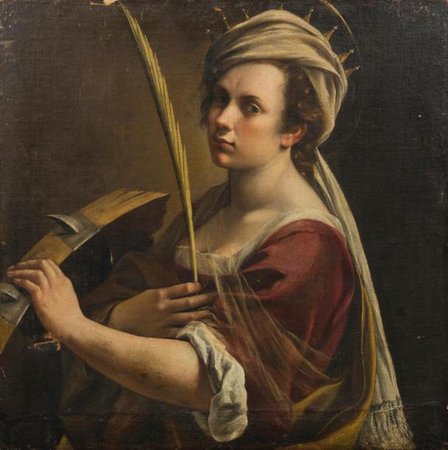 Saint Catherine of Alexandria by Artemisia Gentileschi (1616), image via Wikipedia.
It was during her stay in Florence that Gentileschi began her now iconic series of works on Judith and Holofernes. An Old Testament heroine, Judith beheads a warlord who has attacked her town. Caravaggio had in fact depicted the same scene at the end of the sixteenth century: his version centers Holofernes, his face distorted in anguish and shock, while Judith pushes the knife in squeamishly. In Gentileschi's depiction, however, Judith kills the warlord with determination and skill; the focus of the painting is on her face––Holofernes looks to be already dead. By focusing on Judith, Gentlischi's painting argues that women can and do have agency, not just in art but also in life. Garrard has argued that the painting is autobiographical, with Gentileschi painting herself as Judith and Tassi as Holofernes. The painting, which would go on to become her best known work, is currently located at the Museo di Capodimonte in Naples.
Gentileschi's paintings throughout her Florence period continued to focus on powerful female heroines. Like other European Baroque painters, she frequently pulled from biblical scenes, depicting Mary Magdalene and Saint Catherine, a third century martyr and scholar who converted hundreds of people before being killed at age 18. Remarkably, she also taught her daughter to paint, who would go on to have a career as a working artist in her own right.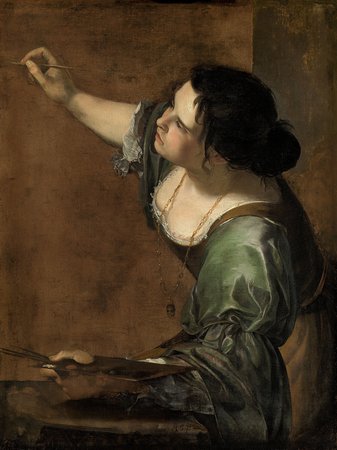 Self-Portrait as an Allegory of Painting by Artesimia Gentileschi (1638-9), image via Wikipedia.
During this period, Gentileschi also began having an affair with Francesco Maria Maringhi, a wealthy Florentine aristocrat. Gentileschi's husband, Stiatessi, knew about their relationship and actually allowed it; Maringhi helped the family financially, helping them out with the debts caused by Stiatessi's frequent overspending. But by 1620, rumors about the affair, in addition to compounding legal troubles, forced the family to move back to Rome. When opportunities in Rome petered out, they moved to Naples, making frequent trips to London after Gentileschi was invited to become a court painter for King Charles I. The King would commission and collect one of Gentileschi's best known works, Self-Portrait as an Allegory of Painting (1638-9).The piece depicts Gentileschi painting herself, suggesting that this act––and that she herself––were symbolic of painting as a whole. While controversial in its time, Self-Portrait an an Allegory of Painting is now praised for its bold feminist message.
Despite her success, Gentileschi still had trouble getting fairly compensated for her work. In a letter to her patron Don Antonio Ruffo, she fights against his efforts to underpay her, writing, "I was mortified to hear that you want to deduct one third from the already very low price I had asked. I am displeased that for the second time I am being treated like a novice. It must be that in your heart Your Lordship finds little merit in me." In another letter, she suggests that perhaps Ruffo's comfort with underpaying her stems from misogyny.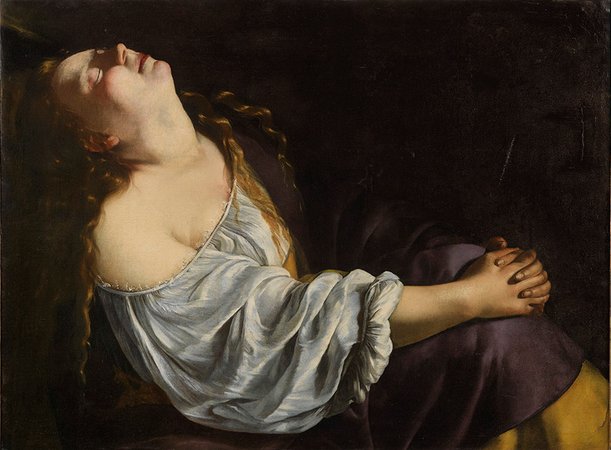 Mary Magdalene by Artemisia Gentileschi (c. 17th century), image via Artnet.
LEGACY
In a letter to Galileo, Gentlischi wrote, "I have seen myself honored by all the kings and rulers of Europe... [my paintings will] provide the evidence of my fame." She was right, of course, but as with other feminist painters that came after her like Hilma af Klint, it took a while for the world to catch up. After she died, her work fell off the art historical radar until 1916, when Caravaggio scholar Roberto Longhi published an article on Gentileschi and her father. Unfortunately, Longhi's wife, Anna Banti, wrote a sensationalist novel, Artemisia, based on the artist's life in 1947, which, as scholar Griselda Pollock has argued, turned Gentileschi's rape into the "axis of interpretation of the artist's work." That is, instead of paying attention to her intellect or artistic skill, critics zeroed in on her victimization, viewing all of her work through that lens and ignoring the ways in which she empowered herself as well. Thanks to the dedication of feminist scholars such as Garrard, this legacy was re-written throughout the seventies and eighties. In 1976, Gentileschi's paintings were included in "Women Artists: 1550-1950," a powerful, well-known exhibit curated by Ann Sutherland Harris and Linda Nochlin (author of "Why Have There Been No Great Women Artists?") at the Los Angeles County Museum of Art. We can only hope that this level of Gentileschi scholarship will continue. Or, as she once said to Ruffo, "And now, I'll show Your Most Illustrious Lordship what a woman can do!"
RELATED ARTICLES:
Beacon of Light: The 7 Best James Turrell Works You've Never Heard Of
"I Don't Want to Be Scared of Anything": 'Argonauts' Author Maggie Nelson on Sarah Lucas's New Museum Show
FAQ: Legendary Photographer Annie Leibovitz Anwers the Ten Fans Ask Her Most