Why do certain pieces of art just cheer you up? It's an age-old question regarding the way we respond to the pictures on our walls. In 1897, Leo Tolstoy grappled with the question at a critical level when he wrote his book, What Is Art? Tolstoy was writing at a distinctly stressful period – his writing attracted the attention of the censors, delaying its publication in his home country – but through this exercise, he came to a conclusion about the role of the visual arts: 'Art is a human activity,' he wrote, 'having for its purpose the transmission to others of the highest and best feelings to which men have risen.'

As a working definition for what should draw you to the work you fill your life with, it stands up more than a century later. But compared to most of the subjects we discuss on these pages, there's no need to overcomplicate and over-theorise the issue of happiness and how it manifests in the art viewer. In times of stress and difficulty, there is a lot to be said for the work that, when you look at it each day, simply lifts your heart, raises your spirits and sends you on your way with a smile. So with that in mind, here's our pick from the Artspace archive of the best work for giving you a boost in a time of need – no theorising required.
Allie Ellis - Banana Grandma, 2019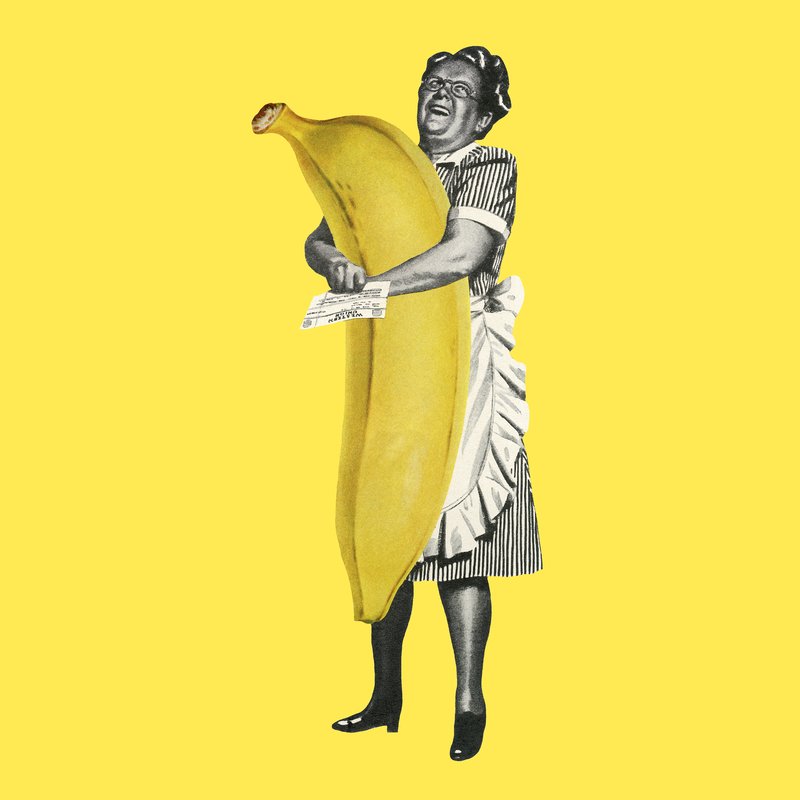 Based in Rochester, New York, Allie Ellis has worked through a whole range of creative disciplines, from multi-instrumentalism to jewellery creation and bookbinding. Informed by Sixties Pop Art, her art pieces convert her photography into high-powered collages. (You may have already seen Banana Grandma at PULSE Miami Beach in December 2019 where it chimed with the banana zeitgeist of that week which had been sparked by Maurizio Cattelan and his Comedian piece. Aside from the aesthetic merits of the work, a huge injection of yellow into your life always helps – in color therapy, a pop of yellow is associated with feelings of happiness and spontaneity, along with laughter, hope and sunshine.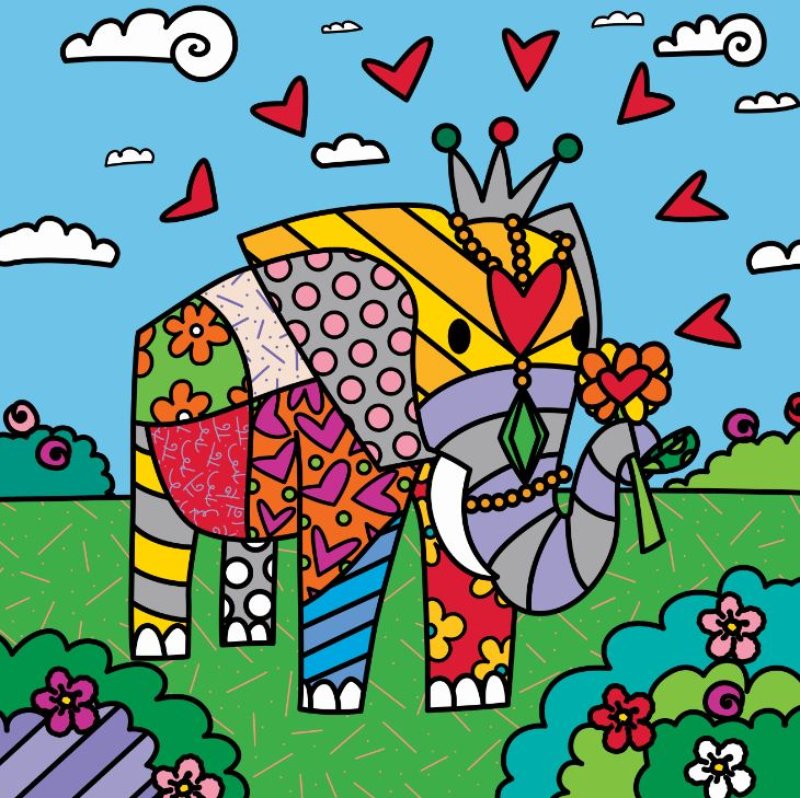 Born into a large family in Recife, Brazil, from his earliest work Romero Britto created an alternate universe for himself of life-affirming color, bold shapes and optimistic characters. Informed by the Pop Art of the Eighties (his work was used on Absolut vodka bottles after that of Andy Warhol and Keith Haring. Britto went beyond the surface concerns of this movement to create something more organic, emotional and big-hearted. Eileen Guggenheim compared his use of color and shape not to the artists of the Sixties and beyond, but to the floating lovers of Marc Chagall. The elephant motif recurs in his work – a flower-brandishing, love-giving, animal deity to brighten up every situation. This print on canvas is an edition of 180 and comes with a numbered hologram to signify its authenticity.

Bel Fullana – Burguer Queen, 2019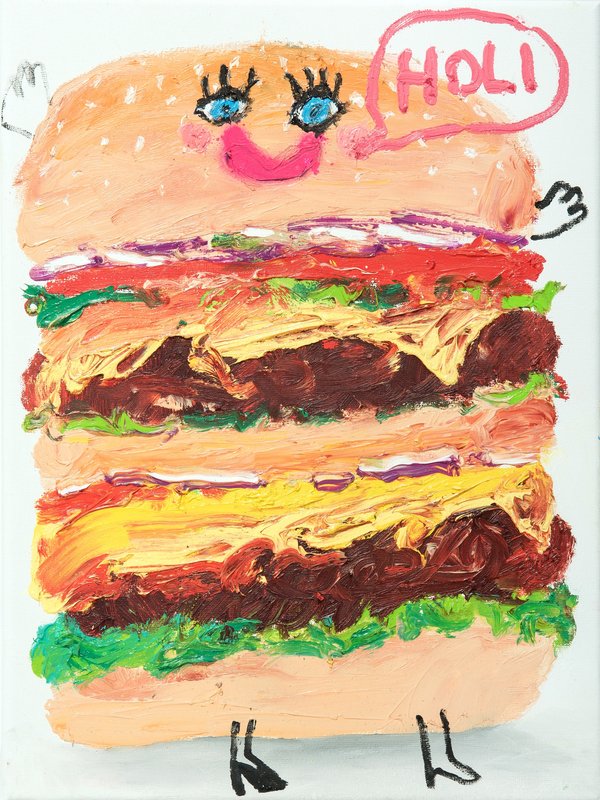 For a tiny island associated with the less sophisticated end of holidaymaking, Mallorca has a surprisingly vibrant arts scene. The back streets of old town Palma are liberally scattered with independent galleries, and the major institution on the island, Es Baluard Museum is one of the best galleries in the Mediterranean. Born and raised in Mallorca, Bel Fullana has exhibited extensively through the island, as well as showing throughout mainland Spain and Latin America. Fullana's cartoonish oil paintings capture the light and levity of island life – a place where rainbows rain down into cocktail glasses, palm trees bend down to bright blue swimming pools and even your oversized burger is happy to see you. This unique work is signed by the artist.
Monty Kaplan - Candy Crush, 2017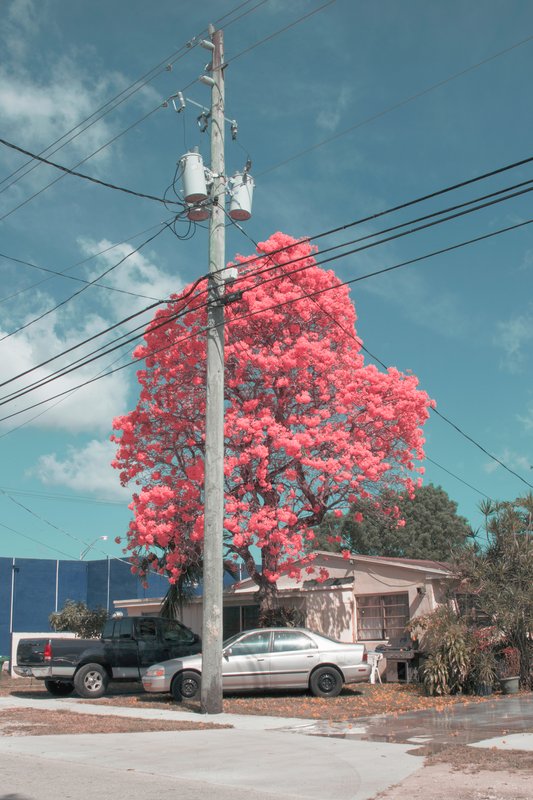 Monty Kaplan is a self-taught photographer from Argentina. 'I shoot as a documenter but I think and work as a painter in my post process, exploring the possibilities of the image, I look to abstract, to reconfigure,' he explains. 'I want the viewer to get as close as possible to experience the world through my eyes.' In this current period, when the uplifting power of the natural world has seldom been more important his hyperreal shot of a cloud of frosted pink spring blossoms seemingly floating above an intersection is just what we need. This giclée print is an edition of five and comes with a signed certificate of authenticity and a signed artist label.
Takashi Murakami – Gargantua on Your Palm, 2018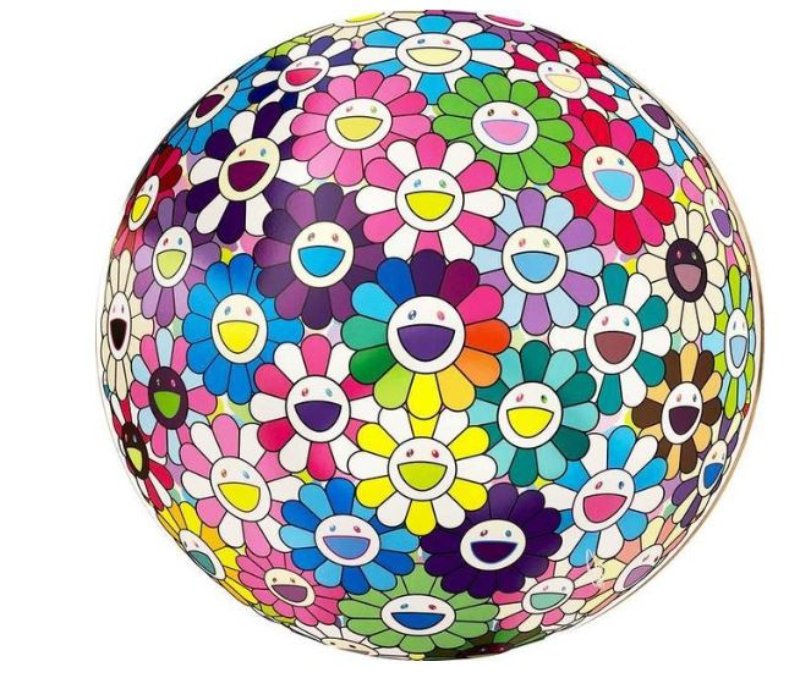 One of Japan's leading – and most instantly recognisable – contemporary artists, Takashi Murakami's work has seen him reach far beyond the gallery world and into collaborations with Louis Vuitton, Issey Miyake, Kanye West and Pharrell Williams. Having pioneered his concept of 'Superflat' – a critique of Japanese consumer culture and the flattened forms prevalent in graphic art and animation – an entire generation of artists has developed under his patronage at his Hiropon Factory studio. Beyond the theoretical though, his work has an immediate, visceral impact – in this case, thanks to a host of multiple joyful flowers, beaming out at the viewer while surrounded by a color spectrum of petals. Inject some nature and happiness into your collection with this offset print in an edition of 300.

David Shrigley – I Love…, 2019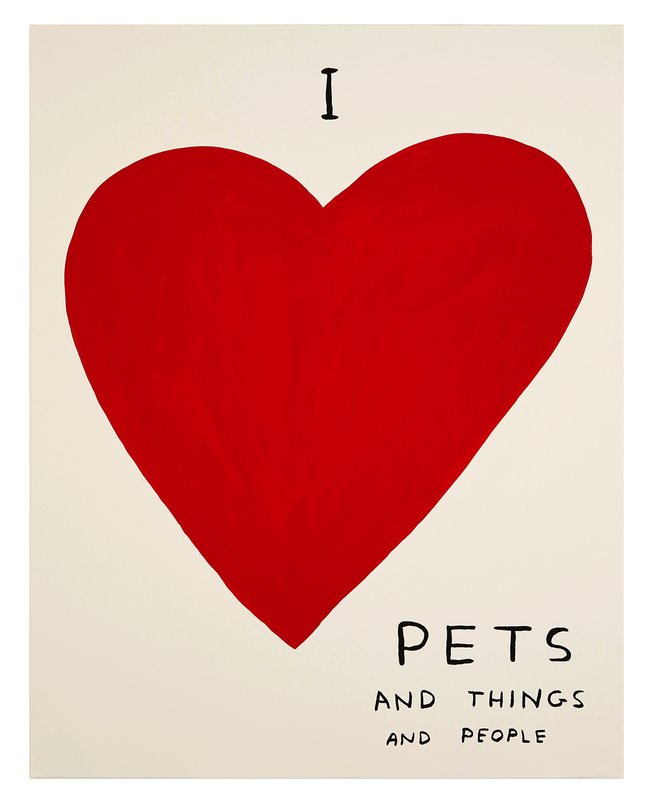 David Shrigley's work frequently drifts in to a kind of surreal, pitch-black humour (his borderline psychopathic mascot for Scottish football club Partick Thistle being a case in point) but he's equally capable of straightforwards, uplifting sentiment. Particularly in this bold work from 2019 in which life is boiled down to those essential elements that we're all holding out for right now – a resumption of pets, things, and people. It's a manifesto we can all get behind and this four-color screen print comes signed, numbered and dated by the artist.
Taylor Smith – Million Dollar Smile, 2019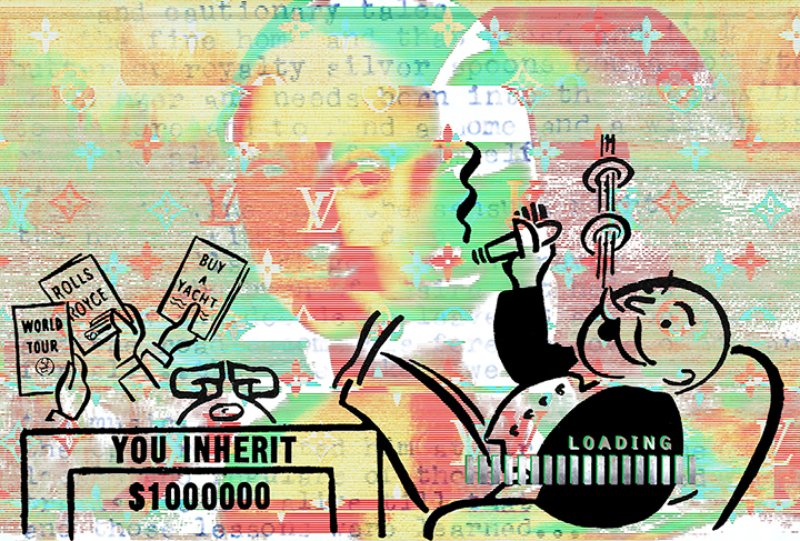 Taylor Smith is an example of the artist as a catalyst for positive change – as well as her creative work, she's the founder/director of Own The Montain an organisation dedicated to fighting climate change and the loss of snow in mountain communities. With work in public and private collections everywhere from the University of Texas at Austin to the Starbucks HQ in Seattle, Smith uses 'abstraction, figuration and elements of Pop Art to speak to the corruption of technology, science, people and our natural resources.' This approach sees her utilising everything from discarded analogue film formats to commercial packaging and chemical processes to produce multi-layered Pop paintings, populated by a host of your favorite characters, from the Mona Lisa to the unflappably-successful Monopoly Man (or 'Rich Uncle Pennybags' to give him his full name).
Andy Warhol – Flowers Original Mailer, 1964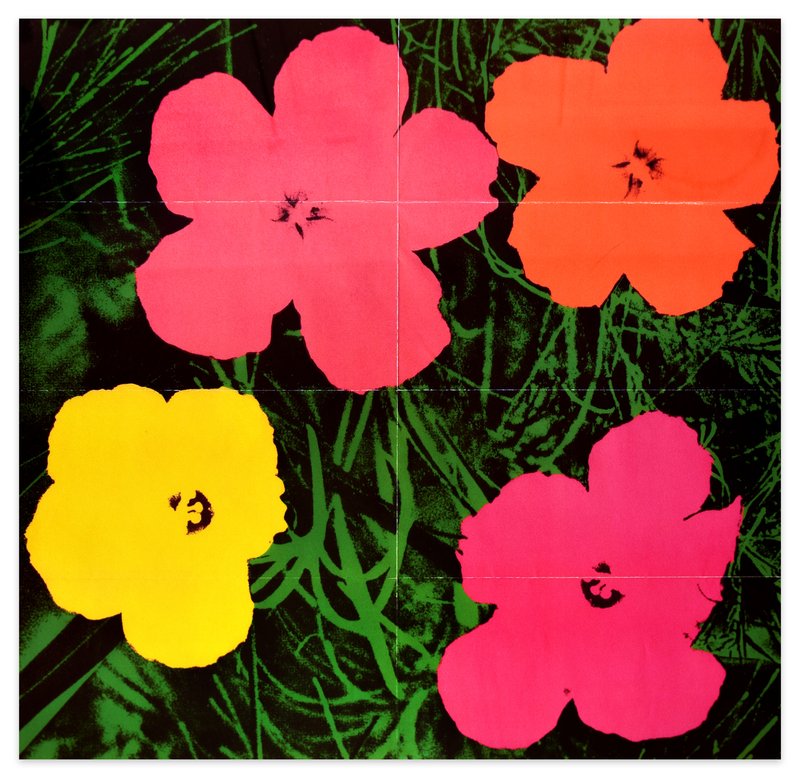 Much of the public view of Warhol is concentrated on his use of human and manmade icons, from Marilyn to Brillo boxes, or his uncompromising work from slow, epically long films to car crash photographs and electric chairs. But on a much simpler level, he was, first and foremost an absolute master of color – the introduction of unexpected shades to otherwise mundane images (often exactingly created tertiary colors for maximum impact) was elevated to an art in its own right. And as in this piece, he was capable of using that color to create disarmingly simple, joyful pictures – Flower Original Mailer was created for his first solo show at the Leo Castelli Gallery from November 21st to December 17th 1964. It's a vibrant image that captures an artist at the exact moment when he stepped from obscurity to world-changing celebrity. A true piece of art history.
[smile-module]
RELATED STORIES
10 Artworks That Calm The Senses