One of the joys of Artspace's Artist Direct program is the way in which it offers unencumbered access to the artist's studio. The program enables artists to offer their work directly to collectors, without the intermediary of a gallery or additional dealer. In this way we can offer and showcase-fresh works, as well as archival pieces and re-editions, which the artist has been ruminating upon, or only just chosen to release. It's a rich selection of works, which feels uncloistered by the concerns of the gallery system. But just as importantly, like their creators, many of the works have stories of their own behind them. Want to know about the art you're considering for home? From abstract painting to documentary photography, here's a handful of recent highlights with tales to tell.
Richard Leo Johnson - Sheriff's Office in Small Southern Town, 1979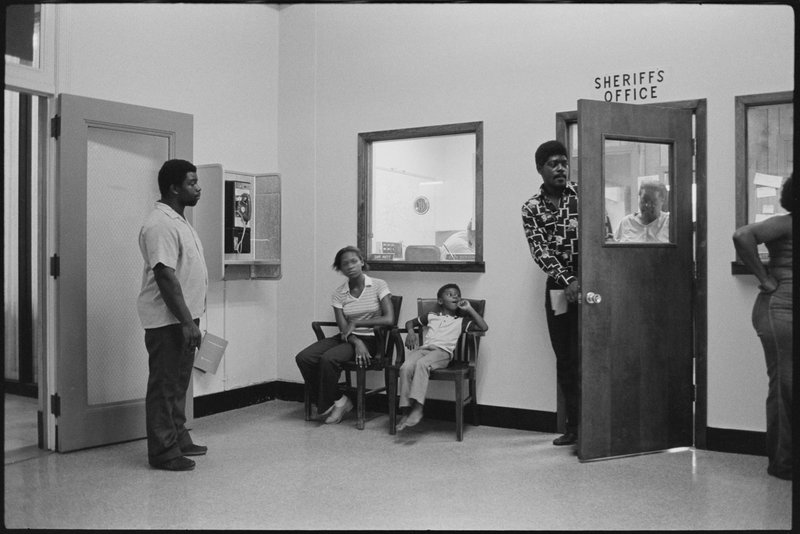 View Johnson's photograph, and it's hard not to feel some of the trepidation that must have permeated this police waiting room, over forty years ago. The photograph forms part of a series Johnson took in North Louisiana and South Arkansas during the 70's and mid 80's. Sadly, in 1995, while living in a small mountain village in North East Arkansas, the photographer lost almost all his archive and photographic equipment in a storage barn fire.
The loss prompted Johnson to pursue a career in music. This proved to be a fairly successful move; he has recorded albums for Blue Note records, among other labels, and toured Europe and North America extensively, before returning to photography once more.
This image comes from series, Once Was Lost, and are printed from negatives Johnson placed in his parents' attic on a whim, shortly before the fire. The photographer only rediscovered this lucky cache of images a few years ago, and has begun to create prints from the exposures one again.
Drew Doggett - The Great Escape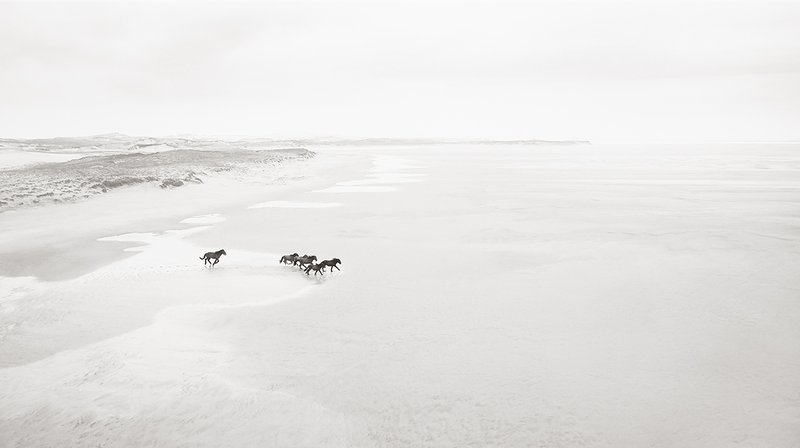 Sable Island off the coast of Nova Scotia, might have few human inhabitants, but is home to a healthy population of feral horses. Introduced to the island in the 18th century, the animals ran wild, and are now legally protected.
The acclaimed American photographer and filmmaker Drew Doggett (who has received over 100 awards and honors, including a distinction from the UK's Royal Photographic Society) captured these graceful creatures in their natural habitat via a drone camera. This print comes from a series of 10 never-before-seen images, released to mark Doggett's seventh year of documenting these beautiful, mysterious creatures.
Marisu Solís - Verdicio II, 2004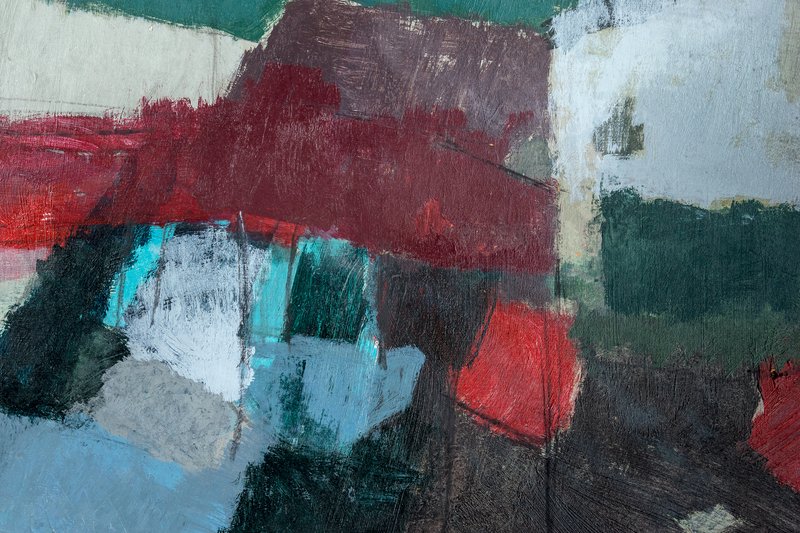 Marisu Solís was a student in Madrid when General Franco's rule finally ended in 1975, and can remember the rich, cultural explosion that followed his fall, which is often referred to as the Movida de Madrid.
Her colorful, semi-abstract acrylic on wood works still draw from those joyous days, but Solís – who has exhibited throughout Spain and placed works in collections throughout Europe and America – is also inspired by her natural environment, as well as Fauvism, German Expressionism and American Abstract Expressionism. Hankering after some Joan Mitchell, De Kooning or Motherwell? Then here's something to hang alongside!
Carlos Bruscianelli - Marbles and Square base Glass, 2019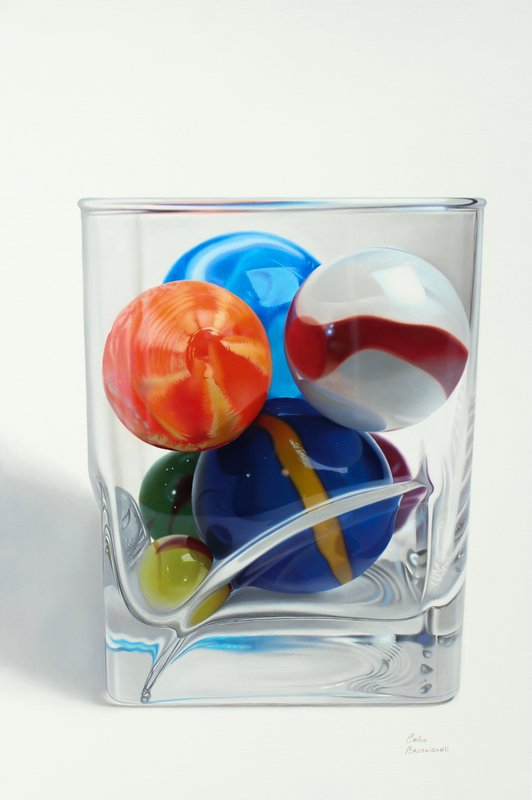 Venezuelan painter Carlos Bruscianelli studied civil engineering before devoting himself to hyperrealist works at the turn of the naughties. Many of them bring to mind the work of mid-century photorealist pioneers such as Ralph Goings and Richard Estes, as well as more recent artists, such as the German painter Peter Dreher.
The artist has shown his work in galleries in his hometown of Caracas, as well as in New York and Miami. Bruscianelli uses oil and pastel chalk on cotton canvas to create his still life paintings, and favors a selection of natural and man-made materials among his subjects, including glass and marbles as well as wood, fruits, paper and cardboard.
Misato Suzuki - Ferris Wheel, 2021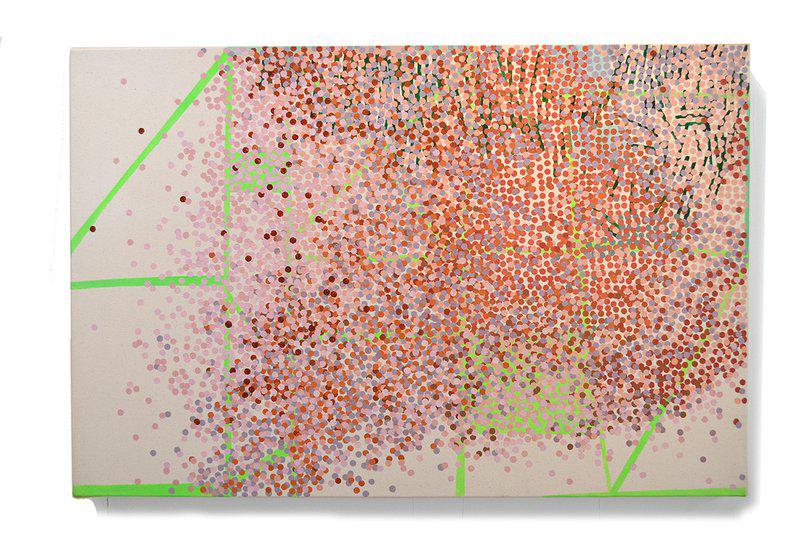 It may look abstract, but you might be able to pick out a few figurative forms in Suzuki's neo-pointist paintings. The artist says that her paintings often integrate organic forms with recognizable shapes, such as silhouettes or umbrellas. This painting comes from her series Punkt, which, of course, isn't a reference to Green Day or the Sex Pistols, but instead takes its title from the German word for 'spot' or 'point'.
Suzuki herself was born in Aomori, northernmost Japan, and now resides in Southern California, where she paints her vibrant, acrylic on canvas works, drawing inspiration from her local landscape and culture – amusement park rides included, judging by the title of this piece.
Want to see more works from our Artist Direct program? Then go here.