The point where artists first began depicting the plants and trees around them is unclear. The very earliest cave paintings focus on human and animal figures, until an estimated 25,000 years ago when the artists at what is now the Serra da Capivara National Park in northeastern Brazil etched out simple illustrations of what appear to be humans worshipping the trees in their midst. Botanical imagery proliferated throughout the fifteenth and sixteenth centuries, with plants often used to symbolically convey imagery about the sitter or resonate with a religiously literate audience (for example, the beech tree went from a pagan symbol to being associated with Christ, as in Brescia's Christ in The Wilderness (1515-1520).
This fascination continued into the modern era: Henry Moore's 1966 show at Brooklyn Museum arranged small plants among his vast sculptures; Jasper Johns' Lithographs show at MOMA NY in 1970 was dominated by a vast potted plant; the Hayward Gallery's Among The Trees show in London bought a chlorophyll-rich experience into the brutalist concrete space this year.
Just as interest in plants has surged among the public through lockdown – succulents and terrariums are on trend, the Wall Street Journal named gardening as the key trend in menswear, BBC's Gardener's World recorded its highest viewing figures in a decade with host Monty Don praising the "powerful medicine" of looking at plants – here are our favorite Artspace artists working with and about leaves and flowers.


Pablo Picasso - Plante aux Toritos, 1962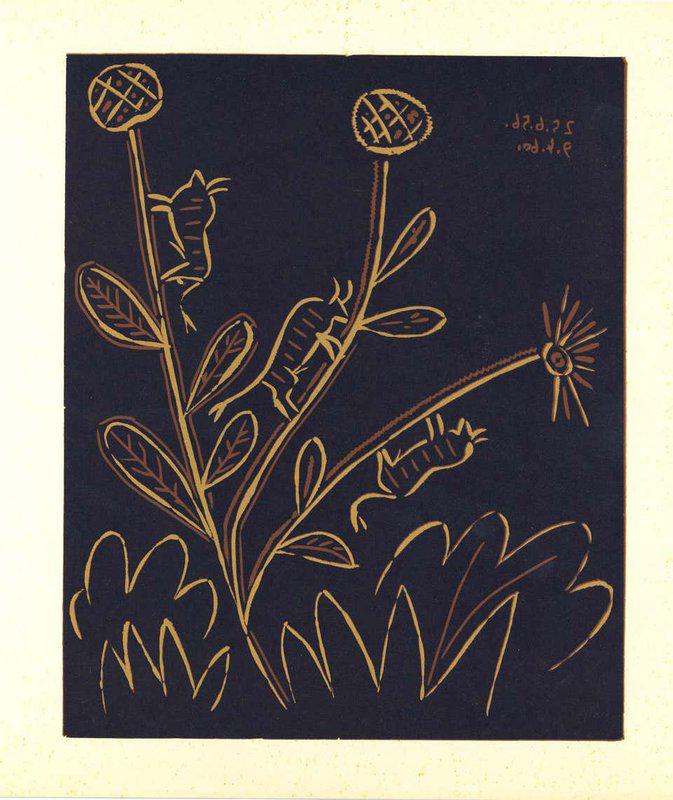 The early Sixties were a pivotal time for Pablo Picasso. In the summer of 1960, the most extensive retrospective of his life and work to that point opened at London's Tate Gallery, with Tatler christening it the first "art block-buster" show. While Guernica had been shown at various locations in the UK previously – including the Whitechapel Gallery and a car showroom in Manchester – for most people (public and artists both) this was the first chance to absorb Picasso's work in person. A Spanish buffet for 2000 people took place on the gallery lawn with guests including the Duke of Edinburgh – Picasso himself swerved the event, claiming to have no interest in his past paintings, but it was a key moment in the mainstreaming of Modernism. Through the years that followed, Picasso painted prolifically, pushing further into abstraction and bold color, but interspersed these works with beautifully simple pieces like Plante aux Toritos. This linocut shows a scratched out scene of plants and small animals, their curves and shapes lined out against an inky black background. This is an unusual piece by an undisputed master.

Marianne Hendriks - Autumn Tabulata, 2019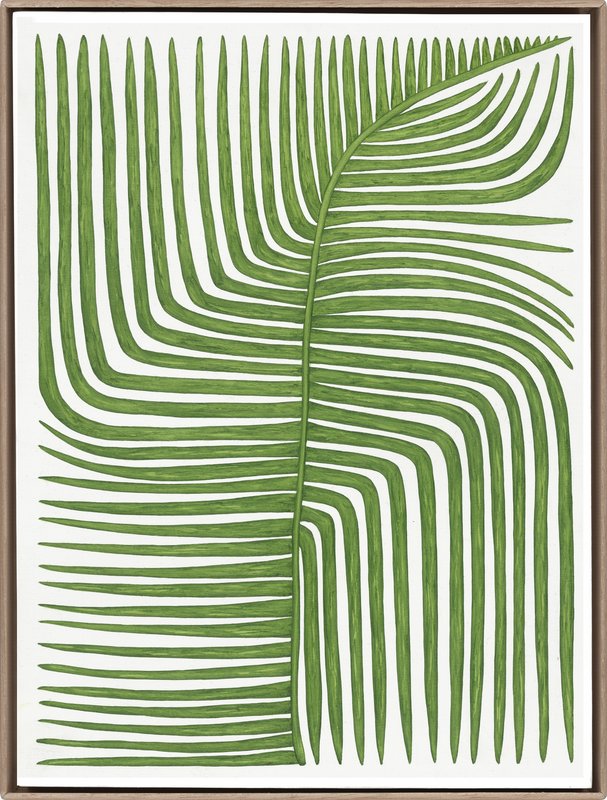 Dutch artist Marianne Hendriks' background was originally in architecture and design, having studied Architecture and Spatial Design at Central St Martins. Despite this formal training in the built environment, since returning to the Netherlands her work has focused on the shapes and forms of plants. "I like to experiment and explore how nature can be perceived and portrayed. The plants that I paint go through a metamorphosis, I redesign them. It feels like I am messing a bit with their DNA." Chosen by the Saatchi Gallery as "one to watch" in 2019, her Botanicus collection takes the forms and colors of plant life and rearranges them into new structures and geometric forms. Influenced by the Japonisme movement (and especially van Gogh and Degas) her work brings a new perspective to the painting of plants. "I started out painting plants with very subtle mutations," she says. "Now I am a bit more brassy and experiment a lot more." This work comes with a Certificate of Authenticity and is registered in the collector's name in the personal ledger book of the artist.
Ed Baynard - Honey Yellow Lily, 1998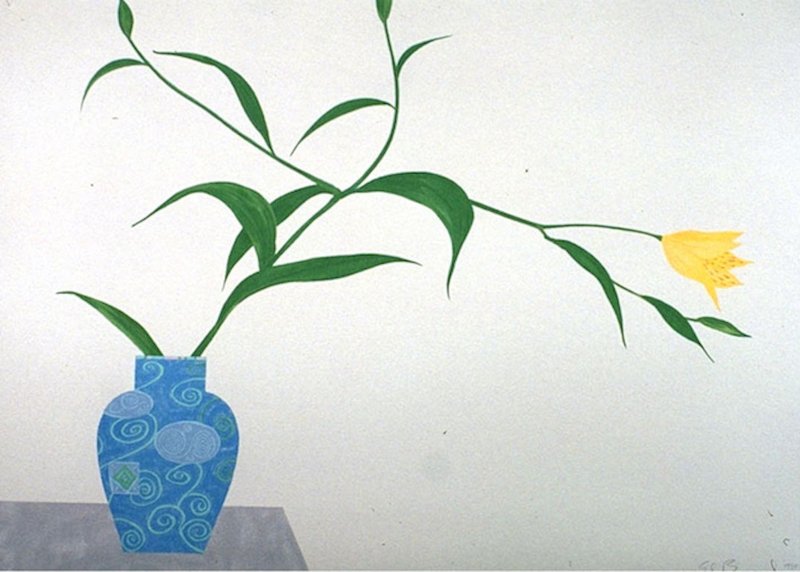 Born in 1940 in Washington D.C., Ed Baynard lived and worked in New York City, Paris and London until his death in November 2016. While in London he designed costumes for Jimi Hendrix and the Beatles before devoting himself fully to art on his return to the States with his first exhibition taking place in 1971. Throughout his subsequent career he produced beautiful, superficially simple paintings of cut flowers, which over time and study revealed depths of color and layers of perspective, with the images sometimes overlapping impossibly or breaking beyond the margins of the print. Strongly influenced by the clean shapes of Japanese painting, his obituary in the New York Times described his work as "containing a 20th Century 'floating world' sensibility." He also experimented extensively with form and technique, working with carving, inking and different print processes, different paper stocks and woodcuts in a constant attempt to clarify the process of turning color and surface into a tranquil vision of the natural world. This silkscreen from 1998 is an edition of 96 and comes signed and dated by the artist.
Elisabeth Condon - Wallpaper Patterns, 2014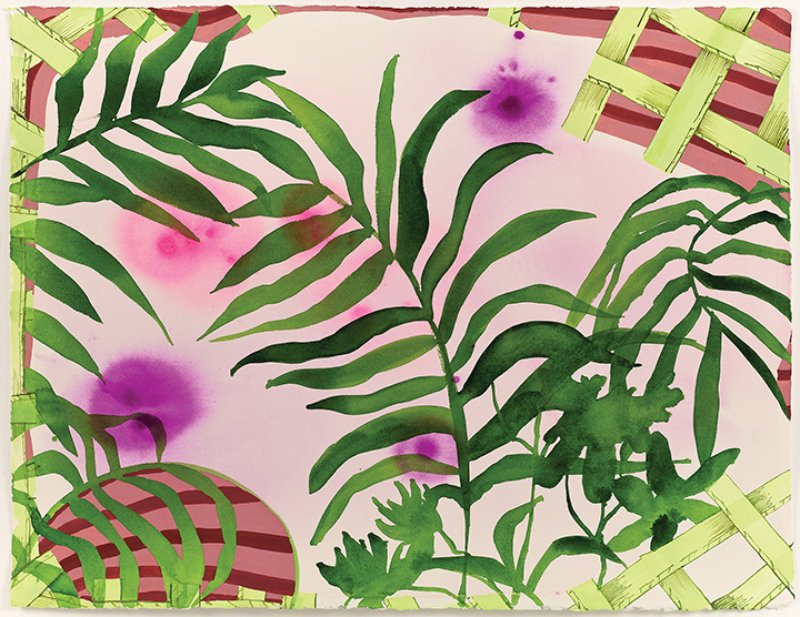 Elisabeth Condon's landscape paintings capture the point where "nature and décor intersect", layers of poured paint and verdant, tropical colors blending on the paper. From 2014-2019 she produced the Pours, Patterns, Brush series combining the sensory overload and detail of seventies sci-fi with the delicacy of scroll painting. This piece from the series is one of the more understated – washes of watercolor and gouache floating away as the rich green leaves sprawl across the painting. Condon's work is a futuristic update of the most traditional botanical art, and looks like nobody else's painting.

Florentine & Alexandre Lamarche-Ovize - Le douanier, 2016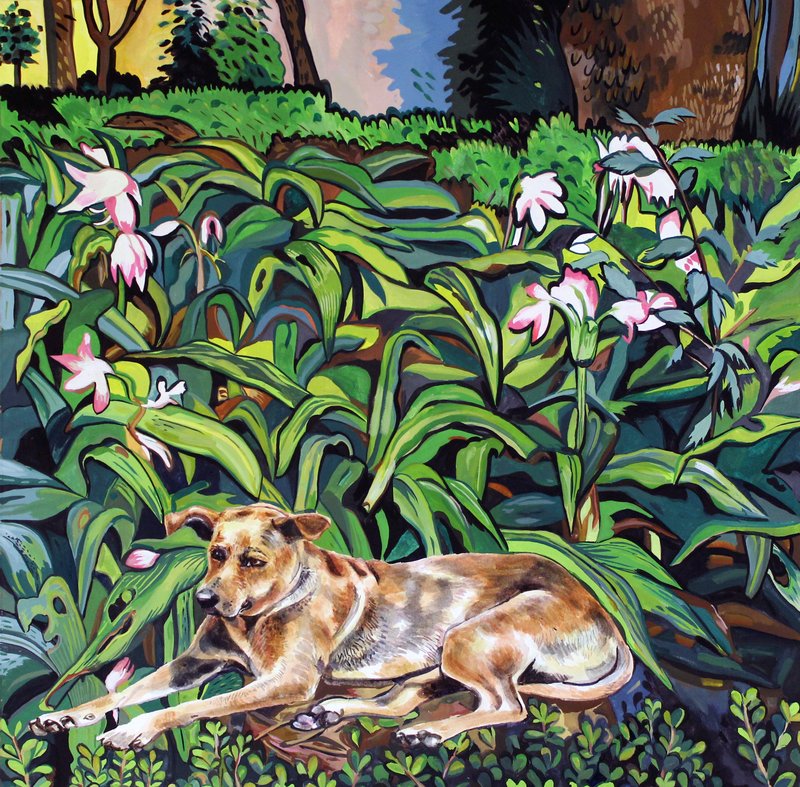 "Flowers are as much a noble motif in classical art – the Flemish school of still life with vases of flowers and crowns for example – as a motif for evening art classes. It is the motif of the Decorative Arts par excellence. They can also be substitutes, portraits – as for Fantin-Latour in his paintings of corners of tables. They are motifs and ploys. A flower can also be used to represent a garden, just on its own." This explanation was given by the French duo in 2017 when explaining the inspiration behind their work. Their installations combine paintings with sculptures, ceramics and living plants, a dense, biological world created in urban galleries across Europe and the US. Like a playful update of William Morris' Arts and Crafts movement or Henri Rousseau's tropical fantasies, the two artists create pictures so lush that you can almost feel and hear the undergrowth. This work is a unique gouache on paper and comes signed.