Nedko Solakov is scared of flying. This is unfortunate, as Solakov is also a Bulgarian artist whose popularity has spread around the world. His drawings, paintings, sculptures and installations form part of the permanent collections at MoMA, Le Centre Pompidou, in Paris; Museum für Moderne Kunst, in Frankfurt am Main; and Tate Modern, London, among other institutions; and he has been included in the Venice Biennale in 1993, 1995, 2001, 2003 and 2007; and Documenta 12 (2007) and Documenta 13 (2012). That's a lot of air miles.
In 2002, the artist was also invited to take part in the Biennale of Ceramics in Albisola, northern Italy, and in response, he asked for some fine Italian clay. Over the following months, each time he boarded a plane, as well as taking his customary tranquilliser, Solakov took the clay, squeezing the malleable blocks in his hands as a means to relieve the stress. He later fired these lumps, and presented them at the Biennale alongside an accompanying boarding pass, to document, embody, and perhaps also make light of, and perhaps alleviate his anxieties.
You see, Solakov's fears aren't limited to the departure lounge, and a few years later he produced 99 Fears, a book of captioned illustrations depicting the many free-floating anxieties he and others experience today.
The collectors' edition of 99 Fears by Nedko Solakov, which includes his lithograph, Fear #999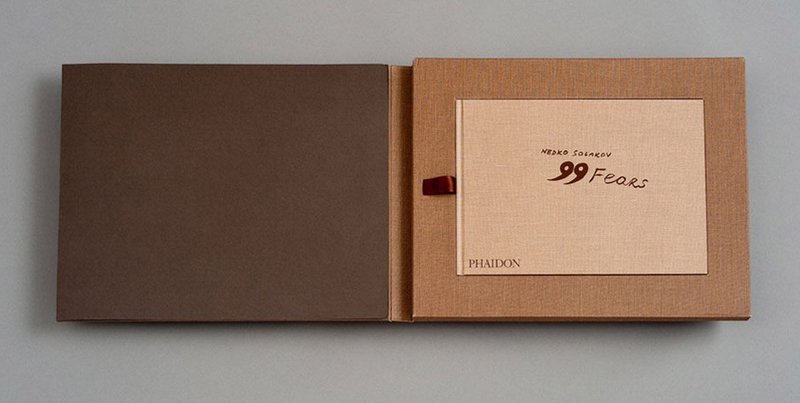 The images are at once revelatory, and self deprecating; he is afraid of the dark, afraid of eavesdropping, afraid of what the future might hold. The drawings are also narrative and absurd at times, such as in his depiction of a cactus and balloon becoming friends, despite the obvious dangers; or his depiction of a "big fear, a medium-sized fear and a small fear" who decide to work together on a family of four.
Solakov grew up under communism, and witnessed his country's transition to capitalism; he knows the old fear of secret police, and the new fears of poverty and inequality, he cautions against adopting too political or biographical an interpretation. "There are much bigger problems at stake here," he told the New York Times, "it's about the way people exist and the way they live."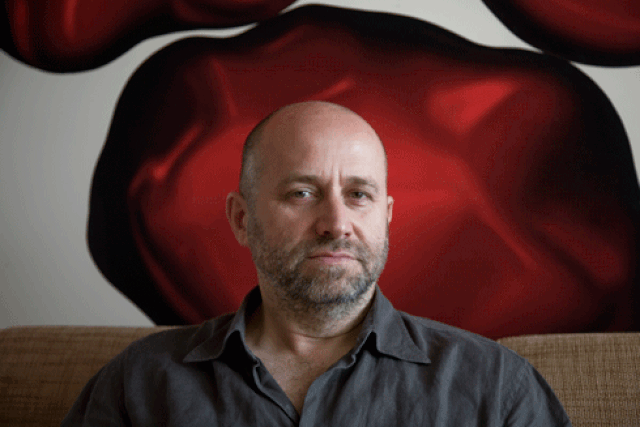 Nedko Solakov. Photo courtesy of Marta della Giustina, via Wikimedia Commons
In an age of such numerous opportunities, so much risk, so many pitfalls, and such ever present FOMO, Solakov's humble illustrations are an elegant way to cut our fears down to size.
For his collectors' edition, he created a series of unique illustrations, each drawn in ink. And there's also an exclusive engraving, entitled Fear #999, printed on hand-torn mould paper in an edition of 100 and signed and numbered by the artist. In this ultimate work, Solakov describes the fear of fear itself–of being scared to death of showing your own fear to others.
That might sound somewhat overwhelming, but in these pithy, narrative style illustrations, there lies salvation; in owning, presenting, admiring and perhaps laughing about this work, perhaps we can overcome the irrational phobia. "I think in the end there's kind of a ray of hope in my stories," says the artist, "a peculiar or absurd happy ending." To discover that for yourself, secure his Fear #999 edition here.