Engage with Alberto González Vivo's art and you engage with the deep joy of seeing. As the Argentinian painter and sculptor explains in this interview, he draws on the work of op art pioneers such as Victor Vasarely, but also from the simple experience of watching light fall on buildings, fabric move in the wind, and waves dissipate on water. Building up his imagery via sketches, collages and digitally, before even picking up his paint brush, the artist uses his own visual reactions as a kind of one-man focus group, to gauge the likely sensations experienced by other gallery goers. He certainly seems to be a good judge of visual responses. González Vivo's work has been well received at art fairs and galleries across the Americas. Nevertheless, rather than relying on the conventional gallery system, he has chosen to sell his dazzling works via Artspace. In this, another of our Q&As with artists who have chosen to make their work available on Artspace, the painter describes his influences, his own tastes, as well as his reasons for opting for a career in tech prior to rediscovering his childhood love of painting and entering the art world.
Light, shape and color play a huge part in your work – how do you make them work together? That's right, the geometry helps me; its potential is immense. My mind plays with some variables that I try to use to create a piece. The shape, the size, the position on the canvas, the color, the light and above all the energy come together in some pieces, such as in Cuadricula óptica en colores.
In this work, I used rectangles as the work's base. Those in the center are larger and the shapes get smaller as we move away from the center. Then I add the color, trying to achieve as many shades of warm and cold pigments as there are squares in a line; I try not to repeat the same color in either the horizontal line or vertical line. Then, to finish the image, I add an almost imperceptible shadow under each square that detaches it from the white background.
This series specifically has several pieces, and its inspiration comes from Victor Vasarely's Vega series, trying to answer what the Vega series - created in the middle of the last century - would look like these days.
ALBERTO GONZÁLEZ VIVO – Cuadricula optica en colores II y sombras, 2016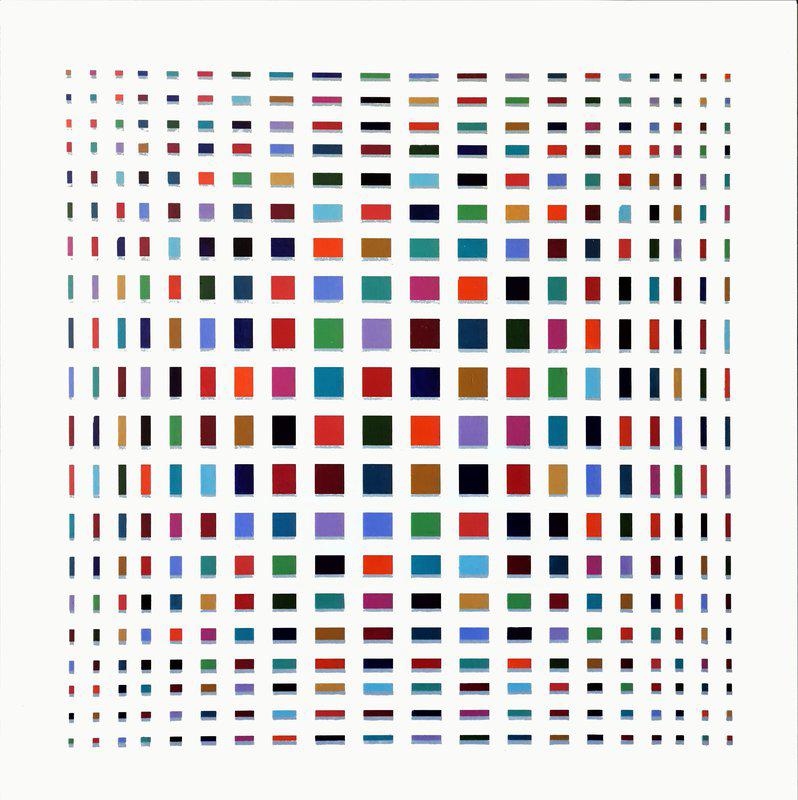 Could you describe your process? Apparently you spend a long time working on preparatory sketches before beginning to paint. That is right; my work starts from a pencil and a graph paper. I sketch, cut figures, arrange them on paper and play with positions, movement, and so on. When the idea has taken shape, I move to digital, composing the piece with exact sizes and positions that are the basis of what I later translate on the canvas. My work is already defined almost 80% before I take hold of a brush. Only the details of shades or shadows remain undecided.
ALBERTO GONZÁLEZ VIVO –Circulos LED VI, 2021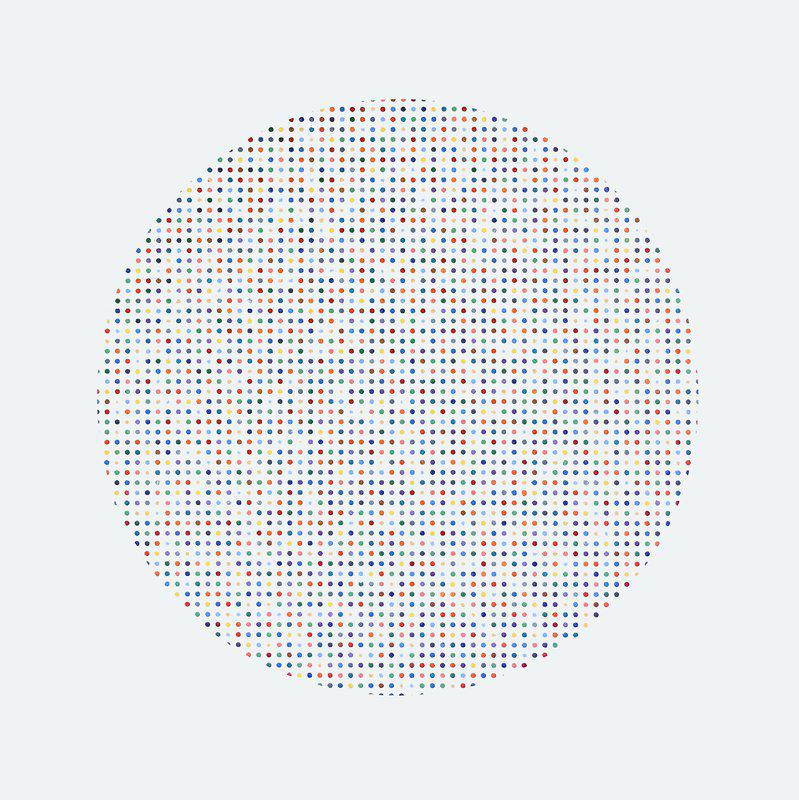 We love the way the images 'float' in front of the viewer, is that hard to achieve? Not really. That is a matter of practice – I play with the images to see if the effect one wants to make manages to mobilize the viewer in some way. Even though it took me a long time to get to that point, I don't believe that there is anything that is more difficult than anything else. Each work is different and the creative process in my mind is not linear or automatic. Sometimes I have thought for several days about whether the combination of effects generates a lot of noise for the viewer, or if the design gives me a better visual sensation if two colors are combined in a small space.
How has your work changed over the course of your career? After I focused on geometry and optical art, my work has evolved. Each series shows the journey of seeking how to bring new visual sensations. Normally I work on two or three series simultaneously and as time goes by, I notice that I can add new forms to the original idea; this is how the series grows. There was a point in my work when I searched for excellence, and focused on materials, colors, finishes, details, etc. That was an evolution and a change between my first works and the current ones.
What should people look for in your work and what do you hope they might get out of your art? What people tell me about my work is that it does not go unnoticed. It gives a pleasant sensation, although it can be visually uncomfortable at times. I see myself represented in that audience. What I am looking for is to achieve, with subtlety, a visual effect that makes the viewer be subjugated by the work and to see a smile that expresses a pleasant sensation. That is the effect I am looking for. I see my own experience as a reference point; I think if the work causes the desired effect on me, it will have that effect on others. Obviously my art isn't something that appeals to everyone, but I know there is a certain group of viewers who will experience it like me.
ALBERTO GONZÁLEZ VIVO – Abstraccion Geometria en L III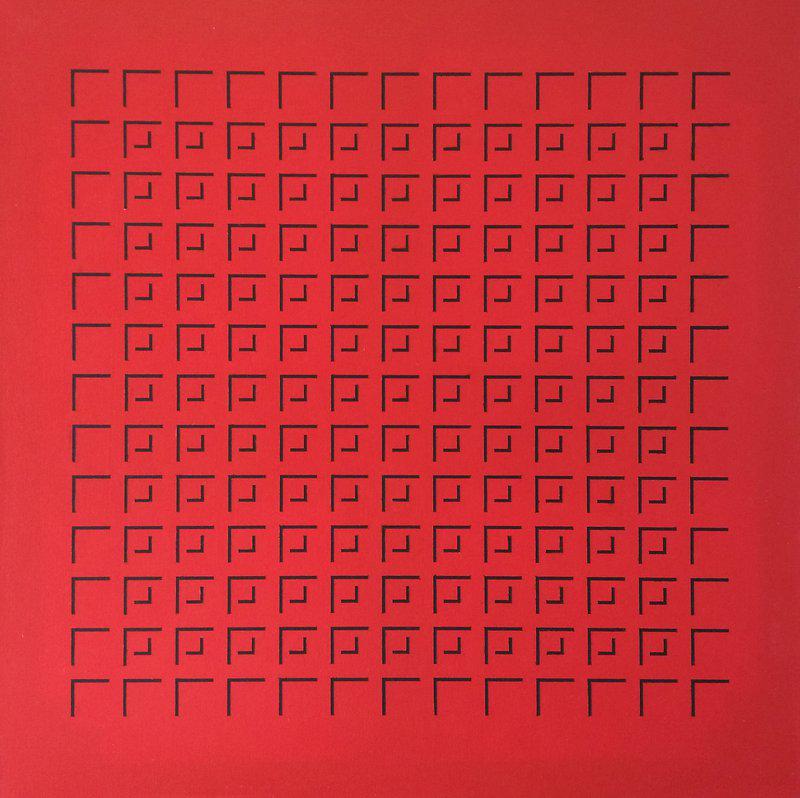 You came to art a little later in life than most. Why was that and what made you want to become an artist? Art has been in me since I was born. My mother was a visual artist but she had to stop painting when she had her children. It seems that I inherited part of that love of art. It is true, though, that I began my career as a professional artist a little later. After university, I dedicated myself to working in technology in order to be able to give my children a good education and achieve the best quality of life that I could give them. When my children were graduating or starting their own careers, I felt that I could let go and start a new life as an artist.
Of course, I understand that there are two types of artists, those who must produce works out of a need for economic subsistence and those who can work without having to wait for an immediate economic result. I always wanted to create, with my day-to-day costs covered. So, I pushed harder when I reached that point in my life.
What was your earliest artistic creation? My first series was called Labyrinths and it was a playful beginning. My idea was to achieve a simple maze where the color transformed as I went through it, going from blue to green, then to yellow, to orange and finally to red. It was playful, it was geometric, and it surprised me as it went through. That was when I began to suspect that visual surprise should be the basis of my work.
Do you buy or collect art yourself? If so, what have you bought in recent years? I haven't bought anything lately. The truth is that my house is a great exhibition space for my works; I keep trying to work out how much free space I have.
ALBERTO GONZÁLEZ VIVO –Lineas Onduladas en rojo, 2015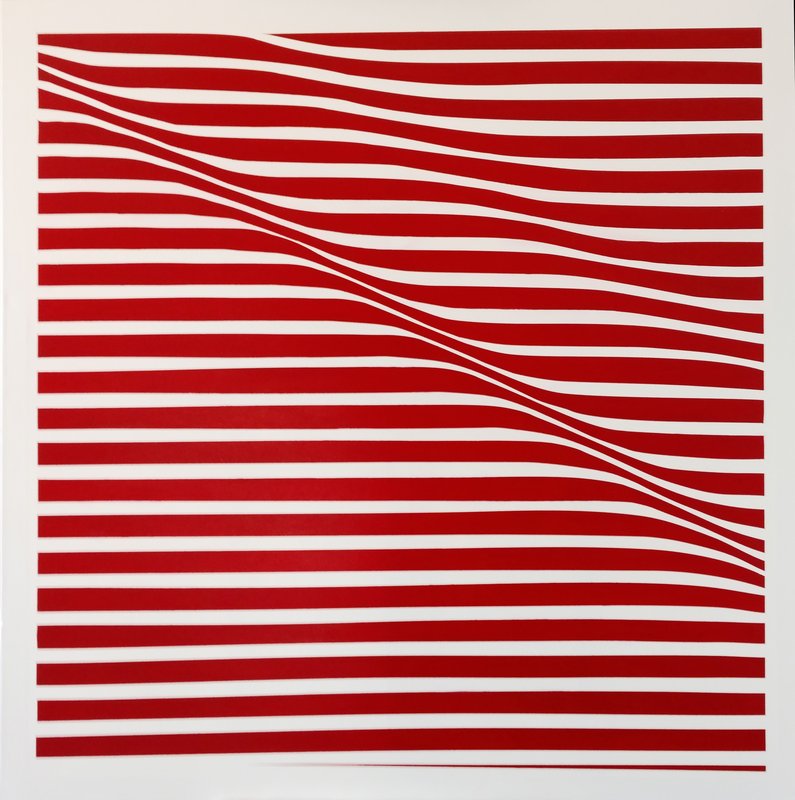 Tell us a little about three of your works on Artspace? Líneas Onduladas en rojo.
I have always liked watching the movement of ripples in water. The same effect occurs in the flapping of flags or any other cloth moved by the wind. I wanted to produce the same feeling of fascination via a painting. That was the basis of this Lineas Onduladas series; this work is one of the first in this series.


ALBERTO GONZÁLEZ VIVO – Curvas Ópticas en Rojo V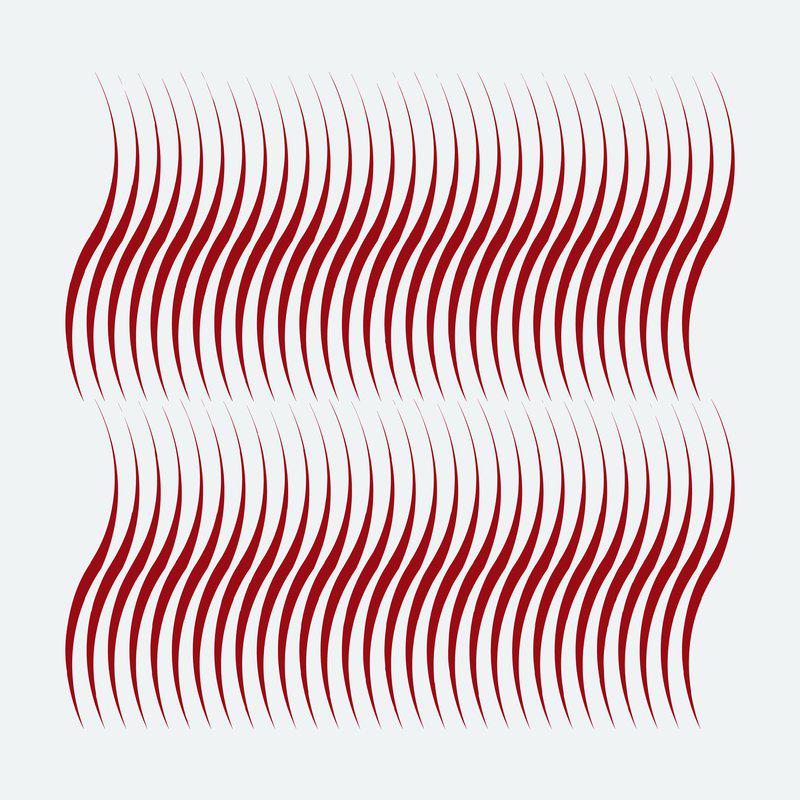 Curvas Ópticas en Rojo V. This series, Curves, gives the viewer a pleasant sensation of movement. The first work in the series, Black Optical Lines I, had an important impact; a major New York hotel acquired it through the Artspace.
ALBERTO GONZÁLEZ VIVO – Cuadricula Corporea en Bronce III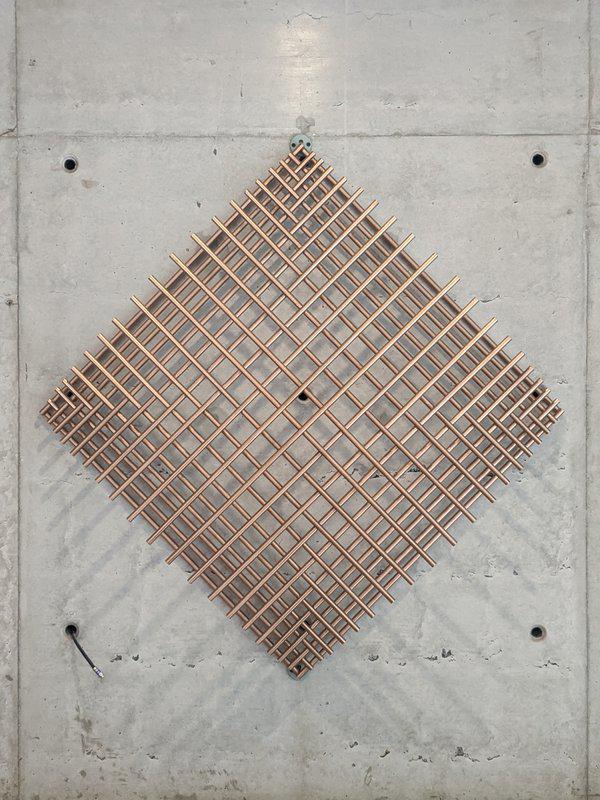 Cuadricula Corporea en Bronce III. From 2014 I began to dabble in works based on rods that produce interesting visual effects to the viewer. The artwork is made up of a structure of lines that generate two visual effects. A dome made up of straight lines appears to move in front of your eye, and it also generates the impression that the dome is changing its shape as it moves with the viewer.
How do you get your creativity flowing? For me, the most important thing is to receive all kinds of visual stimuli. I spend a lot of time looking at works of art, looking for details in nature or looking for how light and space are combined in a certain building in a city. Everything awakens in me sensations that inspire me. Then I use simple figures (circles, rectangles, ribbons, rods, etc.) so that they provoke stimuli similar to those of the images that I take as a reference. It is a long process because ideas may turn around in my head and come to light months later.
If you could choose any artist on earth to do your portrait, who would you choose, why and what instructions might you give them? I can't imagine being painted by someone but if it were like that, I would like it to be a hyper-realistic artist like Diego Facio or Dirk Dzimirsky.
To see more of Alberto González Vivo's work visit his artist page on Artspace here.