This June, Artspace is proud to present The Center Benefit Auction , in support of The Lesbian, Gay, Bisexual & Transgender Community Center (The Center) in New York City. A wide range of artists have contributed works to support this NYC institution, including William Eric Brown 's work.
The artist, who was born in Buenos Aires in 1969 and lives and works in New York, creating photographs, sculptures, artists books and works on paper. His altered photographs, often showing airports, pathways, derelict buildings and pathways, seem to speak of a life in constant motion, while his slow accretion of layer on layer on these grainy images, hint at a depth of experience, bringing to mind the painted contact sheets of William Klein , the landscapes of Lewis Baltz , as well as paint and photo works by Gerhard Richter .
In this interview, published to coincide with Artspace's Pride Month benefit auction for the Lesbian, Gay, Bisexual & Transgender Community Center in New York City, the artist discusses his singular method, and its results. "I know it's done when everything has somehow found its proper place and I don't want to print on it anymore," Brown explains.
Read on to find out why the artist regards this 2020 work as a kind of self-portrait – one that he finds ominous or hopeful, depending on the time of day – as well as insight into Brown's hopes, ambitions (and the occasional fear) for the future.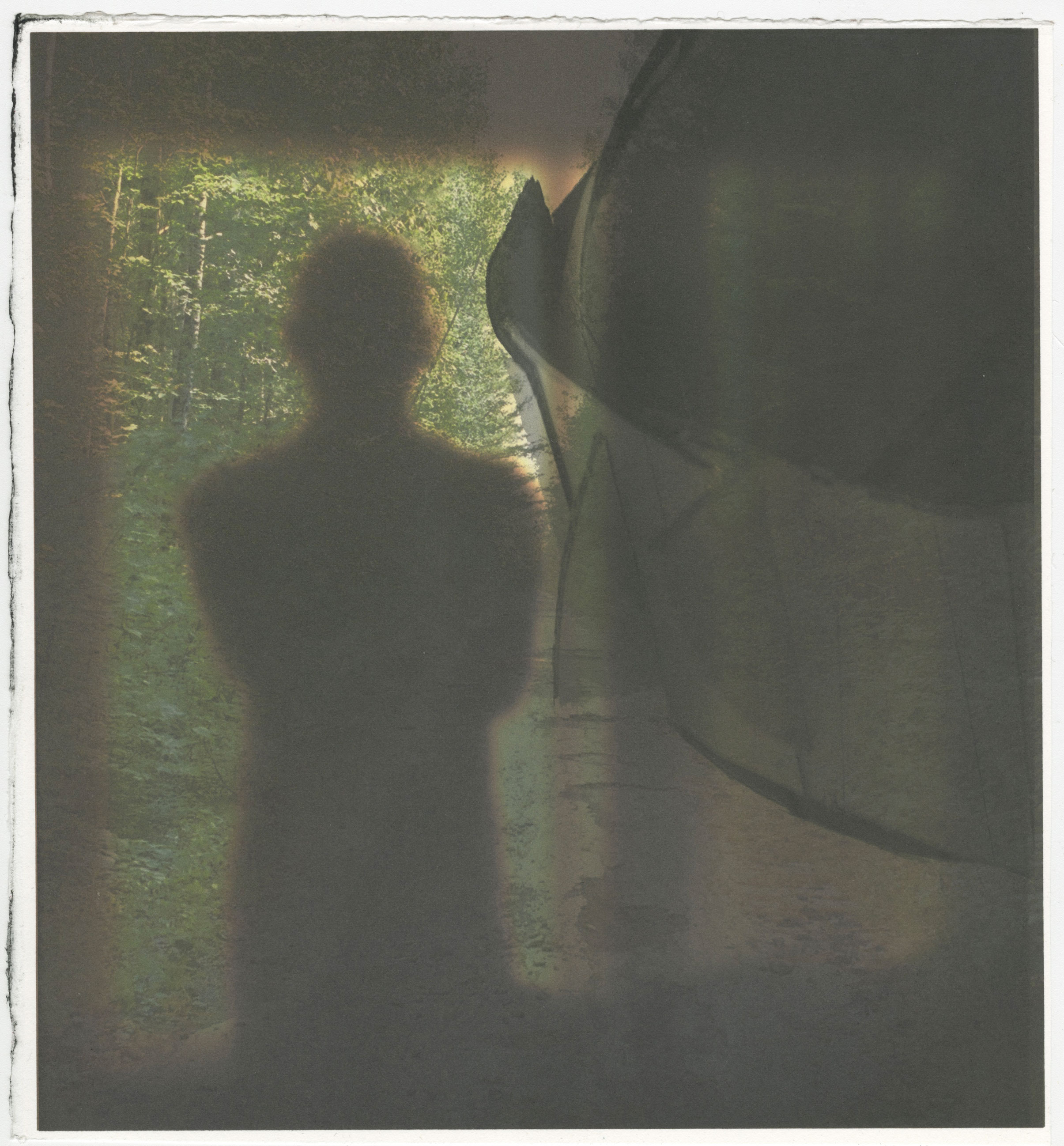 Willam Eric Brown - In The Middle , 2020
How would you describe what you do? I make photographs, sculpture and one of a kind handmade books. I describe work like the one for The Center auction as a layered photograph. I've been making photographic works like this for about six years now.
How do you begin and how do you end a work? For these works in particular I will start thinking about a series – roads, windows, self-portrait, landscape, etc.– as a way of corralling my thoughts and to gain an entry way into thinking about what images I want to use. I have an archive (well, a bunch of files on my laptop) of images I have shot on medium format film or digitally as well as screen grabs off my phone and the web of other images – mostly buildings, roads, outer space, black holes, airplanes, explosions, anything really, it's so easy with the phone. I decide on a paper size and begin.
I will print on regular photographic paper or Rives BFK printmaking paper. The first image will dictate the next layer and so forth, not in a typical pictorial way (background, middle ground, foreground) but sometimes that happens. I am thinking more about composition, tone, color, saturation, what is obscured, what is revealed, what kind of narrative do I want, the mood, feeling. If I get bogged down and it gets too dark or I don't like what is developing, then I will stop and white it out with a layer of paint. I use an absorbent ground made for watercolors, but it works great for this. I'll brush it on or squeegee it on the paper, some of the image underneath will bleed through and you also now have brush marks or squeegee marks adding to the visual noise and I start printing again. I know it's done when everything has somehow found its proper place and I don't want to print on it anymore.
Who or what is your biggest single influence, inspiration and or motivation? There is no one single thing. It's a continuous accumulation of journeys.
What is the one thing you're unhappy with in your work and the one thing that you're ok with?
Making work is always a struggle, but I'm never unhappy for long.
What does the Center auction mean to you? It means that through my work I get to contribute to my community via The Center.
Tell us about the piece you have in the auction In the Middle , 2020 is a self-portrait of sorts. How I think about it changes every time I see it. This morning it seems hopeful, sometimes it is ominous. The figure is between a forested landscape and this rough planetary like shape looking out. It doesn't make sense, its dreamlike, I'm most comfortable in that state of unknowing – feels like a memory, is it real or imagined?
What are you most looking forward to right now? Summer, lake swimming in Maine, spending time with my family.
Go here to find out more about the auction . Established in 1983 as a result of the AIDS crisis, New York City's Lesbian, Gay, Bisexual & Transgender Community Center has grown and evolved over the last four decades, creating and delivering services that empower people to lead healthy, successful lives. The Center continues to serve the LGBTQ community through virtual support services, launched almost immediately after the building closed due to the COVID-19 pandemic. The Center offers a wide range of services including virtual one-on-one counseling; substance use treatment and support groups; virtual youth drop-in space; online arts and culture programming; health insurance navigation and a virtual "front desk" to respond to community inquiries. To show your support, please consider placing a bid.
[williamericbrown-module]