The small-town newspaper, with its dutiful coverage of new traffic lights and local committee meetings, would seem an unlikely model for the lyrical photographer Alec Soth. In books such as Sleeping By the Mississippi and The Last Days of W, Soth creates selective, poetic surveys of American life that hardly fit the "who-what-where" reporter's credo.
After chasing hermits and survivalists in America's more remote patches for his 2010 book Broken Manual, however, Soth craved more contact with his subjects. The result was the Little Brown Mushroom Dispatch, a series of newsprint booklets (named for Soth's own publishing imprint) that combined the artist's black-and-white photos with texts by his friend Brad Zellar. Images from the six editions of the "Dispatch" are now appearing in Songbook (published in January by MACK), and in a series of gallery exhibitions in several cities (the first, at Sean Kelly in New York, runs through March 14). Soth spoke to Artspace deputy editor Karen Rosenberg about covering cat rescues, publishing books and broadsheets, and becoming an Instagram convert.
What was the appeal, for you, of the small-town newspaper? Why play the local hack?
My last project, Broken Manual, was about wanting to retreat from society. By the end of it I had had enough of that, and I wanted to figure out a strategy for connecting. Journalism is like a forced connection to the world. You go to the city council meeting, and you see how society works.
You once worked for a small newspaper. What was that like?
It was in the suburbs, a weekly, one of those "shoppers" that sits damp on people's steps. That's the model. There are small-town versions and suburban versions, but it's a community newspaper. What's strange about it is the banality of it. A typical assignment was, like, the opening of a new health club.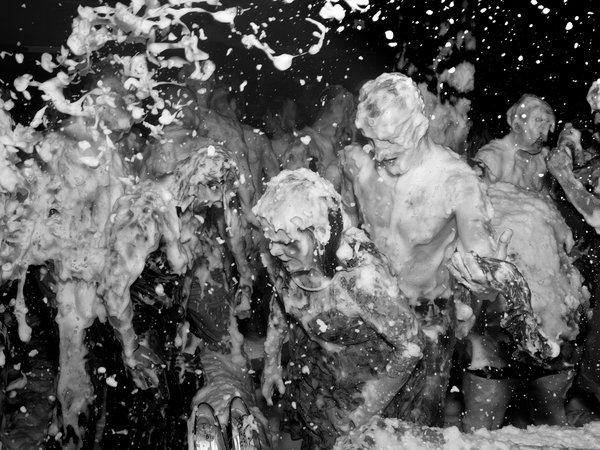 Crazy Legs Saloon. Watertown, New York, 2012 (image © Alec Soth, courtesy Sean Kelly, New York
As a Magnum member who shows in contemporary art galleries like Sean Kelly, you walk a fine line between photojournalism and art photography. Does that distinction still have meaning today?
I don't think there's a dividing line—this is art, that is journalism. There are shades of gray, and I know when I'm more on one side or the other. The work in Songbook was produced in a journalistic manner, but that stuff has been stripped away and now it's back on the fine-art side of things. Yesterday I saw the full set of pictures from Evidence, by Larry Sultan and Mike Mandel. Those are pictures made for jobs, by anonymous photographers, and they're ripped out of that context and put in a photographic context. There's something about that that's similar to Songbook.
You seem to have moved backwards through the history of journalism, starting with your now-defunct blog at alecsoth.com and winding up with newsprint.
We did publish online, when we started the "Dispatches". We published everything on Tumblr in the beginning. We weren't pretending to live in the past—we were using a digital camera, and digital tools to distribute the work.
You used black-and-white, though, which together with the newsprint and the tabloid format gives the project a nostalgic mood.
I started in color, large-format, and it was too slow. There was a writer with me, who was sitting around waiting for me to set up my tripod. You're working quickly, like a journalist, and you're photographing the mayor and he's backlit, so you need a flash. The same is true of black-and-white; if the room is fluorescent, or it's green, or the sky is too blue, you don't have to deal with those issues.
There was an element of nostalgia, but there were definitely practical issues. The very first thing that we did was photograph this rescued cat. Trying to photograph a cat, a traumatized cat, with an 8x10 camera! It just wasn't working.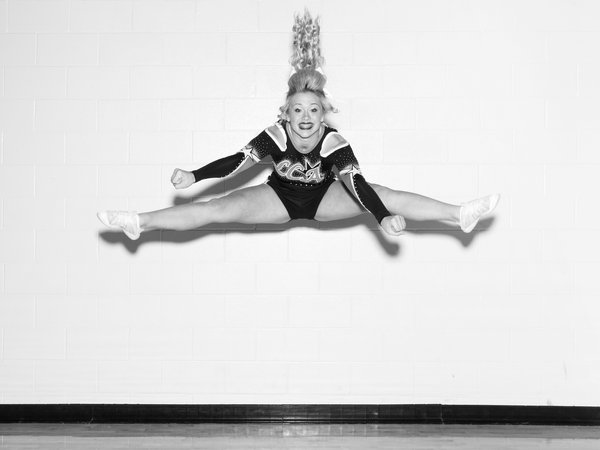 Bree. Liberty Cheer All Stars. Corsicana, Texas, 2013 (image © Alec Soth, courtesy Sean Kelly, New York)
How did the Dispatches evolve, and why did you stop at six editions?
It happened slowly, creating a mythical newspaper and then taking it on the road and making a real newspaper. The first "Dispatch" was a totally homegrown affair, done on the cheap and printed on newsprint. We were like starting a garage band, playing little bars, and we just became bigger and bigger. The final Dispatch was done in collaboration with Savannah College of Art and Design and the New York Times. That's also why it needed to end. It had just run the full gamut.
How did you edit the many "Dispatches" for the book, and the shows? What were you looking for?
There's way more material out there than what's in the "Dispatches." Brad's working on a book that will have more material plus essays. In my case, I tried not to make it about stories at all. If something had a really great story, of course we would put it into the "Dispatches." But here it's just a picture, and I try to forget about the wonderful backstory. Is it a mysterious, evocative picture, and does it work with the feeling of the book?
You have a complicated relationship to storytelling—you've long resisted conventional narrative devices in your photo-books. Sleeping by the Mississippi, for instance, is structured around the river.
When it comes down to it, I'm jealous of storytellers. Filmmaking is the most powerful medium of our time—okay, maybe now it's serial television. Photography tends to be more fragmented. It's more like poetry than writing a novel.
Little Brown Mushroom is a place to experiment with the relationship of photography and storytelling. It's primarily done in book form, but I started having book fatigue and thinking about the slideshow. I give lectures a lot, and there's an informal storytelling quality to it that is potentially an interesting artistic medium.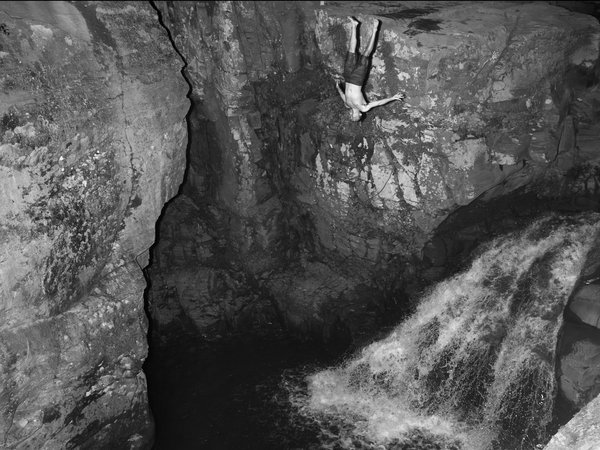 Near Kaaterskill Falls, New York, 2012 (image © Alec Soth, courtesy Sean Kelly, New York)
Let's talk about some of the books that inspired Songbook, which include Walker Evans and James Agee's Let Us Now Praise Famous Men and also Winesburg, Ohio, Sherwood Anderson's early-20th-century book of short stories set in a fictional town.
Winesburg, Ohio is the real touchstone, more so for me than Let Us Now Praise Famous Men. It's that no-man's-land between a fictional place and a real place.
When we started we were working in Minnesota, and thinking about this mythical place called Winter Garden. Neither one of us is a huge fan of Lake Wobegon, but there's something about Garrison Keillor that's in Minnesota culture and Winesburg, Ohio is like a dark version of Lake Wobegon. I think "Twin Peaks" has a mythical quality as well. All of that was in the mix.
I was also thinking about Dorothea Lange and Paul Taylor, or Margaret Bourke-White and Anderson Caldwell—both couples. Their books were an inspiration because of the interplay of text and image—although in each case there's an imbalance. Margaret Bourke-White was the weaker in the pair, and the opposite's true of Dorothea Lange—Paul Taylor's text is a little dry. I was just trying to find that balance.
What about music? The title of Songbook is a reference to the Great American Songbook.
It was a way of saying, this is not news anymore—this is more like poetry. It allowed me to go in a direction I had resisted in the past—a more lyrical approach, a non-narrative approach.
The gallery version of Songbook could be seen as a musical tour, with exhibitions rolling out at Sean Kelly in New York, Fraenkel Gallery in San Francisco and Weinstein Gallery in Minneapolis.
A lot of this year for me is supporting the album. In the end, I want to make something that people see, that's not lost. In the art market, a painter just puts up new paintings at the next art fair. I've always thought more like a novelist or a filmmaker, where I want work to come out at a certain point. It's a little controversial; galleries want to sell work, and this takes patience. But I think it's nothing compared to the patience of novelists, who spend a decade writing something and not generating income.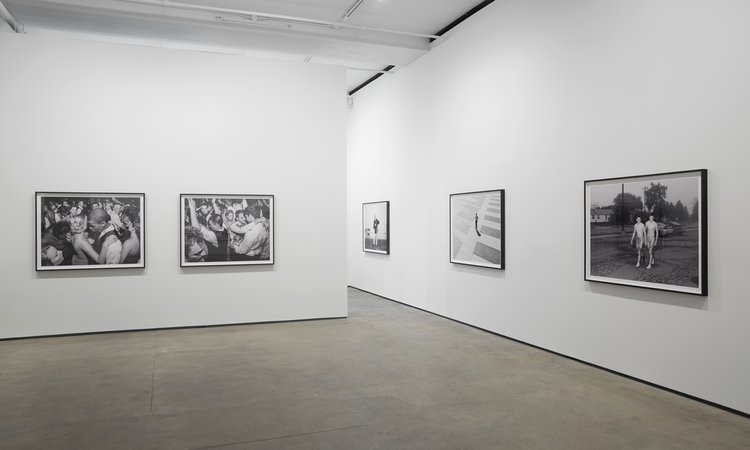 Installation view of "Songbook" at Sean Kelly, New York, (photo by Jason Wyche, courtesy Sean Kelly) 
You've been active on Instagram for a while, @littlebrownmushroom, and now you're also taking over galleries' Instagram feeds during the exhibitions. How does your social-media photography relate to the rest of your work?
My relationship to Instagram started a couple of years ago. It was taking off in the culture, and I was really resistant to using it despite my openness to blogs and everything else. I thought, "I'm a professional photographer! This is stupid." Kathy Ryan at the New York Times Magazine, who's a huge Instagram fan, asked me to do something with it and I actually said no.
I got on there for Little Brown Mushroom, to promote our stuff. Very quickly, I found myself enjoying it and using it in different creative ways. But it's tricky, because I've since exhibited certain things I've done on Instagram. That changes it, because a self-consciousness comes into play.
I don't know yet how it's affecting the work—surely it is, but I don't know in what way. I do know that the thing I do next, I'm trying to put a bubble around so it's not like I'm updating it live and getting feedback. I want something that's separate from all that.
Whether or not you're comfortable on Instagram, you've clearly adopted some of the conventions of that medium. You frequently post photos of your labradoodle, as well as images you call "unselfies."
The "unselfie" came about because I found myself wanting to take selfies. What is that force that compels us to do that? It's the same with the dog pictures—I photographed my dog and put it up, and then was like, "What are you doing, Alec?" Much later, Stephen Shore started on Instagram and posted a picture of his cat. It made me happy, just to relax and not be so precious about it. There's a tug of war between wanting to be an art photographer and wanting pictures of my cute dog.
What's interesting about Instagram is the way it's connected to photography before Instagram. Something I just started doing is pictures from my hotel window. That's based on one of my favorite pictures, Robert Frank's picture from his hotel window in Butte, Montana. Shore photographed his breakfast plate in Uncommon Places, and now it's an Instagram cliché. There's something in the medium that is primal.