Last night Artspace partnered with the Aperture Foundation to host an innovative auction of Instagram photos taken by acclaimed contemporary artists and pop-culture figures, raising funds to support Aperture's mission of advancing the medium of photography. On offer were framed images by such artists as Alex Prager, Vik Muniz, Sam Falls, and Stephen Shore, as well as actress Tilda Swinton and former MTV host Tabitha Soren. 
In addition to the auction, which took place live at the IAC headquarters in New York, Artspace and Aperture also joined together in hosting an Instagram contest, with voters taking to social media to crown the best art photograph submitted. The winner? Lauren Pisano (@elpisano), who as her prize wins an Artspace gift card and will have her Instagram photo framed and mounted.
We spoke to Pisano, a native New Yorker and SVA graduate who is now based in Los Angeles, about her approach to creating art on Instagram. 
To see all submissions to the contest, search  #ArtspaceAperture on Instagram, and follow us at @Artspace. To see photos from the auction, click through the slide show above.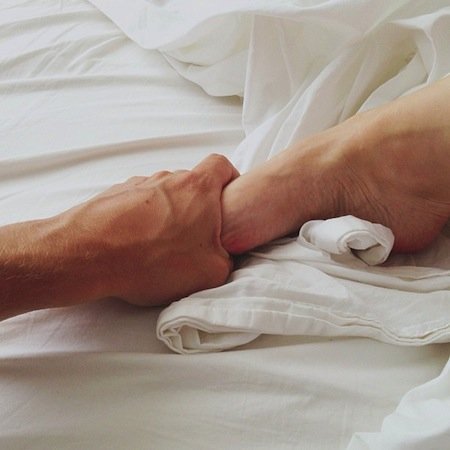 Lauren Pisano's winning Instagram photo
What was your inspiration for your winning Instagram photo?
This photo was taken while I was in bed with my boyfriend. My toes were cold, so I pulled my foot up and asked him to warm them.
What draws you to using Instagram?
I like Instagram because of the immediacy of it. Typically when I make my fine-art work, it is thought-out and staged. Instagram has allowed me to document what I see right then and there, and I don't have to take it too seriously. Also, since I am from New York, it's such a nice way to connect with my friends and family that are there, and to share glimpses of our lives with each other.
What are some other creative ways you use Instagram?
I have also started another Instagram account @hermanthepotato. The photos are all iPhone photos of a potato someone gave me. I love using Instagram for this project because of the boundaries it creates. I only use available light or the iPhone flash, and once a photo is posted, it's done. It reminds me of when I first stated shooting and printing my own black-and-white photos. Once I printed an image, that was it. There was no option to go back and manipulate the image in the ways that are available today.