Cosimo Cavallaro is an accomplished director and filmmaker, though he found greater fame with more tangible, less permanent media. In 1999, the Canadian-born, Los Angeles-based artist covered Room 114 at the Washington Jefferson Hotel in Manhattan with cheese; later that same year the artist spray-coated the British model Twiggy in strings of Easy Cheese; in 2004 he installed Absolute Pressed Ham, a bed covered in 250 pounds of sliced ham, at the Lab Gallery in Manhattan; and in 2007 Cavallaro created My Sweet Lord, a sculpture of Jesus fashioned from chocolate, outraging the ultra-Conservative head of the Catholic League, Bill Donohue.
More recently, in 2019 he built Make America Grate Again, a short wall of cheese, constructed from blocks of Mexican cotija, close to the US border in Tecate, California where then President Trump had begun building a wall of equally preposterous stature.
Although a fine artist of some note, Cavallaro's personal connection to chilled foods actually runs deep. His mother owned a deli in his native Montreal, and, as he explains in this interview, despite finding success in the world of film, he still feels the food stuff remains part of his identity.
The wider art world seems to approve; Cavallaro has exhibited at galleries across the United States as well as internationally, and his work has been chewed over favorably in the New York Times, the Los Angeles Times and the BBC, among other media. Now, following the lead of many other successful contemporary artists, Cavallaro has chosen to offer his works via Artspace, as part of our Artist Direct program. Read on to discover how his Italian heritage has influenced his art; which fellow artist he would invite to paint his portrait; and which job he imagines he would have ended up with, had the art world not welcomed him to its table.
COSIMO CAVALLARO - The Big Wedge, 2021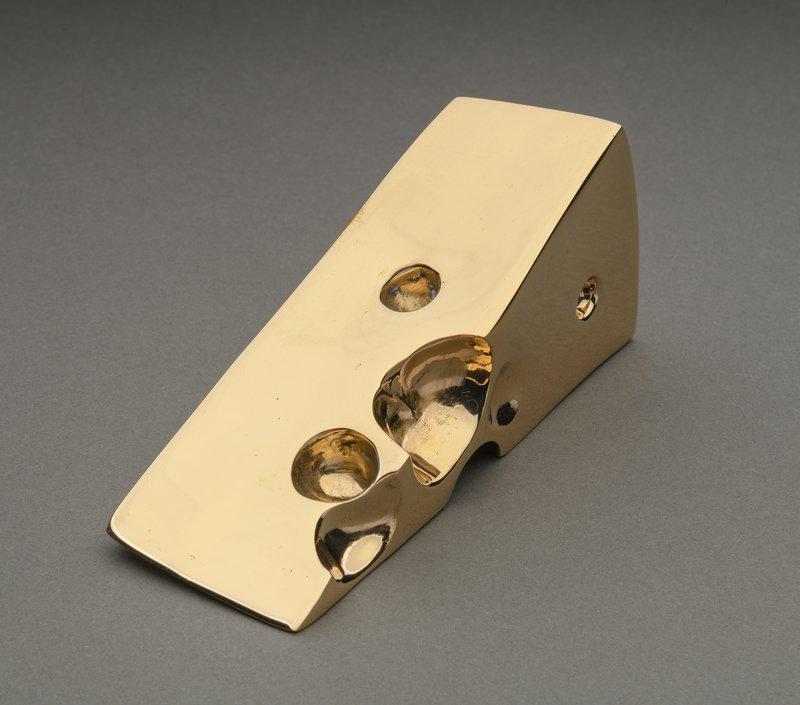 How would you describe what you do? I would describe my work as an experience, tactile, interactive, provocative, playful, and thought-provoking.

Why cheese - where did that come from? I could go as far back as the age of four when my grandfather came from Italy and lugged suitcases into the kitchen and plopped them on top of the kitchen table as the whole family gathered around to watch him unpack his suitcase filled with clothes. There were gifts wrapped up in the clothes and then came this wheel of cheese. At the time I did not know what it was, but I remember that it got the whole family excited. When they handed my grandfather a knife to cut the cheese open, millions of tiny little worms the size of rice started to dance out of the cheese. My aunts and uncles were excited and began to scoop up the cheese and pass it along like a delicacy. I too wanted a taste of that cheese but I was not allowed to. They told me I was too young. But what I did have were the clothes my grandfather gave me that were perfumed from the scent of that cheese. I remember distinctly that - that scent was my identity. In later years, I always kept a large supply of cheese in my refrigerator as a comfort and tie to my past.
One day in my studio out of frustration, depression, lack of identity, I began melting the cheese that I used to consume and began to spread it over my furniture. Much to my surprise I felt a re-birth. It all felt new, freeing. I kept going wanting to find out where this would lead me. I remember that I understood art is where the light can't reach. Covering a hotel room in assorted melted swiss cheeses, then covering Twiggy the iconic fashion model from the 60's in Easy Cheese, and an entire house inside and out with Pepper Jack led me to the cheese wall.
What is it about working with perishables - the ham, the cheese - is it a reflection on the ephemeral nature of life perhaps? We come from nature and return to nature. In that small space of time we can deceive ourselves into believing that we are something separate.
COSIMO CAVALLARO - The Big Slice, 2021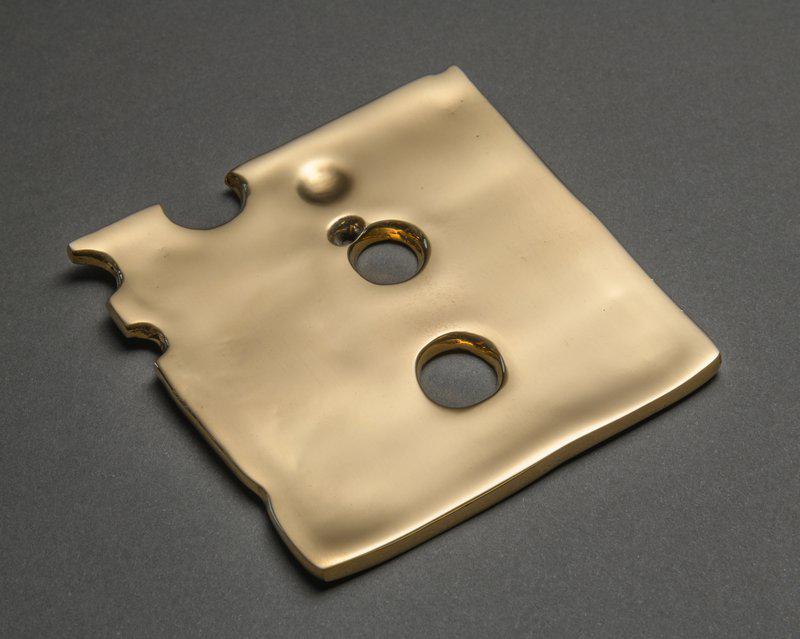 Tell us about Make America Grate Again. Was there any kind of artistic reference to Dieter Roth (who infamously filled suitcases with cheese at his first US show) or was this simply a lament on the absurdity of Trump and his silly wall? The cheese wall was an obstacle that my journey working with perishables led me to, which is the definition of time, space, and identity. Donald Trump was just a context and timing. Like much of my work without knowing it, it falls into time and space. The structure is the definition of human identity, full of sacrifice, fear and none lasting.
What did My Sweet Lord teach you – apart from the bigotry that results when an artist challenges religious iconography? That things appear to transform but nothing changes.
On a basic level, what are the particular challenges in working with cheese – apart from perhaps the smell? The challenge is people's perception of waste. I do not work in an institution where I'm protected from reality. My work goes into people's everyday life, i.e. a hotel room, a house, an apartment, a human and the outdoors. No institution can shelter me from circumstances.
Do you actually ever eat the stuff? Yes but more it feeds me in other ways.
Does knowing the importance of instant visual impact as an art and video director inform what you do? The difference between the art and the film is that a film is ruled by committee. Art is not ruled. It is channeled.
What was your earliest art creation as a kid? I have many but one in particular comes to mind is when I was five-years-old, the teacher plopped blobs of color on a table and all the kids began to finger paint. I remember watching in wonder as kids were finger painting, not knowing what was going on. I began to gather a pool of colors and then slapped my hand down sending paint flying around everywhere which went into my eye and stained everyone else. This got me into big trouble.
How would you say your work progressed over the years? It has become less personal and more universal.
What should people look for in your work and what do you hope they might get out of your art (along with a smile on their face)? My art is to be experienced with all your senses and your consciousness like life. It will affect everyone differently.
COSIMO CAVALLARO - The Big Cheese, 2021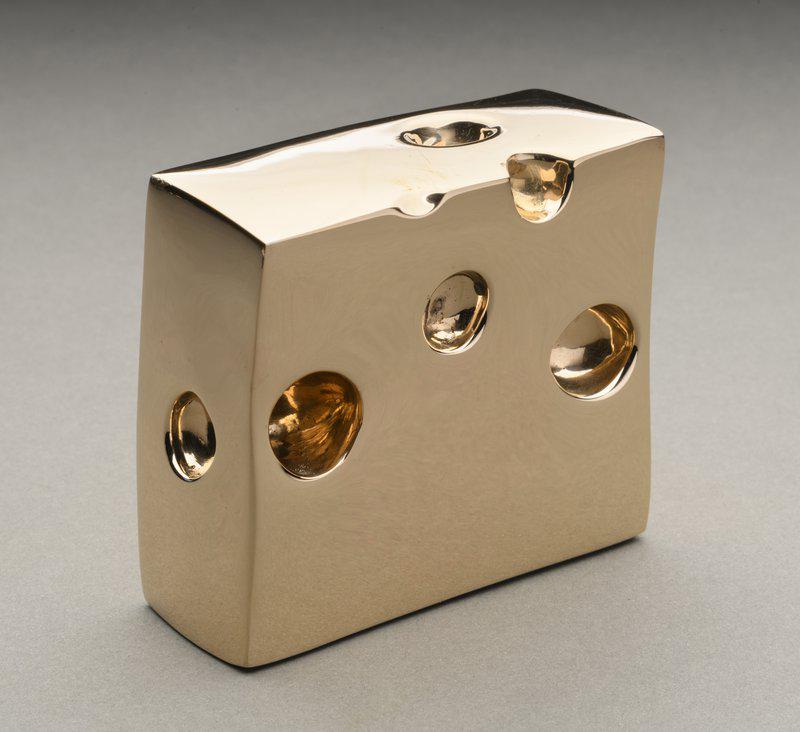 Tell us a little about three of your works on Artspace. The bronze slice, wedge and cube are all about making the art available to the masses. Everyone can have a slice, a cube or a wedge of my art to experience. Working with my mother in a cheese deli I always loved cutting into the blocks of swiss cheese because you never knew what form would appear. It was exciting and beautiful when the balance and symmetry was exposed. I wanted to capture that in this work so I began slicing swiss cheese until one slice spoke to me. I decided then to scan and 3D print that slice and to give it an immortal presence I cast it in bronze. I still to this day continue to cut shapes out of the swiss cheese blocks, never getting tired of what I will find. Art for me is not what I control but rather what I discover.

If you could choose any artist on earth to do your portrait, who would you choose and what instructions might you give them? Jackson Pollock, My instruction would be: "try not to spill a drop of paint."

What do you think you'd be doing if you weren't doing this? A window washer.
Take a look at Cosimo Cavallaro's artist page on Artspace where you'll see a wide range of his work.