Serge Hamad 's work may look beautifully ordered, but it owes its creation to the butterfly effect. Or, perhaps that should be one particular butterfly's effect. The French-Algerian fine art photographer can recall the day, when he was just four years old, he snagged a butterfly in a net, examined it more closely, and subsequently burst into tears, after realising his infantile fingers had ended the insect's life. Hamad's father's solution was simple, the artist recalled: "If you want to see them up close then take a picture."
The young artist took that advice to heart, and grew up to become a brilliantly accomplished photographer, shooting vital documentary images which brought to light human-rights injustices, as well as sublime, transcendent landscape compositions.
His work has found its way onto the auction block at both Christie's and Sotheby's, and has been exhibited in galleries across the globe. Nevertheless, Hamad also likes to offer his work via Artspace, and in this interview you'll see the best of it.
Read on to find out how his human rights activism informs his fine art practices, which times of the day best suit his style of photography, and which Los Angeles image of his makes his West Coast friends laugh.
SERGE HAMAD – Temporal Perception #65 , 2018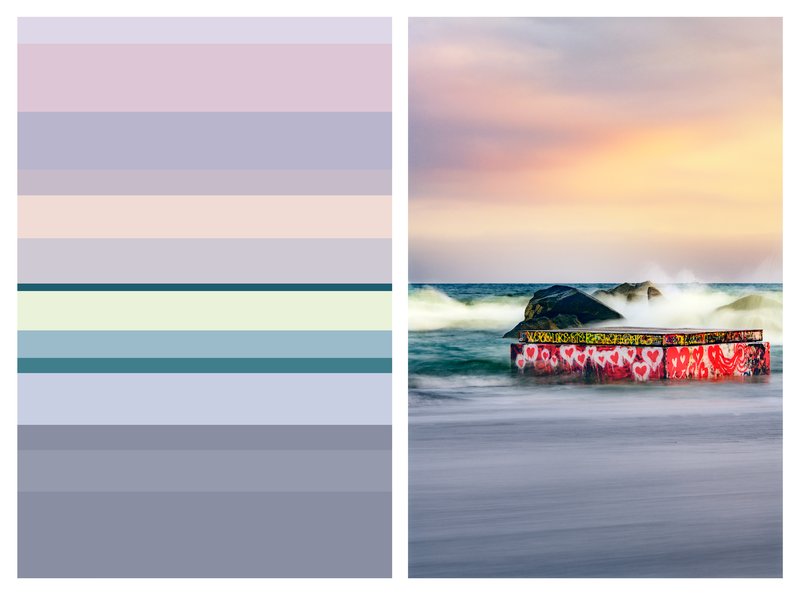 Can you tell us about your Relax series of beach scenes and how it differs from some of your other work? In 2011 I put on an Art Show for Human Rights which I named "Take A Stand". It happened in Los Angeles first as a solo, then at SomArts in San Francisco just a few days later with the participation of several exceptional artists who answered the call.
Organizing this show was a very intensive task. Early in the morning before the opening in LA, I left my hotel room located at Venice Beach, turned my back to the boardwalk, and instinctively started shooting what became to be the "Relax Series", a true contrast to my "Take A Stand" works. Sometimes one needs the evasion to gain even more strength. The sea has always been, for me, the perfect place to escape reality and regenerate my thoughts.
SERGE HAMAD – Temporal Perception #106 N , 2018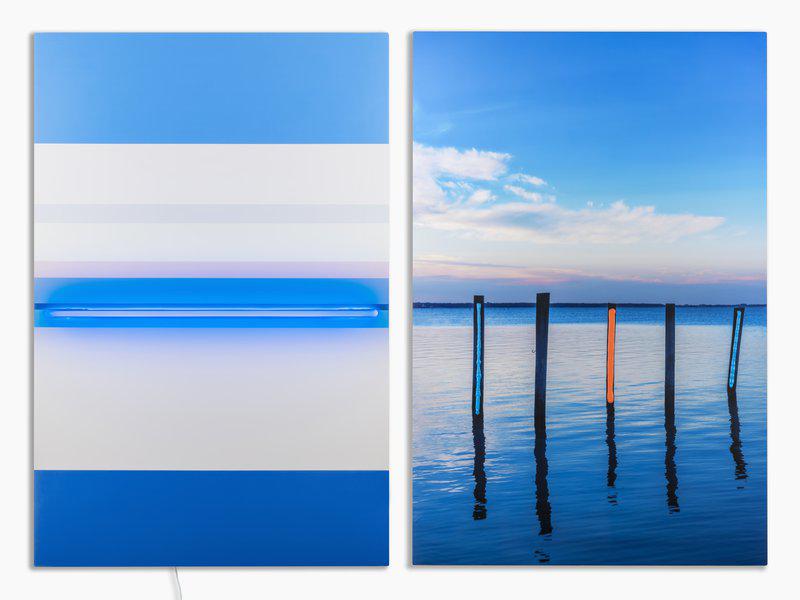 Where did the title Temporal Perception come from? Each artwork when seen for the first time at a glimpse, seems to be an entity as the colors and geometric lines form a unit. The series symbolizes an evanescent illusion, so my choice of wording was "Temporal Perception".
What attracts you to the 'color blocking' process you use in some of your photographs – The White House for instance? I am attracted to lights and contrasts to create the Temporal Perception series. I search in the chaos of nature the organic lines that I can abstractly resume to create the symbiosis that is found in my diptychs or triptychs. But the colors are a bridge for sure.
Is there a particular time of day you choose to shoot? If so, why? Could you describe your process? Generally, unless it's a specifically planned project, I capture what attracts my attention at any time of the day. I like the "Golden Hour" but I also use the "Blue Hour" and I am in heaven when the sun is at the zenith and gives me those beautiful distortions created by heat waves emanating from the hot beach sand that remind me of a mirage in the desert. Love it!
How would you describe what you do? I covered human atrocities and natural disasters worldwide but also captured and shared beauty that I sought in the banal. So, to answer your question, I just always had the privilege of sharing my vision.
SERGE HAMAD – Temporal Perception # Tattoo N , 2021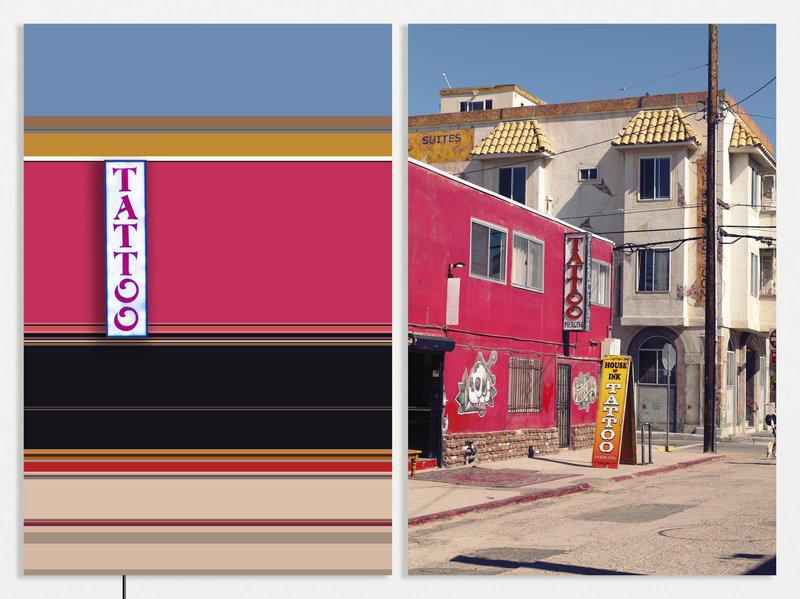 How do you choose your subject matter? For the Relax and Temporal Perception series, captures happen either instinctively or by analyzing and anticipating the odds. Nature can be very capricious so it's always fun to try to predict what and when it will create your next best shot.
As to the Neon series, I add a lighting object to the works to accentuate the narrative. So besides seeking those horizontal lines in nature for my diptychs, I also search for elements that I could turn to lights. The best examples are: Temporal Perception # 124 N; Temporal Perception Tattoo N.
SERGE HAMAD – Temporal Perception # 124 N 2021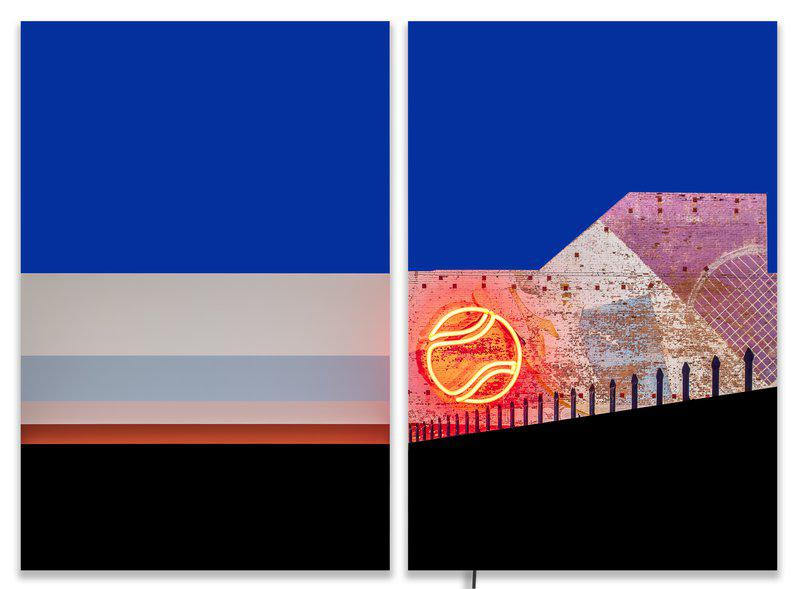 Tell us a bit about three of your works on Artspace Of course. Take a look at Temporal Perception #45 . Initially, I was waiting for the two ladies to finish their photo session and leave. After almost an hour, I was going to give up but then suddenly they affectionately kissed. I understood then that they were a couple and felt that they had to be in the picture.
SERGE HAMAD – Temporal Perception # 45 2021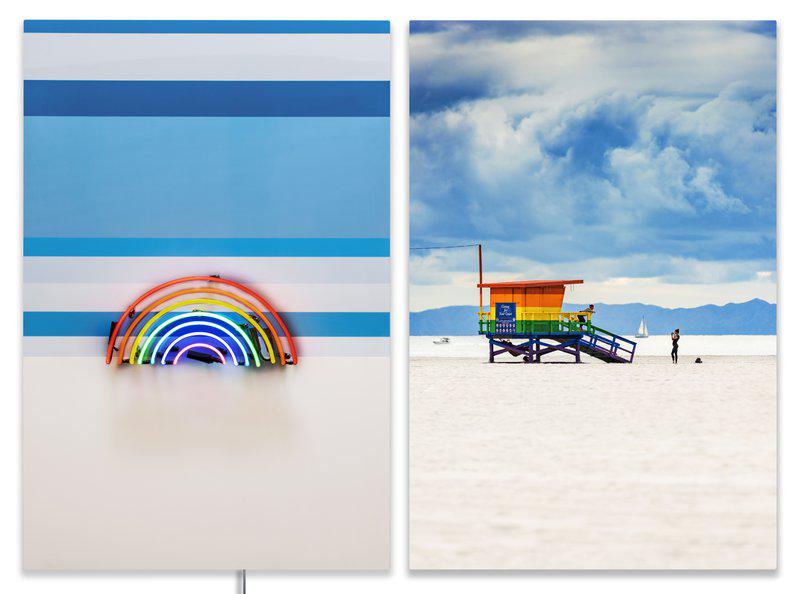 When I did Beach # 4 , I remember asking myself "Who on earth takes a yellow cab to go surfing?" I must say that I came from NY and that it was my first visit to a beach in LA. My Cali friends still laugh about it.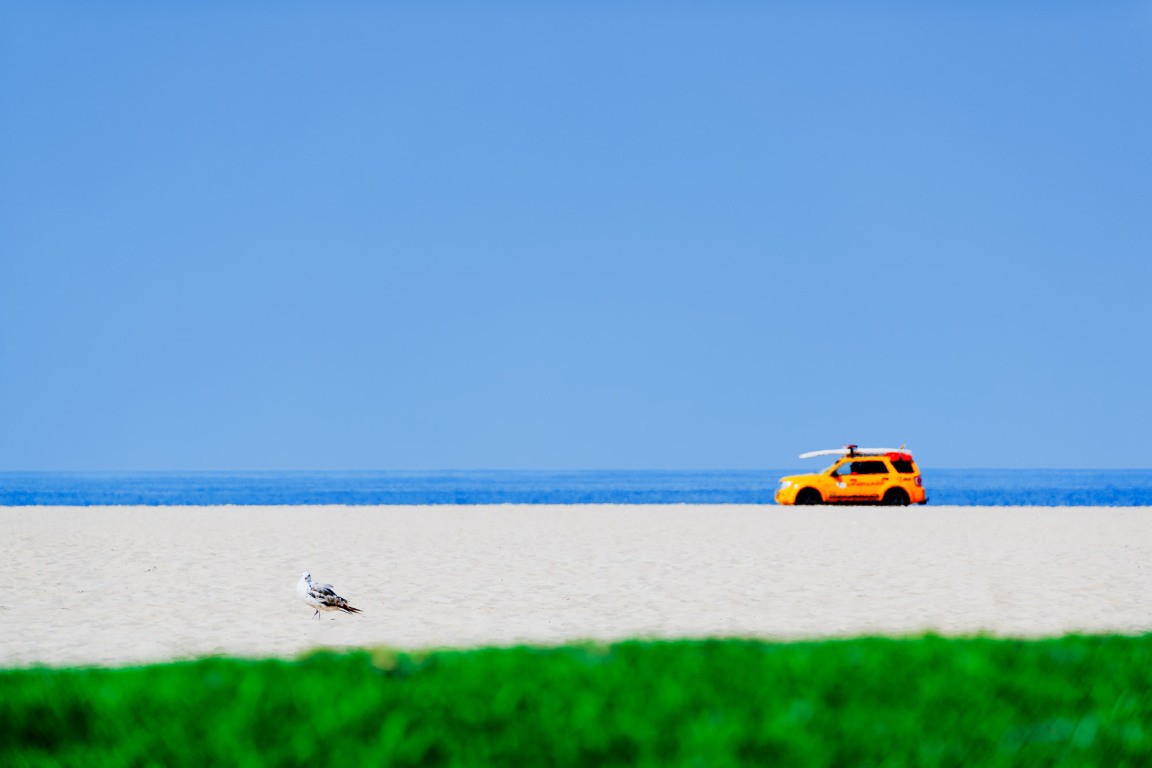 This yellow cab image (below) was captured just a few hours before Hurricane Sandy's landfall in New York City. To me, it shows the New Yorker's resilience. This work was flying this spring at the Rockefeller Center as an 8'x5' flag and won several contests during the past years. The neon version is sold solely by Artspace.
SERGE HAMAD – Yellow Cab, N 2021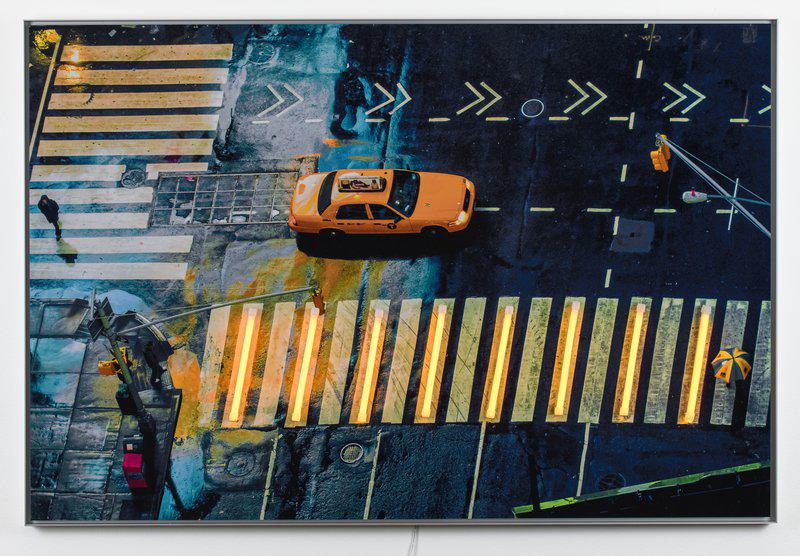 What made you want to become a visual artist? I have always worked in visual storytelling as a photographer, and always felt that I could speak out in a deeper sense when using photography or other visual media. When I decided ten years ago to go back to creating fine art, I was lucky to receive a very encouraging response. So, I just took the plunge.
What was your earliest art creation? I created one of my earliest artistic pieces in the mid-seventies when I was a teenager and came across the Amnesty International death penalty report. I was shocked when reading those numbers and felt for the very first time the need to express myself symbolically with the use of a camera, not just to capture imagery. I named it "The Last Cigarette of The Condemned".
Unfortunately, I lost my archive in the late '80s during an incident, and thousands of film rolls were gone overnight just like that, and among them was the negative for this work. But as I kept the little chair and since this dilemma is not yet solved, I decided a few years ago to shoot again what came through my mind when I was a teenager.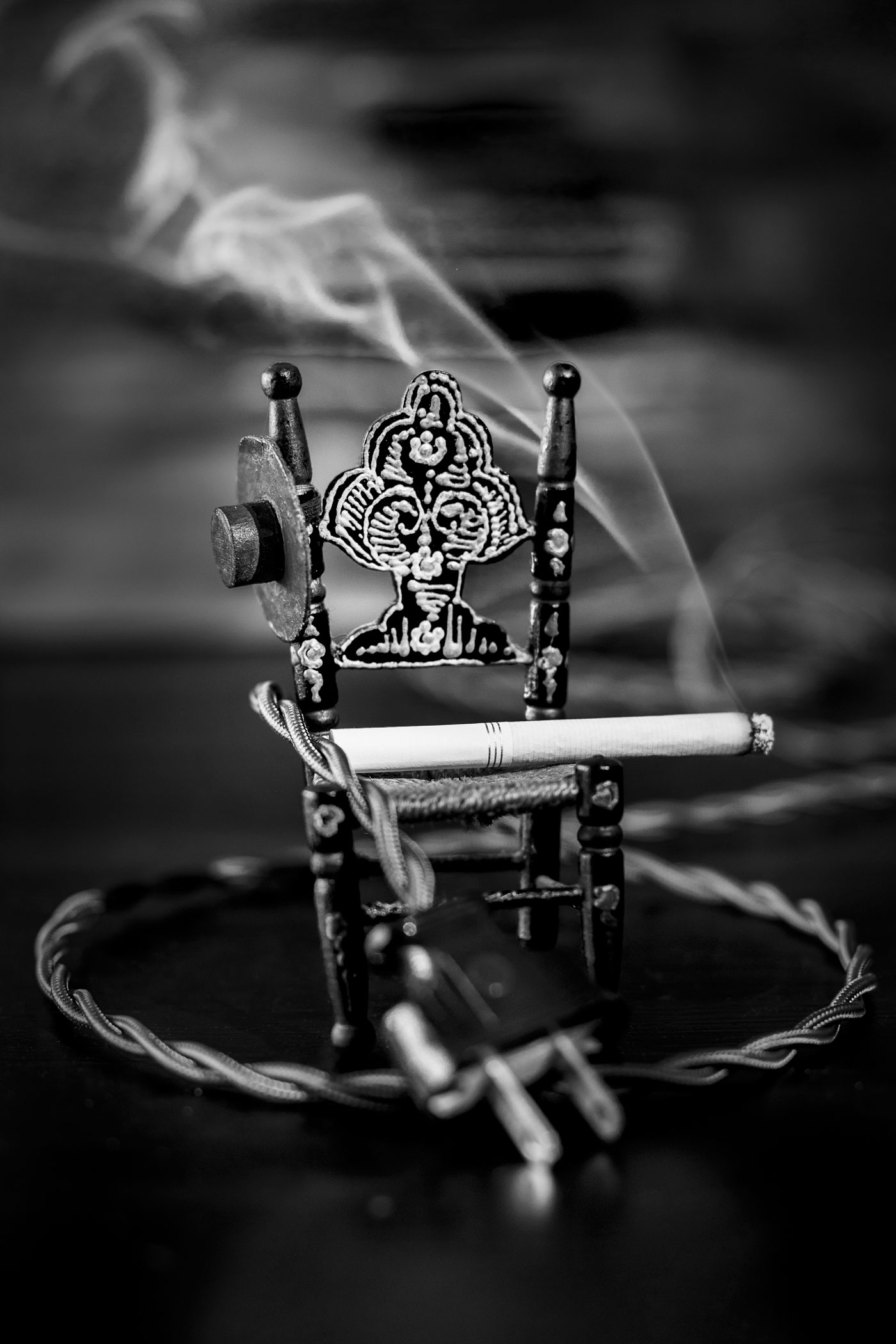 Where do you look for inspiration? I look for it in nature. I love the US West Coast for instance. It's full of inspiration for a seascape photographer.
How do you get your creativity flowing? Personally, it's not something I could intentionally seek. I just feel it when it's there. Then I start the production process. In other words, traveling, acquiring lenses, designing neon objects, etc. During the active phase, I might change my mind a few times, correct or abandon certain aspects, but this is part of the creative process as one thing leads to the other. It's always rewarding to see how an idea is coming together.
If you could choose any artist on earth to do your portrait, who would you choose, and what instructions might you give them? Well... It's funny that you ask as I recently had my portrait done by a very talented artist (Margot Barbier). She used a photograph of mine that I posted on IG which was shot by another talented artist (Haleh Javanshir) while I was working. I didn't give any of them any kind of instructions but if I had to, I probably would have asked them to please not correct my broken nose!
To view Hamad's work in greater depth, go to his artist page, here.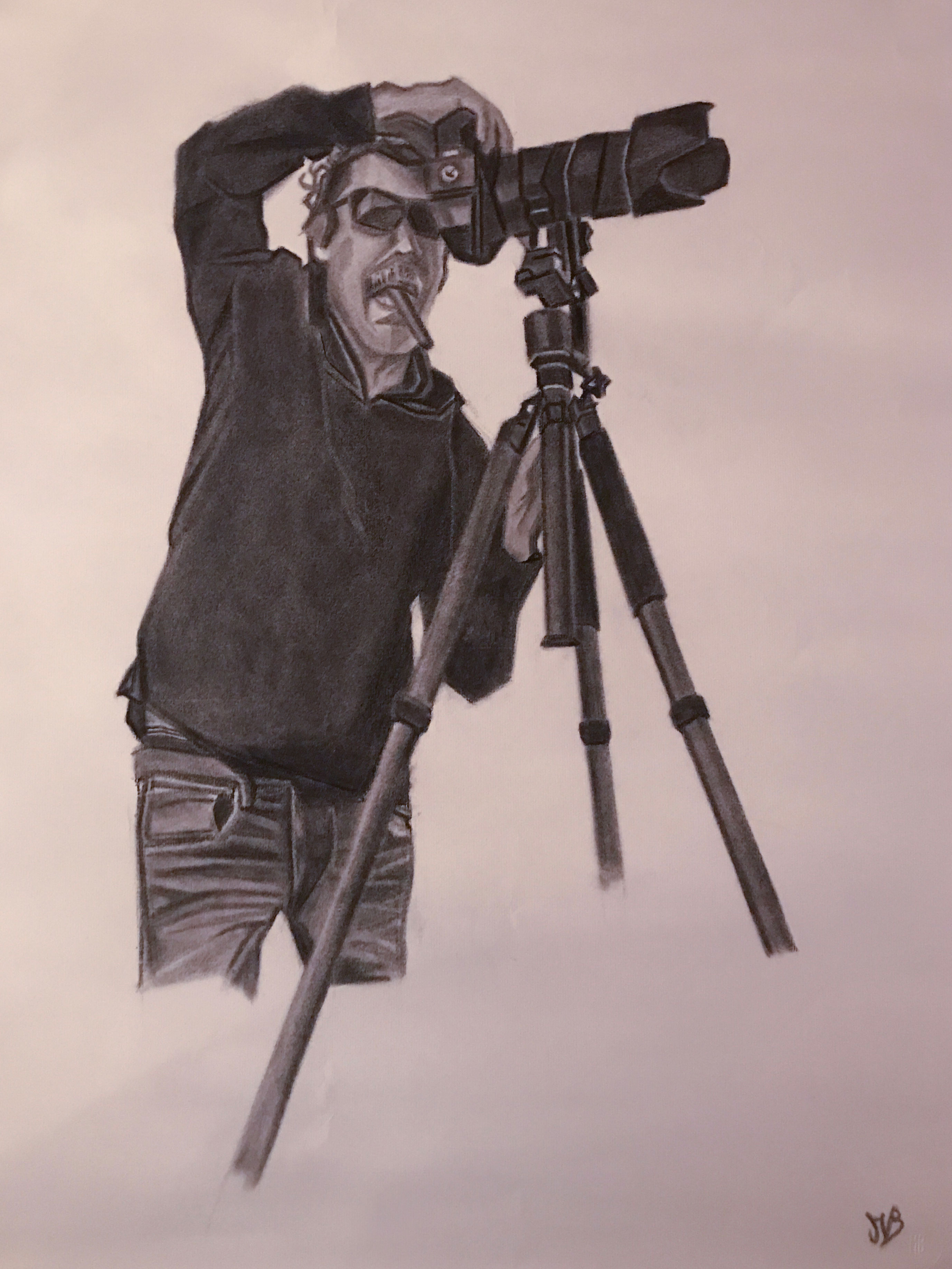 Serge Hamad portrait by Margot Barbier