A rose by any other name might smell as sweet, but only within Sandra Platas Hernández's photographs do flowers look quite so ravishing and lush. This Spanish fine art photographer was born and raised in Madrid, and developed an early interest in ceramics and painting before focusing on photography. She studied in Edinburgh, Scotland, and returned to her homeland, where she has since developed a strong reputation for her beautiful floral studies, as well as her portraiture, gastronomic work, and near-abstract photo series.
Though she chooses subjects widely regarded as conventionally beautiful, Platas Hernández still manages to subvert beauty conventions and is drawn to floral subjects, partly because of their transience. As she says in this interview, staged to highlight the photographer's place within Artspace's roster of artists offering their works directly via our site, flowers are attractive, because they are "short, but sublime and unique."
Her own work possesses those second and third qualities, but unlike a summer bloom, the beauty of her prints will last a very long time. Read on to discover the challenges she's overcome, the sources of inspiration she returns to, and the way her chosen medium can, in her words, can "freeze all the memories in life."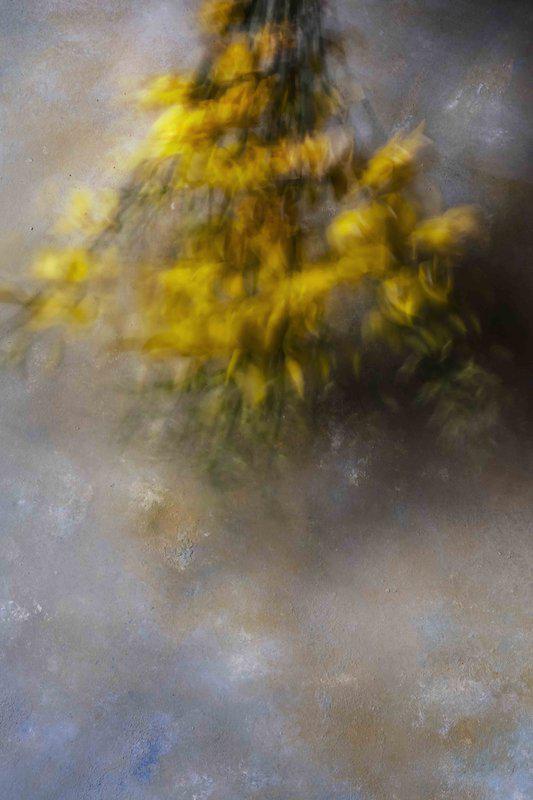 What attracts you to photographing flowers? I find flowers so delicate and meaningful. Nature in general is the most beautiful element we have on our planet, and I always felt really attracted by the stages of the flower's life cycle. Short, but sublime and unique.
How would you describe what you do? Find the beauty in every little thing that surrounds me and create dreamlike situations.
Was the pandemic the start of this particular project? How did it help you? Well back at college I started to photograph flowers for one of my projects. It was something that I always loved to do. But at that time all my flowers were already dead. And that was what all my still life photos were about, even though some were colorful.
For years, I stopped taking pictures of flowers until the pandemic arrived. I was really lucky to have a garden in my house, spring was coming and flowers were starting to grow. It was very therapeutic to stare at them. So I decided to start this series called " Flores de mi jardín. One of the most wonderful projects I've done, and perhaps it will never finish. It gave me, and still does, so much joy and happiness. Alongside this project, I was also doing self-portraiture. And of course, there were also flowers involved. It really helped me to understand a bit more about myself and the link humans and nature have.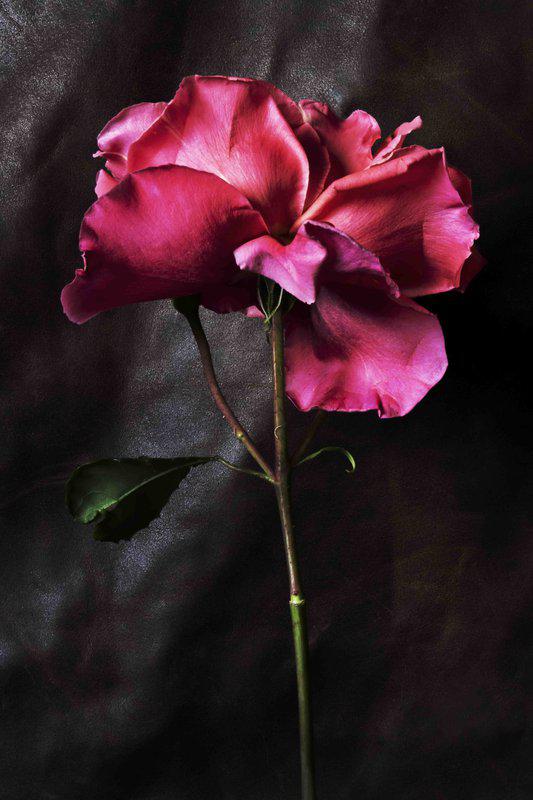 What particular challenges do photographing flowers present? I love still life in general because you have control over everything. But I must admit it isn't always easy. I usually like to get everything set and then create the atmosphere. Using the daylight from the window and with a dark board to create some shadows.
I remember when I was creating a scene with the ranunculus I got into some difficulties; the flowers wouldn't hold the way I wanted and I had to try many different ways until I got the right composition. I also struggled with the amapolas. As soon as you cut them they don't last long, so I had to be very delicate when working with them. Perhaps roses were the easiest to photograph, as they were really strong and vivid. There were some that were really photogenic and it was like magic to my senses.
What should people look for in your work? They can look at my work and see a beautiful composition of flowers. But they can also look at my work and see the meaning of life, and its cycles; the strong connection we have with nature and how it can alter our mood.
Tell us a little about three of your works on Artspace
Lilies was the first artwork of the series. At that time I wasn't sure if it would work. Straight after I felt in love with their shapes and it's powerful meaning.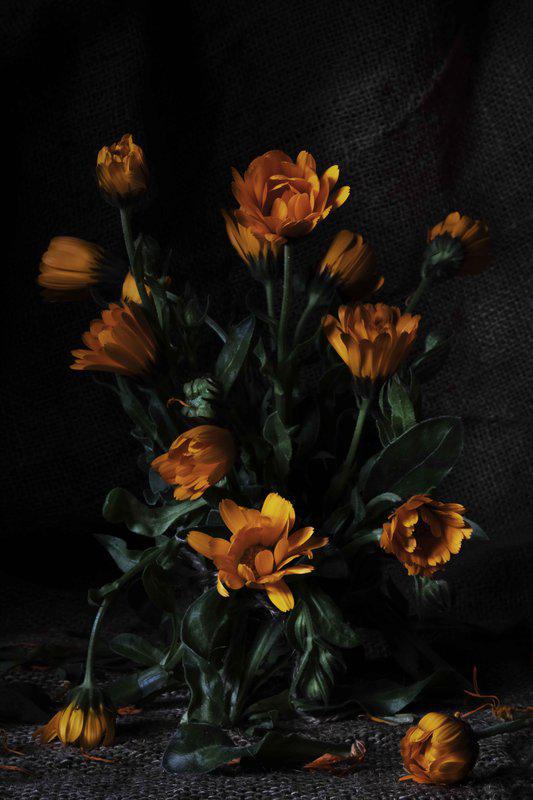 Flores de mi jardín was and still is one of my favorites. The way I felt after taking this photograph was beyond happiness. I love everything in this artwork.
"Genistas II" I made that background using different acrylics and textures. I wanted to create a very painterly feel matching colors and giving movement to the composition.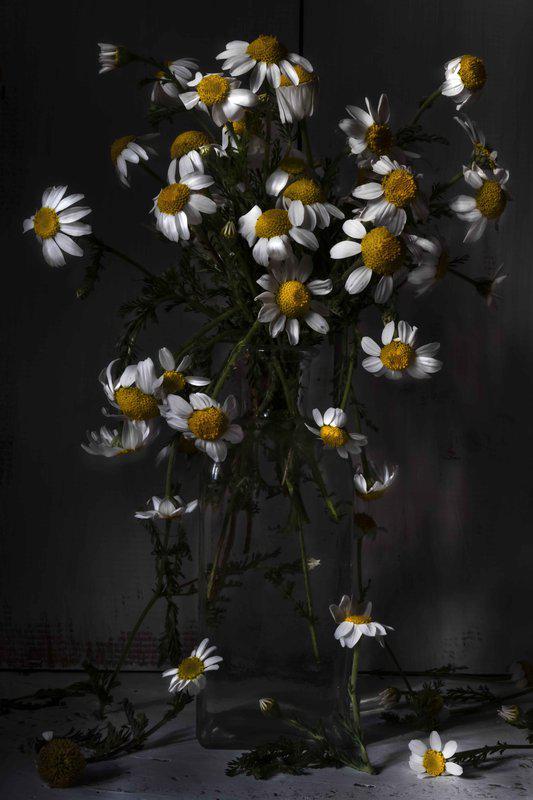 Could you describe your process? I'm a very spontaneous person in all means. So in art I'm very much the same. I don't usually have a procedure when I create. Although sometimes I do, and I even do sketches and so on. Most of the time, I visualize it in my mind and then I try to replicate. Sometimes it works and many other times it doesn't. Usually I start with the color palettes and attrezo. From that I think of possible combinations and try to put it into practice.
What made you want to become a visual artist? I have always been interested in arts in general. But photography was my real passion, an amazing tool to freeze all the memories in life and also to be able to create dreamlike situations. It's magic.
How has your work changed over the course of your career? My work has changed to be more focused on little details over the course of the years. Feelings and emotions are what stand out in my artworks and it has taken on different meanings when I am feeling sad or happy. Getting older has also had an impact on the way I see life and what surrounds me.
Do you buy or collect art yourself? I sometimes buy paintings and photographs from local artists. The last one I bought was from an artist I met in Thailand, a beautiful landscape. Also I bought a stunning photograph of an abstract composition from one of my classmates.
If you could choose any artist on earth to do your portrait who would you choose, and what instructions might you give them? Paolo Roversi would be the person I would choose to create my portrait. I love his vision of life, how he uses the lighting to create that beautiful feel and painterly effect. I think I wouldn't have to give him any direction, as I'm sure he would create his magic as usual.
To see more of Sandra Platas Hernández's work visit her artist page on Artspace.