Hilary Pecis can remember the first time she saw a picture by Henri Matisse. The Californian painter had visited her cousin's house, and there was a poster reproduction of Matisse's 1912 work, Goldfish, on the wall. "I remember thinking 'That is the best painting I've ever seen in my life,'" the artist recalls. "It just shifted the way I looked at things." Contemporary gallery goers should be thankful for that shift. Today, this young Californian painter is the natural inheritor of those blissful, simple interior life studies.
Pecis is known for her signature style of representational paintings that update the historical genres of domestic interior, landscape, and still life — and are among the most sought-after works by any contemporary artist working internationally today. The human figure is generally absent from Pecis's scenes, which nonetheless exude humanity and personality, displaying the lovingly curated minutiae of life. When seen through Pecis' eyes, familiar interiors and landscapes of Los Angeles encourage us to celebrate the quiet power and vibrant beauty of the everyday.
Indeed in the new Phaidon book, Great Women Painters, the artist, born in Fullerton, California, in 1979, is praised by writer Ellen Mara De Wachter for works that "exude humanity and personality, displaying the lovingly curated minutiae of life." Yet perhaps the highest praise comes from knowledgeable art-world insiders. "She's kind of like our David Hockney," said the acclaimed contemporary curator Helen Molesworth. "There's that free, Laurel-Canyon-pool, everyone-sleeps-with-everyone version of L.A.—the David Hockney version of L.A. Then there's the domestic L.A., where there's a bowl of oranges in the corner and you're looking at a book about Bob Thompson, having your matcha tea—and you are slower than your friends in New York. It's like the dream of L.A. I think that she embodies that."
However one frames it, it's a style of painting that's gained a strong following within the art market. Pecis has enjoyed sold out shows on both sides of the Atlantic, and in May 2021, her 2016 painting Garden Cats sold for $225,437 at Christie's in Hong Kong – more than double its high estimate.
Pecis has also recently been the subject of solo exhibitions at Rockefeller Center, New York (2021); Timothy Taylor, London (2021); Spurs Gallery, Beijing (2020) and Rachel Uffner Gallery, New York (2020). Her work is in the permanent collections of institutions including the National Gallery of Art, Washington, D.C.; Flagler Museum, Palm Beach, Florida; Aïshti Foundation,
Beirut; Columbus Museum of Art; Orange County Museum of Art, Santa Ana, California; Albright-Knox Art Gallery, Buffalo, New York; Museum of Fine Arts, Boston; and Yuz Museum, Shanghai.
HILARY PECIS - Untitled Interior, 2019/2022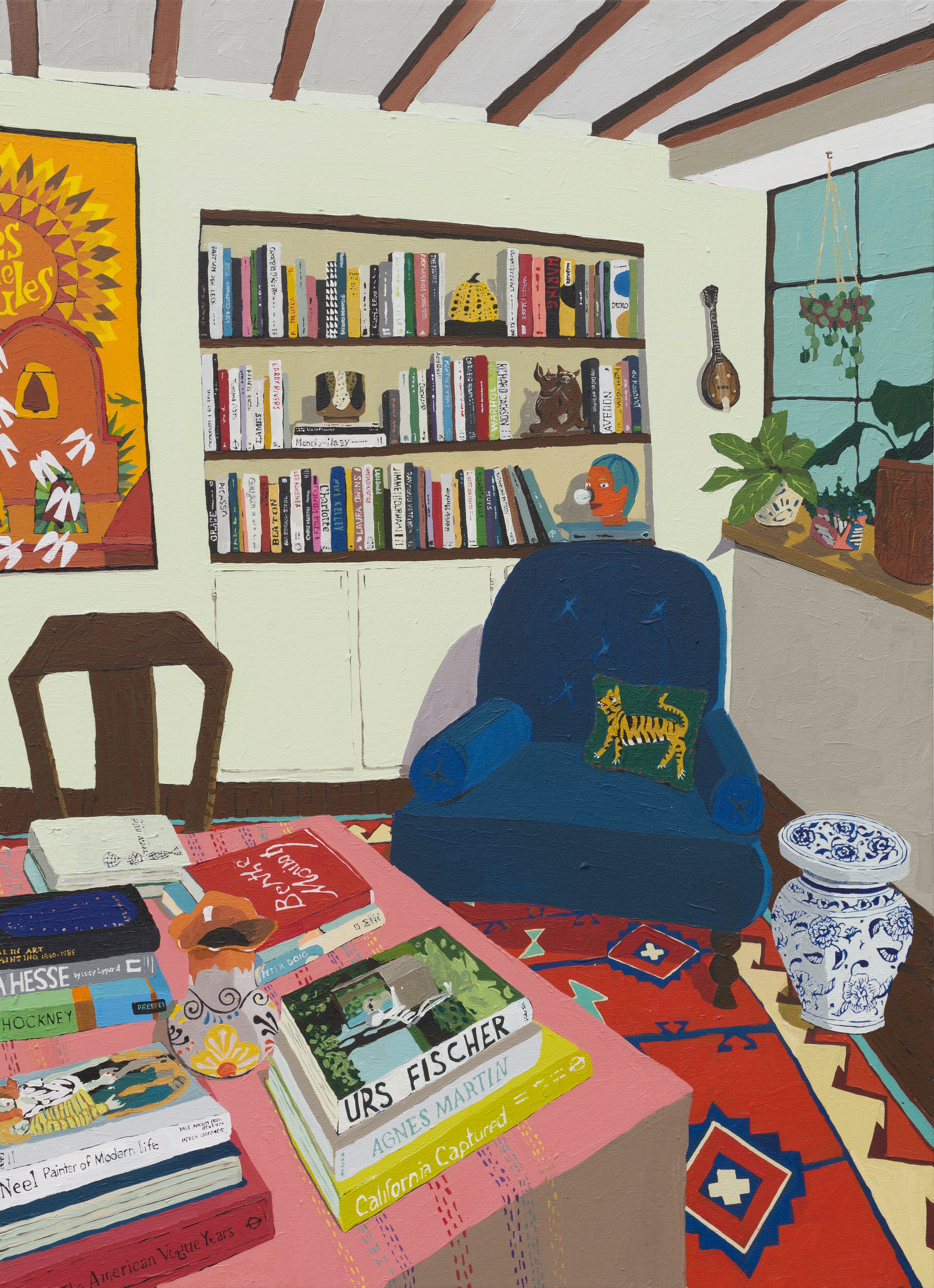 This week she releases a new edition with Artspace, Untitled Interior, 2019/2022, with proceeds from the sale of the print benefitting Students Run LA (she's a keen runner, more of which later) and the MCA Chicago's Women's Fund. The edition is an archival pigment print on Somerset Velvet paper 20 x 16 inches (50.8 x 40.64 cm). It is an edition of 40 plus 4 APs and 1 PP Hand signed and numbered by the artist on front. The edition is priced at $5,000.
To mark the launch, we spoke to Pecis about the edition, happiness, Los Angeles, and the ways in which running is a bit like painting.
What inspired you to make the original work from which the edition springs? This painting was made from an image that I took of a friend's home, which reminds me of a lot of many LA homes. It was a little messy and had interesting lines and bright colors. It also had quick references to artists that she was looking at vis-a-vis the books on her table.
Are the works candid views of everyday life, confected visions, or a mixture of both? I paint from images that I took with my phone which are probably initiated by the composition or color or patterns, or the subject matter itself. They are usually images of places I have walked or run through, or images from my home or that of friends.
I have mixed images for a painting, but I am not very good at it, so I tend to stick with the imagery in the photo. If anything, I often edit out information, simply because I am overwhelmed with all of the info. I take liberties with color, and I often edit out things that don't make sense.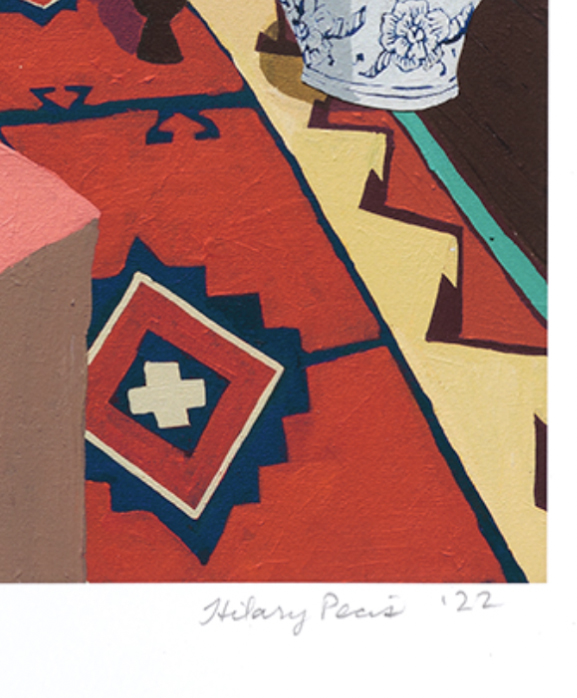 You often depict a specific brand, or reference another artist in your work, why is that? I love the line, and font and other typographic qualities that occur when the written word is depicted in a painting, whether it be in a sign as in the image in the Phaidon books (California Captured and Grace Coddington: The American Vogue Years), or on products or books or street signs. All of these things have already had the consideration of design by who made them, so the colors are often contrasting or bold or elegant. Also, I find that my eye naturally drifts to signs and symbols which are a very easy connection for the viewer.
Running informs your paintings too. How does that form of exercise influence your art in ways that might surprise us? I like to think of painting as an endurance activity. Each painting in itself is a series of small movements that add up to a finished piece. And the continuation of the practice in painting is a journey with ebbs and flows and growth between paintings and shows. I relate this to endurance running, where the efforts of the thousands of miles that are put in before a race are summed up. And, from race to race, there is room for improvement and many more miles. I am betting that I will have run more than 2000 miles by the end of this year.
Many of my paintings are made from images that I have taken while on a run. Fortunately, I am a rather slow runner, and so have plenty of time to look slowly at my surroundings. LA is full of many beautiful colors and flora and signs and trails. It is nearly impossible for me to step foot outside without snapping images on my camera.
There's an undeniably joyous element to your paintings. Do you paint because it offers you a route to that joy? I will just say that I think I am a generally happy person. I find endless joyous inspiration around me, and my eyes are always looking and trying to remember the sentiment so that when I make a painting it is infused with the way I felt as well. I love painting and sometimes I still can't believe that I am lucky enough to do it full time.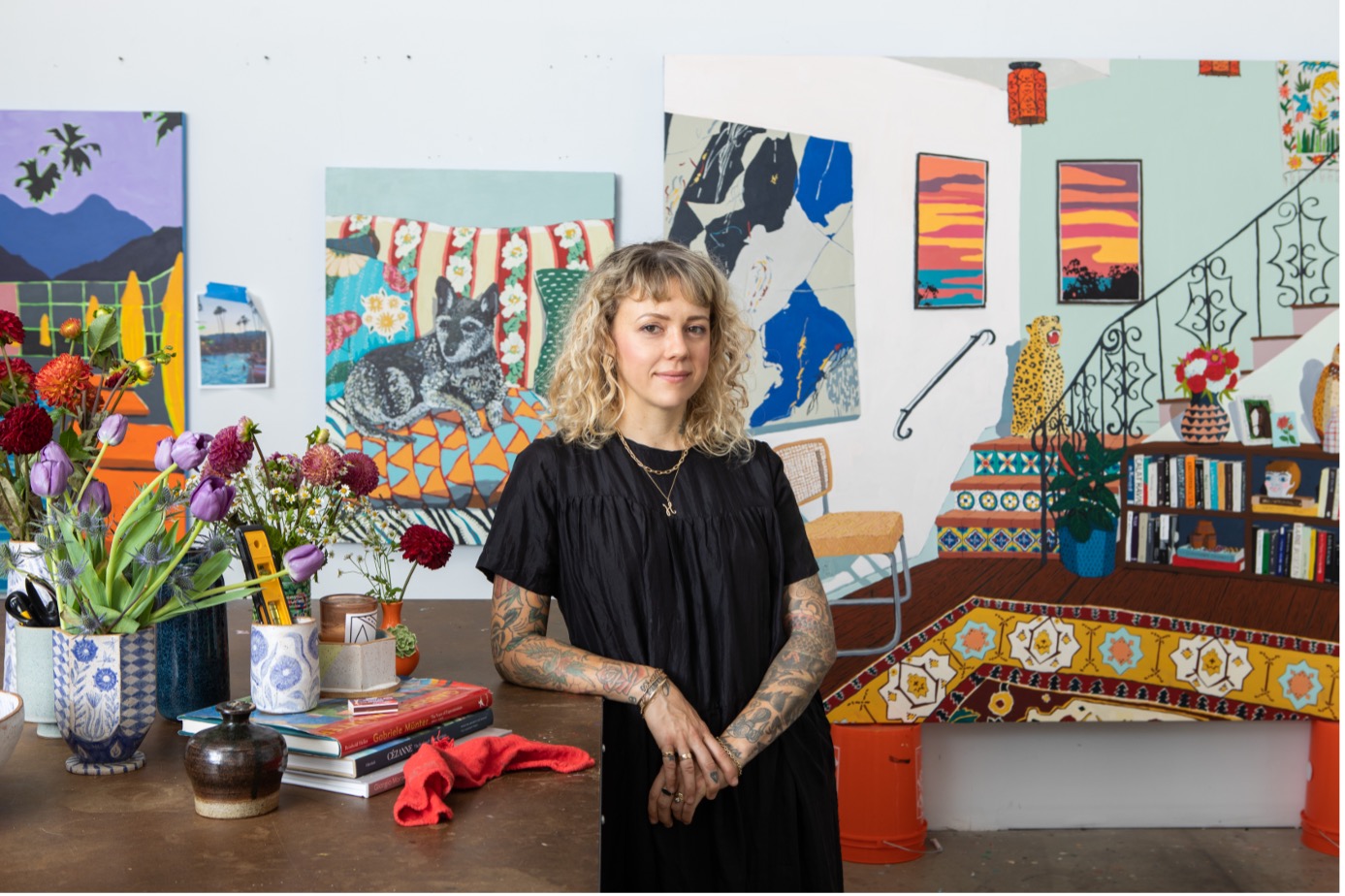 Hilary Pecis photographed by Laure Joliet courtesy David Kordansky Gallery
What attracts you to working with acrylic? I love the flatness of acrylic. When I had a home studio I used acrylic out of necessity, but as my practice developed I embraced the qualities of the medium. My paintings have been likened to a paint-by-numbers, which is exactly how I go about making a painting. There are no blended parts that might require the ease of oil, and the flatness of acrylic really speaks to the way that I like to depict space.
Is there such a thing as a typical working day for you? I have a ten-year-old so I keep a pretty regular work schedule so that we can do normal family things. I usually work from nine-to-five and take a 30-minute lunch break around one o'clock. I have a friend who helps me in the studio, and we just chat most of the day. I used to listen to music or podcasts, but now we just talk unless I am tripped up on a painting.
When I start a painting I make a very quick compositional sketch, and then quickly lay down big swaths of color to get rid of the white. And from there I slowly noodle away. I don't know how long it takes me to make a painting because I bounce around between paintings when I get stuck. I would rather be moving and hopefully the solution presents itself while in action. There are not a lot of sedentary moments in the studio. The difficult bits are the best parts and if I didn't have problems and new issues, I would probably get bored. This is where the magic is for me.
You credit the punk scene in your hometown of Redding, with fostering a certain type of creativity. Who were the bands and what were the experiences you particularly cherish? Although I was born in Southern California, I spent most of my childhood in Redding, CA. It is a somewhat sleepy town near the Oregon border, and the I-5 freeway ran through it. Many small punk bands would come through on their way between the bay area and Eugene or Portland. There weren't any traditional venues for these bands, so they tended to book shows at the Lyons Club or the Moose Lodge, or other civic type buildings. It was a very DIY approach and I think that carried over to my early art days. If you can't find the right venue to play or gallery to show your work, you just make one.
HILARY PECIS - Untitled Interior, 2019/2022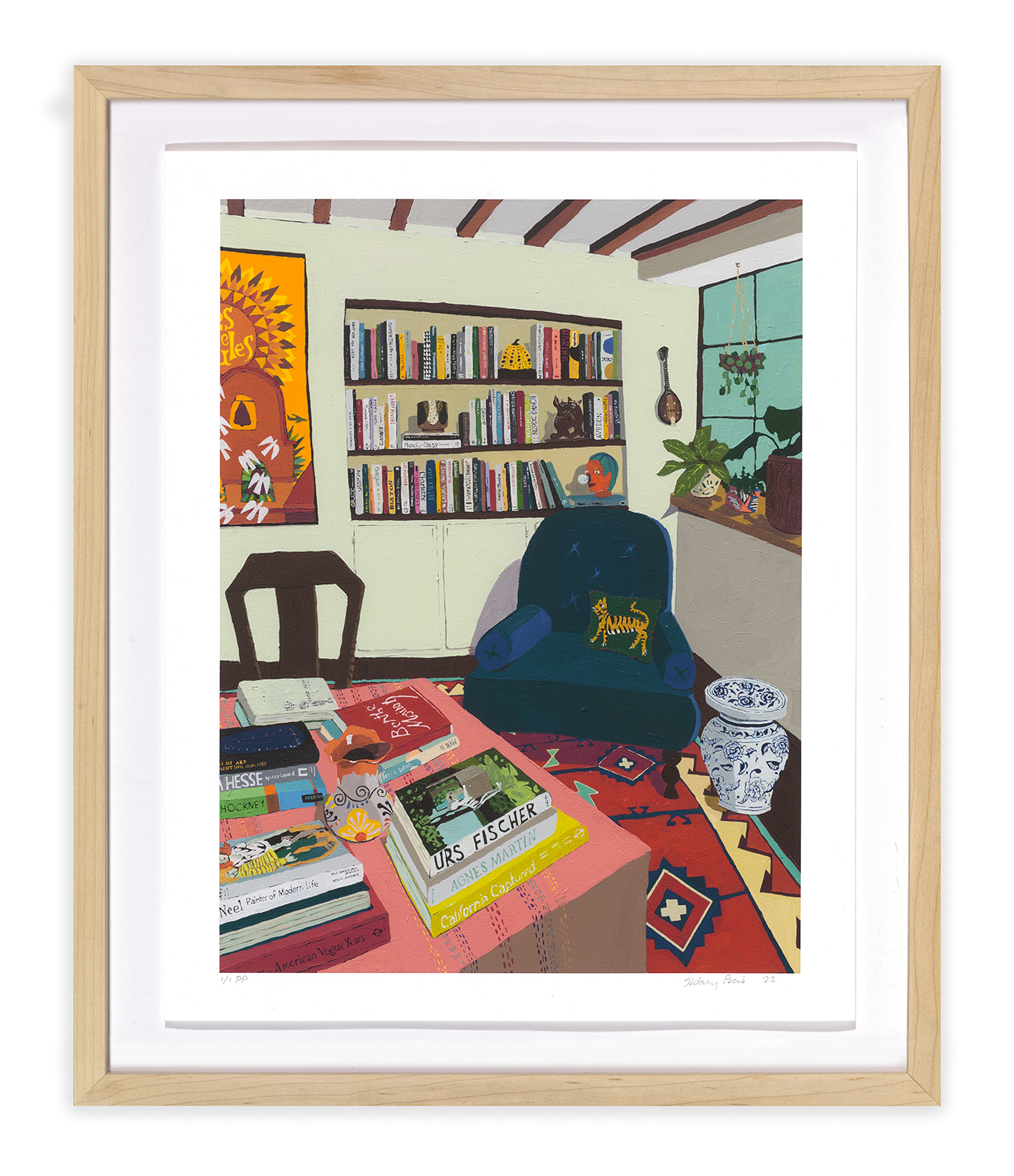 You have some wonderful tattoos, did you design any yourself? It is true that I do have quite a few tattoos. I was a very ambitious young adult and I have always loved decoration. I did not design any of them and I haven't been tattooed in nearly two decades.
Finally, your work is included in the new Phaidon book Great Women Painters who, for you, is the greatest woman painter - contemporary and from back in the day? My favorite painter who was included in the book (and otherwise) is absolutely Gabriele Münter always and forever. She was associated with the Der Blau Reiter and made incredibly rich colored paintings. I have included images of her paintings in my own. I also love the compositions of Marianne Von Werefkin. I was thrilled to see her included in this book, because although images of her work are readily available on the internet, I haven't had as much luck finding books with images of her paintings.
As for living artists, it is hard for me to think about who I would consider the greatest contemporary painter today, without thinking about how they relate to me, are friends with me, or how I try to avoid comparisons. I really appreciate the works of Clare Woods, Nicole Eisenman, and Mary Heilmann and so, so many of the artists named in the book. Someone who was not named in the book is Maija Peeples-Bright who was an important artist within the California Funk artists and who is still making work today into her 80s. She is a wild and brilliant woman who everyone should know about.
To buy Untitled Interior, 2019/2022, framed or unframed, go here.