Rashid Johnson is many things: one of America's most significant and innovative contemporary artists; a leading figure in a wide variety of media, including sculpture, illustration, photography, video and installation art; a gifted film director as well as a gallery-based artist of true international standing. And he's also this year's honored artist at the 2022 Gala and Auction in Dallas, Texas.
To mark the occasion, in conjunction with Artspace and TWO x TWO for AIDS and Art, Johnson has created a rare sculptural edition, Little Boat, 2022. These beautifully formed boat-shaped vessels – which, in a larger form were debuted at the artist's Hauser & Wirth show Sodade, on the Spanish island of Menorca this summer – also serve as incense burners, and arose from the artist's pandemic experience, during which he took long walks on the beach near his Hamptons home.
Engaging with our sense of touch, sight and smell, these multisensory works seem to be both buoyed up on Rashid's ever-rising reputation, while simultaneously offering the artist an exciting new personal sense of direction.
Little Boat, 2022 comprises a series of 40 cast bronzes, hand-carved, embedded with oyster shells, and patinated in black ink. Proceeds from the sale of this limited edition will benefit the Dallas Museum of Art and amfAR, The Foundation for AIDS Research.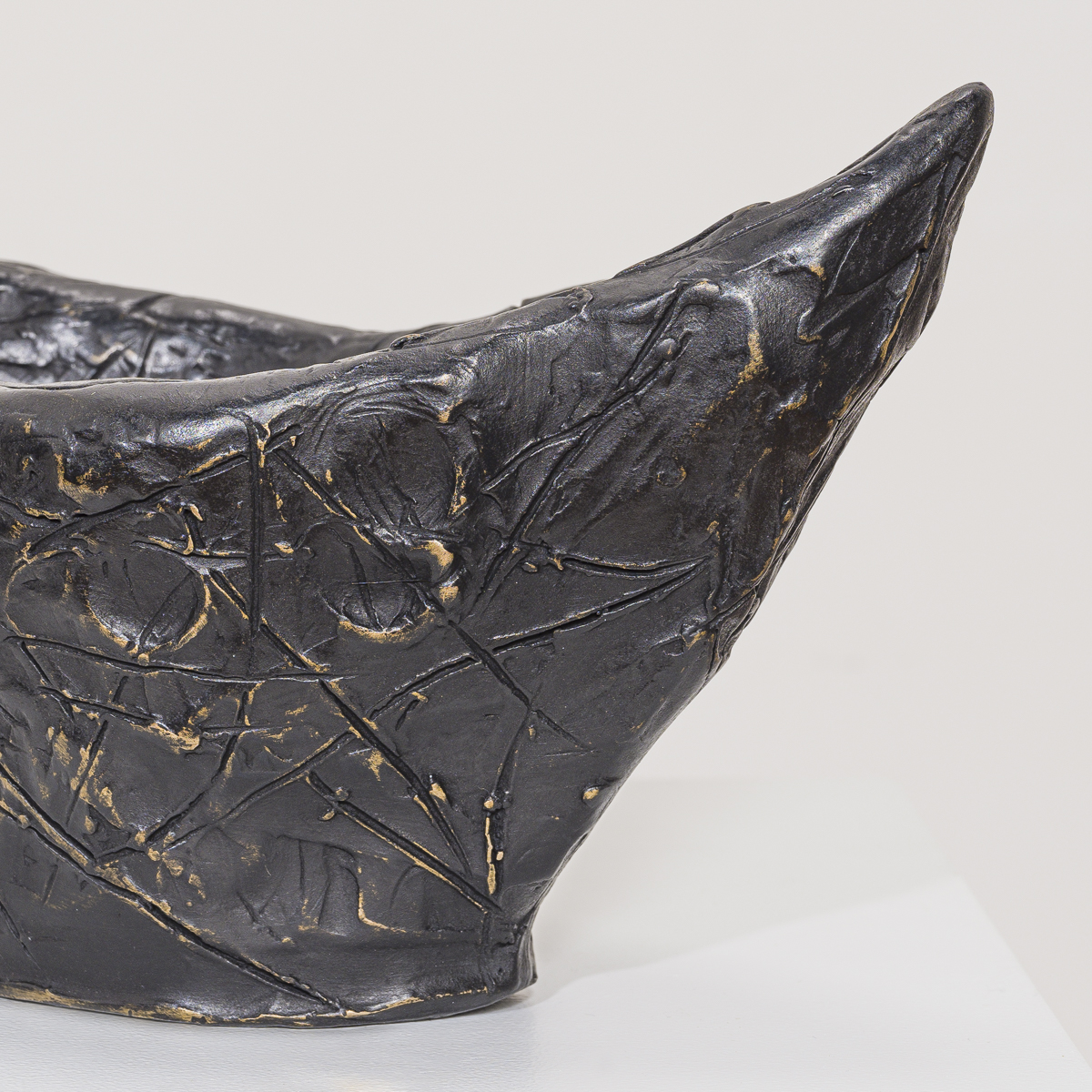 Rashid Johnson - Little Boat, 2022 - edition photography Garrett Carroll

In this exclusive Artspace interview, Rashid Johnson discusses the significance of wandering in his work; the inherent tension between the need for community and the desire for autonomy; his newfound love of clay and bronze; and why he's always been drawn to the idea of an artwork, that like this new edition, can be activated or turned on "just like electricity."

Can you tell us a little about the pandemic beginnings of this project? I was in the Hamptons. I was spending a lot of time walking - a lot of time by the water - and I was gravitating towards meditation in a very anxious moment. The work, partially, was still working through some of these frustrations and anxieties and fear; and this was an opportunity to kind of create a quiet among that loudness through these quick simple gestures. The boat, this singular vehicle, for me at that time represented a sense of autonomy.

There was so much collective thought over the course of the pandemic. There was this idea that we were all in the same boat. And because of other things that were happening at the same time - the uprisings, the frustrations with social structures and constructs - we were all trying to see things through the same lens.

As effective as I think coalition building is, I pined a little bit for some autonomy. What does my thought feel like unencumbered by the collective concern? How does my mind wander at a time when I'm supposed to be so focused? And I think we need that wandering. We need autonomy. We need the exploration of the existential self. We need some of these other traditional navigating tools – man versus nature, man versus himself, man versus man. We need to explore these things with all of their nuances.

And these boats allowed me to say here's this vehicle for me. What is my individual autonomous thought like right now? And as much as they can suggest that we are all in the same boat, they also can suggest that I'm in this boat by myself.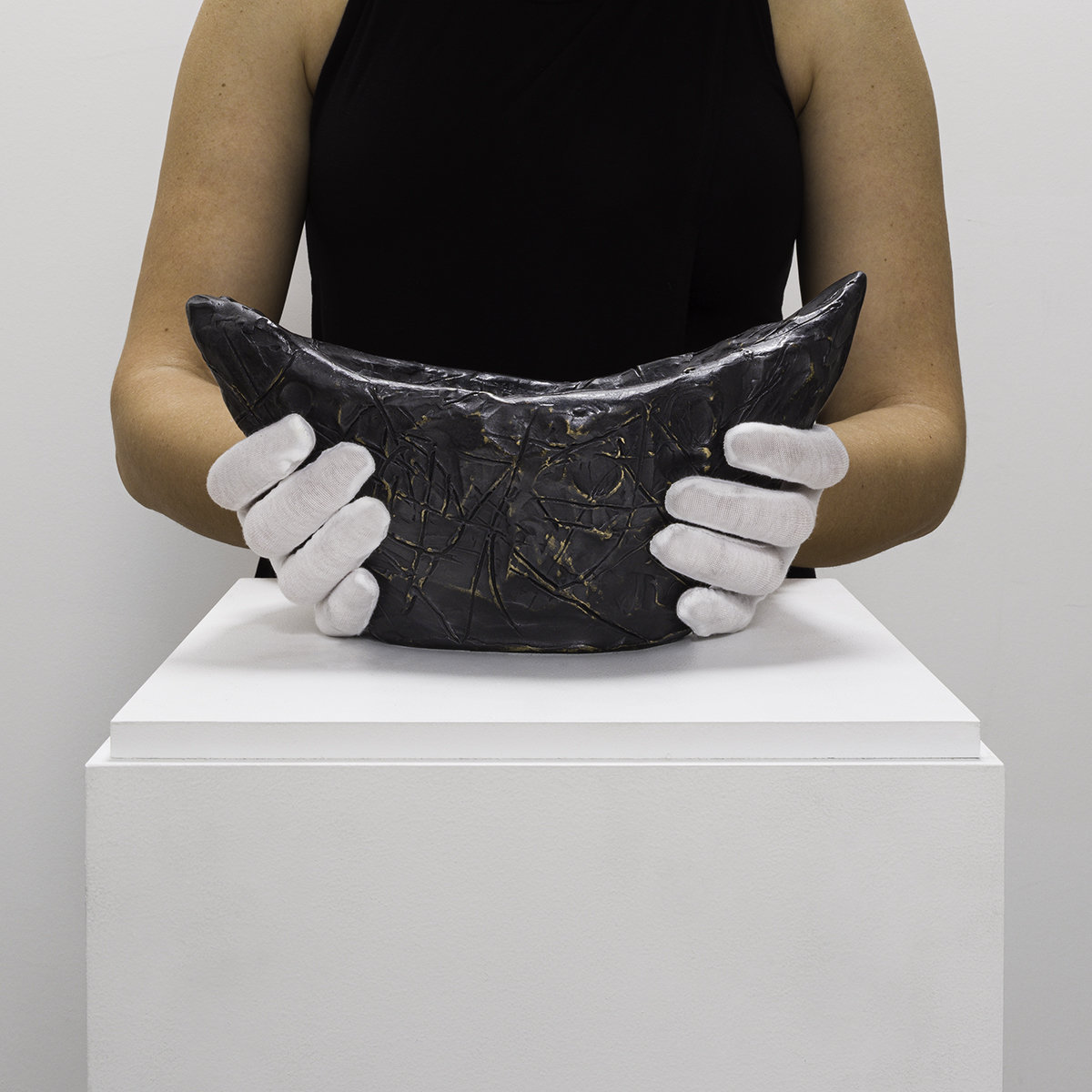 Rashid Johnson - Little Boat, 2022 - edition photography Garrett Carroll

The opportunity for a moment to find oneself again? Absolutely. Like a point of reflection. A directionless vehicle. A vehicle that obviously does not give you speed, does not get you anywhere quickly, it's only there to give you opportunities to reflect.

This is only the second time you've created a multiple and the first time in over a decade - did the time just seem right? From early on in that [Hauser & Wirth, Menorca] project I was interested in reproducibility. The boats that I made in the Menorca show lived in edition form, so they already had this relationship to the multiple.
I started as a photographer in the Nineties, and so the idea that something can continue to live – not necessarily in perpetuity, because we do limit the edition - and reflect its opportunity to be reborn was always an interesting thing for me. So when I started to think about doing a multiple for the museum and TWO x TWO, and Artspace, I thought it would be great to continue this idea of reproduction in the boats.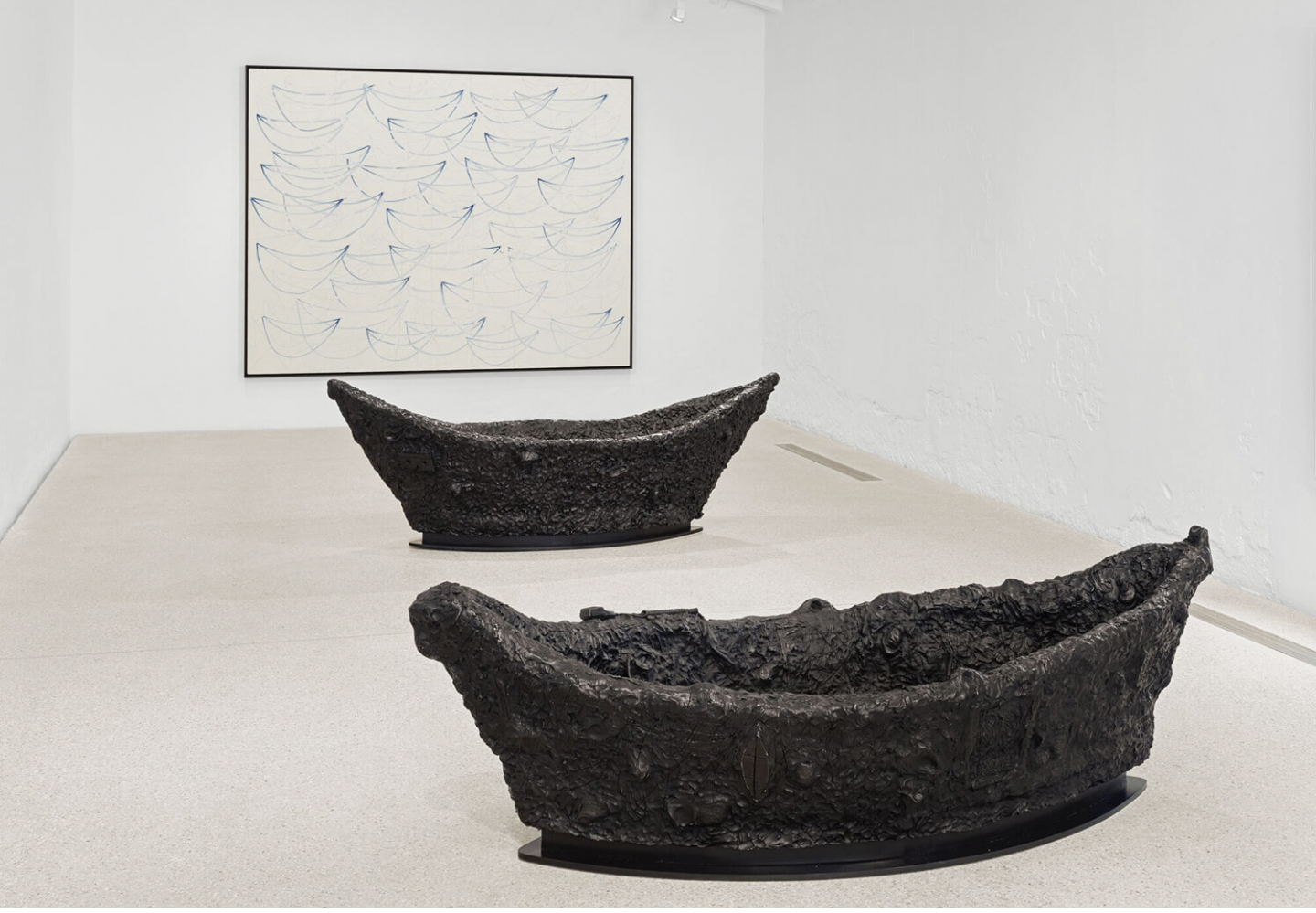 Installation photograph of Sodade at Hauser & Wirth, Menorca courtesy Hauser & Wirth
And the edition also shares a characteristic with the boats shown at Menorca in that there is a fire component. Yes, they function as incense burners. This also breaks down in a sense with something that I've used in a less robust way in the past, but that's always been in some way present in my work, which is smell.

I want people to bring them to life. I want to see them used and to see them activated. So often, art keeps us at bay. And this an attempt to give you some agency. So, if people acquire one, I suggest they don't be shy in using it! The multiple gives people the opportunity to be active with something. They are still expensive, but they are far more accessible than some of the other artworks.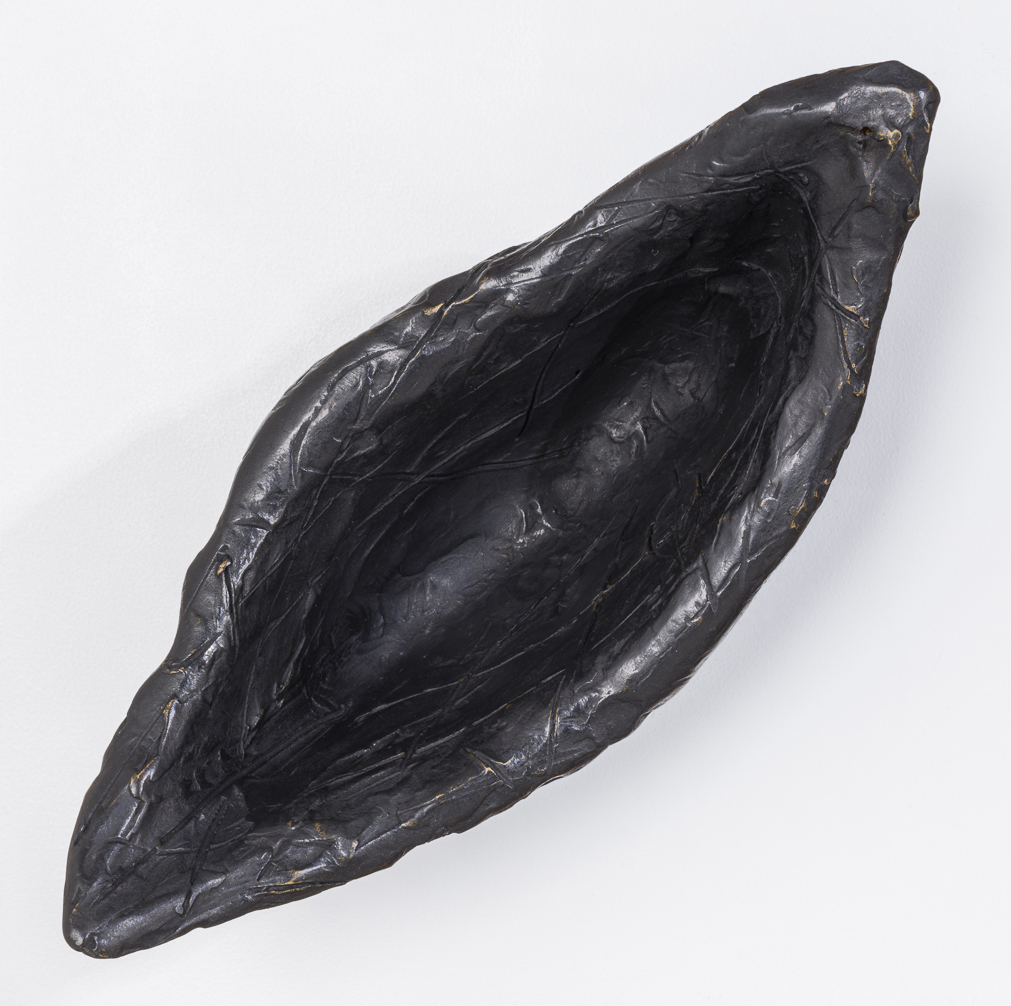 Rashid Johnson - Little Boat, 2022 - - edition photography Garrett Carroll
Does the work and its more traditional materials mark a change in direction for you? I think what is really being explored for me in this process and in a lot of the work recently, is an investment in refamiliarizing myself with the early motivating themes in my work, and in a lot of artists' work. This is about enthusiasm for materials, love, beauty, investigation – some of the themes that people associate with naivety.

I really leaned into the clay, and I leaned into some of the same gestures that I've been using recently. It's a great reminder of how a material such as bronze, which has so much history, oftentimes is one of the authors for sculpture with a capital 'S' and can live on in a more accessible form, both scale-wise and at a different price-point.

There are still small shards of oyster shells 'living' in the clay. But they of course don't read as legibly as they do in the larger objects [CB radios, video cassettes, in the Menorca show]. So the clay is really the vehicle for these, and the gesture remains a big part of the storytelling.

It's maybe an analogy too far but is the edition a little like sending a part of yourself out there? You know it always is. It's always like sending out a small poem or a piece of oneself into the world. And the employability of them, the fact that they won't only be viewed and used as decorative opportunities, but in their utility, they give you space to reflect.
I've always liked the idea that an artwork can be turned on, just like electricity. I like the idea of a 'post-medium' in which an artwork can be activated, and that activation is able to take on any number of forms, be it a physical activation of it, physically kind of turning it on or plugging it in - which happens when I work in film or when lighting some of my sculpture structures - or letting something burn within it. This utility allows me physical life inside of the spaces that these works travel to.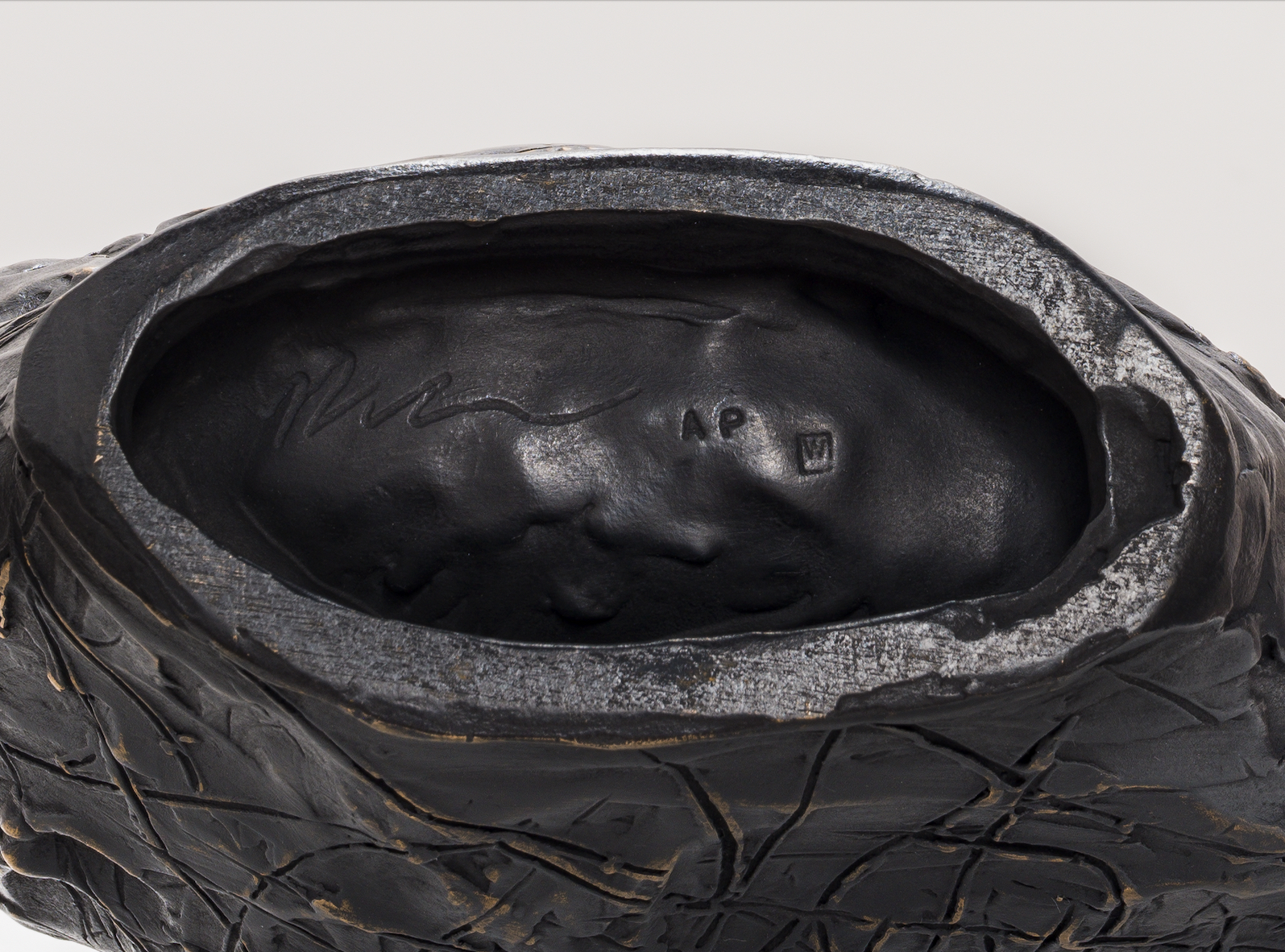 Rashid Johnson - Little Boat, 2022 - - edition photography Garrett Carroll

You are this year's honored artist at the TWO x TWO for AIDS and Art 2022 Gala and Auction in Dallas, Texas, can you tell us about your involvement? The Rachofskys [art collectors and philanthropists Cindy and Howard] came to my studio and they were just so enthusiastic. And I'm motivated by enthusiasm.
And I was just really excited about what this could do for the museum. I'm a huge believer in how cultural institutions can inform us. My love for art was born from school trips that I took to the Art Institute of Chicago as a young student, starting in third or fourth grade; and then continuing to go there every year through high school.
Those cultural institutions and spaces can do so much heavy lifting, and for them to be treated with this level of reverence and for them to be given the resources to acquire the work of artists who are working today, and who are moving and changing the discourse and pushing and bullying the narrative, is very important to me.
It's important for me to be able to facilitate that, rather than allowing the institution to rest on its canonical structures, and to continue showing over and over again the works that they were able to acquire many years ago, to a new generation that really needs to experience new voices.
So TWO x TWO's ability to facilitate access to these acquisitions, as well as making the museum more accessible to communities who have struggled to get access to cultural intuitions in the past - that stuff matters to me. Maybe I'm naïve for thinking that. But if I can produce an opportunity for one kid to see himself reflected in the work that they see at a major cultural institution, then I think it's worth it.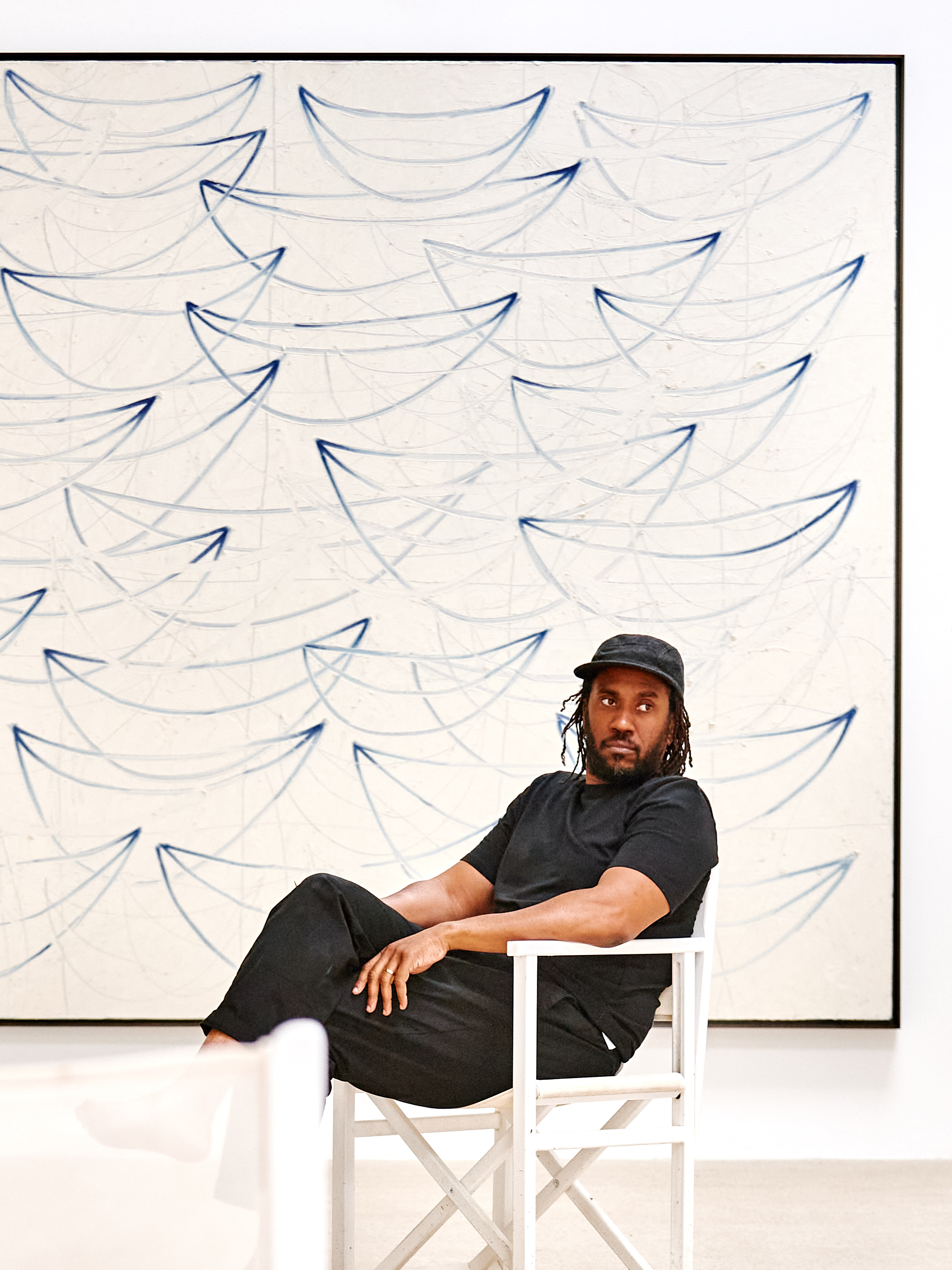 Rashid Johnson photographed by Daniel Schafer courtesy the artist and Hauser & Wirth © Rashid Johnson
Little Boat, 2022 comprises an edition of 40, measuring 10 ⅝ inches long x 4 ⅝ inches wide x 5 ¾ inches high, weighing: 14.9 lbs. Each edition comes with a certificate of authenticity signed by Rashid Johnson and is priced $10,000.
Read our October 2021 interview with Cindy Rochofsky here to find out more about the great work of TWO x TWO for AIDS and Art, the Dallas Museum of Art, and Cindy's life in art.