This June, Artspace is proud to present The Center Benefit Auction, in support of The Lesbian, Gay, Bisexual & Transgender Community Center (The Center) in New York City. A wide range of artists have contributed works to support this NYC institution, including Anthony Goicolea.
Even if you aren't a regular gallery goer, you may still know Goicolea's work. His winning design for the Monument to Gay and Transgender People was built and installed at the Hudson River Park, on the west side of Manhattan in 2018.

That neighborhood once played a big part in the artist's life. "When I first moved to New York, the Christopher Street Piers were still intact and it was one of my first interactions with the LGBTQ community in New York," the US-born artist of Cuban descent told Artspace a few years ago. "I was raised in 1970s Georgia and so seeing that kind of comfort level and my community reflected back out at me - the fact that they didn't seem to feel vulnerable - was really invigorating."

Those tender, early years and the struggles associated with coming of age, are key themes within Goicolea's art. The artist - whose work is in the permanent collections of MoMA, the Whitney, the Hirshhorn and the Guggenheim - uses a variety of media, including photography, sculpture, video and multi-layered drawing on Mylar, to explore ideas of personal history and identity, alienation and tradition, in works that often depict boys on the threshold of adolescence.

Many of these works could be classed as self-portraits, since Goicolea himself often serves as his own model. Yet there's something almost universal about the pieces he's offering up for sale in this Pride Month charity auction for the Lesbian, Gay, Bisexual and Transgender Community Center in New York. Both Shielded and Thirst Trap show "a solitary figure," says the artist in this interview, "caught in an enigmatic gestural act."

Read on to discover why Goicolea is so happy to be supporting the Center, and what he has planned once the pandemic is over.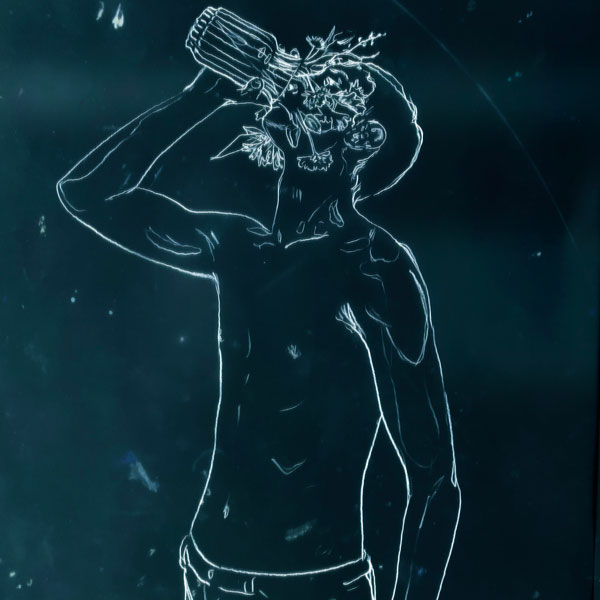 Anthony Goicolea - THIRST TRAP
How would you describe what you do? I am a multimedia artist. I work in photography, drawing, painting, sculpture, film and installation. I feel that different mediums lend themselves better to different ideas and so I switch between formats to better communicate. I liken my process to language. Certain concepts are better communicated in idiomatic expressions and cannot be properly translated into other languages. I am not afraid to fuse two seemingly different mediums (i.e. sculpture and drawing, or painting and photography). It is all in service of creating an environment that communicates an on-going and open-ended narrative. There are several artists that work this expansively, but I feel that they are rare.
How do you begin and how do you end a work? It depends on the medium. I come to each piece and concept differently. This is simultaneously fun and challenging but also a bit scary and frustrating. There is no formula or recipe. A piece is done when it feels like it is just enough to communicate a feeling. Anything more becomes redundant.
Who or what is your biggest single influence, inspiration and or motivation? While there are a million books, movies, artists, songs etc. that I find inspiring, I am most inspired by those weird transitional moments or in-between states where things undergo a certain metamorphosis. This can be as simple as the change of light from dusk to night (where objects lose their shapes) or the maturation process (puberty, old age, and biological gestational periods). I have never been very interested in 'before and after' concepts. I am always inspired by the possibilities contained in the process of existing in the middle.
What is the thing you're unhappy with in your work and the one thing that you're OK with? I have always been dissatisfied by the speed at which I work. My ideas far out-pace my ability to execute. I don't have any assistants because I like the process of discovery and figuring out how to make work. I can't really delegate that. So, I will often have ten ideas going at once and I get frustrated that I can't address them all with equal fervor. The thing I like about my work is that it is dynamic and consistent in its mutability. It is always changing, but you can see a through-line. It is somehow always obvious that my work is mine regardless of whether it is a sculpture, painting or video. The feelings communicated remain the same.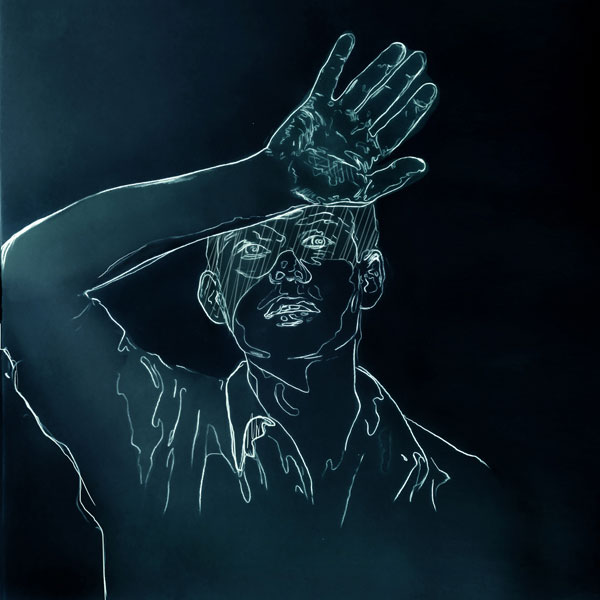 Anthony Goicolea - SHIELDED
What does this CENTER auction mean to you? The CENTER is a vital community hub. The people that work there have always been supportive. They are supportive broadly in their outreach programs and in providing services to LGBTQI people, and they are also supportive on an individual personal level. I have known and been friends with many CENTER board members throughout the 27 years I have lived in NY and they are incredibly generous and forward thinking in their efforts to provide services to a community that has been historically overlooked and under threat. I am always happy to donate work and time to the CENTER whenever I am asked.
Tell us about the pieces you have in the auction I donated two prints that function as a diptych, "Thirst Trap" and "Shielded". They are part of a new edition of 12 X 12 inch unique "blue-prints" on frosted Mylar film. Each piece starts out as a drawing that I photographed, digitally altered, printed on semi translucent mylar film, and then further altered with hand-drawn portions rendered directly on top in graphite.
The "blue-print" format harkens back to my love of the now defunct, old-school, architectural copier machines I used to use in my grad-school days as well as photographic cyanotype processes. Both images depict a solitary figure against a modeled blue void caught in an enigmatic gestural act.
What are you most looking forward to at the moment? Hugging people, going into people's homes, having in-person studio visits, indoor dining, and traveling!
Go here to find out more about the auction. Established in 1983 as a result of the AIDS crisis, New York City's Lesbian, Gay, Bisexual & Transgender Community Center has grown and evolved over the last four decades, creating and delivering services that empower people to lead healthy, successful lives. The Center continues to serve the LGBTQ community through virtual support services, launched almost immediately after the building closed due to the COVID-19 pandemic. The Center offers a wide range of services including virtual one-on-one counseling; substance use treatment and support groups; virtual youth drop-in space; online arts and culture programming; health insurance navigation and a virtual "front desk" to respond to community inquiries. To show your support, please consider placing a bid.
[Goicolea-module]