This June, Artspace is proud to present The Center Benefit Auction, in support of The Lesbian, Gay, Bisexual & Transgender Community Center (The Center) in New York City. A wide range of artists have contributed works to support this NYC institution, including Jerry Torre, also known as Jerry The Marble Faun.
Torre might be a sculptor, but many know him from an entirely different medium altogether. Jerry was dubbed 'the Marble Faun' by Edith 'Little Edie' Bouvier Beale, the American socialite and key subject in the acclaimed 1975 documentary, Grey Gardens, by Albert and David Maysles.
Back then Torre worked as a teenage handyman, working on the derelict mansion in East Hampton. However, he never abandoned his artistic ambitions, and has gone on to establish an excellent reputation for both carved stone and ceramic works, showing at galleries across the United States, and participating in the Shandaken Project's residency program at Storm King Art Center in New York State.
The artist has led a hugely varied life, working as a gardener for the Saudi royal family, an assistant to a cabaret ventriloquist, and driving a cab for many years in New York City. He has also struggled to maintain sobriety, and has learned to live with HIV.
In this interview, published to promote Jerry the Marble Faun's contribution to the auction, the artist talks about his early years, his later struggles, the ways in which the Center has helped him over the years, and the manner in which he shapes his chosen media into such powerful works of art. Read on to discover why the artist believes he lived in darkness for many years and, now out, wants to continue on a path of light.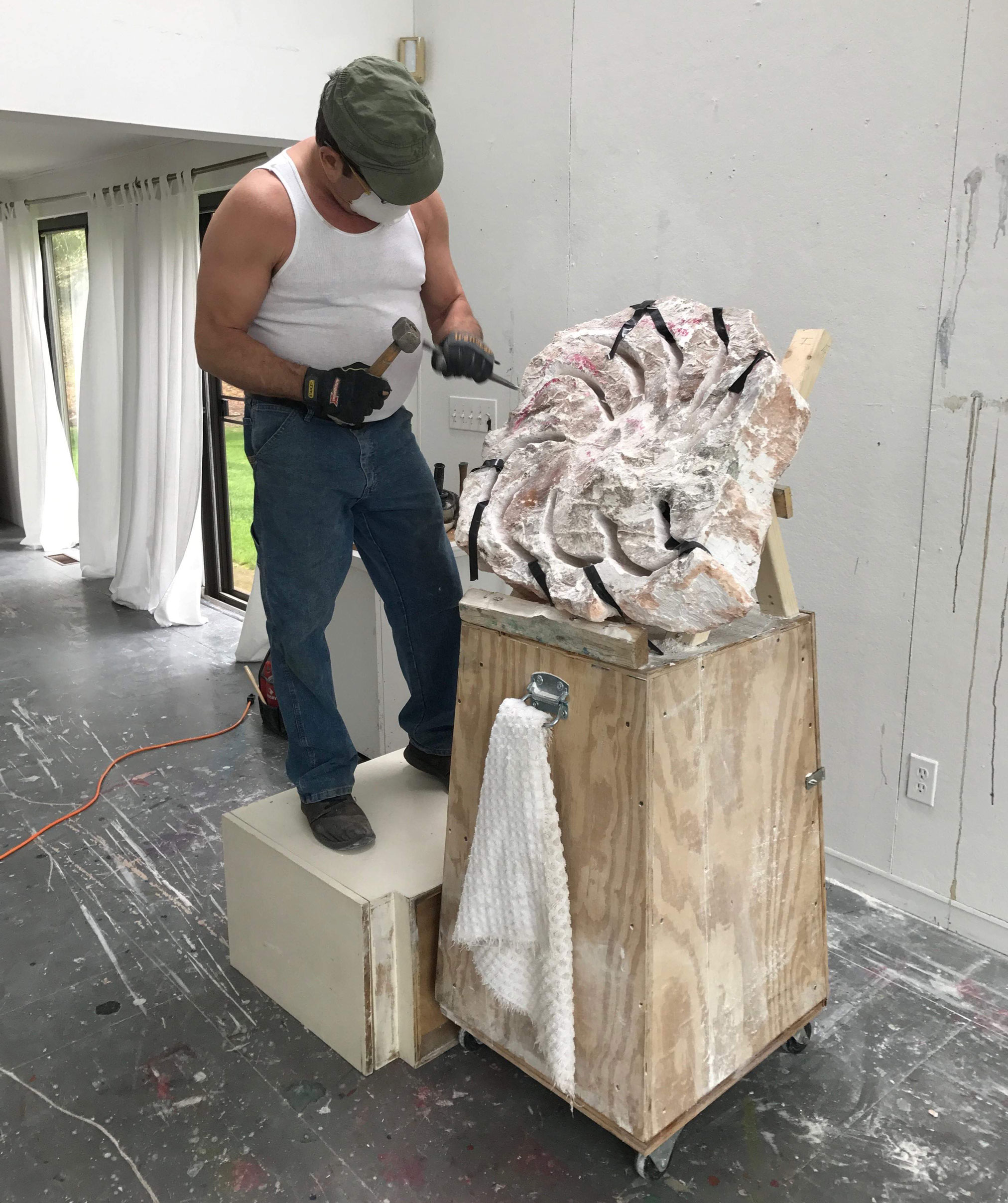 Jerry The Marble Faun at work in his studio - photo by Ted O'Ryan Sheppard
How would you describe what you do? Until I start working, I'm not sure what will appear. I've never seen anything like it, because it stems from the soul. For instance, if I want to make a horse head, then it comes to me as I'm working. I have to prepare my mind because it's very physical work and it takes a lot of energy to tap into whatever is trapped inside the material. The process is like a releasing a spirit that desperately needs to be freed. It appears from within the stone or clay.
How do you begin and how do you end a work? I just start working and eventually the work tells me when it's done. Once the piece begins to speak, I look at it and if there's nothing more I can add to make it better, that's when it's complete. It's free. Sometimes it's a rough animal with a tongue sticking out, or maybe it's a tender and soft creature, or sometimes aggression appears but with a kind eye, maybe one eye is round and defiant, but it makes some statement. That focus is there until it tells me it's done.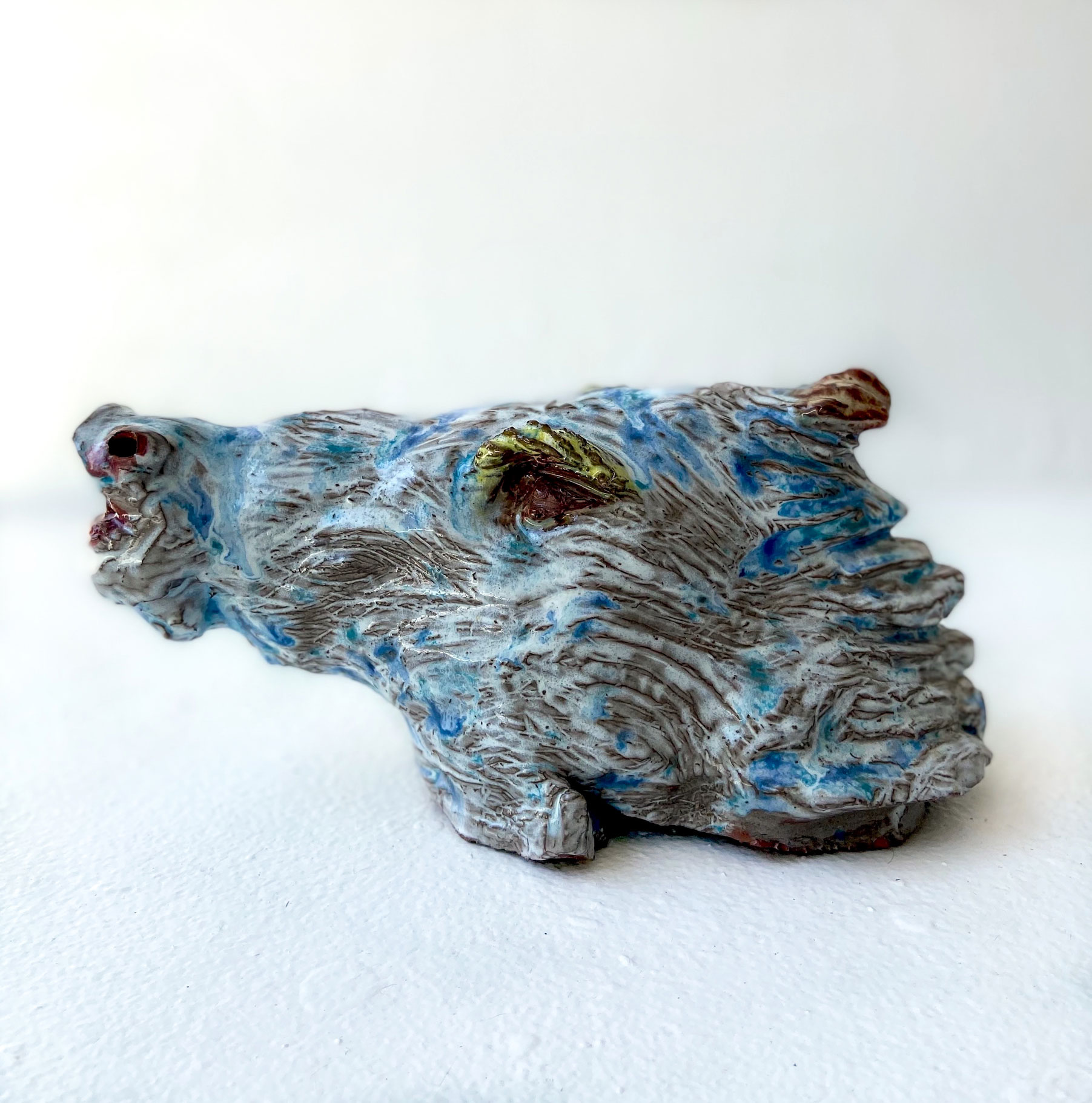 Jerry The Marble Faun - Blu
Who or what is your biggest single influence, inspiration and or motivation? Light, life, and goodness turns me on the most. I respond to compassion and kindness. When I was young and living a hard life in Brooklyn, I made a decision to try a new path. I didn't want to be an angry man and I didn't like the early examples I was given. I learned about open mindedness, life, and compassion at Grey Gardens for the first time. Meeting Big and Little Edie Beale changed my life. These free spirits were a major comfort to me. We cared for each other even though we didn't have much. We tried to do the best we could, and compassion got us through. To survive Grey Gardens, you had to love and trust each other. The only thing we had was each other. That basis allowed me to thrive and eventually led to the pursuit of artwork. It was a great inspirational experience. It saved my life.

What is the thing you're unhappy with in your work and the one thing that you're OK with?
The only thing I'm unhappy with is my health. Carving requires strength, and living with HIV can be exhausting. Yet, I'm lucky to be alive and able to realize my ideas. The generosity of The Center has meant everything to me. It's a home base. The Center is where I started my sobriety. It's one the most important places for so many people, including myself. So many friends I've met there and they've helped through hard times.

What does The Center auction mean to you? If The Center can benefit from my artwork, I'm glad to help. The programs provided are so essential and they need money to keep operating. They've helped me and I'm happy to give so they can continue helping others in our community. It's a win-win, it all comes back around.
Tell us a little about the piece you have in the auction Blu is a glazed ceramic horse head. The idea stems from a marble piece I made a few years ago titled Confetti. Both works are based on a horse I rode in the desert in Egypt. He was so reliant and steadfast, such a good friend. He meant a lot to me. I felt one with this survival instinct and freedom. He was a strong companion and his energy stays with me to this day. He was brilliant and when I think of him, I miss him. I remember the creatures who bring out the best in us. He gives me a lot of ideas in clay and stone.
What are you most looking forward to at the moment? Right now I'm looking forward to staying healthy, being with friends, and making art. I want to live and be comfortable throughout the days of my life. I cherish my friends. I lived in darkness for many years and once I got out, I knew I wanted to continue on a path of light.
Go here to see Jerry's contribution to the auction and find out how to bid. Established in 1983 as a result of the AIDS crisis, New York City's Lesbian, Gay, Bisexual & Transgender Community Center has grown and evolved over the last four decades, creating and delivering services that empower people to lead healthy, successful lives. The Center continues to serve the LGBTQ community through virtual support services, launched almost immediately after the building closed due to the COVID-19 pandemic. The Center offers a wide range of services including virtual one-on-one counseling; substance use treatment and support groups; virtual youth drop-in space; online arts and culture programming; health insurance navigation and a virtual "front desk" to respond to community inquiries. To show your support, please consider placing a bid.
[JerryFaun-module]