NAME: Fanny Allié
AGE: 34
HOMETOWN: Montpellier (South of France)
BASE OF OPERATIONS: Brooklyn
MEDIUM OF CHOICE: Collage and installation. Parallel to my studio work, I also develop site-specific public art projects like A Bench for the Night, which are usually life-size.
WHY I MAKE ART/HOW I BECAME AN ARTIST: I started staging and taking pictures of my two sisters when I was 16. It was very intuitive—I didn't really know what I was doing, but I felt the urge to do it. It was during that time that I decided to study photography.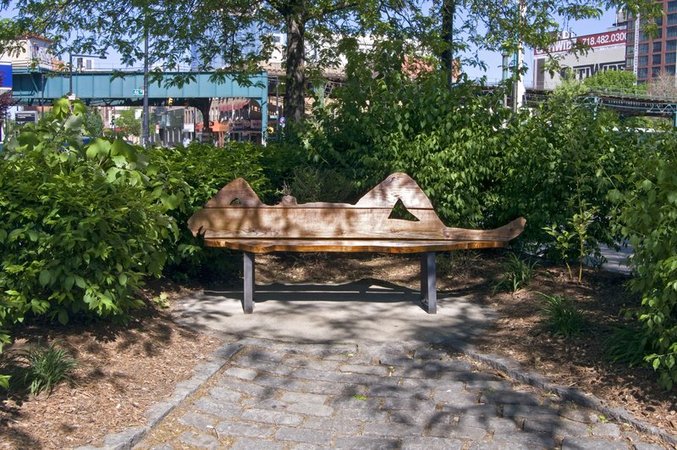 A Bench for the Night, 2015

CURRENT PROJECT

I am developing a series of collages using newsprints and mixed media, trying to find new directions and playing with different formats.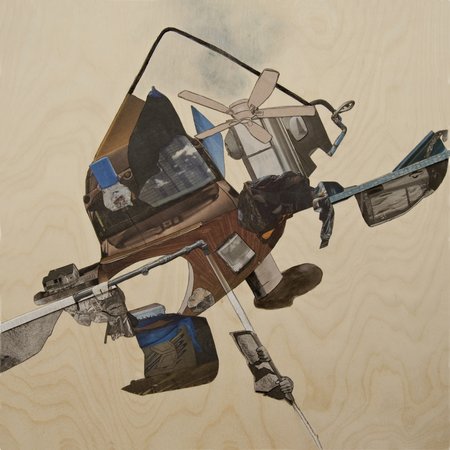 Vessel 2, 2016

WHERE I'M FINDING INSPIRATION NOW

I find inspiration on the street where I observe people, or in museums or galleries where I see other people's art. My inspiration usually comes from what's around me.
ONE ARTWORK I CAN'T GET OUT OF MY HEAD (AND WHY)
I recently went to the Pérez Museum in Miami and I saw the work of artist Romare Bearden. I was startled by his techniques and the strength of his black and white collages.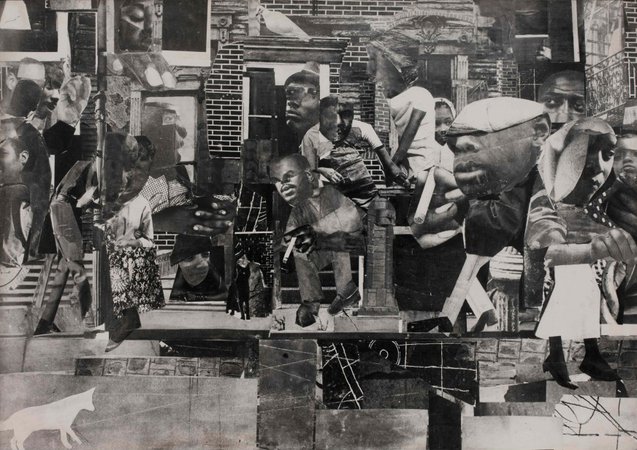 The Dove (1964) by Romare Bearden

PERSONAL PANTHEON OF ARTISTS

Louise Bourgeois, Nick Cave, Annette Messager, Ghada Amer, Carol Rama, Huma Bhabha, Wangechi Mutu
INSIDE MY STUDIO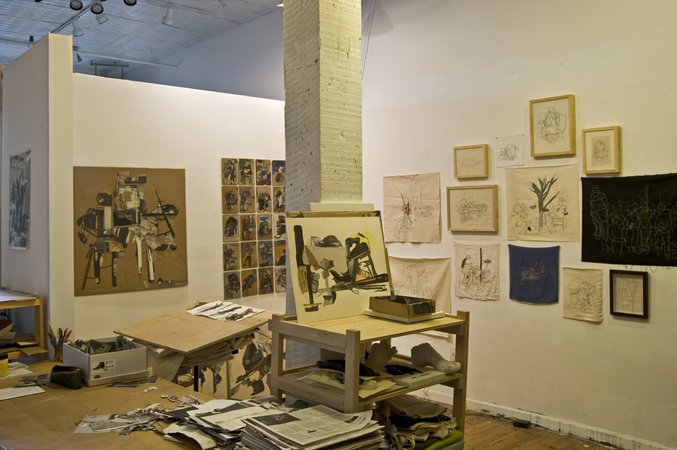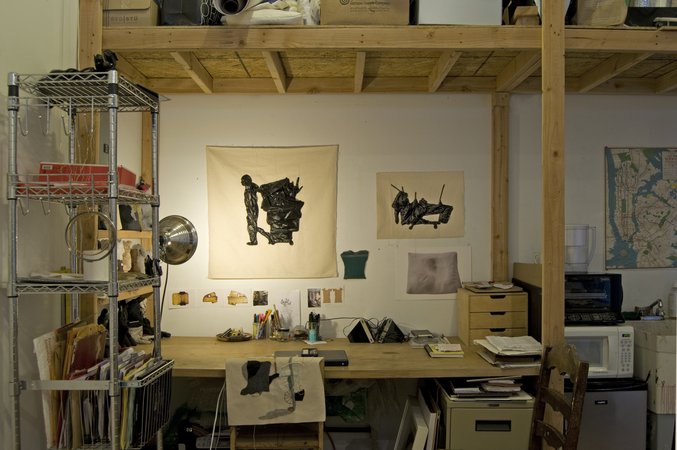 STUDIO ITEM I CAN'T LIVE WITHOUT

My computer, for the Internet and radio that I listen to nonstop.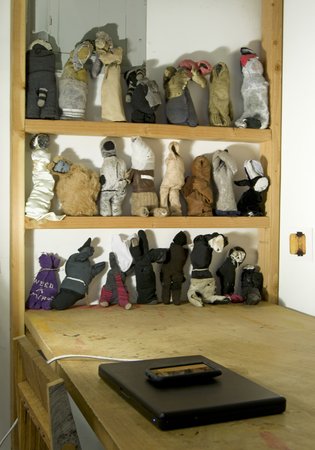 Shown behind the laptop are examples of Allié's "Street Characters" series

ART-WORLD PET PEEVE

Always seeing the same thing, and maybe pieces that are too conceptual.
STRANGEST REACTION TO MY WORK

During open studios, there are always one or two people who come in my studio and be amazed at how beautiful my chair or the subway map on the wall are—without looking at the work.
WHAT I'M READING

The last six books I read were novels by Patrick Modiano. The same elements keep on coming back in all his books—it's almost like reading the same book over and over. I like it. His work is about memory and loss—the characters are always in search of something.
MY PROCESS

In my recent collages for Horses, Lasso, From Above, and my "Cardboard Portrait" series, I tear apart and re-assemble pieces of newsprint images to create characters and structures. In creating new forms using existing images, my focus is on the weight of the belongings we carry from one place to another throughout our life journey, including our own bodies.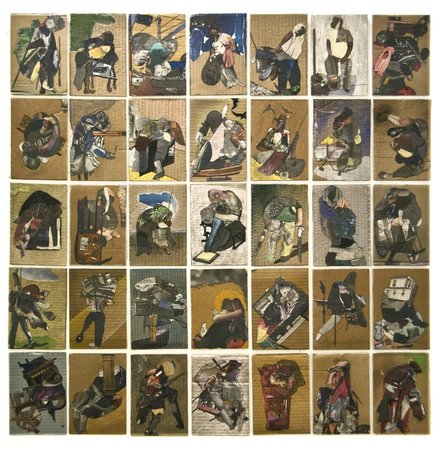 The "Cardboard Portrait" Series (2015-2016)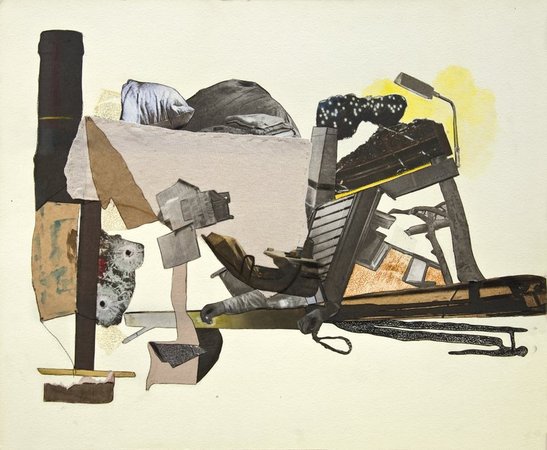 Lasso, 2016
For the series "The Carriers," I take photographs of people on the street and then hand stitch their silhouettes onto canvas using plastic trash bags back in the studio. The volume is created by the material itself—nothing is added. I'm interested in how the line of the body and the weight they carry become one and create new hybrid shapes. The bodies merge with their surroundings and people become a part of the environment they live in.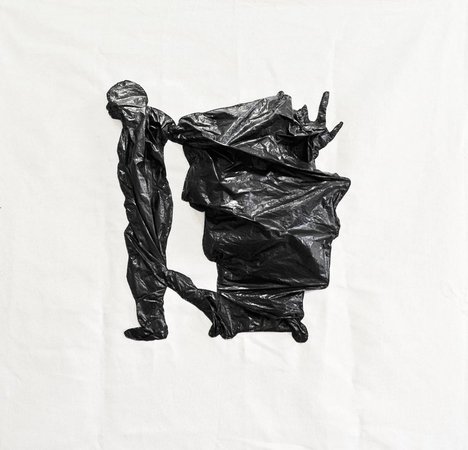 Man-Pushing-Cart, 2015