Name: Guy Richards Smit
Age: 46
Hometown: New York
Base of Operations: Brooklyn
Medium of Choice: It depends on what I'm making. I love the immediacy of watercolor and acrylic but, of course, sometimes a concept demands the use of a video camera and a great deal of alcohol.
Why I Make Art/How I Became an Artist: I was terrible at everything else. No one ever wanted to partner with me in grade school, until we were in art class where I impressed even my worst enemies by drawing an extremely terrifying Tyrannosaurus Rex. For that brief period I was a god and EVERYONE wanted to be my friend. I immediately abused this power. And then, as soon as I was given another chance, I abused it again. I'm still chasing that high.
CURRENT PROJECT
I still have more skulls to make, but I'm also putting the finishing touches on the 5 episode multicamera sitcom I made in collaboration with Joshua White called the Grossmalerman! Show . We shot them all in front of a live studio audience. It's brilliant. The best thing ever. I can't stress this enough. www.grossmalermanshow.com
WHERE I'M FINDING INSPIRATION NOW
Whenever I'm really stuck in the studio I put on Kimono My House or Propaganda by Sparks and I contemplate the endless imaginativeness of it and its excitement rubs off on me and I get agitated and think "Wow! Now that's really something!"
ONE ARTWORK I CAN'T GET OUT OF MY HEAD (AND WHY)
The Palmetto Libretto Sketch by Kara Walker . I saw this at the Broad in LA and was completely transfixed. It's simple and direct and horrifying and places the viewer under water staring at the surface, which I can't think of any other painter having done. It's incredibly effective and unsettling and needs to be exactly as large as it is. I was awestruck and wanted to steal from it without anyone knowing. But now you know.
PERSONAL PANTHEON OF ARTISTS
Jean Cocteau, Rainer Werner Fassbinder, Jaques Tati, James Ensor, Goya, Alice Neel , Sparks (the band), Michael Smith , Frans Hals, Daumier, George Grosz, Kara Walker, Roxy Music, and you know who could really paint? That guy Rembrandt.

To be honest the cast of characters changes from day to day, but these people are the most consistent and sometimes I can't really defend them—Giorgio Morandi, for instance.
INSIDE MY STUDIO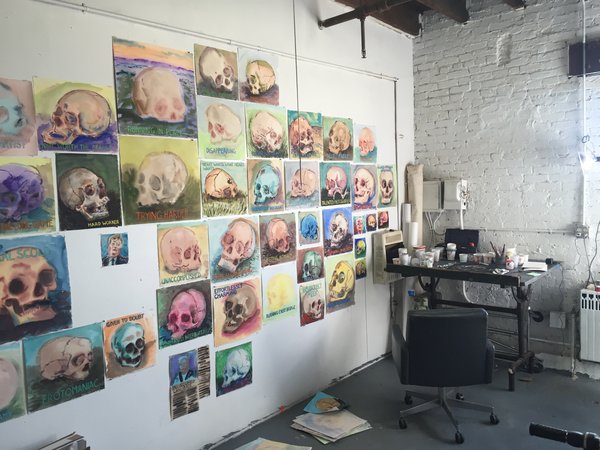 STUDIO ITEM I CAN'T LIVE WITHOUT
My antique zinc-topped drafting table. It's heavy as hell but I will dutifully bring it anywhere it is required till the end of my days.
ART-WORLD PET PEEVE
Gallery show press releases. I know someone has to write them but BLECH!!
STRANGEST REACTION TO MY WORK
Another artist once threw hot coffee at me. It was really uncalled for.
WHAT I'M READING
I'm on Book 5 of Karl Ove Knausgaard's My Struggle . I'm so hooked I'm terrified of finishing the series. What will become of me?
MY PROCESS
The "Mountain of Skulls" series came out of a trip I took to Kutnâ Hôra (in Bohemia) almost 30 years ago. There was a church there made out of the bones of plague victims. I remember staring at these pyramids of skulls thinking how each one had been a living, breathing person with a personality. Some were difficult or lazy or hopeful or smart or dumb, but I had the hardest time empathizing because it was just skulls there in front of me. This conflict stuck with me.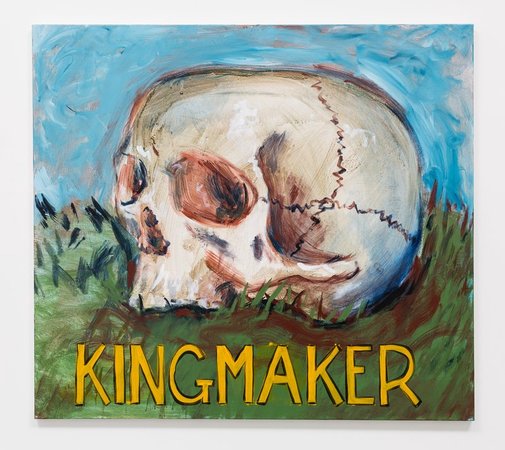 Kingmaker , 2016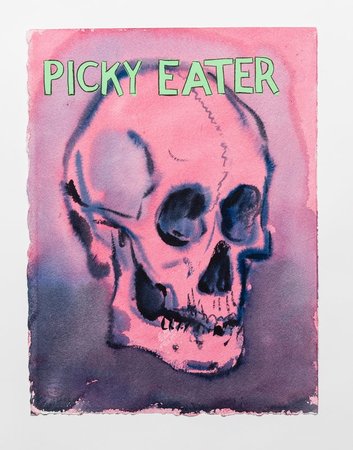 Picky Eater, 2015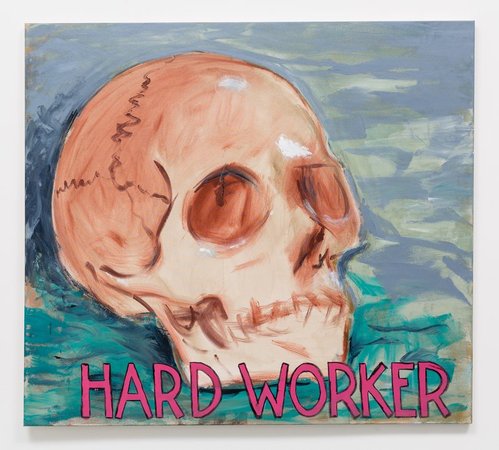 Hard Worker , 2016