NAME: Elizabeth Atterbury
AGE: 34
HOMETOWN: Palm Beach, Florida
BASE OF OPERATIONS: Portland, Maine
MEDIUM OF CHOICE: Photography, always. Within the last few years I have also been making sculptures.
WHY I MAKE ART/HOW I BECAME AN ARTIST: I think college had a lot to do with my becoming an artist. I went to Hampshire College and was lucky to have teachers, classmates, and friends who were making and continue to make really amazing work. There was an unbounded, constant dialogue around process and making and ideas, and these conversations still continue 10 years later. We worked hard and took each other and ourselves really seriously, even then.
CURRENT PROJECT
I'm making work for a solo show at DOCUMENT in Chicago that opens in the middle of May. The show, Happy Sunny Jade , explores notions of personal origins and will include photographs and sculptures.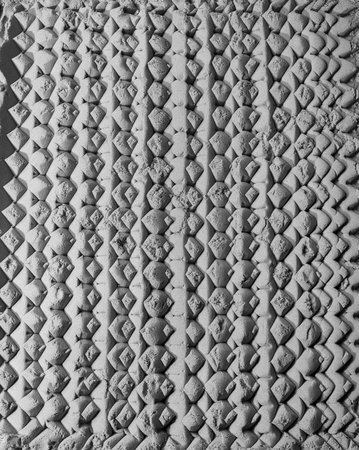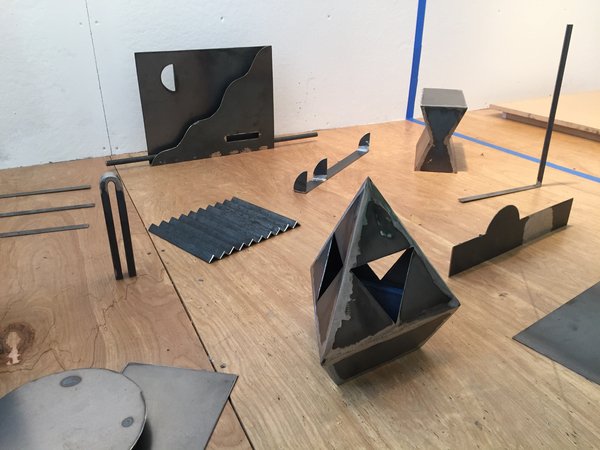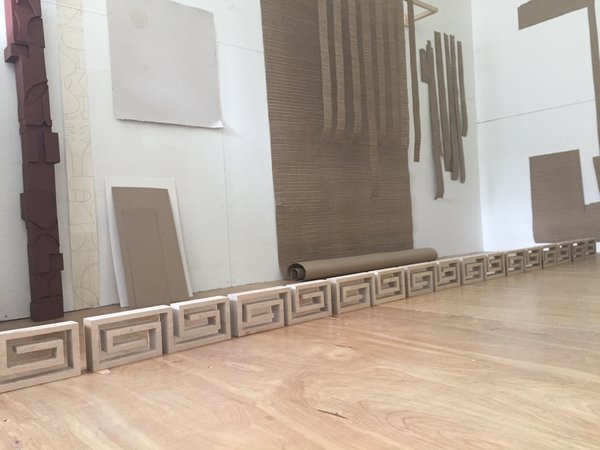 WHERE I'M FINDING INSPIRATION NOW
In the past. Art, architecture, design, history—I'm looking back. More specifically, I have been thinking about the landscape of the town I grew up in: a small island, resort town in southern Florida that, to me, functions as a highly manicured sculpture park of sorts with its shaped ficus hedges, modern architecture, pools, moundy golf course, and rows of palm trees. I think I'm beginning to question the extent to which this place has informed some of my visual language.
One of the pieces I am working on right now for the DOCUMENT show, Sunny Side, FL , [middle photo above] is an interpretation/adaptation of my home town, imagined as an actual sculpture park in the form of a grouping of small, painted steel sculptures. One of the pieces in the ensemble is a recreation of a Noguchi sculpture, Intetra, Mist Fountain , which I grew up looking at before I knew and came to love his work.
ONE ARTWORK I CAN'T GET OUT OF MY HEAD (AND WHY)
Last summer, I saw Math Bass's show "Off the Clock" at MoMA PS1, and I still find myself thinking about it. I love the repetition of forms in both the paintings and the sculpture, and the feeling of suspended movement throughout the show, particularly with the sculptures. With the Newz! paintings, I like how graphically literate they are—that Bass creates and repeats these forms or glyphs that feel very readable. I love the simplicity of the cement-casted jeans, these awkward but also sexy tree stump forms.
Installation-wise, I really liked [frequent Bass collaborator] Lauren Davis Fisher's contribution to the show—the reframed and pivoted wall cut-out that joined two of the galleries provided, for me, a mirroring effect, where it felt like I was looking at the space I was in reflected back at me, but in fact I was actually looking through into another space.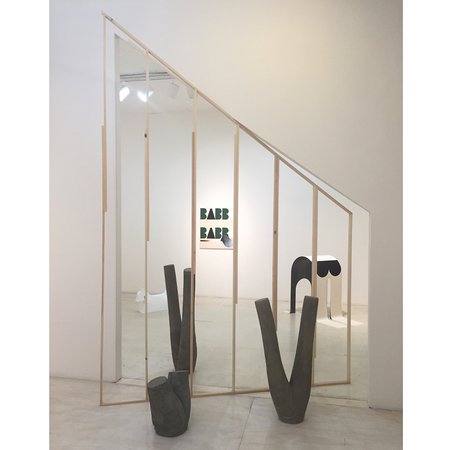 View of Math Bass's show "Off the Clock" at MoMA PS1
PERSONAL PANTHEON OF ARTISTS
Isamu Noguchi, Anthony Caro, Erin Shirreff, Carl Andre , Louise Nevelson , Paul Outerbridge, Brancusi, Richard Tuttle , Donald Judd
INSIDE MY STUDIO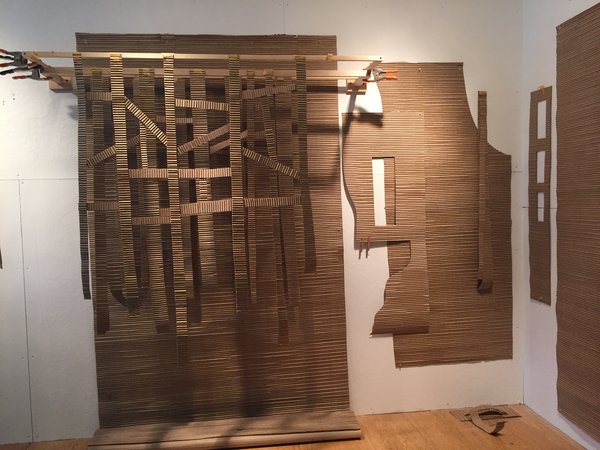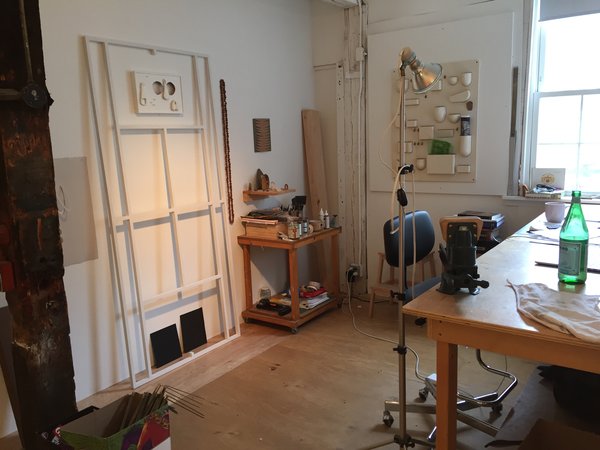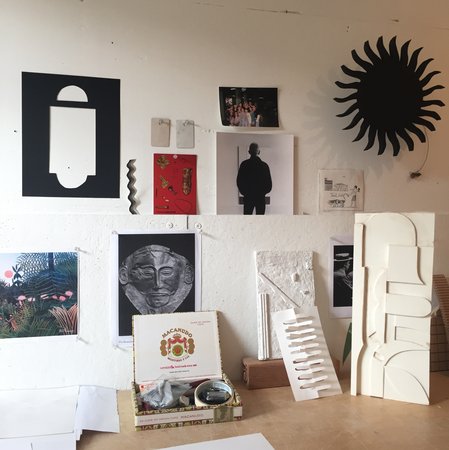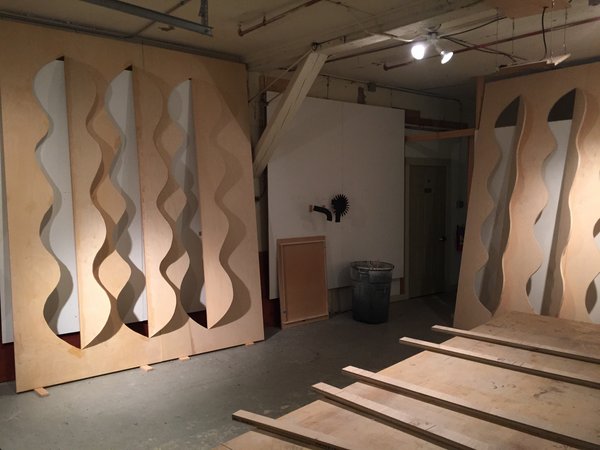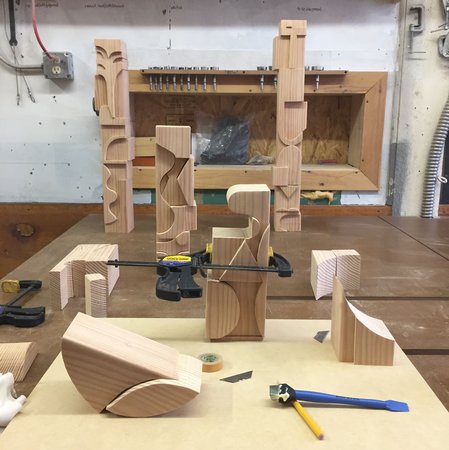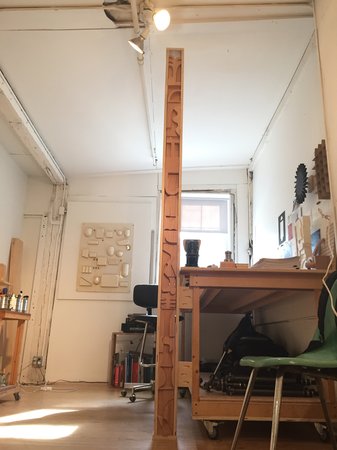 STUDIO ITEM I CAN'T LIVE WITHOUT
My bandsaw, which is the tool I use the most for making sculptures.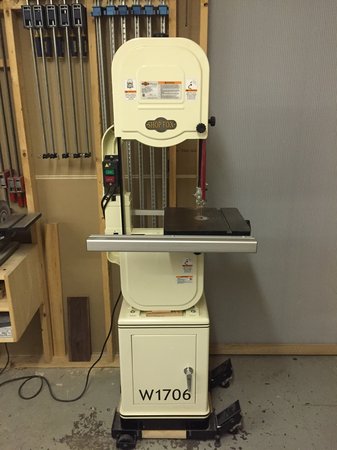 Also—my X-ACTO knife, a gridded and flexible ruler, tape measure, and Japanese masking tape, for sculpture prep and layout as well as for paper photo-compositions.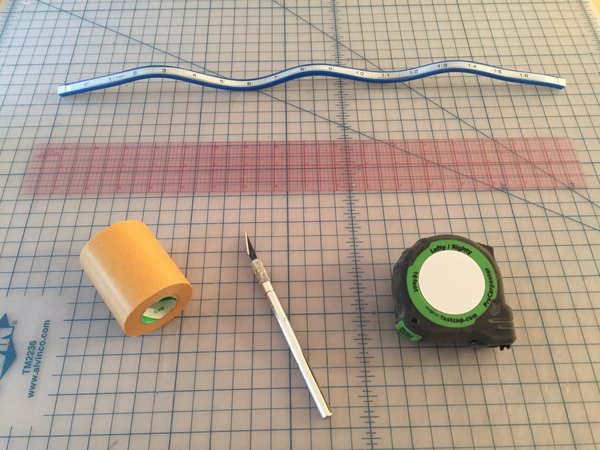 STRANGEST REACTION TO MY WORK
In a review of a show, a critic wrote that my work and accompanying text seemed to want to convey, among other things, my identity as a woman. I found that puzzling.
WHAT I'M READING
I'm finishing Elena Ferrante's Days of Abandonment and have just started Arranging Things: A Rhetoric of Object by Leonard Koren with accompanying paintings by Nathalie Du Pasquier.
MY PROCESS
My photographs largely consist of impermanent constructions arranged and photographed in the studio. Drawn to materials such as paper and sand, I construct ephemeral tableaux specifically for the purpose of transfiguring and recording them.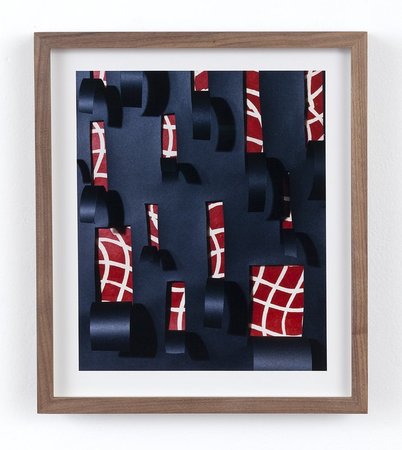 Bricks , 2013
My fascination with the autonomy of the artifact—objects disassociated from their original function and context—has extended into the realm of sculptural objects. I am interested in distinctions or lack thereof between artifact, prop, model, and sculpture. Both my photographs and sculpture build upon a continued interest in display and its visual structures, along with a more recent interest in language, ritual, and abstraction.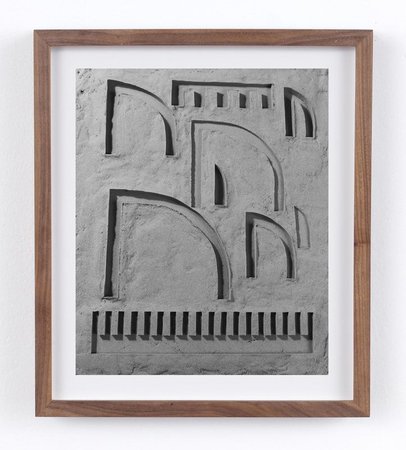 Glyphs II , 2014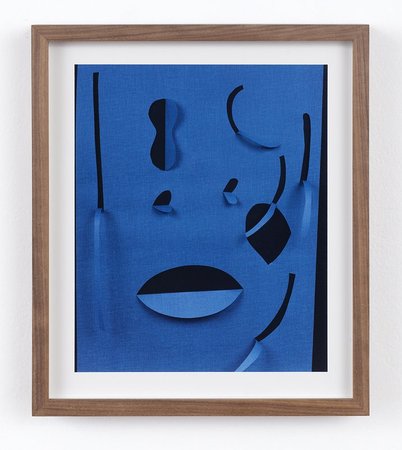 Blue Runner Night , 2014