NAME: Gordon Stevenson aka Baron Von Fancy
HOMETOWN/BASE OF OPERATIONS: Born, raised, and living in NYC
MEDIUM OF CHOICE: My best-known work is my phrase work, which is an ode to the hand-painted signage I grew up seeing. It barely exists anymore. For nearly all of this word art, I use the medium of poster paint on paper.
WHY I MAKE ART/HOW I BECAME AN ARTIST: I am the most impatient person on earth. One of the only times I have no sense of time and am truly consumed is when I'm making my work. I love that feeling—it's what keeps me going back to the studio day after day.
CURRENT PROJECT
I decided to become a bike delivery messenger where I deliver (mostly) food and put one of my prints in every delivery I make. My goal was to make 500 deliveries and include a hand-signed print in each one. I am very close to accomplishing that goal. I had never ridden a bike in New York City before, and it has been a wild ride.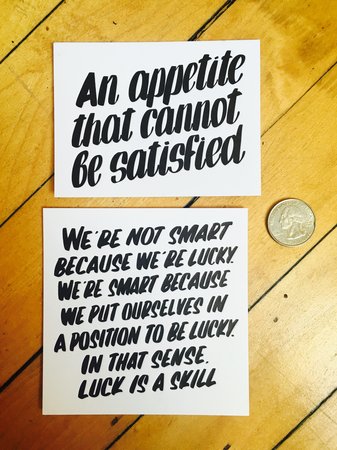 WHERE I'M FINDING INSPIRATION NOW
I have been reading lately on the history of puns. This has led me to a ton of new words and wordplay.
ONE ARTWORK I CAN'T GET OUT OF MY HEAD (AND WHY)
Forever by Tim Noble and Sue Webster . I have always loved their work, especially Golden Showers . Lately, though, I can't get Forever out of my mind. It's been the background image on my computer forever—I just love the look of it, yet I've never seen it in person. It amuses me to love something so much that I've only seen as a jpeg. I have seen their other work, so I can fully imagine its brilliance, but love that it's so magical to me—it's always evaded me, yet is always right in front of me.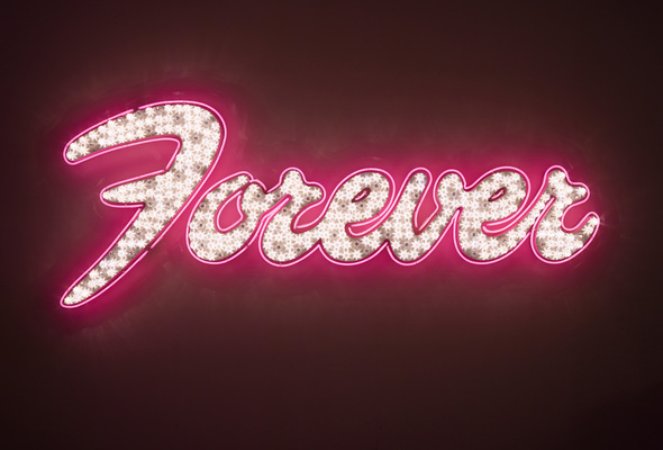 Tim Noble & Sue Webster Forever (Pink) , 2015
PERSONAL PANTHEON OF ARTISTS
Sol Lewitt , Ed Ruscha , Tom Sachs , Mike Kelley , Tim Noble, and Sue Webster
INSIDE MY STUDIO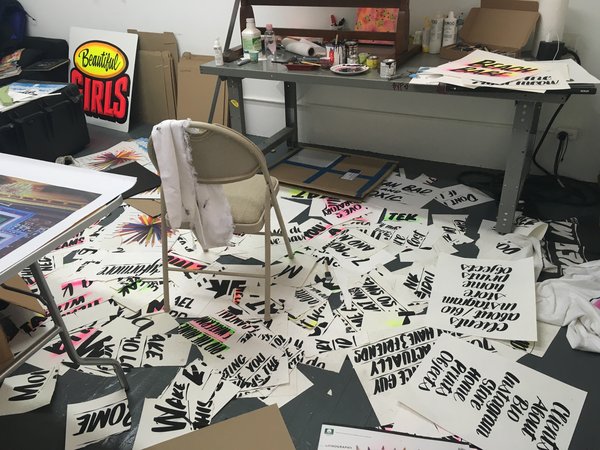 STUDIO ITEM I CAN'T LIVE WITHOUT
I'm pretty resourceful—I'll always find a way to make it happen. The most important thing to me is a pencil, as it is the first step toward putting ink on paper. My pencil of choice is super important to me. In the studio I often draft with a Pentel GraphGear 1000 in 0.9mm.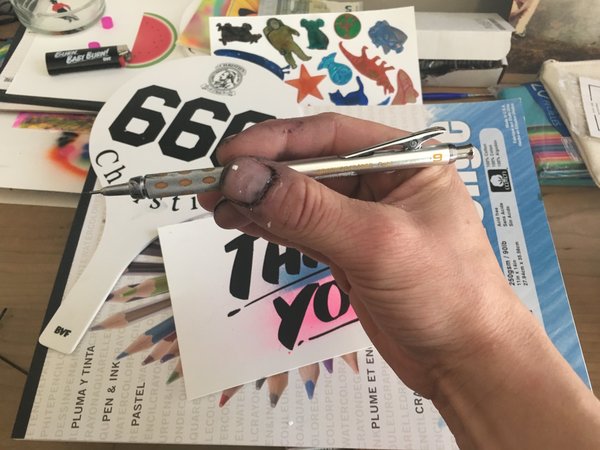 ART-WORLD PET PEEVE
I have no qualms. We live in the age of getting over it—hats off to anyone making it happen today.
STRANGEST REACTION TO MY WORK
The thing that I never understand is when someone looks at my work and says something like, "Did you know that's a Pablo Picasso quote?" I'm just completely baffled by this type of question. I think people often assume I don't know where a quote I have appropriated came from, and that's just crazy to me. I only draw phrases I love—I know exactly where the words come from and why they are important to me for every phrase painting I've ever made.

WHAT I'M READING
I recently got into The Pun Always Rises by John Pollack. It is a history lesson on puns and why humans perceive and understand them the way we do. I am also re-reading some of my favorite comic books I grew up with. Right now I am enjoying the Batman Adventures from the 1990s. These are based on Batman: The Animated Series —a show I loved as a child. Revisiting these stories has been a lot of fun but also a bit weird in some way.

MY PROCESS
My phrase work almost always starts with listening. But from there, each work comes into being in a different way. Often, I am working with an object, and my goal is to create a playful and memorable link between the words and the object. Some of the phrases aim for surprise, some are humorous and some aim for stronger feelings. There is no formula, but my goal is always to evoke a feeling with my work.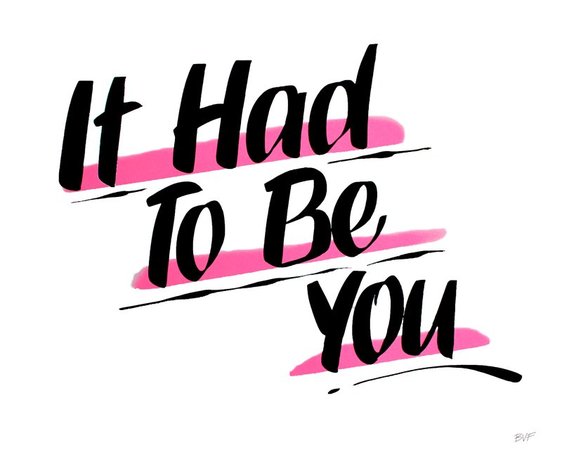 HAD TO BE YOU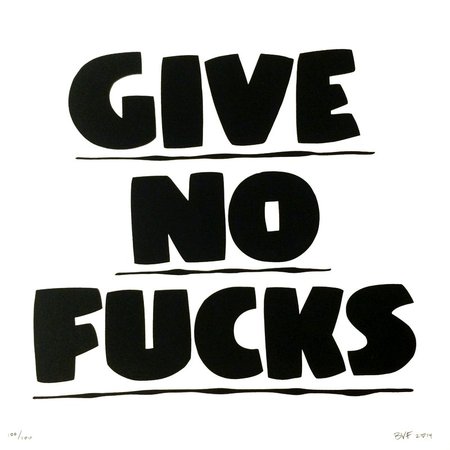 GIVE NO FUCKS