Rashid Johnson's Anxious Men series, a group of drawings and paintings which he debuted at the Drawing Center, Manhattan, towards the tail end of 2015, are probably the most well-known works in the artist's canon.

They are works of art that appear and re-appear, and take on new, and ever more nuanced meanings in any different moment, yet define Johnson's work with such clarity that they almost – almost - threaten to overshadow anything else in his varied and far-reaching body of paintings, sculptures, films, photographs and drawings.

They've turned up at airports, opera houses, and in galleries and museums worldwide and, on one occasion, as a response to a US presidential election. People have told Johnson "that they feel saved or seen by them. Which is all for me really special," he tells Artspace.
Now, for the first time ever, they are available in a special Phaidon and Artspace limited edition. Untitled Anxious Print, 2023 is a Soft Ground Etching on Hahnemühle Copperplate on 300gsm paper, 9 in x 8 in (22.86 cm x 20.32 cm). The edition is limited to 100 prints with 6 APs and 3 PPs.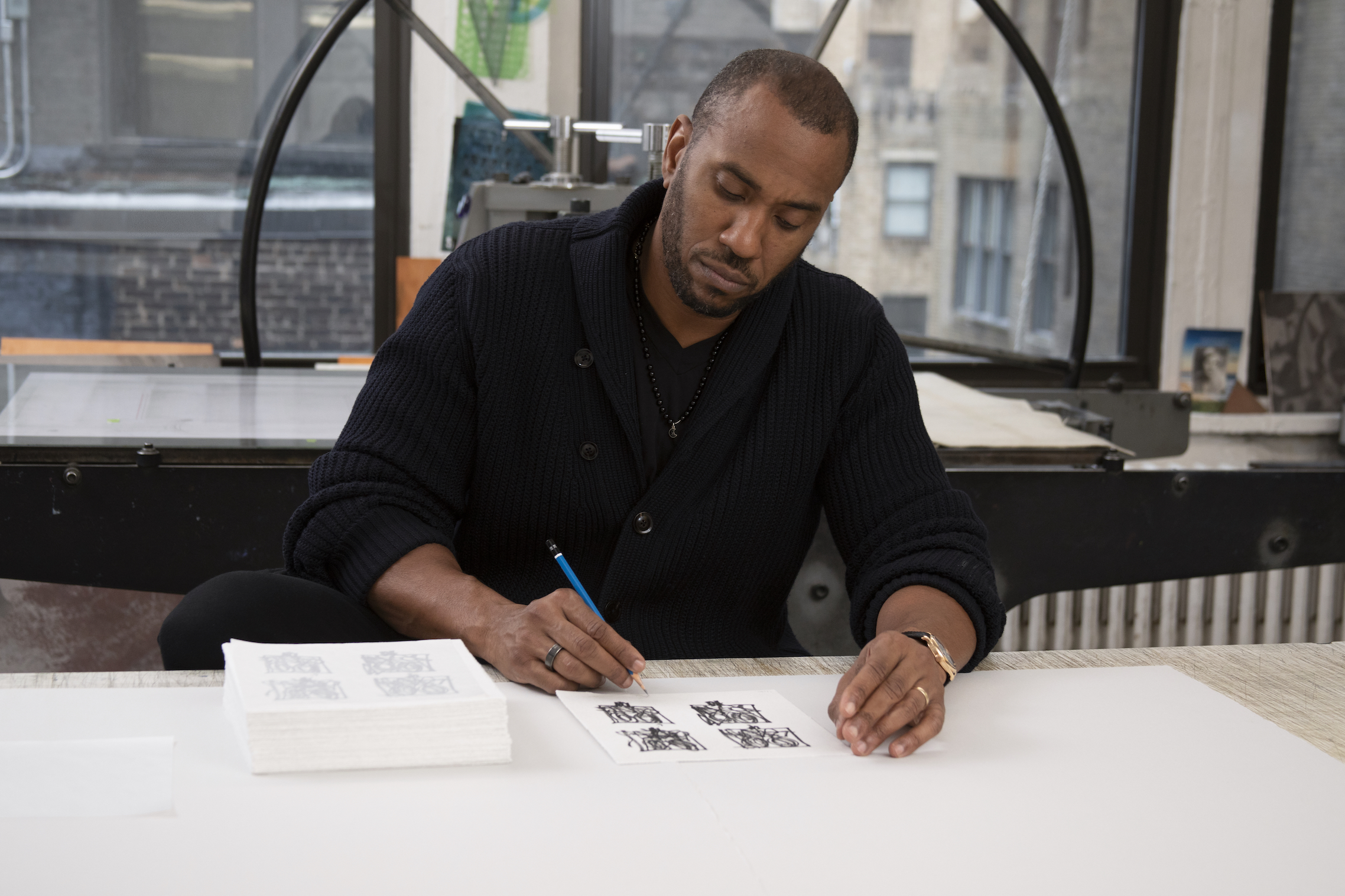 Rashid Johnson signing the editions - photography Jared Buckhiester
On the eve of the release of this very special edition we asked Rashid Johnson how the Anxious Men have evolved, what they mean to him and why he's chosen to create a print edition for the very first, and apparently, only time. We began by asking him what his Anxious Men mean to him today.

"In a lot of ways it feels like they are as prescient today as they were when I originally conceived the idea of an illustration of my own anxiety, and then came to realise that the representation of that anxiety - or the amplification, or the willingness to express it - gave agency for reflection for a broader group of folks to see themselves mirrored in these works."

How do you think they have evolved over the years? "When you look at the first Anxious Men that I made, going up to what has been the most recent resolution for them, you see a pretty robust evolution in the way that they function. It's a story of their growth."

"As the tides change, as our experiences evolve, and more concerning things happen in the world, they just always seem to be present for that reflection, and they present themselves as agents for amplification of the collective concern that is our group anxiety."
RASHID JOHNSON - Untitled Anxious Print, 2023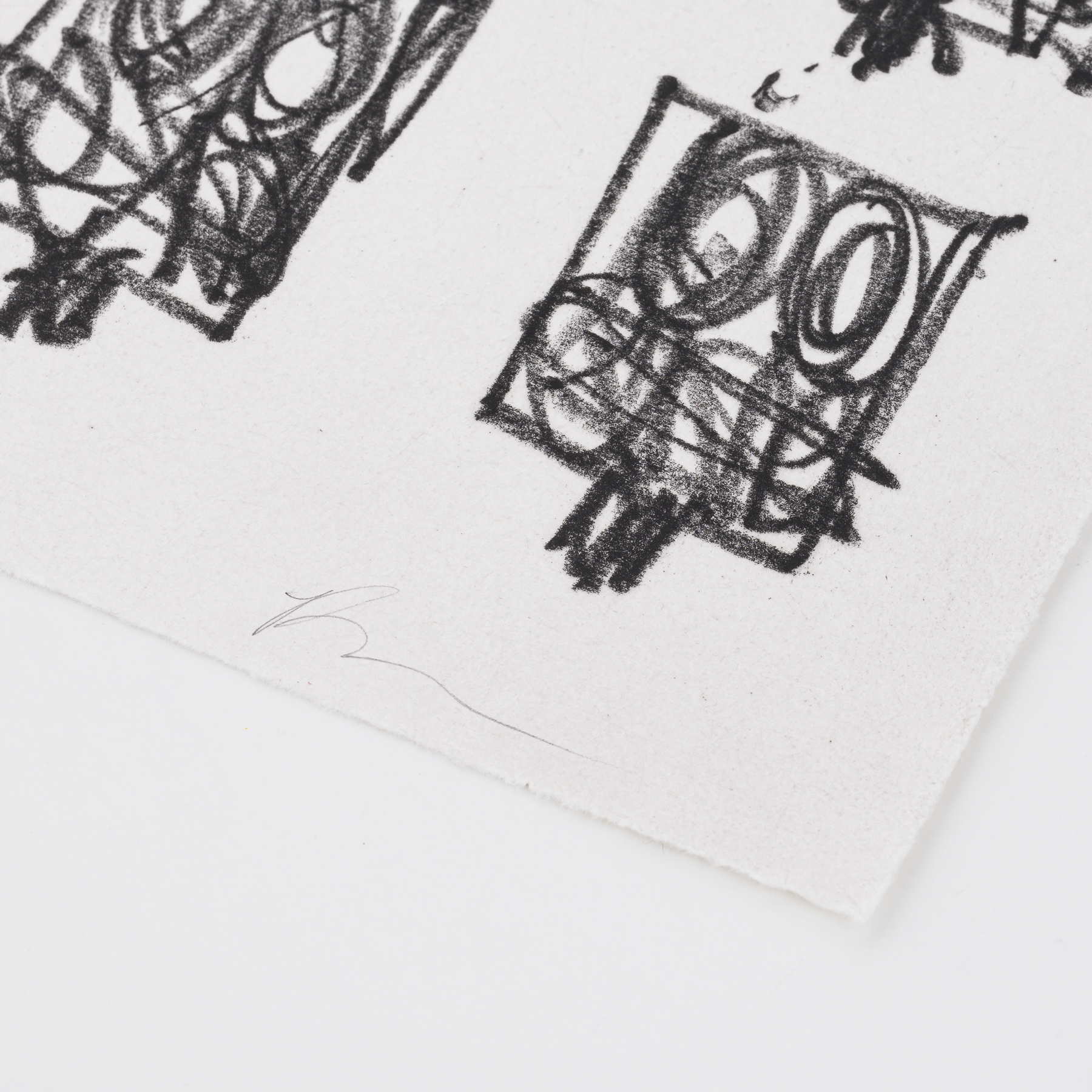 Photography Garrett Carroll


The number and the grid formation have been key to lots of your work. The Broken Five iteration of Anxious Men was significant, does this iteration of four have a particular meaning? "I've been so beholden to the grid in my projects, but it had never found itself in the form of a print. It felt that a group of four was really the thing that was missing as far as the print story was concerned. There are a few single Anxious Men, a few gridded groups of Anxious Men, but there's never been this kind of iteration with the four heads."

"The four heads are kind of really an intimate collection of characters. So it's still a group but it's not an audience. It's kind of a more intimate grouping so I just felt the print deserved to have the whole story told as well."

Do they appear to have characters or personalities or characteristics to you when you create them? "You know, they do in that the thing that I recognise about them - and this is almost really a silly thing to say, because it is such a cliché - is that they're really like snowflakes, in a way. Although that they are obviously consistent and thematic, none of them are the same, and they're all works made by hand and they're not in any way engineered."
"They're not drawn in advance. They are born of the actual moment to which they're made. So I think that they are these individual reflections of that minute in time."
RASHID JOHNSON - Untitled Anxious Print, 2023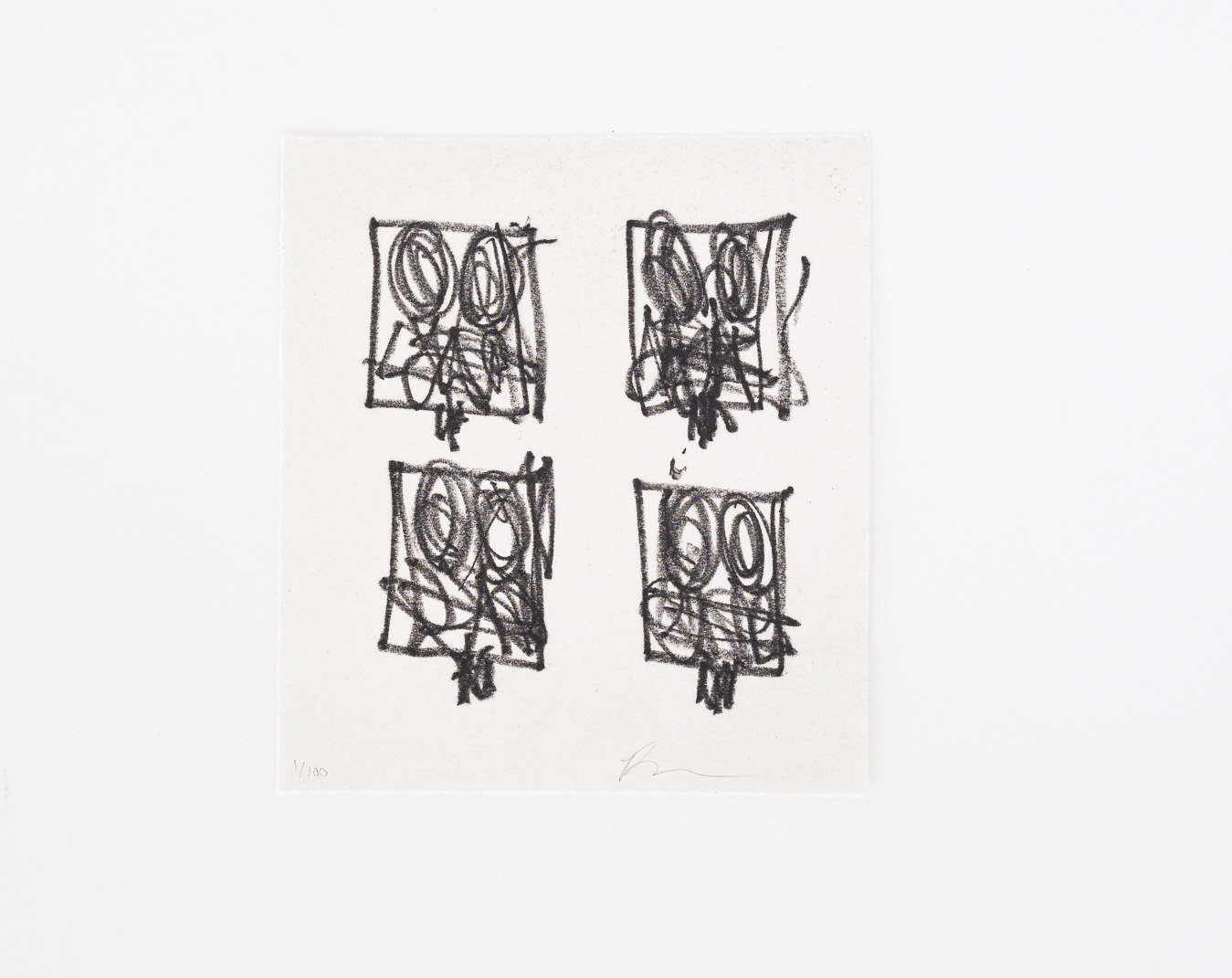 Photography Garrett Carroll

How does this in-the-moment aspect relate to your wider practice? "I've had significant experiences in both film and photography and mediums that use time really effectively as a point of reflection, so I often think, even with drawing and painting, that one of the aspects of those mediums that we don't necessarily give as much agency to, and maybe we should be thinking and reflecting on more, is the minute that they were made."

"In picture making we talk about sixtieths of seconds, fifteenths of seconds etc: With painting we think of it as kind of prolonged process where time kind of stands still in its formation. But I don't think that that's really an effective and engaging way to think about it."

"I think that paintings are also made in periods of time and blocks of time. And so every manifestation of these Anxious Men are representations of a minute; of two minutes; of the now in which they were made. They're kind of staged, reflected, representations of what Cartier Bresson called The Decisive Moment."

Does the way you draw or paint them change? Do you ever force that moment? "Usually they start the same way. I think most artists have kind of a commitment to a formula. I think it's part of how we organise the world. Artists usually have a way that they organise the world. I work from left to right. I work like you read. I can never work backwards."

"The concept of it alone is really challenging. I was actually working on a show in China and one of the things that I wanted to try to explore, was the way that the place could inform the way that I worked. It didn't have to be a reflection of the place or a representation of the place, but the place helped me understand the way that I tell stories and the way that my work functions."

"So I made a few works for the Anxious Men, and they did go from right to left and the way that it changed my understanding of them was dramatic. Now, the audience is less likely to feel this drama, but it exists as part of how the battle of the work functions. So that's a really, really kind of micro evolution in a work but in a way it really affects the macro opportunity for the work."

"And so yes, they're both formulaic but also forever evolving, because in the process of that formula these minor changes and decisions are made."

What was the overwhelming thing you felt when you worked this way on this occasion? Was there a moment of revelation? "My overwhelming feeling initially was that I was doing it wrong. Even if the gestures carried resembled the outcome of previous works that I thought were right.

"And so it kind of really challenged that sense of right and wrong that is really at the heart, for many artists, myself included, at the center of how we keep ourselves from imagining that our projects are nonsensical. In some ways I think it's what makes an artist an artist. And that sense of right and wrong helps me establish how a gesture or a mark, left even in its own abstract infancy, presents itself."

People have such a personal relationship with the Anxious Men works, are you ever surprised by what people say to you about them? "They do. It's really rewarding in all honesty. Every bit of feedback, whether I see myself in this, I see myself reflected, I recognise this emotion, this feeling, this concept, this idea, or whether it's more granular for some people, and points to moments in their life and experience where they feel that they learn something from them."

"People have even expressed that they feel saved by them or seen by them. Which is all for me really special."

"The thing that does happen quite a bit that is interesting as well is that when people are not using them as opportunities for self-reflection, they use them as opportunities for projection. Oftentimes, I'll have people come to me and say, 'I like your angry men'."

"And this happens incredibly often. These were intended as an illustration of anxiety, which is about fragility, and self-reflection. It's not masculine in the way that we imagine masculine – even though it should be something that mirrors masculine, to be honest."

"So when people say, 'I like your angry men', I'm interested in what their read is. Are they projecting that I should feel anger? Or that it's my anger? Or that that anger is born of conditions, terms, and circumstances that often follow, and have been inherent, and easily legible, in the lives of Black Americans? Is that where the concept of anger evolves for them? Is it their own anger that they think is being reflected? More often than not, I often feel that what they're expressing is that they imagine that I'm angry."
How does that feel? I used to think about canonical impact. I used to think about the gods that we serve and the institutions that help move forward certain discourse. I was interested in art history like I was interested in my place in it.
I think it was almost simultaneous with the birth of my son and the self-reflection that was born between that moment and my sobriety to which I decided I was going to live a day at a time. It was no longer my job - and was fully out of my control - how my work was going to be discussed or explored or to impact a time in which I am not present.
This is the first time you've ever done an edition of Anxious Men, what does that mean to you and where do you think they might go next? "I love that people want to participate and I feel a tremendous sense of gratitude that people in any way aspire to hold or carry or own anything that I make. So that is humbling. I hesitate to say they're affordable. More accessible, I think, is absolutely a reasonable and honest description."

"I think that body of work has come to a conclusion for me. I think partially, the reason for them kind of concluding is that they now live in perpetuity, consuming wherever they are. I don't need new iterations in order for them to continue to populate the world in the way that they do. And so this is likely the last iteration, print-wise, of how these works will function."

"I never necessarily say something is completely resolved and finished and will never find its way back. But my work tends to move away from certain ways of illustrating a theme. I often don't necessarily go fully back to it, but you might see moments of it within the index of my projects."
Register your interest in Rashid Johnson's Untitled Anxious Print, 2023 here.