Sarah Sze takes a strong interest in the relationships we have with objects, whether she's piecing together ladders, pain pills, lamps, newspaper cuttings, rocks, office ephemera or one of the many other objects that find their way into her disorienting contemporary installations. The constituent parts of her work never seem to settle into an easily resolved, easily placed whole, and that's just as this acclaimed artist would like it to remain. "I like the idea that you might not be sure if a work is a present-day artwork or if it's a leftover of our civilization," she told her friend, the curator Okwui Enwezor, back in 2016.
"The holding of things in balance in the work is important. For me, when something is working, it's doing at least two, if not three things at once. A work should be constantly in a state of flux in terms of how it exists in space, how it exists in time; it should be unclear whether it's in a process of becoming or a process of entropy."
Of course, Sze, who was born in 1969 and represented the USA at the 2013 Venice Biennale, is acutely aware of recent history too. She received her MFA from the School of Visual Arts New York City in 1997, and continues to live and work in the city, creating work of rare nuance, depth and introspection. Of an age to remember the AIDS pandemic, and smart enough to understand how collective memories of such events abide over time, Sze is among the artists contributing to Unquestioning Love , a high-profile sale featuring a truly incredible selection of contemporary art, at Christie's to benefit the New York City AIDS Memorial . Ahead of the sale, on 9 and 12 November, at Christie's in New York, she shares her thoughts on that earlier pandemic and her 2021 work Fast Forward , that she has contributed to the auction.
SARAH SZE – Fast Forward , 2021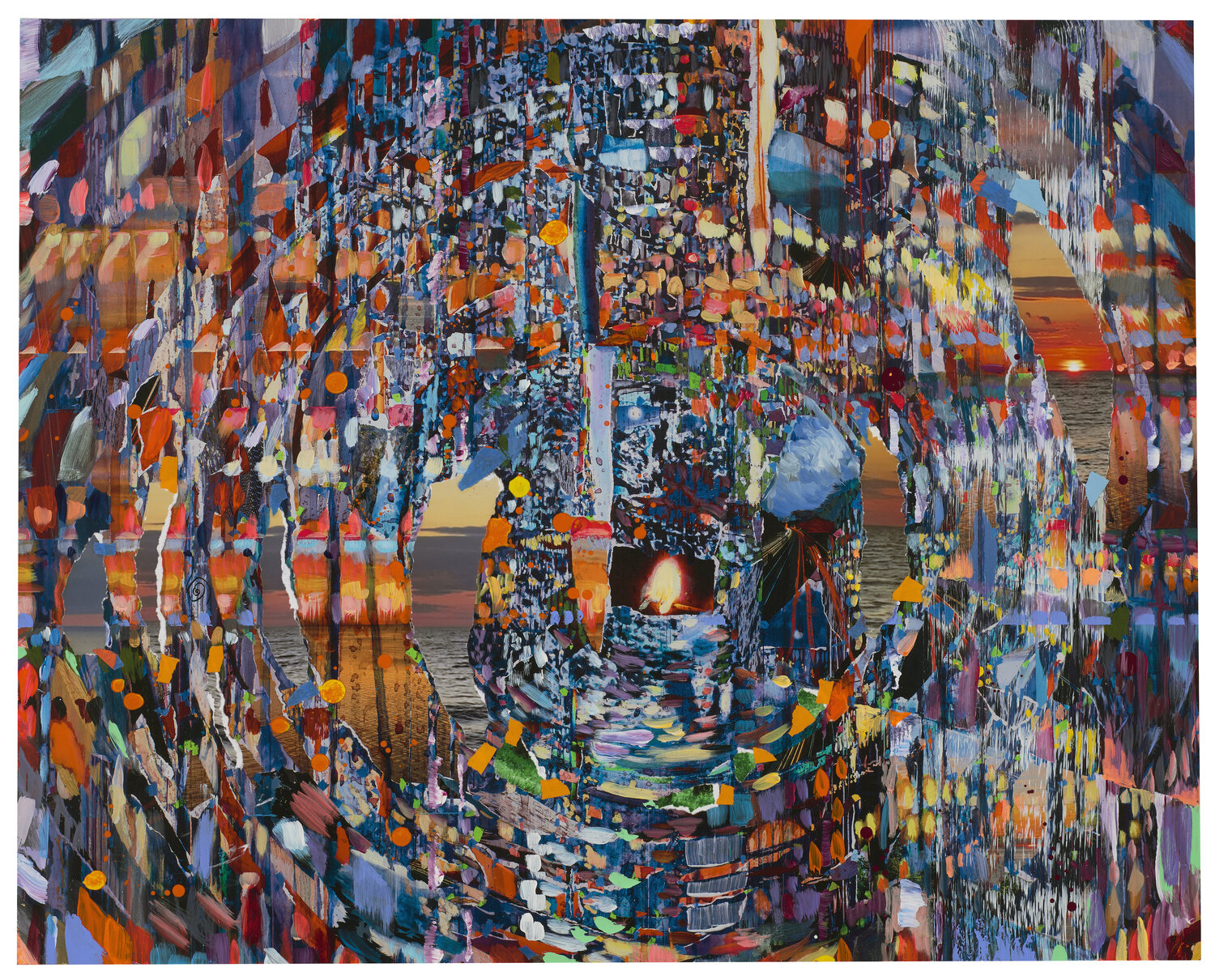 Can you tell us a little bit about the artwork you donated? I made the painting, Fast Forward, during the second wave of the pandemic in 2021 while thinking of the difficulty of measuring time, the piecing together of memory, and the potential of painting as a portal to a landscape of the interior.
What motivates you personally to donate your art to a charitable endeavour such as this? The AIDS crisis in America was such a painful time of collective loss. It's so important to reflect on the national tragedy as well as the powerful outcry and demand for justice of the era. During the height of the epidemic it was incredible to see how artists responded with immense force. It was so moving to see the 'Pink Triangle'  (used by the Nazis to persecute LGBTQ+ people throughout the 30's and 40's) inverted and transformed from a symbol of hate, into a symbol of power and love. The SILENCE=DEATH poster was from just one of the many powerful artist coalitions whose strong graphics and visual protests will remain relevant throughout the course of history.
The memorial is an important charitable endeavor today not only to remember a crisis of the past, but to acknowledge it as a crisis of the present, as HIV continues to be a leading cause of death globally. What was once a national AIDS crisis is still an endemic global crisis of staggering numbers.

Have you visited the AIDS memorial? If so, what effect did it have on you? I've been there many times since its unveiling. It's an important historical location, across from where St. Vincent's Hospital once was. St. Vincent's played a central role in the AIDS epidemic in New York. It's interesting because it also was central to the Cholera epidemic of 1849, treating patients after the Titanic sank, and taking in victims from the 9/11 attacks. After the Hospital closed the history of that location could have been lost, but the park is now a powerful marker to memorialize the crisis through public space and keep the history alive with visitors.

The memorial features a plaza engraved with sections from Walt Whitman's Song of Myself - chosen by Jenny Holzer. Is there a poem, song or work of art that brings to mind the crisis for you personally?
Two poems come to mind. "No Goodbyes" by Paul Monette:
We are war and peace in a single bed, we wear the same size shirt it can't it can't, be yet not this just let me brush his hair, it's only Tuesday there's chicken in the fridge from Sunday night ...
And "I died for beauty" by Emily Dickinson:
I died for beauty, but was scarce, Adjusted in the tomb, When one who died for truth was lain
In an adjoining room. He questioned softly why I failed? "For beauty," I replied. "And I for truth - the two are one; We brethren are," he said. And so, as kinsmen met a-night, We talked between the rooms, Until the moss had reached our lips, And covered up our names.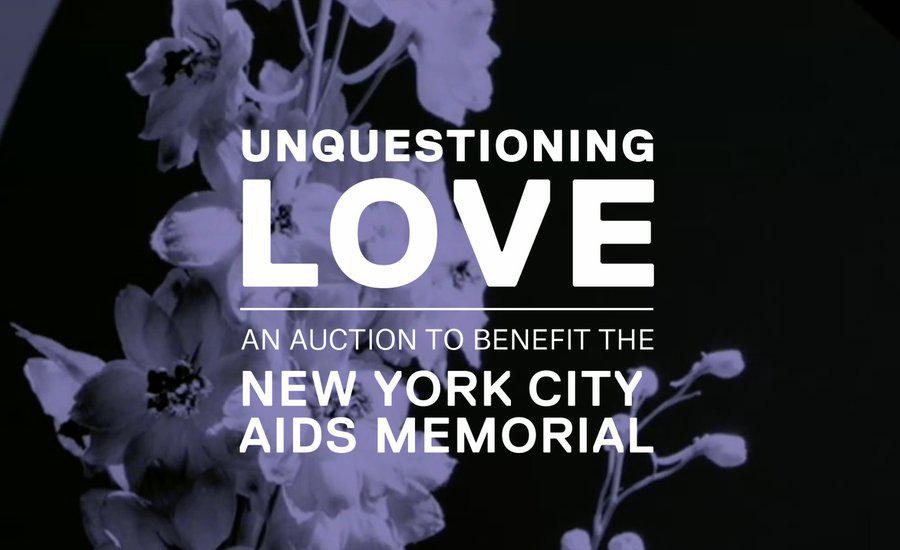 An image from the Unquestioning Love auction site. The image behind the text is a detail from Flower, 1987, by Robert Mapplethorpe, one of the lots in this sale
Many artists died from AIDS. Is there one in particular whose passing particularly saddened you - do you ever wonder how their work might have developed? Félix Gonzáles-Torres still speaks to me all the time. His infiltration of spaces, blurring of boundaries, and use of the 'viral' played a significant role in how I understand space. His elegant blend of the performative and the conceptual - always with a note of edginess and a deep tenderness - remains radical to this day. He died so young at only 38-years-old and we still have so much to learn from him.
For more from Sarah Sze go here and to see further works up for auction at Christie's, go here.