To know Sarah Sze 's work in depth you sometimes have to drop down to two dimensions. Although this American artist is probably most widely acknowledged as a sculptor – creating intricate, cosmic assemblages of everyday items that have won her praise within the gallery system, and seen her represent her country at the Venice Biennale – Sze has also practiced painting and printmaking for a number of years.
The artist's new book, Sarah Sze: Paintings , is the first monograph to truly detail this hugely detailed and varied side of her work. Sze's paintings combine collage and digital manipulation, as well as layers and drips of paint, to present largely abstract pictures which prompt the viewer to confront deep questions about time and space.
Now, Artspace is able to further open this contemplative aperture, by offering Acrobat , 2023 a new Sze edition. The edition comprises inkjet, silkscreen, collage, and gold leaf, mounted on embossed Rives BFK; paper: 11 7/8 x 11 7/16 in. (302 x 290 mm); Image: 7 3/4 x 9 1/2 in. (197 x 242 mm).
It is an edition of 30 with 12 APs plus 3 PPs . It is signed and numbered by the artist on the front, and is produced in celebration of Sarah Sze: Paintings , the artist's new Phaidon monograph. Proceeds from the sale of the limited edition will be donated to Free Arts NYC and Breakthrough Collaborative , to support programming and access to arts education.
In the first of two interviews with the artist, Sze describes why she kept her well-developed printing practice relatively private for so long, how she came upon the title of this new painting, and which subtle marks and indentations viewers should pay attention to in this finely made, limited edition work.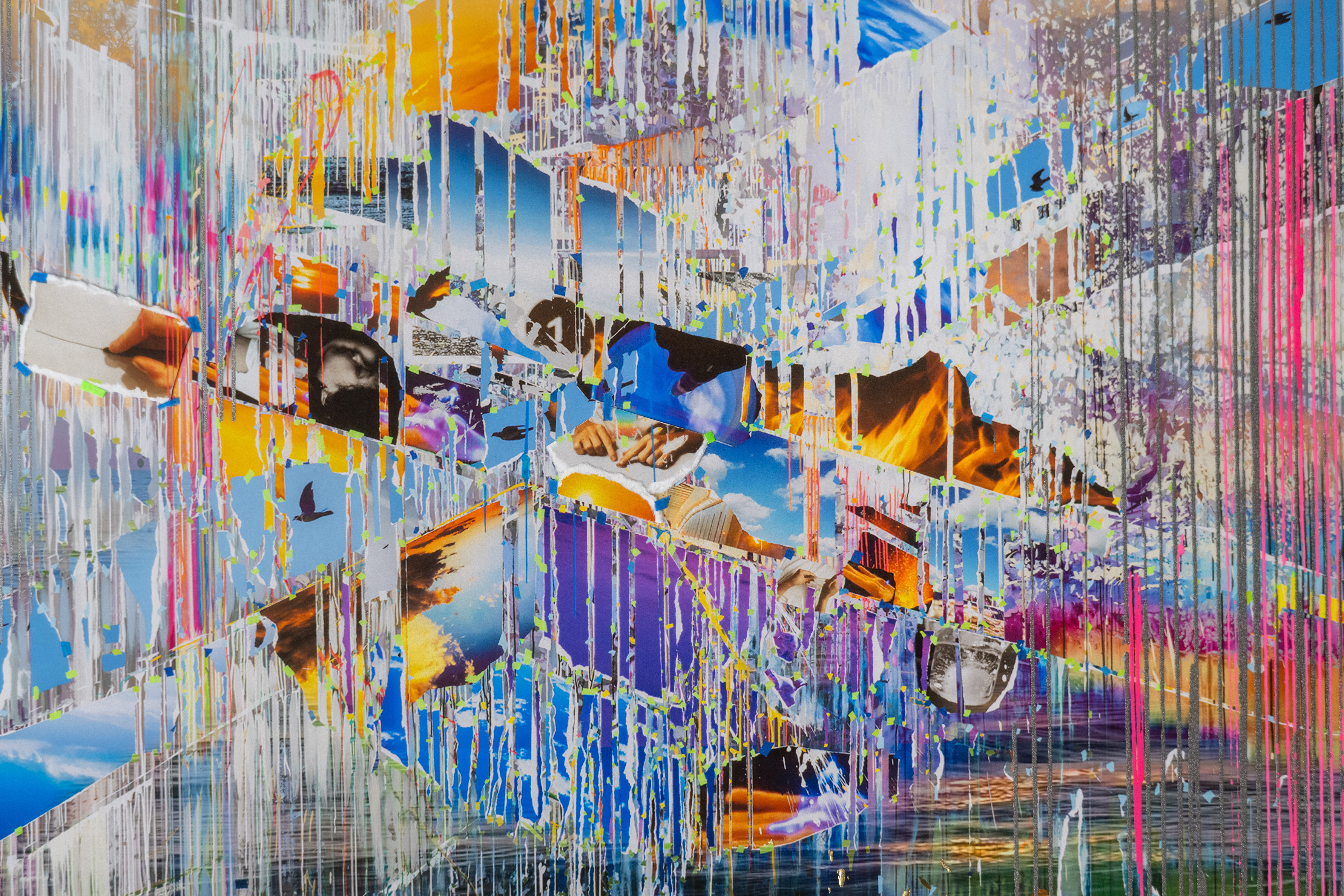 Photography Nir Arieli
First of all can you tell us a little about the title, Acrobat ? " Acrobat is the title of, and a reference to, a poem by a Bengali poet called Nabaneeta Dev Sen. I discovered the poem through my husband [the author and physician Siddhartha Mukherjee]. He's Bengali and he read a lot of her work growing up. The poem is about a woman trying to do everything. It's also about time."
"The way I try to borrow titles is similar to the way I try to borrow materials; take them out of context, give them a different context, and see how their value changes. Words, like anything else, are an object or a tool. You can use them as found objects and collect them and repurpose them as titles."
"So a lot of my titles are scientific terms, taken from poetry, taken from literature, taken from music. Everything in its Right Place is a Radiohead song. Everything That Rises Must Converge is a Flannery O'Connor book – so those titles are completely borrowed or stolen."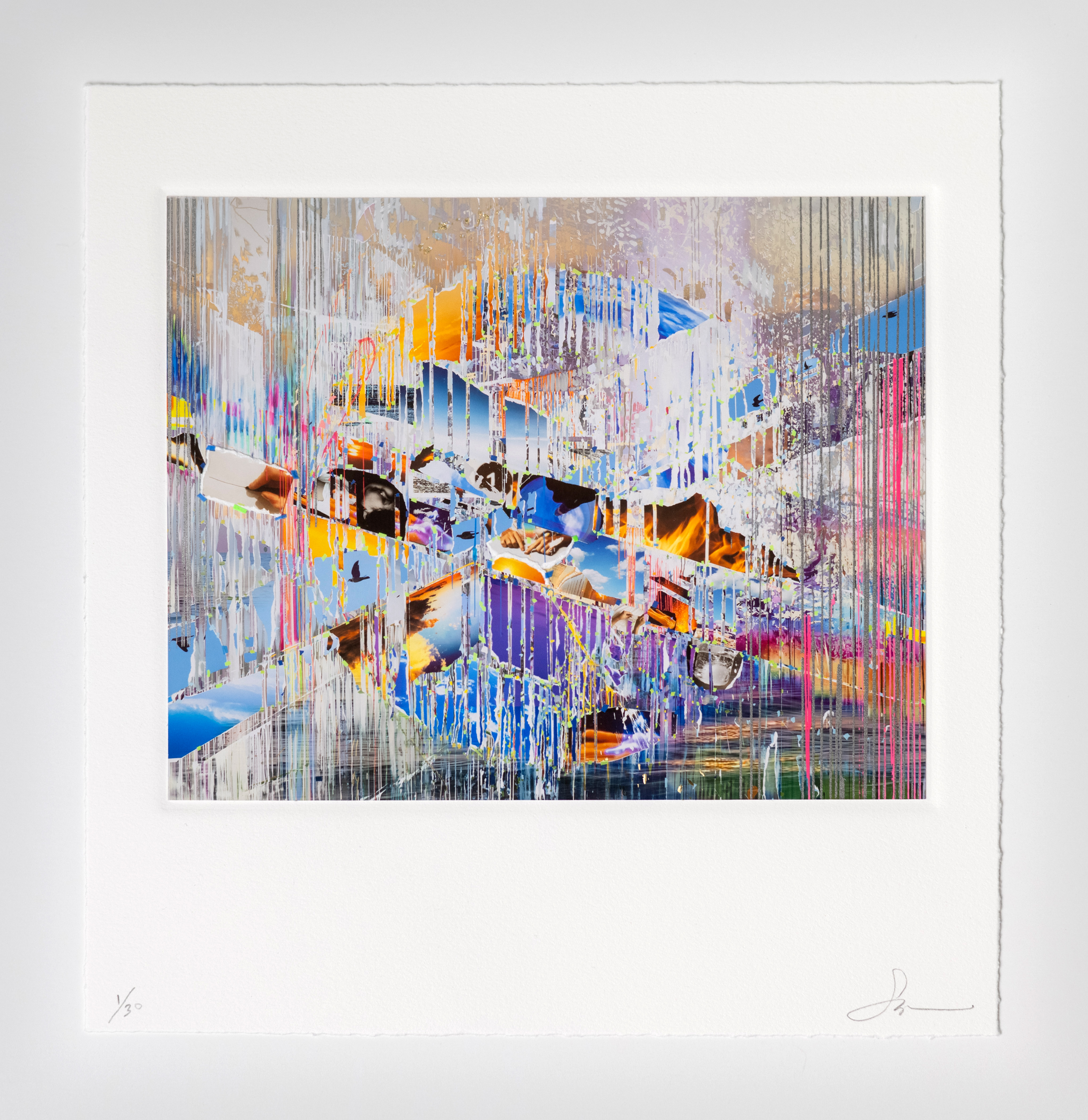 Photography Nir Arieli
You worked with the LeRoy Neiman Center for Print Studies, Columbia University on this edition, right? "Yes. They work with students to make prints, and so it becomes part of an educational process. They are a not-for-profit print studio, so they are unique in that they're not continually having to look at their overheads; they want to try new things. Columbia is all about experimentation, so we did a lot of experimental things on the print that a lot of print shops would not have had the ability to do."
Can you tell us a little about the edition's collaging aspect? " The edition is super important to me in terms of its collaging aspects. There are several places where there are actually torn, and collaged on, materials; so it has a very sculptural quality to it. The entire image is also embossed."
"I do a lot of printmaking and I wanted to convey the idea of gravity in a print. If you look at the print from a certain angle, there's the weight of a plate that's printed down into it, and then there's a ghost circle in the image of the print, that is actually embossed."
"We ran a circular plate through the press, so it also has this very subtle sculptural weight, to emphasize the ghost-like reading of a circle, in the middle of the print. You imagine that idea of the weight being in the print. The weight of the plate has affected the paper which raises this idea of a seal or iconic signature. That's a subtle but really nice thing to do, I thought."
"The entire print is then cut out and it's mounted on a piece of paper so that the print itself is like a collage. If you look at it from left to right, it invites you to move your body around it in the same way sculpture does. Because at different angles you pick up different light, and different color, and different aspects of the layering, because it has metallic surfaces, it has three-dimensional surfaces, and it has embossed surfaces."
"I'm interested in the idea that an image can have this quality of being alive in the making, or alive in the dying. It's something that I'm interested in in all of the work. So what I want is the images, and the paintings, and the prints to feel as if you see their construction, and you see their deconstruction. The process of looking is one of putting things together to create your own structure within the image,  and also seeing that structure fall apart. So there's the actual image you're looking at compositionally, but also materially. I want that to happen too."
"Even the idea that this is a circle, for me, is something to do with focusing the eyeball lens that we're looking through–it's not square. We have peripheral vision that's calculating how we see. Most images flatten and reduce to an entirely fictional way of how we experience vision."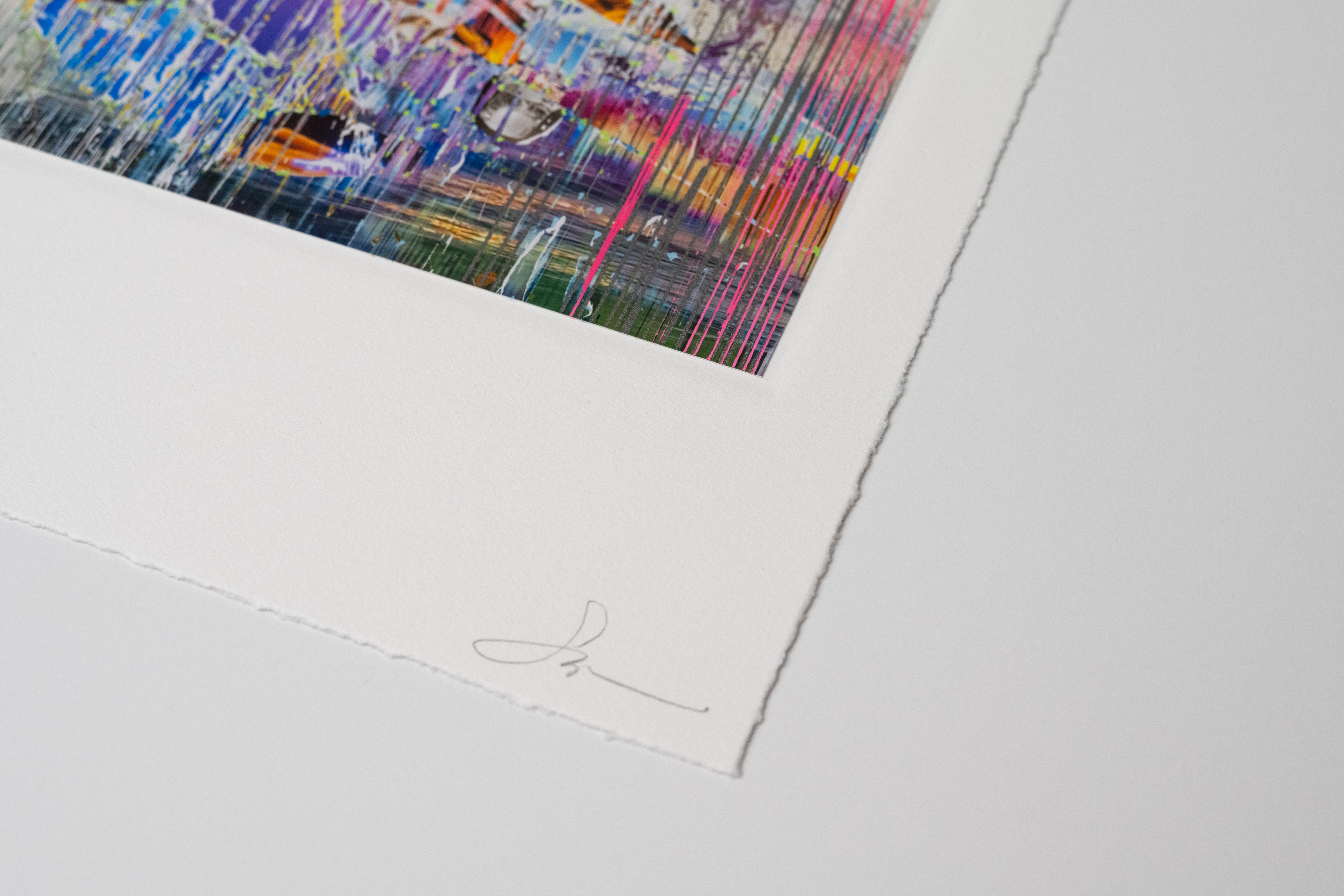 Photography Nir Arieli
What place do prints inhabit in your practice? " I taught print making with Kiki Smith at Columbia for many years and I had a print making practice all the way through."
"Artists in this country get asked for donations to institutions and organisations and charities all the time. So when I was doing a show at a museum, I would often make an edition to support that museum.It was an intimate kind of practice, and I could just be in this space of 'it's a gift'. And, actually, when you are in that space, you often find the freedom to advance your practice without meaning to."
"When I teach painters at Columbia, I encourage them to take print making because they often get stuck in their painting and they make their major breakthroughs in either drawing or print making because they don't feel a public pressure; they lose this sense of an outward eye. Print making I think has that ability. Even the fact that it's a multiple gives you a freedom to experiment."
Do you have any advice on where a piece such as this should live in a home? " Experiencing an artwork is a narrative of experience over time. How you reach it and how you leave it is, to me, as important as the work itself."
"To me, everything is a kind of Russian doll experience: outside the museum, inside the museum, what you see before, until that moment you see the work and how a curator frames that moment of seeing the print within a larger experience."
"So what's nice about something like a print this size is that it can be domestic. It's a joint project, so you create that narrative yourself.  It's a portable installation, it's a portable world that becomes a world within a world. The world that surrounds it is completely tied to the intimate project of how you own, and how you experience, an artwork.  What is so nice about a print is that it becomes knitted into the installation of your home."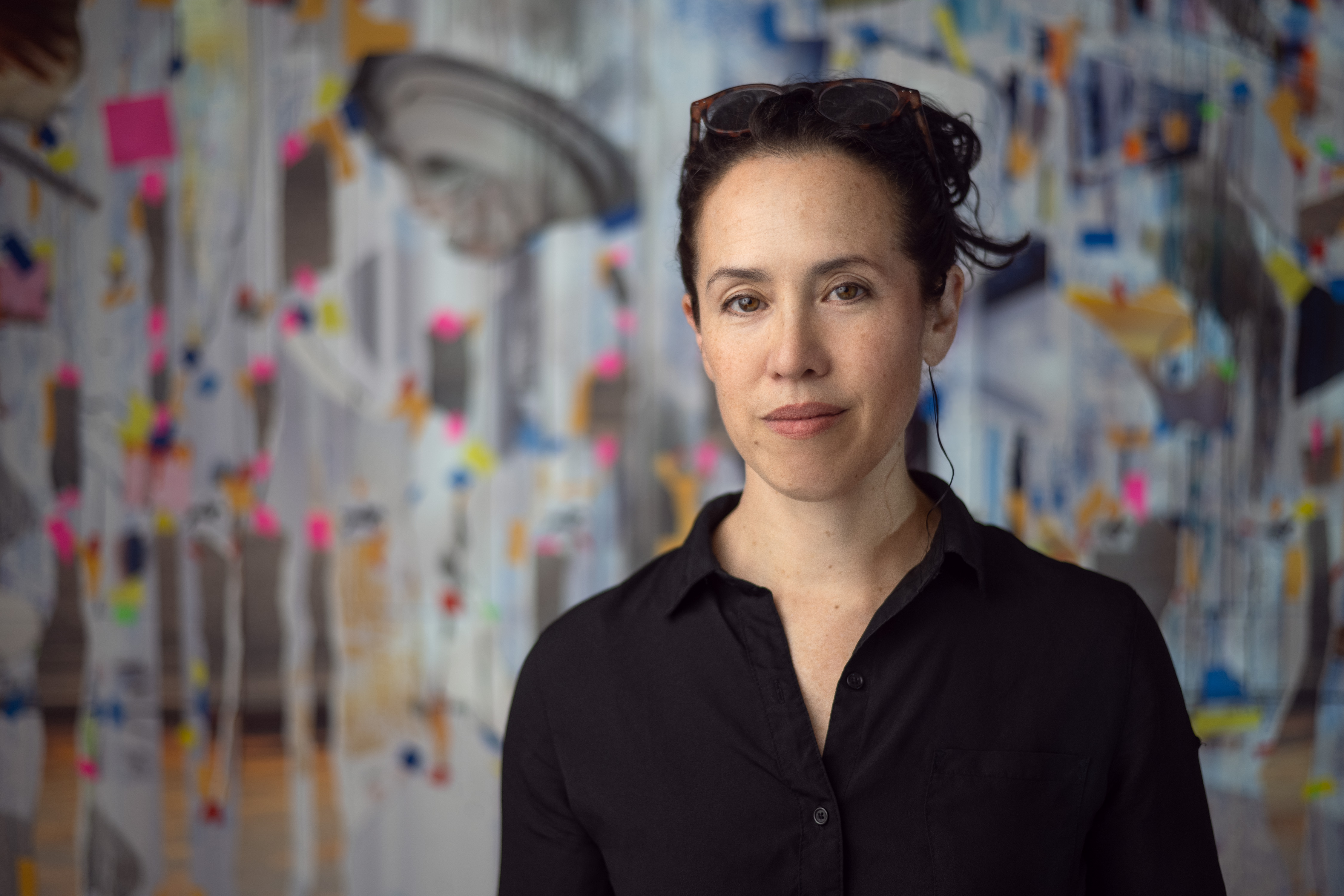 Sarah Sze, 2023 - Photographed by Nir Arieli
Proceeds from the edition will go to two good causes, can you tell us about them and why you chose them? " For me the idea of printmaking has always had a quality of gift-giving to it. I would make prints in order to give them as gifts to people."
"Printmaking also has this quality of democratization, of making things accessible to people, and many people owning one thing at once. Piranesi made prints basically as tourist maps for people from France who came to look at the Colosseum. So it all feeds into the trade of prints, and the trade of images, and this idea of editioning, this ancient idea of images traded through prints."
"I want the sustenance that I found in having wonderful access to arts and art education to be available to people in the same way I had it; having museums be more accessible, having arts not seen as a luxury, that can be cut is something I am committed to. So these are two wonderful organizations in different ways."
"The thing that's interesting about Breakthrough is that it's an organization that creates a summer program and an after-school program for kids who are motivated. They don't take the top students, they take kids who really want to do it. That's a different philosophy. It's motivation driven, not grade driven."
"Breakthrough and Free Arts NYC focus on expanding educational experiences for students, access to museums, funding educational initiatives, even for older teens who are interested in the arts, helping them with creating portfolios, and the things that people just don't have access to otherwise, or know how to do. They give them the tools, the language, and open the conduits up. These two organizations are doing incredible work that I think is important."
To bolster that support, and embolden your own collection, take a closer look and consider buying Acrobat, 2023 here. And for Phaidon's new book Sarah Sze: Paintings, go here .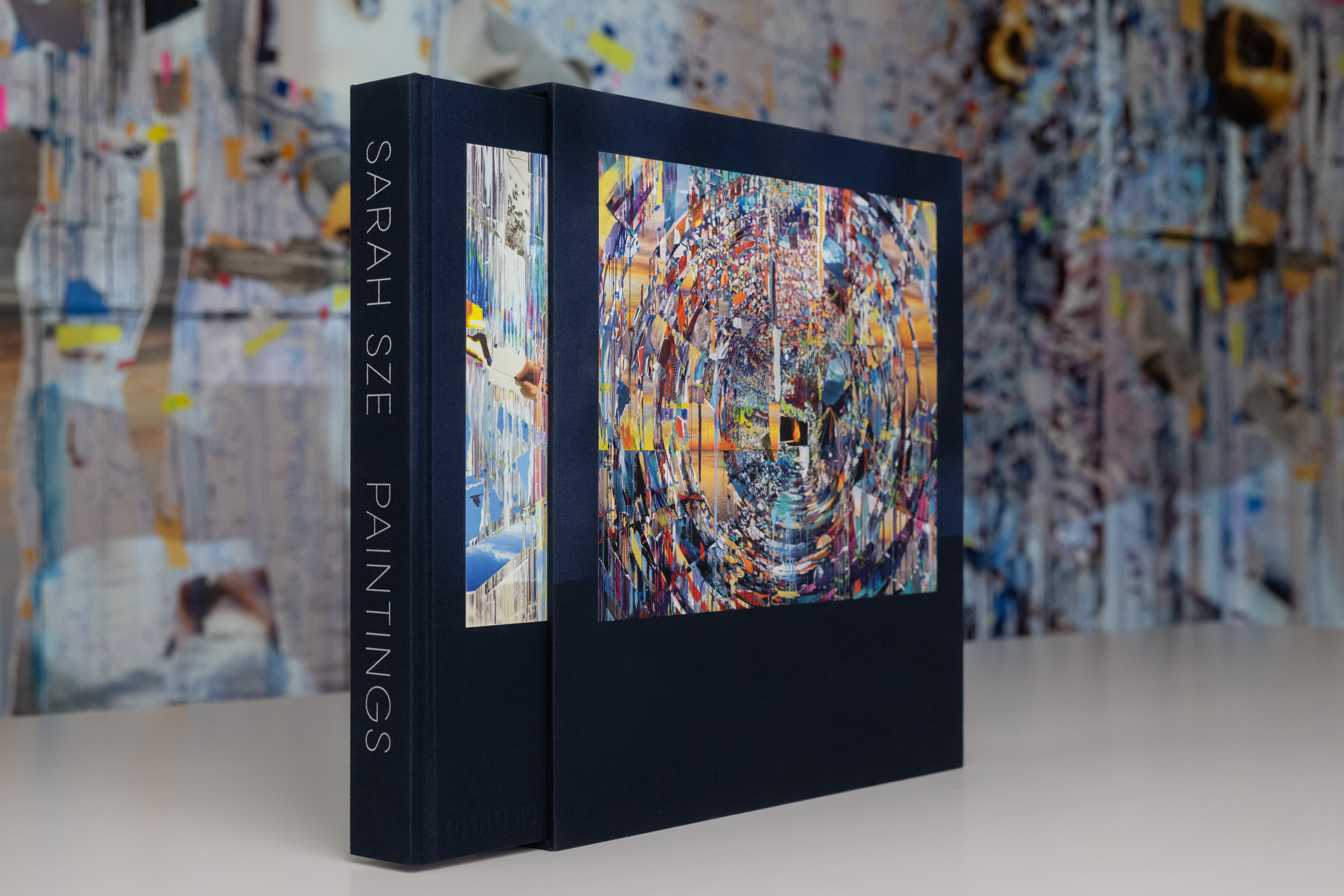 Sarah Sze: Paintings