In 1996, Marcel Dzama's house burnt down. Or, more accurately, Dzama's parents' house, as the artist, who was an art student at the University of Manitoba in Winnipeg, Canada, and was living with his folks at that time.
Dzama had been storing a series of large paintings in the basement of the familial home in preparation for his BFA presentation. The fire destroyed those, along with most of his parents' possessions, and Marcel's pet bunny rabbit.
The family were housed in the Airliner Inn, a hotel close to Winnipeg's James Armstrong Richardson International Airport, and young Marcel took to drawing on the hotel room stationery.
Other would-be artists might have been distraught, but Dzama actually felt as if a weight had been lifted from his shoulders. "Suddenly, I was in a hotel, with basically a small space to walk around," he later recalled. "I drew on my bed the whole time, did these small drawings that kind of became what you see, at least at the beginning of my art career.
MARCEL DZAMA - Snowflake Defense, 2006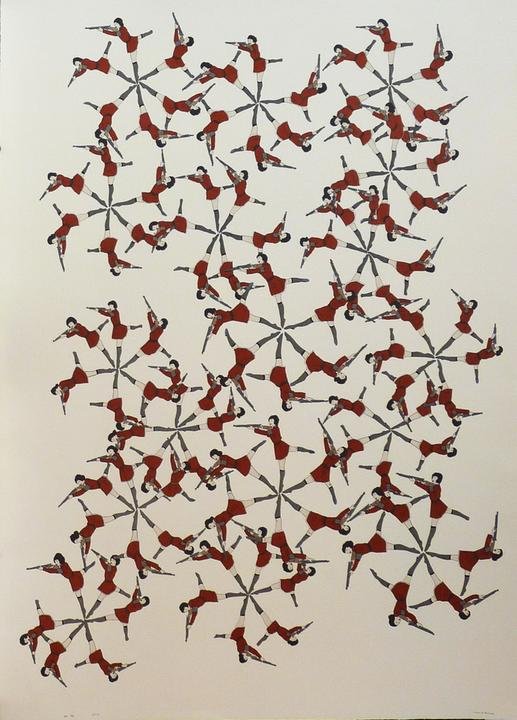 All on a blank background with one or two characters doing some kind of surrealist thing. It was very depressing, but it was also very freeing having nothing to hold you back. No possessions."
Collectors, curators and gallery-goers across the world now recognise the kind of pictures that Dzama first sketched out in that hotel room over a quarter-century ago. His clear-lined, fantastical art combines the mystical elements of early modernism with some of the small-scale, lo-fi ethos of punk and indie rock, as well as North American folk traditions and nods to past greats (such as Dzama's namesake, Marcel Duchamp) to produce wonderfully eerie, often deeply sexual, fantastically detailed imagery, that has found its way into the permanent collections of MoMA, the Tate and the Guggenheim.
Though Dzama himself didn't formalise his style until after that house fire, elements were in place prior to those flames taking hold.
MARCEL DZAMA - Ya es Hora, 2019
"I grew up poor working-class and a latchkey kid so my inexpensive hobby was drawing – luckily, I was obsessed with it," he told Artspace in 2020. "I would be drawing from the minute I came home from school until I went to sleep. Also, I grew up in Winnipeg and the winters there are very harsh,so you can really only do indoor activities. Art was definitely my escape from those cold winters."
The place shaped his sensibilities in other ways too. Winnipeg was once Canada's third largest, and an important trade hub, until the opening of the Panama Canal in 1914 reduced the importance of Canada's railroads.
MARCEL DZAMA - Scared of His Own Ghost, 2008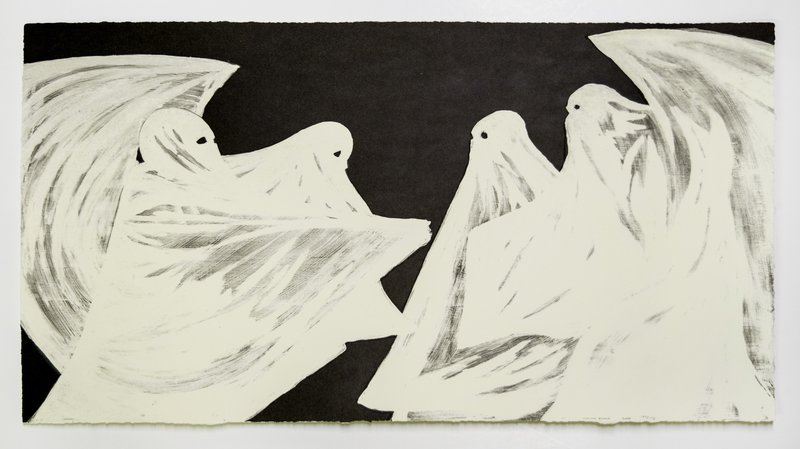 "There's this history of the city that peaked in the 1920s, when a lot of buildings were in their heyday," Dzama explained. "You can see the decay, but they're still there. There's old ads written on buildings for some dish soap or something from that era. There's this nice nostalgia, this idea that there was a better time. In 1919, there was this huge strike and they tried to reproduce the Bolshevik Revolution in Winnipeg. There was this whole movement there."
The Winnipeg Art Gallery has a wide variety of Inuit art in its collection, which Dzama acknowledges as an influence. An extended stay on his grandparents farm in Fosston rural Saskatchewan, during the artist's high school years also instilled a love of nature in the artist, and a clear understanding that he wasn't like the other rural kids in his class.
MARCEL DZAMA - Where All Harmonies are Tuned, 2011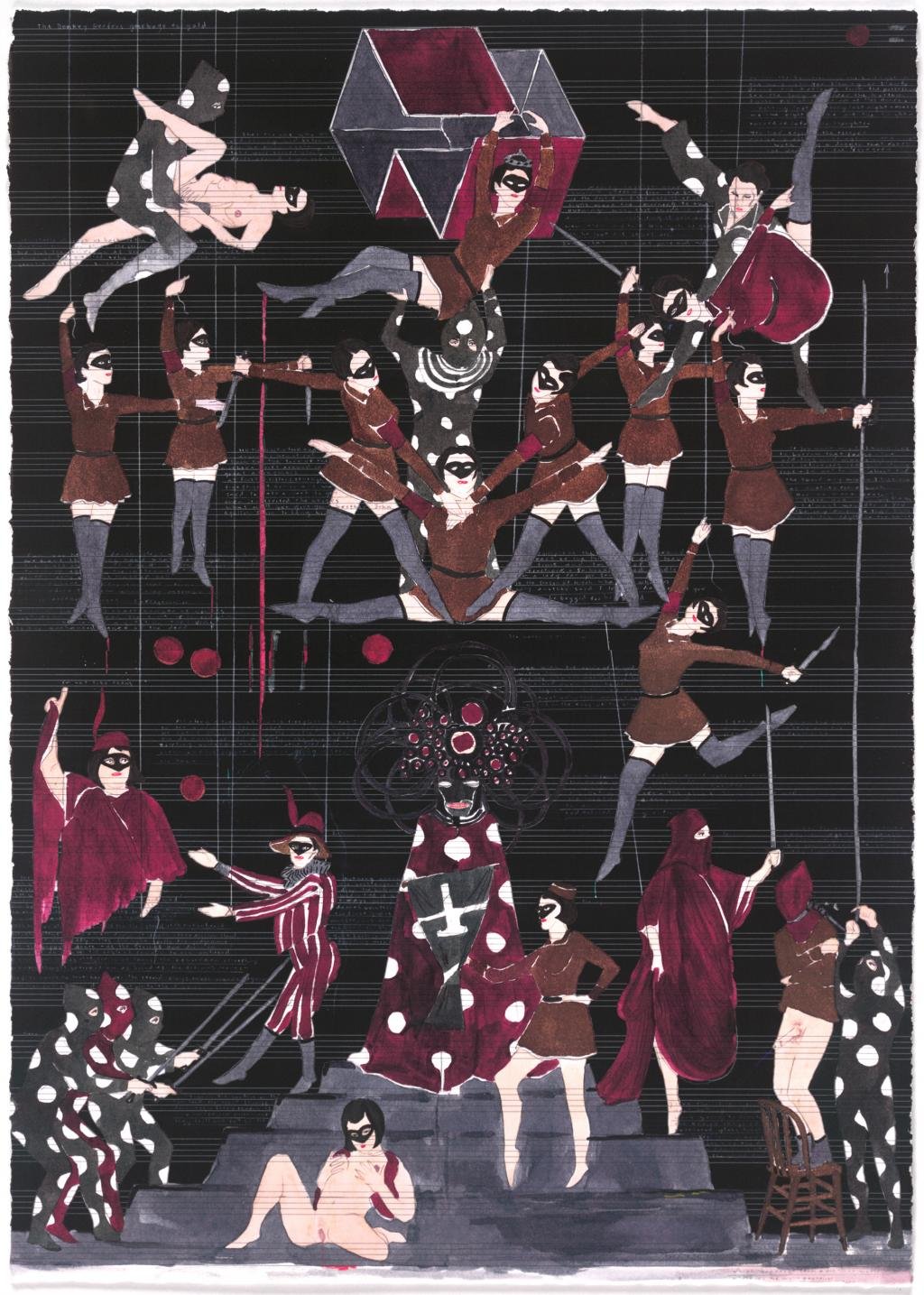 "Everyone was heavily into country music and they wore cowboy hats to school," he says. "I was this skinny kid with Sid Vicious hair who was really into punk rock, so I felt like I had zero masculinity."
Fortunately, Dzama found more like-minded friends at university. He founded the collaborative artists' collective, The Royal Art Lodge, with fellow Winnipeg students in 1996, and began to draw record covers for local bands a few years later.
The David Zwirner gallery began to represent the artist in 1998, and soon Dzama was producing illustrated work for recording artists such as Beck, Sufjan Stevens, They Might Be Giants and Arcade Fire, while simultaneously developing a dramatic practice, creating costumes for music videos for such recording artists as Bob Dylan, Department of Eagles, and David Byrne; and a fine art career, and collaborating with some of North America's most notable creatives, such as the writer Dave Eggers, the director Spike Jonze and fellow artist Raymond Pettibon.
Dzama has also demonstrated a remarkable facility for working within a variety of different media. For his 2009 solo exhibition, The Infidels, the artist created paintings, sculptures, drawings, and collages, as well a series of dolls' house-like dioramas, featuring a dizzying array of human and animal characters.
In 2014 Dzama cast the musician Kim Gordon in his film, Une danse des bouffons; partly inspired by one of Marcel Duchamp's doomed love affairs, Gordon played the part of Duchamp's love interest, the Brazilian visual artist Maria Martins.
MARCEL DZAMA - New Look, 2000 Work on Paper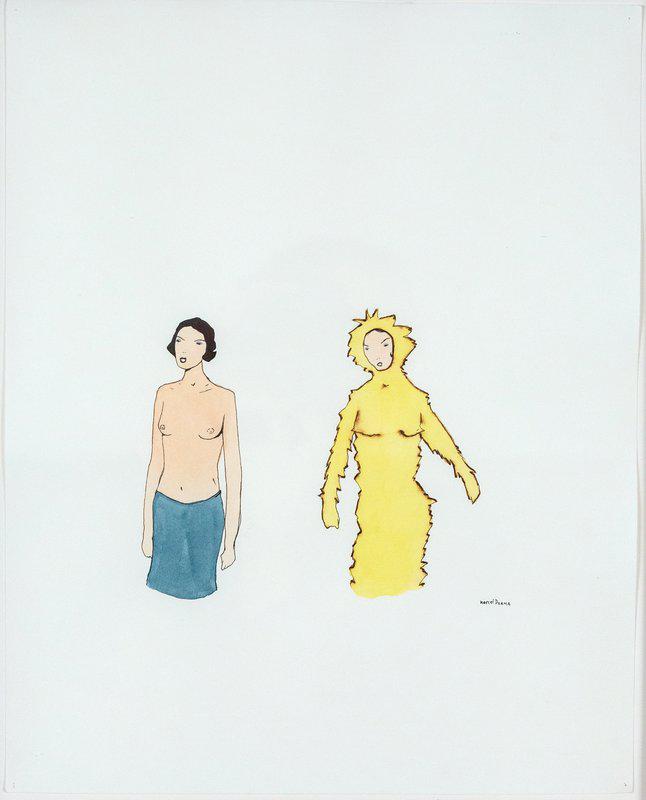 In 2016, he also created the costume and stage design for Justin Peck's New York City Ballet production of The Most Incredible Thing, based on a Hans Christian Andersen's fairy tale with music by The National's Bryce Dessner.
And in 2020, during lockdown in New York, confined to a room in much the same manner as he was decades earlier following the family house fire, Dzama produced The Illumination of the sisters of paradise, a fantastical painting and print, depicting the kind of otherworldly view that many of us were hankering after in those dark days of quarantine.
Having broadened his artistic repertoire, you might be forgiven for assuming that Dzama might be restricted artificially by Covid curfews. Far from it.
"I feel like I have so many ideas that I'm sad I won't be able to get to do them all," he said at the time. "I have a lot of notebooks with ideas for projects that I know I'll never end up doing."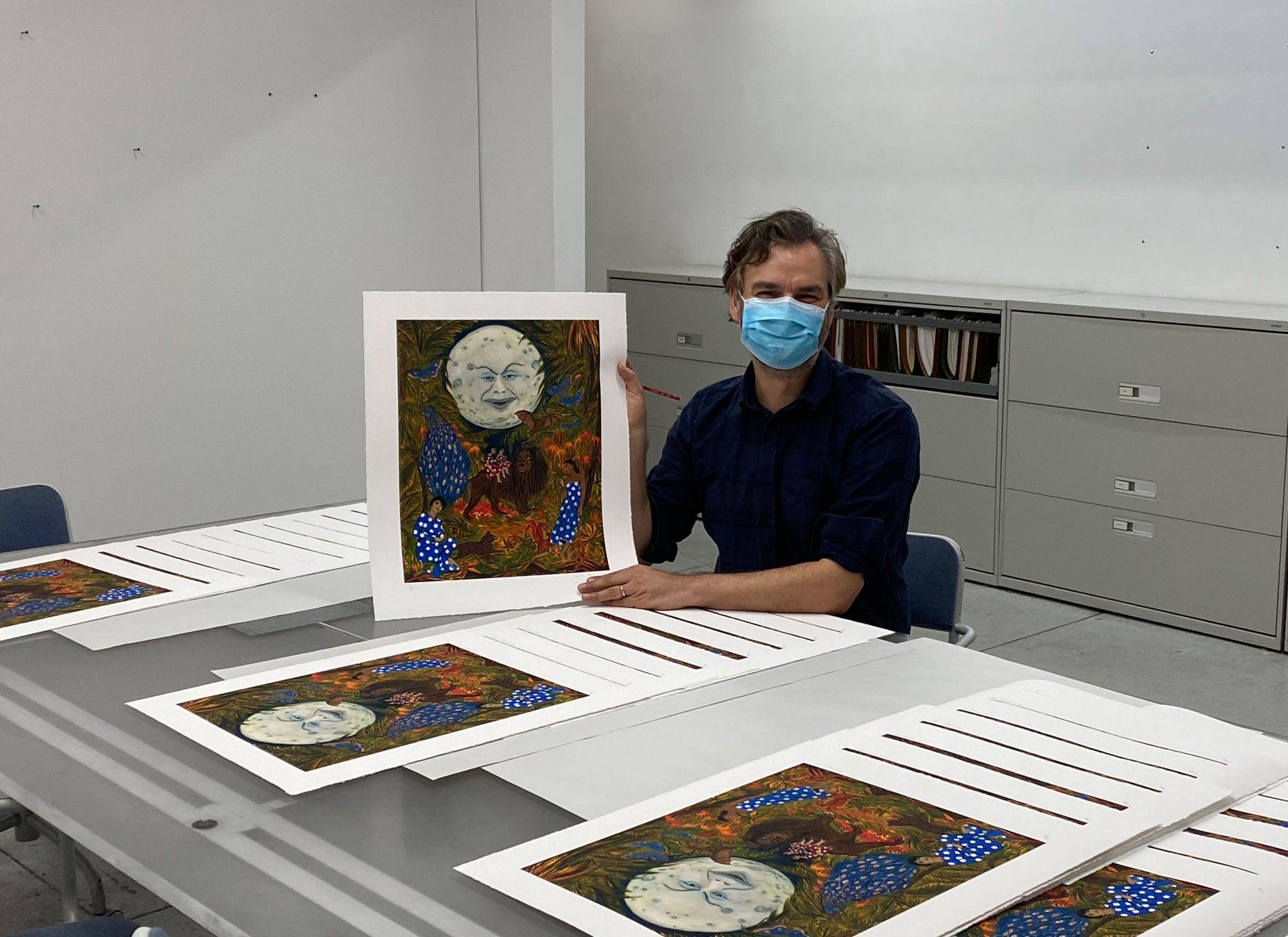 Marcel Dzama with his Artspace edition, The Illumination of the sisters of paradise, 2020 - photo Lower East Side Printshop, October 2020
Come fire or flood, we can expect to see much more from this remarkably prodigious artist for some time to come. You can see a good amount of it by taking a look at Marcel Dzama's artist page on Artspace.