Women's History Museum, founded by Amanda McGowan and Mattie Rivkah Barringer in 2014, has a solo show at Gavin Brown this month, a dealer renowned for not only representing internationally celebrated artists like Rirkrit Tiravanija, Laura Owens, Peter Doig, and Joe Bradley, but also for being "perhaps the most imaginative artist-dealer in town," according to Linda Yablonsky writing for Artforum.
The show is a big leap for the duo, who have been staging "underground" fashion shows and performances largely outside of the traditional gallery context. "OTMA's Body," on view until February 25th at Gavin Brown's Grand Street location in New York's lower east side, acts as a retrospective of sorts, showcasing garments previously worn during performative fashion shows, alongside patchwork furniture and oversized plush toys.
Here, Artspace's editor Loney Abrams speaks with the duo about their take on the fashion industry, how their show at Gavin Brown has (and hasn't) influenced the way they work, and about the Romanov princess who gained a cult-like following after they were put to death during the Russian Revolution—and inspired McGowan and Barringer to make art in remembrance of the lost female subjectivity absent from a history written by men.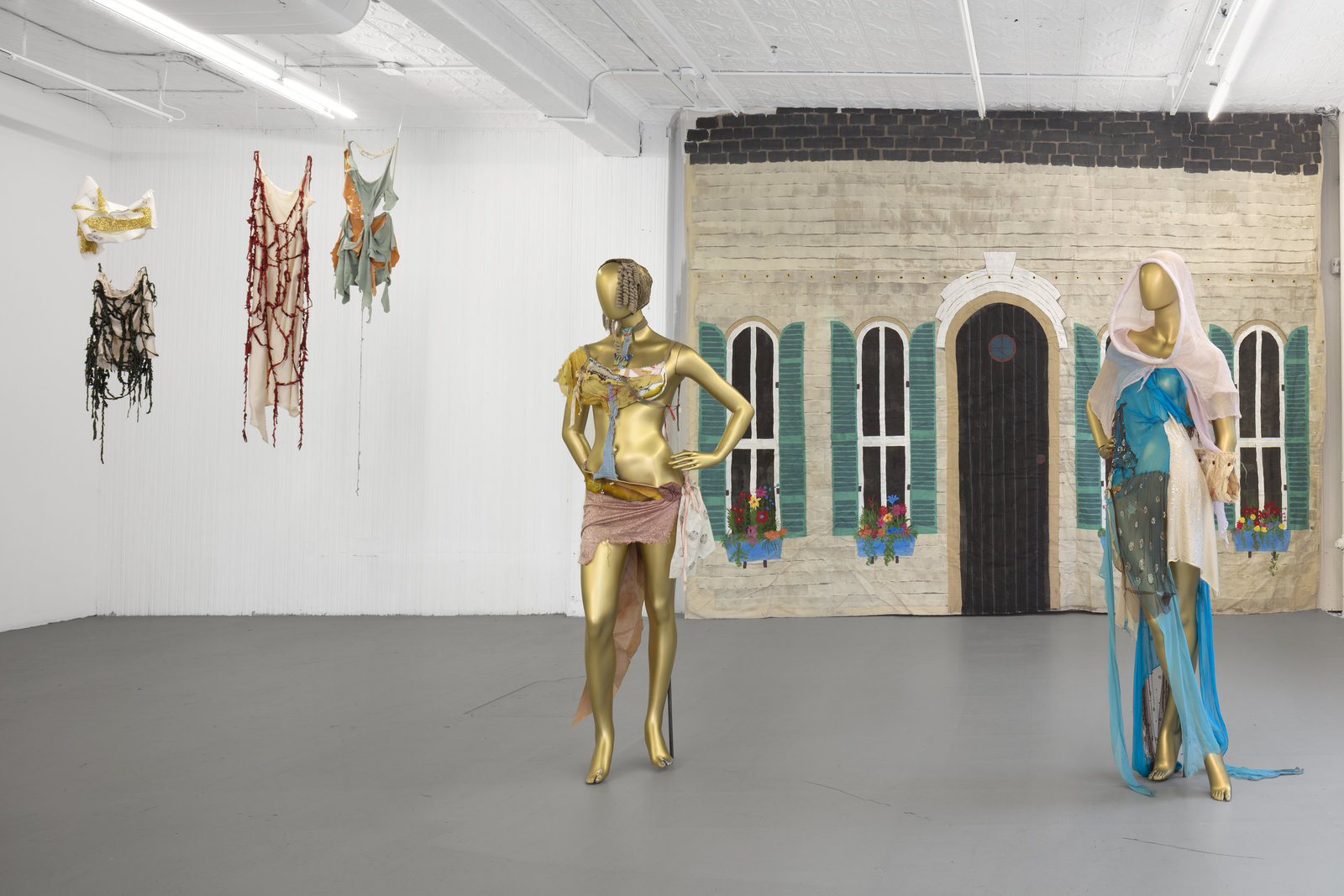 Installation image of "OTMA's Body" at Gavin Brown's Enterprise. Image courtest of Gavin Brown's Enterprise.
Your work seems to engage with feminism in a sort of historical way in that you're remembering and honoring a loss—a loss of expression, a loss of subjectivity, a loss of culture—that was never written into history because it came from the bodies and voices of women. In a way you're giving voice to the generations of women that came before us. OTMA, of "OTMA's Body," the title of the exhibition, is an acronym. Can you tell me a bit about the backstory? 
OTMA is a self-given acronym for first names of each of the four Romanov princesses who were secluded with their families during the Russian Revolution in 1917, which they basically allowed to happen through their own ignorance, and they were eventually put to death. Kind of like Marie Antoinette; not as decadent, but in the way that the family withdrew from the problems of Russia and hid from them. The four princesses were basically useless to the royal family because they couldn't be heirs to the throne.
We became obsessed with the idea of OTMA as a foil for a friendship group. We're also drawn to the story for aesthetic reasons because the girls obsessively documented each other, so there are tons of photographs of them in beautiful, Edwardian-period fashion. The four girls were ultimately put to death, and there's almost a dead celebrity culture around them. There are millions of Instagram accounts run by Russian women who are obsessed with these little girls.
It kind of sounds like a cross between the movies Marie Antoinette and The Virgin Suicides, which both happen to be made by Sofia Coppola. Both involve young women who form strong bonds with each other while trapped and isolated from the world around them. Sisterhood becomes a defense mechanism, or an act of resistance even—but ultimately buckles under the pressure of familial and societal expectations...
Right. For us, the uselessness of the Romanov princesses was really interesting to us too. The way that they were raised enforced this idea that they didn't have any purpose in life outside of domesticity and the restrictive roles that were placed upon them by their mother. Later in their teenage years they were war volunteers and did a lot social work and you can see them as more progressively minded than their parents were, who wanted to ignore the problems of their country. When they went into exile the imagery of their living spaces was inspiring too. They would collage pictures on the wall. They had no wealth at that point, were constantly watched by soldiers, and couldn't leave their houses. It's not so much an idealization of what happened to them as much as just an interest.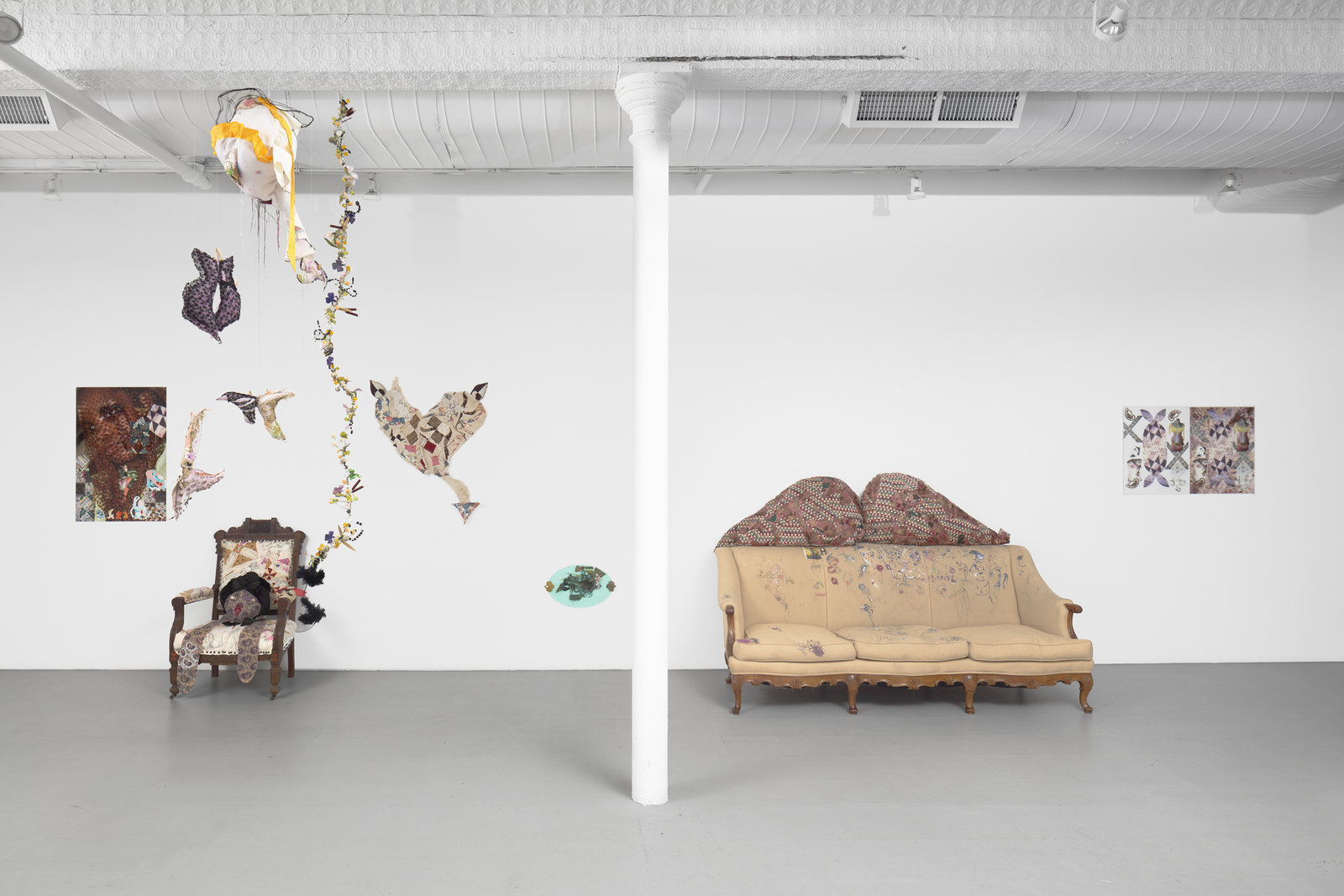 All images courtest of Gavin Brown's Enterprise.
You work with materials, methods, and aesthetics that have historical connections to domesticity and femininity. But you've also talked about quilting as metaphor for community. Can you elaborate on your feelings towards the materials and methods that you use?
We work a lot in our apartments, in our rooms. Most of the furniture in the show comes from our homes; the couch was a couch Mattie had been drawing on in her apartment. A lot of the material we use comes from our own wardrobes. There's a private world happening with the work.
In terms of materials we both have an interest in historical clothing. We started out buying newer fabrics from the garment district but we weren't excited about the materials we were finding. We both had always bought vintage clothing anyway, so we started to collect and hoard found materials, and then piece them together when we saw fit.
It seems like the crux of your practice lies in live performances and fashion shows. Fashion unlike art really needs to be activated, it needs a body. At Gavin Brown I know you have some live events in conjunction with the show, but the rest of the time the clothes are displayed inactive and still. What is it like seeing your clothes in this inactive context?
I think it's cool to have it stationary in a space where people can see it up close and examine each object. Even though the performance aspect is very important to us, the garments themselves are a separate part, and during the performances the audience can't really see all the details; the details get lost. We spend a lot of time on each garment so it's cool to be able to let people see them and spend time with each piece. But also, we sometimes feel bad about having our friends perform in the shows because we're using somebody if they're wearing our work. It's a relief to not have to worry about that. The work is just there on its own, existing.
The Gavin Brown show definitely feels different than the kind of work we did before. A different mindset had to be used. It's also meant to be a shop environment or an interior environment, which is something we consciously wanted to play with because we're interested in shopping and we're also interested in being at home. Those are tangential interests that also have to do with clothes and identity.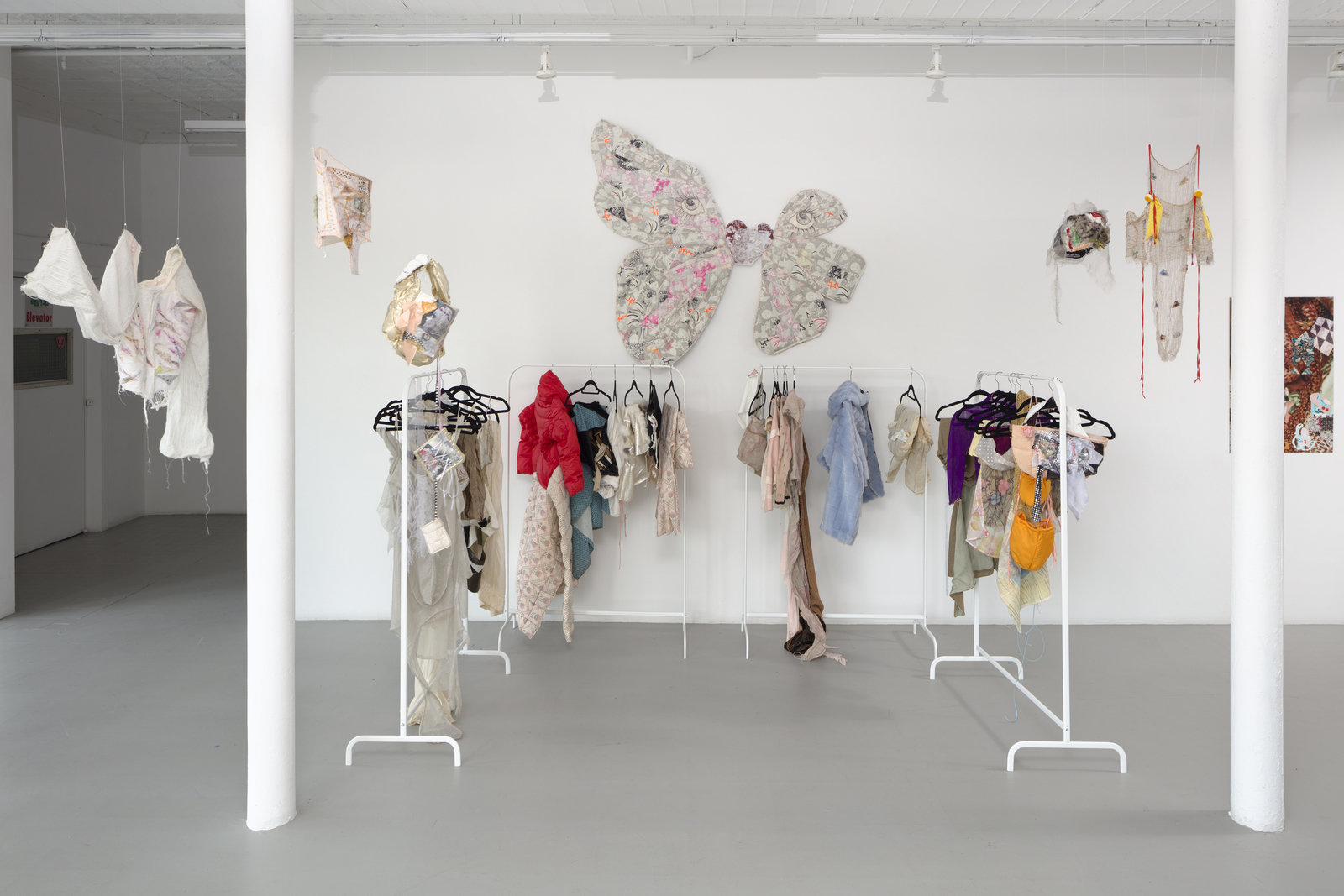 Having this opportunity to show in a gallery—was it generative?
We didn't have a long time to think about it. We were going to do this concept in a different space but Taylor Trabulus, who we knew for many years, just started programing at Gavin Brown and offered us this great opportunity, so obviously we took it. But we didn't have a lot of time to prepare. We knew we wanted to show old work, but in order to fill the massive space of that gallery we also had to make new work. It forced me to work outside mediums that I've been working in the last couple of years. It was exciting to branch out more and show all the different types of work that we do since we are multimedia artists. So we had the opportunity to show that we do a lot more than clothes.
Has this show changed the way you're thinking about showing your work moving forward? Do you think you'd like to show your work in gallery contexts more?
The show was definitely an amazing opportunity that had a lot of gravitas, and I think that people take us more seriously now because we've shown in a proper art context. People can be uncomfortable or confused when things aren't specifically a single medium, or aren't easily classifiable.
Installing the show at Gavin Brown definitely required a new kind of practice, but we've always worked freely. We don't have any restrictions on how we want to work, and the show didn't change that. We think of the fashion shows that we've put on as works of art in their own right, and we've always considered ourselves artists. We're doing another fashion show coming up at Performance Space New york (formerly PS122) at the end of March, and we're excited to do another fashion-based live performance.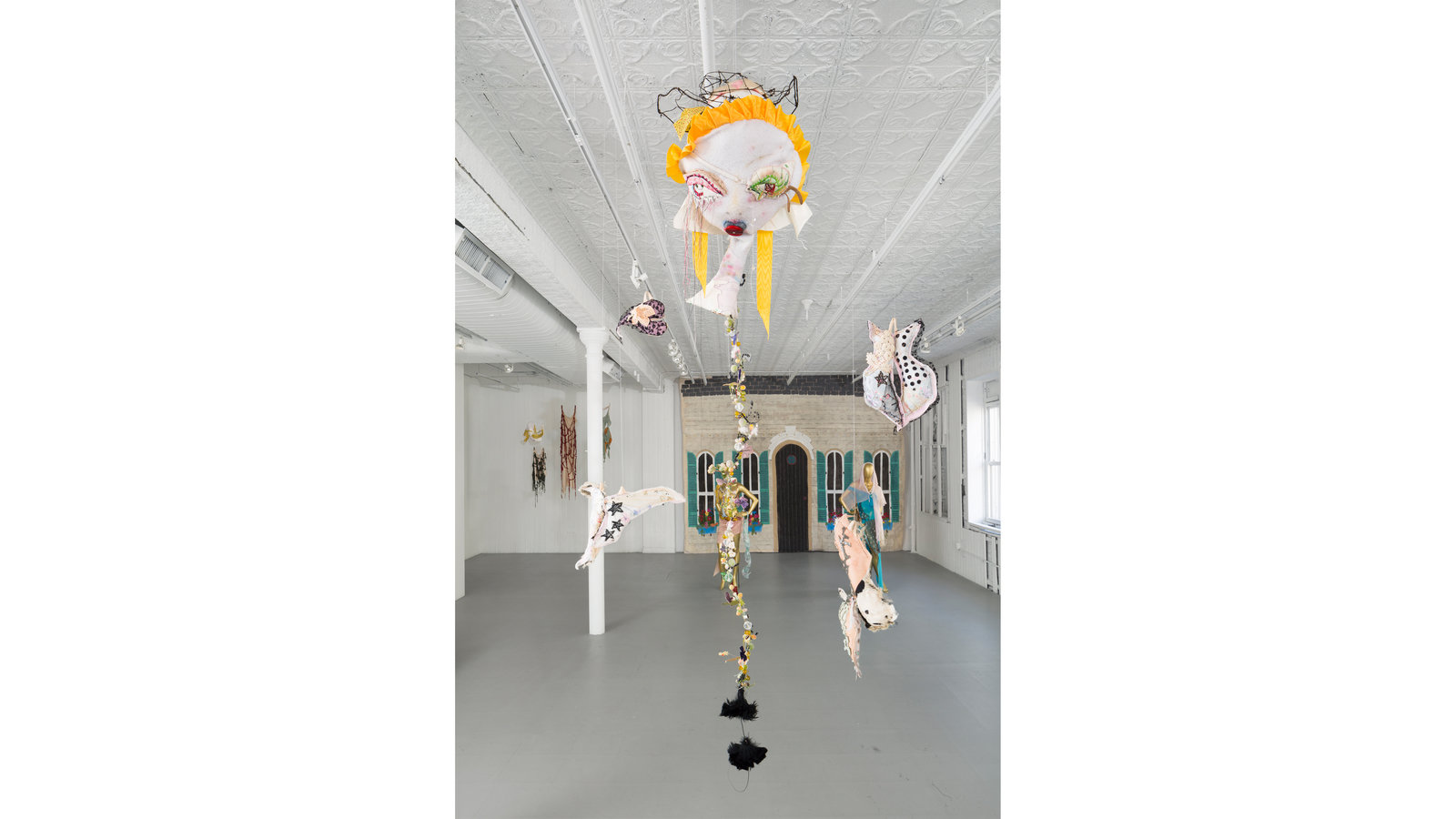 How could you describe your practice within the context of fashion and art? How do you differentiate between fashion design and art practice?
We think of ourselves as artists, not fashion designers. In the fashion system, traditionally you'd sell to stores—that's not a part of what we do at all. And there are a lot of things in the fashion industry that we don't agree with and don't want to be apart of. Our work is a reaction against fashion; it's a total rebuke of fashion actually. We're just obsessed with clothes. We are artists who create when we feel motivated to create.
Do you have anything coming up that you're excited about?
We're doing a fashion play at Performance on March 23rd. We're also in a group show at the same space from March 8th through April 8th that presents work in context with Kathy Acker's Blue Tape video. 
RELATED ARTICLES:
Vogue Legend Grace Coddington on Her Semi-Secret Life as a Gimlet-Eyed Artist
Who Wore it Better? See 13 Looks From Fashion Week and the Artworks They Uncannily Resemble