Sixty-five years ago, in the waning days of the summer of 1950, the Harper's Bazaar photographer Hans Namuth visited the Springs studio of the famously reclusive painter Jackson Pollock to take a few shots of the artist at work. Four months, two films, and hundreds of photographs later, Namuth had produced what are now the most iconic images of Pollock, revealing to a curious (and often incredulous) public just how the master of the drip, splatter, and pour made his paintings.
Of particular note in this collection is Namuth's short film Pollock Painting (1951), which renders the painter's highly physical process of painting on the ground in full color, complete with commentary from the artist himself and a classical music score. Namuth even arranged for Pollock to paint on a glass pane with a camera filming beneath it, to give viewers a canvas-eye view of the artist at work (a technique also memorably employed with an upright pane in Cluzot 's Le Mystère Picasso of 1954).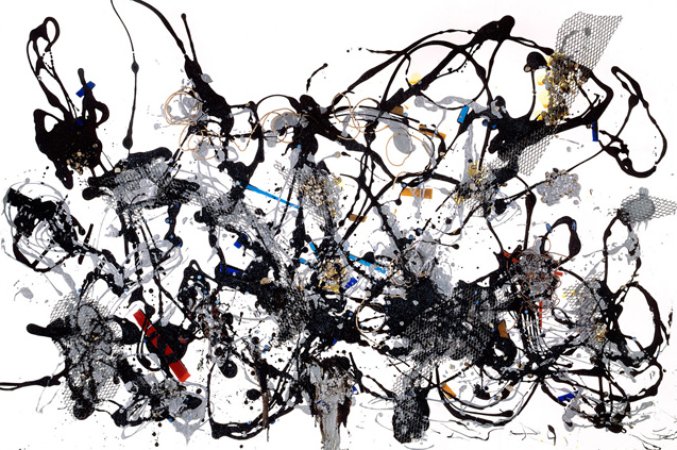 Number 29, 1950 (1950), the painting Pollock made on glass for the film
The film and the images around it have been credited with giving rise to Process Art , where the physical actions around artistic creation are documented and foregrounded as integral to the finished piece. It had an international impact, influencing Yves Klein and members of the Japanese Gutai group among others. Painting-as-performance is just as relevant today, in our age of live-streaming, with contemporary artists such as Ei Arakawa and Korakrit Arunanondchai making paintings before audiences at staged events.
Namuth's documentation also positioned Pollock as one of the first mass-media-driven celebrity artists, in no small part due to Pollock's icy-cool presentation of himself in the film. Dressed all in black, with a cigarette dangling out of his mouth and a serious, almost pained expression on his face, the image of Pollock at work defined the tortured artistic genius for years to come.
Indeed, some art historians mark Pollock's performance for the camera as the beginning of his demise. As the story goes, Pollock was so perturbed by the filming process that, upon its conclusion, he promptly got into a yelling fight with Namuth, overturned the dinner table (where his wife and fellow Abstract Expressionist Lee Krasner and several guests were seated) and poured himself a glass of bourbon, his first in two years after more than a decade of battling alcoholism. Six years later, the painter was killed in a drunk-driving accident. Is Namuth's interest in the painter's process to blame for this downward spiral? We'll never know what part it played, but the possibility haunts this otherwise entrancing film.