LISTE Art Fair Basel, the more emerging (and more affordable) counterpart to the art world's most famous art fair, Art Basel, opened earlier this week. Bill Cournoyer, the founder of The Meeting—an art advisory firm and private exhibition space in New York City—waded through the aisles to share with us, which pieces truly worth spending time with. Informed by his own collecting experience (he's spent the last 20 years acquiring art by both emerging and established artists) and his seasoned curatorial eye, Cournoyer describes his eight favorite works from he fair.
CATHARINE CZUDEJ
Miller Light, 2019
Ginerva Gambino, Cologne, Germany
$12,000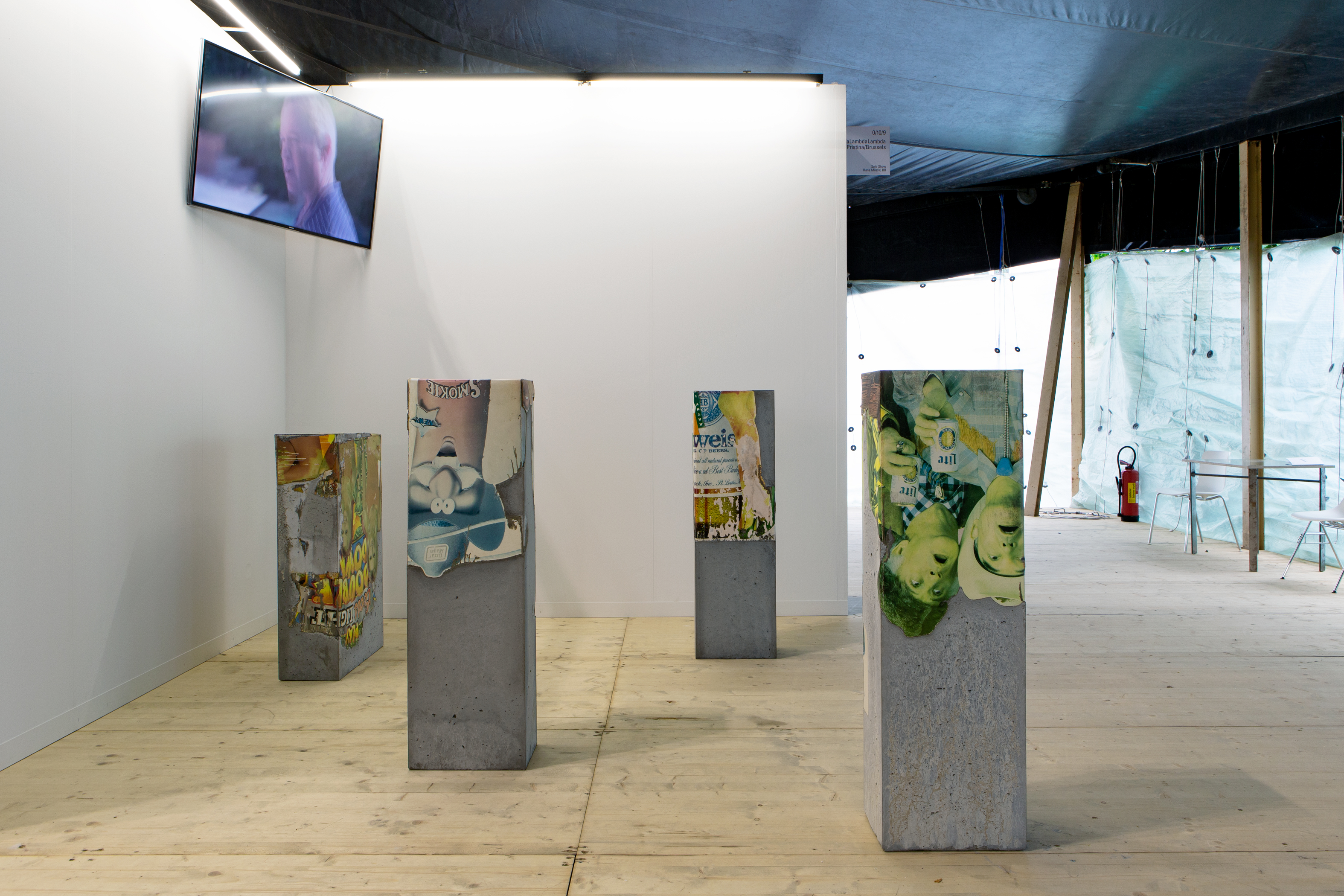 Catharine Czudej's group of mixed-media sculptures immediately caught my eye at Ginerva Gambino. I responded to the humorous contrast between their minimal form and posture and the found cardboard advertisements partially revealed on the exterior. The pop culture-like former store display images were drowned in concrete to create formal objects, ironically confusing their role as plinth-like, functional structures used to present other artworks. The sculptures bring to mind the work of the new realists Raymond Hains and Jacque Villegle. Included in the booth is a video showing Czudej siphoning water from the Los Angeles River up and over a bridge right back into the same river. Czudej seems to be searching to expose truths in her own funny way.
TOBIAS SPICHTIG
Dsa Böse im Dunkeln, (The Evil in the Dark), 2018
Deborah Schamoni, München, Germany
€16,000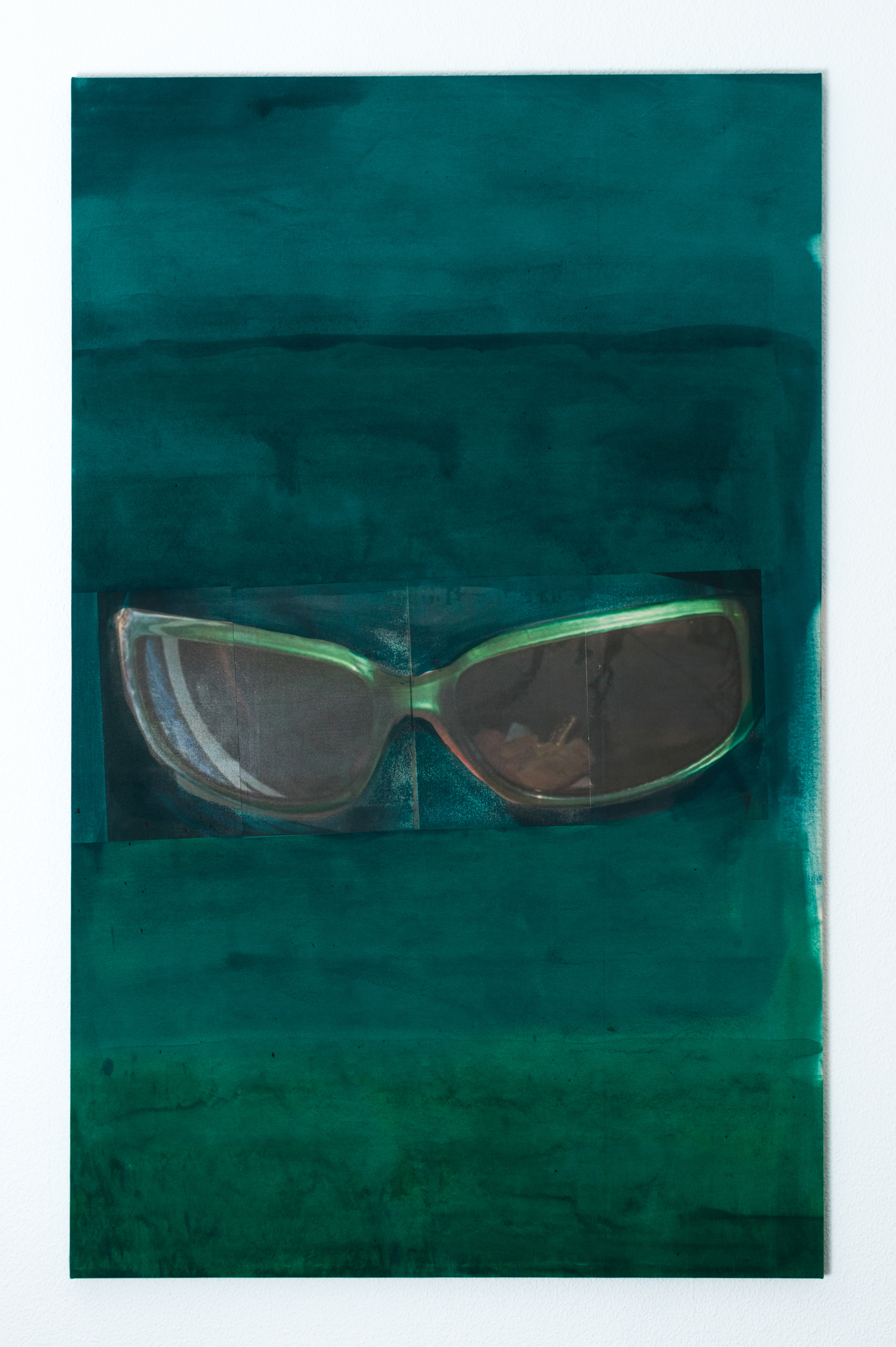 Tobias Spichtig's large format paintings on unprimed canvas at Deborah Schamoni have a high/low quality about them that's similar to Warhol's work. Using a common printing technique used to print tee-shirts, Spichtig's images reference fashion and advertising, and he prints them onto minimally painted canvases in dark, rich jewel tones. The sunglass image is a recurring one in his work. In a press release for one of his recent exhibitions, Spichtig was quoted saying, "The background is the hardest part to do." These canvases, with their minimal grounds, are complicated by the applied imagery and, by design, distract us like the screens we look into every day.
MATHIEU MALOUF
Andromeda In Ecstasy, 2019
Lars Friedrich, Berlin, Germany
Price on request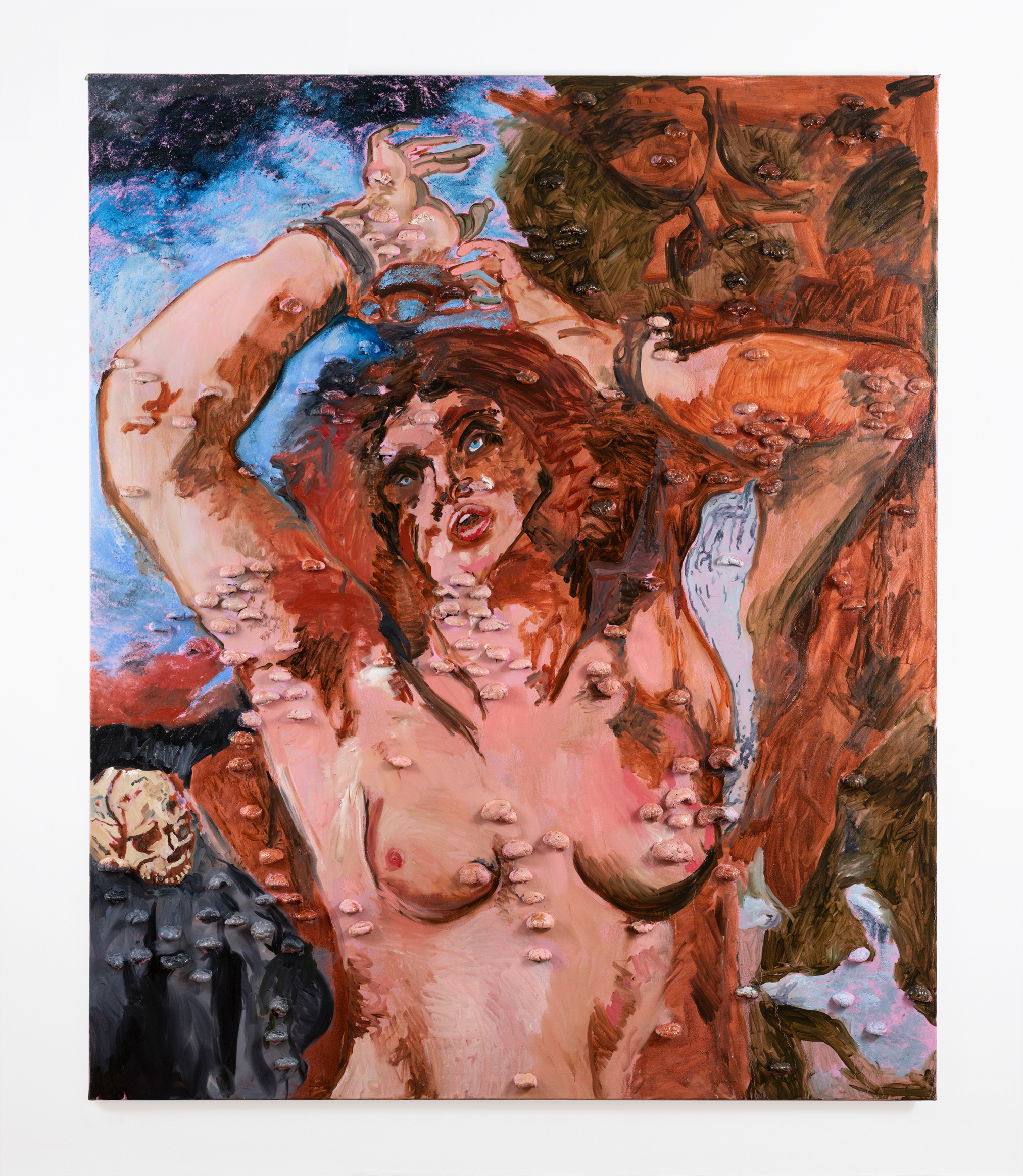 Mathieu Malouf, New York's enfant terrible, scores big with this powerful, in-your-face, herstory painting of Andromeda from Greek mythology. Needless to say, Andromeda had a rough time until finally rescued from what seems like a countless number of annoying men. Mushrooms, Malouf's signature element, are applied to the canvas, covering Andromeda In Ecstasy, 2019. Across the stand is a portrait of Bruno, Sasha Baron's satirical fictional character. Malouf wrote a piece on a Houllebecq exhibition last year for Art Forum. Makes sense to me.
GILI TAL
Places for Connection (Helix Bridge, Singapore), 2019 (pictured left)
Jenny's, Los Angeles, California
€7,000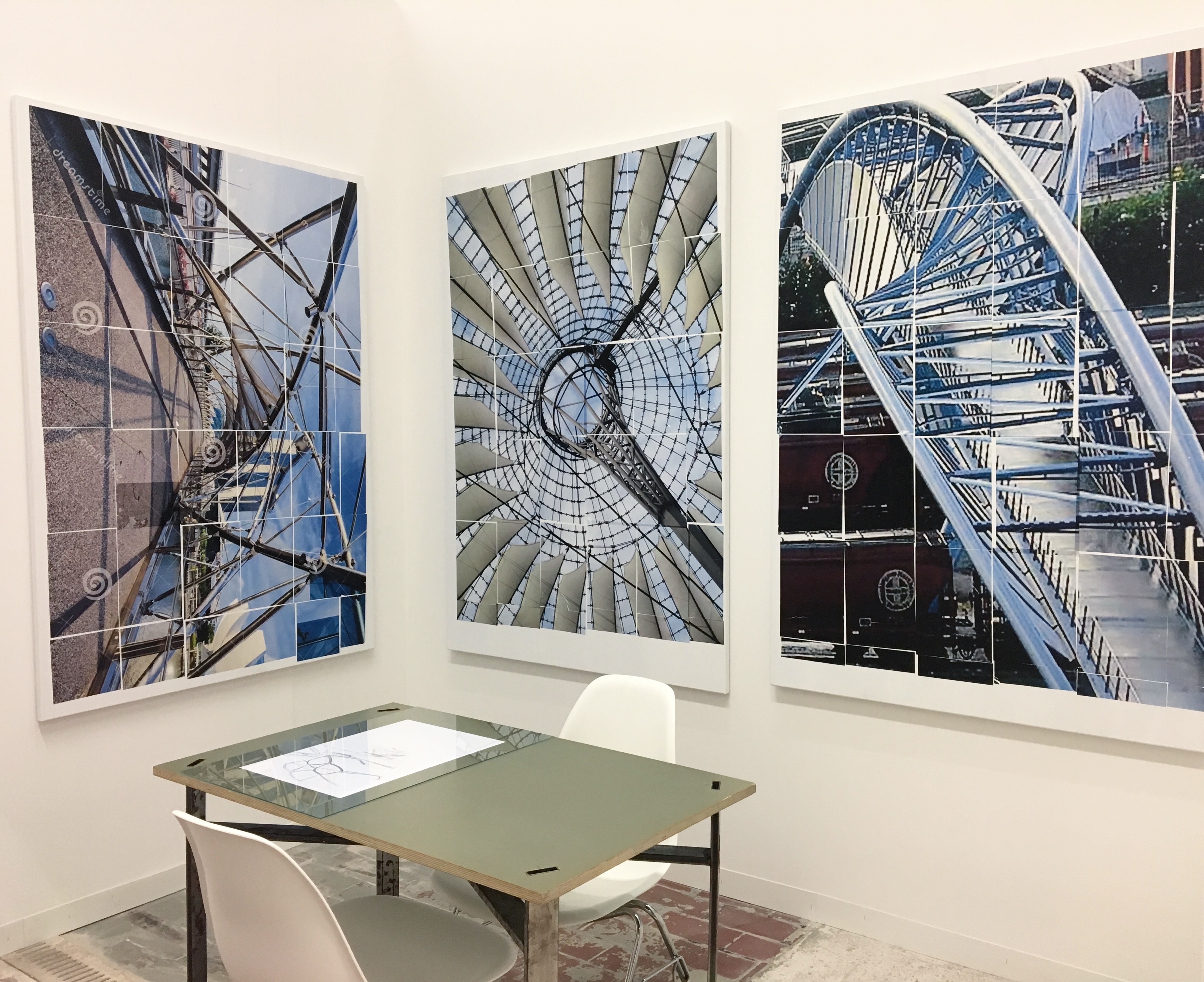 Gili Tal's "paintings" of architectural structures are constructed by applying Lazertan transfer paper in an imperfect puzzle-like grid. Places for Connection (Helix Bridge, Singapore), 2019, is part of a group of images of locations across the globe. They're sourced from the internet with their "watermark" identifiers still visible. Included in Jenny's presentation are fuzzy grey screenshots of exhibitions on Contemporary Art Daily. You can hardly make them out except for one I happened to recognize. I actually bought work from that show.
NAOKI SUTTER-SHUDO
Dispenser (saturns), 2019
Bodega, New York, New York
$4,000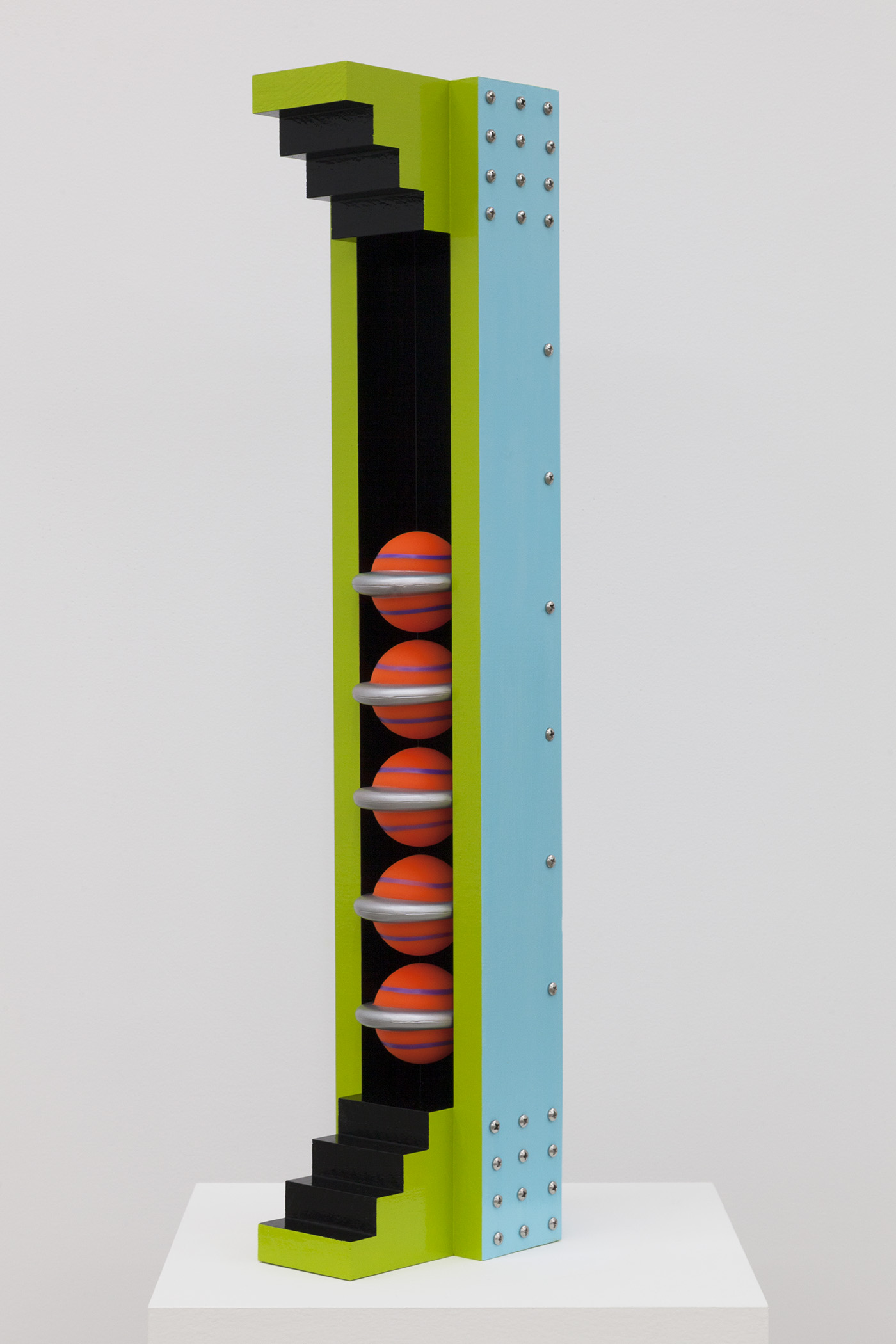 Naoki Sutter-Shudo's sculptures at Bodega are a delightful mixture of surrealism, design, and architectural influence. Inside the seemingly PEZ dispenser-looking sculptures are stress balls representing an existing object in the world like the earth, a human heart, or the planet Saturn like in Dispenser (saturns), 2019. It seems apparent that Sutter-Shudo makes a strong reference to The Memphis Group, an Italian design and architecture group founded by Ettore Sottsass from 1980 to 1988. I've seen their work in museum collections recently and recognize the excitement and fun they brought to design at that time. Sutter-Shudo's use of nostalgia and the familiar, combined with a sense of humor, makes his work a joy to experience and a reminder to chill out!
SAM SAMIEE
Mojtaba, 2018
Dastan's Basement, Tehran, Iran
€6,250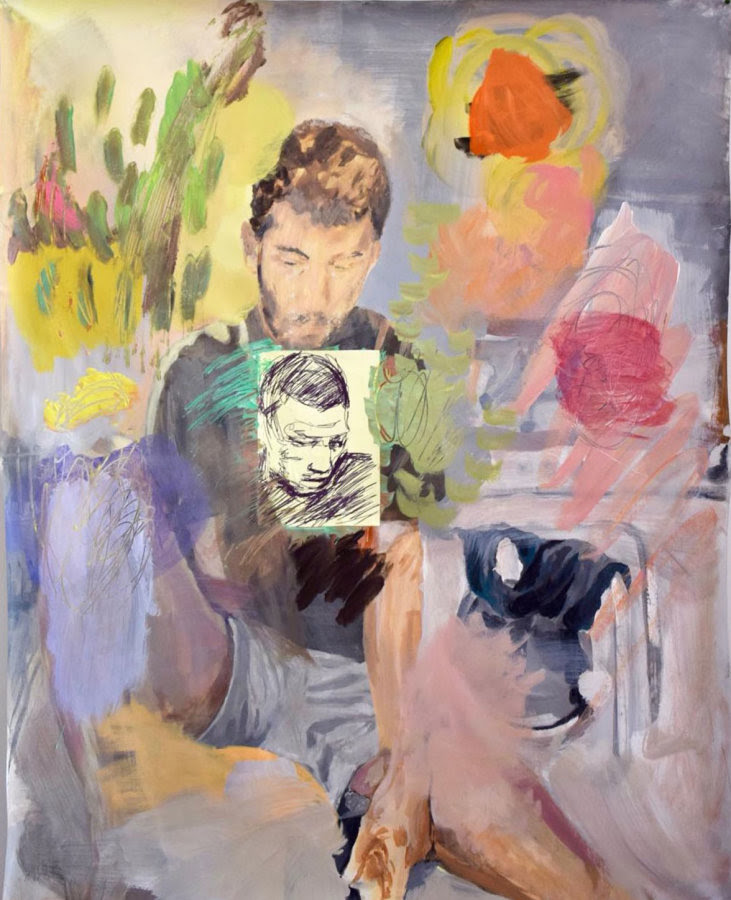 I saw Sam Samiee's work for the first time at Art Basel Hong Kong last year. His gallery, Dastan's Basement, presented a solo show of his paintings and drawings in an installation created by Samiee. Samiee has an incredible sense of color with a bright and beautiful palette. Samiee's painting, Mojtaba, 2018, reflects that use of color. The title of the work translates to the word "chosen." Motjaba is a male Arabic name normally used by religious persons. In Mojtaba, 2018, the male figure is positioned in a provocative manner, which seems to conflict with the meaning implied in the title. The image of a male head in the "cloud" brings a psychological interest to the work. It appears the main figure is in one of Samiee's "shrines of abstract art." Samiee was a participant in the 10th Berlin Biennale.
ANDREA FOURCHY
Horse entwined, 2019
Lomex, New York, New York
$7,500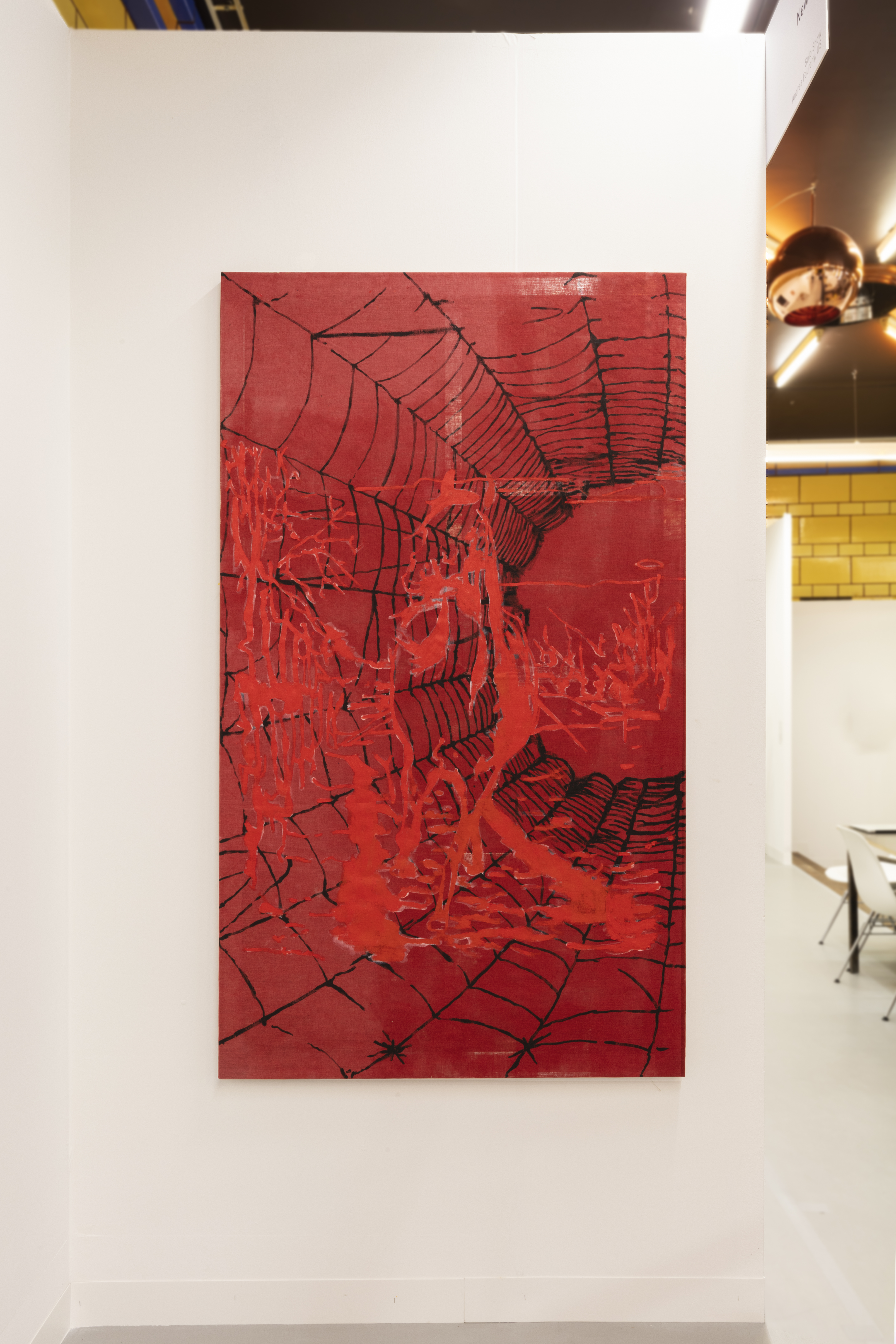 Andrea Fourchy's figurative paintings at Lomex, a gallery located in the Lower East Side in New York, don't have a clear narrative. Instead they feel more interested in how color and imagery makes the viewer feel. Horse Entwined's figurative element is a horse and a cobweb. The horse motif is repeated in one other work at the fair. I've seen other paintings previously where she used the cobweb motif. I'm very attracted to the way Fourchy works with paint on the canvas. It tends to be thin in many instances and saturates the canvas. In the end, Fourchy's work has a moody feeling that is attached to an unknown past.
DYLAN MIRA
밤시각 Night Vision, 2019
Parkview/Paul Soto, Los Angeles and Brussels
$8,000 (Edition of 5 + IIAP)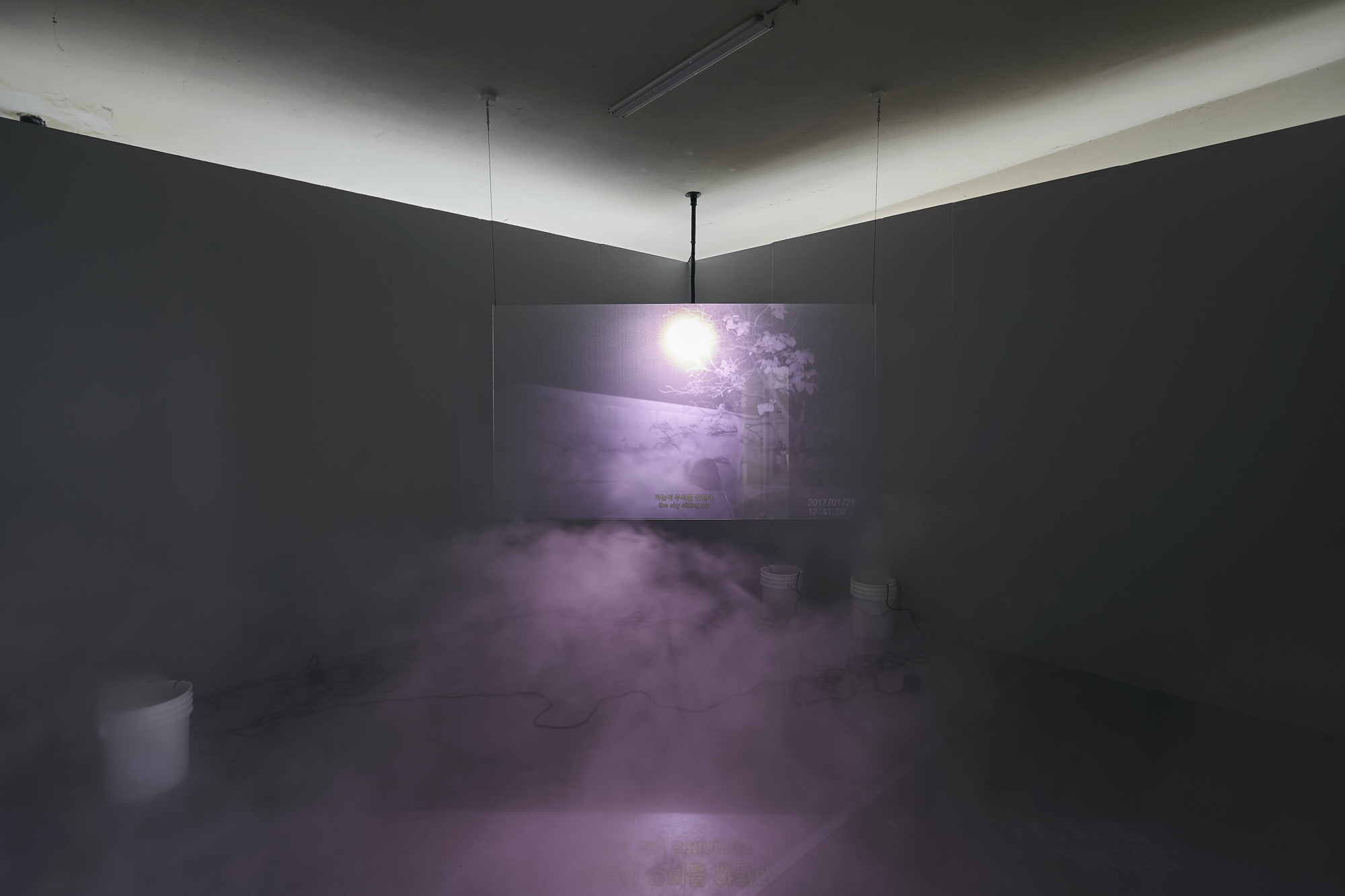 Parkview's presentation of Dylan Mira's video Night Vision, 2019 makes terrific use of a limited amount of space. Night Vision is inspired by family stories passed down to future generations. Mira's film, made with an infrared night camera, is projected onto a clear holographic screen creating multiple images on the adjacent walls. The room is enveloped in a "purple haze," creating an ethereal environment. Mira immerses the viewer into her dreamlike vision and fractured storytelling. Take the journey.
RELATED ARTICLES:
"What I'd Buy This June" : Artspace's Advisor Shares the Artworks in Her Cart
7 Artists to Watch in June 2019
"Rise, React, Revolt": 5 Reasons to Collect These Iván Navarro Works