Artspace's trusted advisor sifted through the Artspace collection for a fresh take on her faves. Read her reasons behind why she would buy each piece—chosen with equal parts love and insider insight—and get your hands on one before she does!
SIMONE LEIGH
Premye, 2011
$400, or as low as $36 /month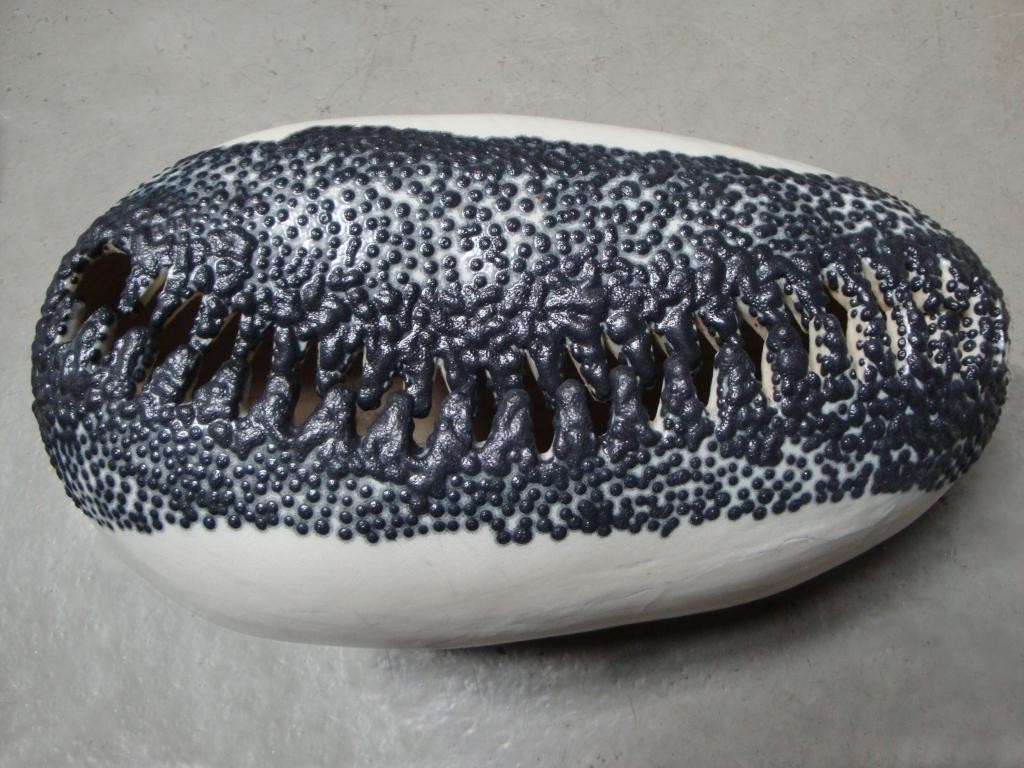 If you've been following Simone Leigh for years and telling yourself that one day you'll get one of her works, you're running out of time. Simone Leigh's career has taken off; especially since receiving the Solomon R. Guggenheim's Hugo Boss award and solo exhibition, and her commission for the inaugural High Line "Plinth" program, Leigh is in high demand. This work, Premye, is a great (and affordable!) example of her larger practice, which investigates the female body, folk traditions across the African diaspora, and the roles of craft and domesticity. Premye depicts the artist's first porcelain cowrie-like sculpture. The cowrie shell has numerous cultural significances—monetary, religious, and fertility—in both African and Asian cultures. Oh, and don't forget: Kordansky Gallery just announced that it will represent on the artist on the west coast. You know what that means? Don't kid yourself any longer—snatch this up while you still can afford it.
CAITLIN KEOGH, MICHELE ABELES,
RICHARD ALDRICH, SUSAN HOWE, & MAGGIE LEE
Artists Space Annual Edition Portfolio, 2017
$1,000, or as low as $88 / month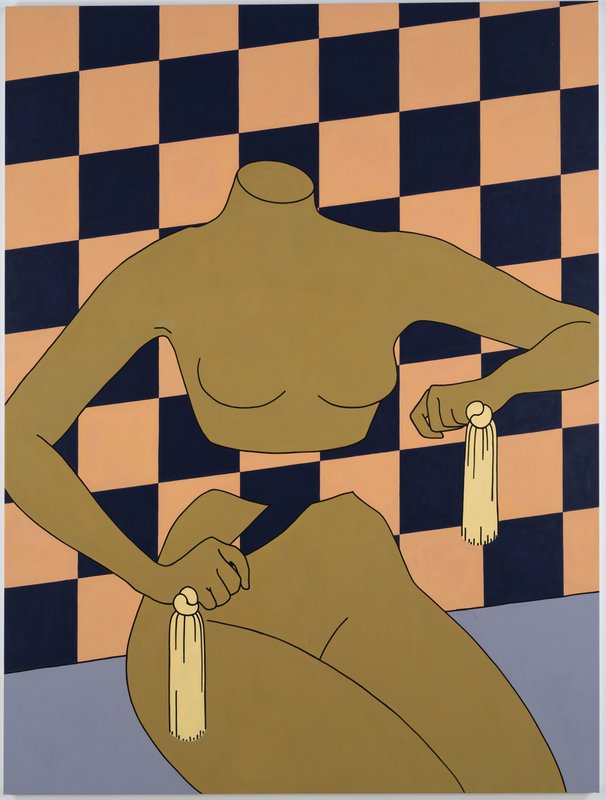 I dare you to not be tempted by Caitlin Keogh's vivid and alluring paintings, which explore themes of gender, representation of the body, and their relationships to style and identity. Keogh's background in drawing and technical illustration, and interest in fashion, come through in her deliberate lines that are complemented by bold colors and often complex ornamentation. Represented by Bortolami in New York, Keogh first gained attention from her 2015 solo exhibition at Mary Boone Gallery (curated by Piper Marshall) and inclusion in the successful "Flatlands" group exhibition at the Whitney Museum. From there, she had her first solo exhibition at the ICA Boston—a strong start for an emerging artist! You can find a signature example of her work in this Artists Space portfolio, a suite that has consistently indicated success for up-and-coming artists on the rise.
HERNAN BAS
The Boy Who Fell for the Fall, 2013
$450, or as low as $40 / month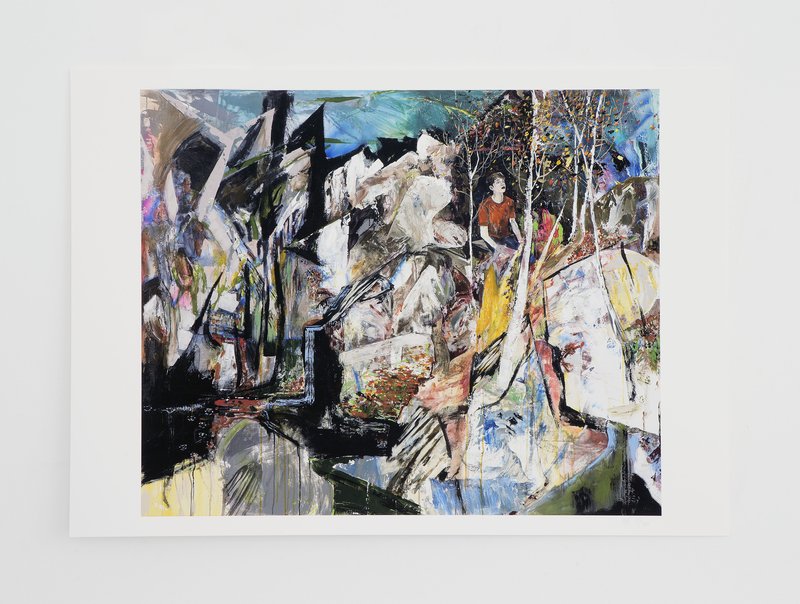 By no means an emerging artist, Hernan Bas has been steadily climbing the ranks and demand is not slowing down. His darkly playful paintings have been shown in major museums, such as the Brooklyn Museum, Rubell Family Collection, and Whitney Museum. I was particularly impressed by his solo presentation at TEFAF last month and there will be a group of commanding portraits on view at Art Basel this week. The artist's melancholic paintings are very Romantic-esque and often reference literature (think: Moby Dick, Oscar Wilde, and the Hardy Boys). As seen in The Boy Who Fell for the Fall, Bas places his protagonists in the heart of dramatic landscapes. In this particular work, he sets the delicate depiction of a boy and trees amongst an expressionist rocky mountain, conjuring a world that defies time or place. If you're hoping to add a Bas to your collection—and don't want to end up on a waitlist—I wouldn't wait around to pull the trigger on this gem.
KIM GORDON
Air Bnb silverlake, 2018
$525, or as low as $47 / month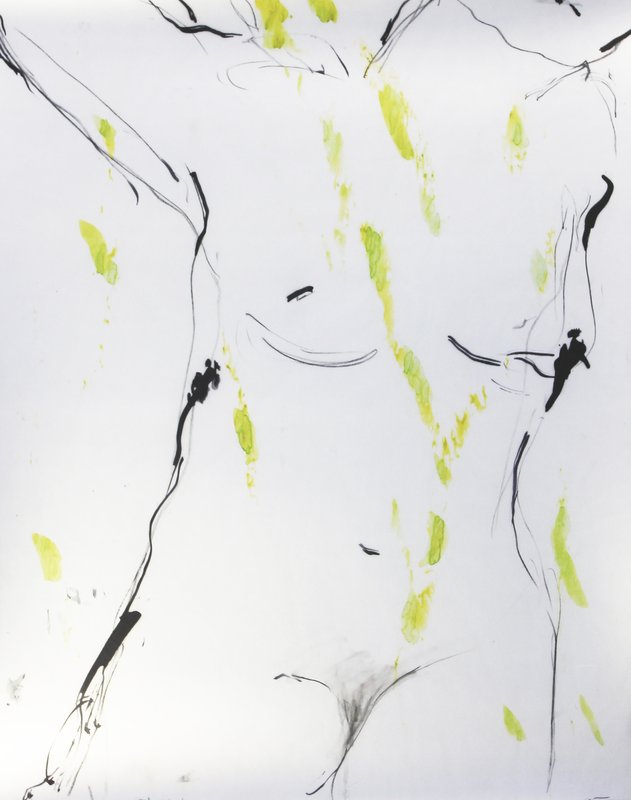 Kim Gordon's reputation as a visual artist could likely surpass that as the co-founder of the celebrated band Sonic Youth. Gordon, who studied at the Otis Art Institute of Los Angeles in the late 1970s, has worked as an interdisciplinary artist her entire career. Last month, she opened her first North American solo exhibition at the Andy Warhol Museum in Pittsburgh, "Kim Gordon: Lo-Fi Glamour," which will be on view until September 1st. Gordon cites Warhol as one of her artistic influences, which should come as no surprise given their shared multidisciplinary practice, lo-fi aesthetic, and interest in performance and film. In a profile of the artist, Garage Magazine called her paintings "an encyclopedia of cool," and isn't that so Warhol? Included in the exhibition are a selection of nude drawings on tracing paper, part of Gordon's "Airbmb" series. This work, an Artspace Edition that was produced with (and benefits) the Brooklyn Academy of Music, is part of that same series. Printed on shimmering metallic silver paper, Airbnb Silverlake captures that essence of "cool" that only Kim Gordon can define.
JENNY HOLZER
SOFT AND LOVELY, 2018
$1,058, or as low as $74 / month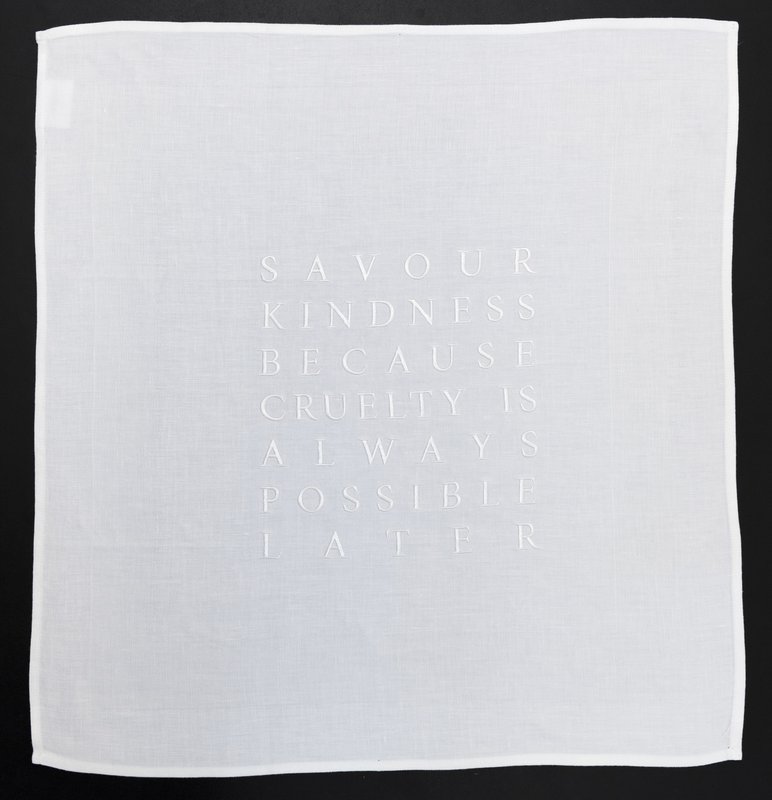 These newly added limited-edition napkins by Artspace favorite Jenny Holzer were just too good not to include in this round up. I don't need to spend much time reminding you of all the reasons why Jenny Holzer is one of the top artists of our generation, so here's a brief update on her latest news: on the heels of her successful solo exhibition at the Guggenheim Bilbao, Holzer was selected as one of six artists to curate the exhibition "Artistic License: Six Takes on the Guggenheim Collection," which is on view now until January 2020. She will also receive the 2019 Jesse L. Rosenberger Medal for Outstanding Achievement in the Creative and Performing Arts this week. I recently returned from Venice, where I saw one of Holzer's iconic footstools at the Peggy Guggenheim Collection incised with "Savour kindness because cruelty is always possible later." A fitting expression for our current world, wouldn't you agree? Find this phrase and two other poetic ones in this set that benefits the Tate in London. They can be framed, gifted, or both! Only 30 were made, and this is a tiered edition, so don't hesitate to make a move before they go up in price—and then sell out.
RELATED ARTICLES:
"What I'd Buy This May" : Artspace's Advisor Shares the Artworks in Her Cart
"Rise, React, Revolt": 5 Reasons to Collect These Iván Navarro Works
"What I'd Buy This March": Artspace's Advisor Shares the Artworks in Her Cart