The fall season forges on; with three major art fairs (Expo, Frieze , and FIAC) already behind us and Miami looming on the horizon, there have been notable museum exhibitions and publications that have cropped up in between. What follows are a selection of works from my collecting wish list by artists currently in the limelight.
SARAH CROWNER
Concrete Art , 2013
$600 or as low as $53 / month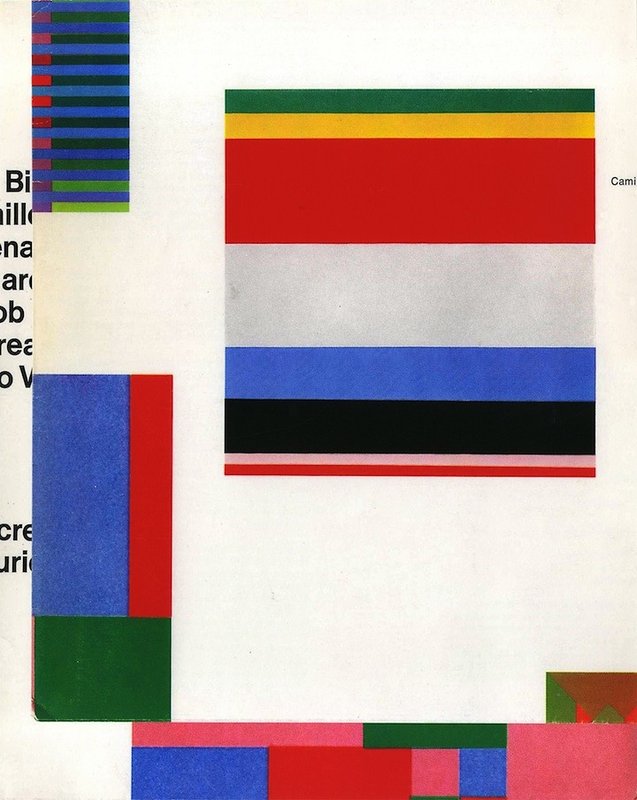 Sarah Crowner is best known for her bright and energetic paintings, often made by sewing together pieces of canvas and cloth. Her work incorporates forms found in architecture, nature, and 20th-century art and design, even the hard-edge paintings of the 1960s. In recent years, she has also constructed wood sculptures and ceramic tile murals that interact with the paintings, creating well-rounded installations. Crowner has had a big month—not only did her work set an auction world record at the London sales, but her monumental work, Wall (Wavy Arrow Terracotta) was also included in the prestigious 2018 Carnegie International, which recently opened at the Carnegie Museum of Art in Pittsburgh. What's more, the artist debuted a 46-by-40-foot backdrop, scenery, and costumes in Garden Blue , Jessica Lang's latest ballet for the American Ballet Theater . On her collaboration with Crowner, the famed choreographer tells the New York Times , "I immediately found that we were very like-minded: practical and yet inventive within the parameters of how far we can push boundaries." Now is the time to support Crowner's boundary pushing practice!
AI WEIWEI
Study of Perspective - The White House , 2017
$666 or as low as $59 / month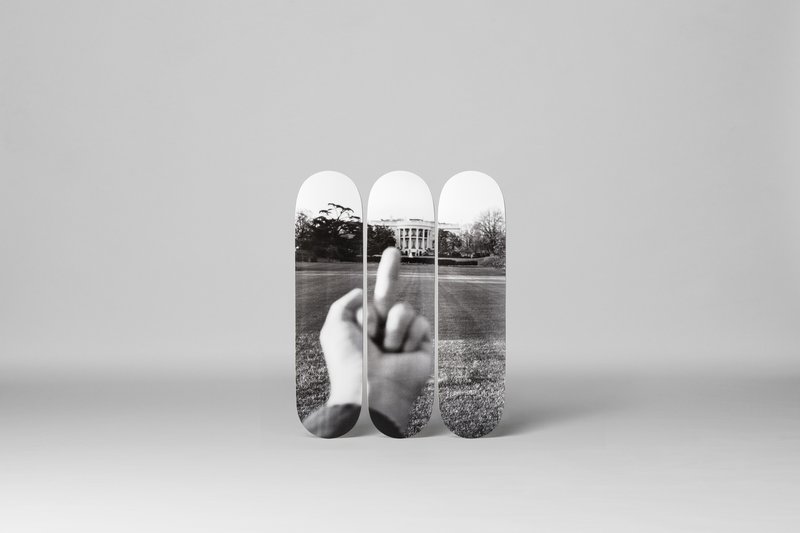 Ai Weiwei, who is no stranger to making headlines, is receiving lots of deserved attention for "Ai Weiwei: Life Cycle," his exhibition at the Marciano Art Foundation , which also happens to be his first major institutional show in Los Angeles. All of Ai Weiwei's artworks are the results of his ongoing engagement with politics and social justice, and Study of Perspective - The White House feels particularly relevant in our current overcharged political climate. (Not to mention, the artist just announced he will be moving from Berlin to the United States .) The "Study of Perspective" series, shot between 1995 and 2003, shows the artist flipping the finger against buildings across the globe, either landmarks or symbols of authority. The gesture, captured using a snapshot aesthetic, confronts its viewer with a universal and concise statement of Ai Weiwei's political opposition. Ai Weiwei partnered with the Skateroom to create this special edition of decks to benefit two human rights organizations. If you want to make a political statement while supporting a good cause, this is the work for you.
OLAFUR ELÍASSON
Your reversed Berlin sphere , 2016
$20,000-30,000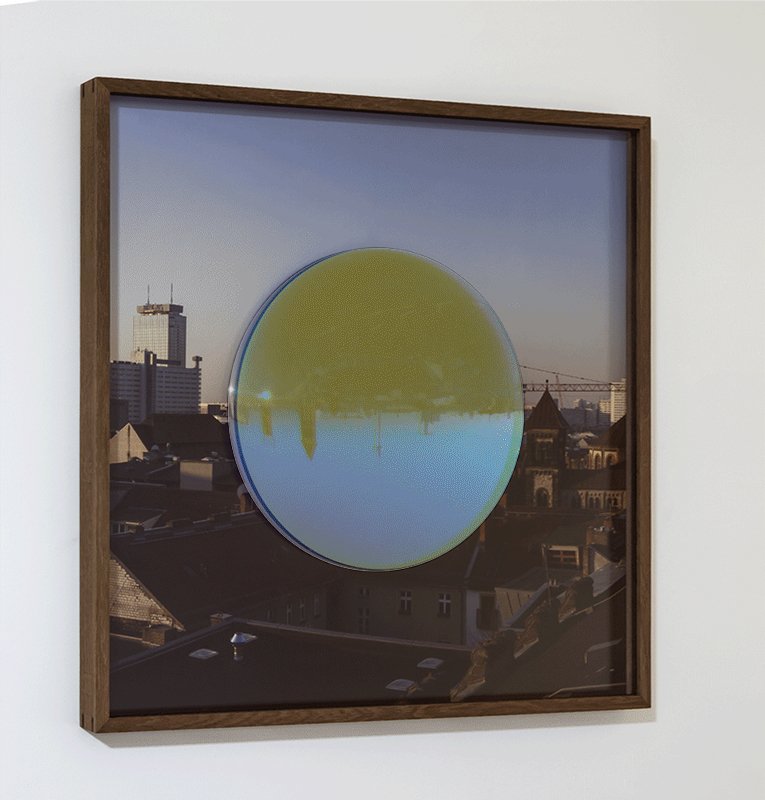 I would go as far as to say that Olafur Eliasson is a universally loved artist. He is certainly one of the most multifaceted and influential, based on his three-decades-worth of memorable installations staged around the world. Phaidon just published its latest book with the Icelandic-Danish artist, Olafur Eliasson: Experience , which chronicles nearly every work in his artistic practice, from his most memorable interventions such as The Weather Project (2003-2004) at the Tate Modern in London to his smaller, more delicate works. Also included in the book are views of the artist's Berlin studio, which is why I am highlighting Your reversed Berlin Sphere here . This fantastic work shares the spark of Eliasson's larger institutional work, with the added bonus of being accessibly scaled, so you can enjoy it without making serious structural alterations to your home. The view from the artist's studio is set as the photographic background, while that same view is inverted in a round glass disc that changes color as the light that shines on it, or the viewer's position, changes. Put simply, it's an optical delight and an investment worth making.
SARAH LUCAS
Eating A Banana (Revisited) , 1990-2017
$10,000 or as low as $880 / month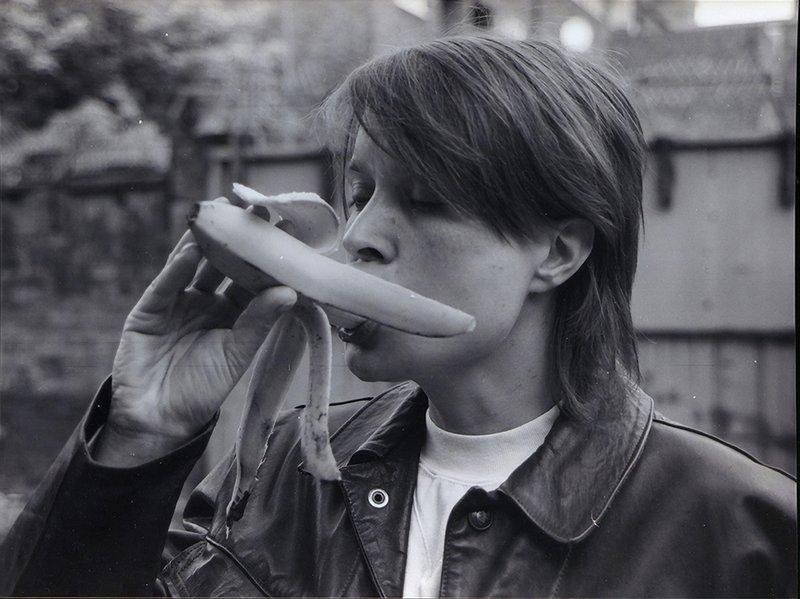 Sarah Lucas is unquestionably a BAMF. An original member of the Y.B.A. (Young British Artist) artist group, Lucas came to prominence among contemporaries Tracey Emin and Damien Hirst in the late 1980s and 1990s, and has maintained her brand of provocative ball-busting work throughout her career. Her solo exhibition at the New Museum in New York, "Sarah Lucas: Au Naturel," is her first, and arguably long-overdue, American museum retrospective. (Check out Phaidon's survey publication for the exhibition here .) In her New York Times review of the show, Roberta Smith writes, "Her blunt yet ambiguous meditations on gender, class and language make her one of the few great artists to emerge from the Y.B.A. ranks." Eating a Banana (Revisited) was created as a special edition to celebrate the New Museum's anniversary.  It returns to an early self-portrait, never-before printed, that shared a contact sheet with her first-ever self-portrait: the now iconic Eating a Banana (1990). This image exemplifies the blunt, daring, sexualized, and humorous style for which Lucas is celebrated.
TOMÁS SARACENO
Biosphere 3 , 2015
$800 or as low as $71 / month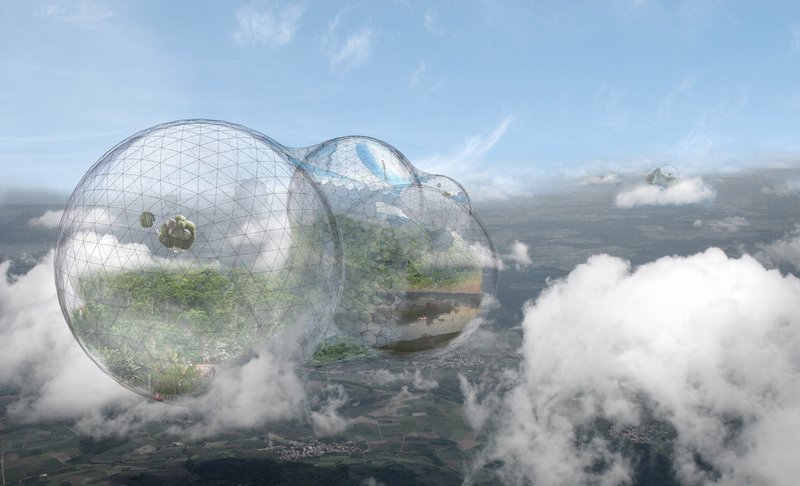 Tomás Saraceno is just the type of dreamer we need right now. His multidisciplinary practice, in particular his floating sculptures, have dazzled viewers for years, though it feels even more relevant now given the latest news about the realities of global climate change. Biosphere 3 is based on his installation project Cloud Cities , which imagines speculative structures that human beings could theoretically inhabit the upper atmosphere. Here, Saraceno renders enclosed geodesic structures that hold entire lakes and forests, floating in the clouds. The artist (who is also trained as an architect) has collaborated with scientific institutions for his numerous exhibitions and his latest show, " On Air " at Palais De Tokyo, Paris, is no exception. His aim is to challenge us to rethink different ways of inhabiting the world—and of being human. We should look to Saraceno's ongoing work and let it inspire us to institute the type of change our future planet needs.