The following is written by Hannah Parker, Artspace's trusted art advisor. She describes her personal collecting wishlist. Feel free to contact advisor@artspace.com to speak with Hannah about sourcing works from your collecting wishlist.
If there's one thing a new collector can relate to, it's the frustrating experience of being "waitlisted"—added to a rank of names all because the artist in question is simply too popular and there just isn't enough to go around. Here, Artspace's trusted advisor, Hannah Parker, made her own list: available works by artists who typically have waitlists for their most sought after work. Read her reasons behind why she would buy each piece, see the collection for a larger selection of works—and get your hands on one before she does!
TOYIN OJIH ODUTOLA
Birmingham (center), 2014
Inquire for Price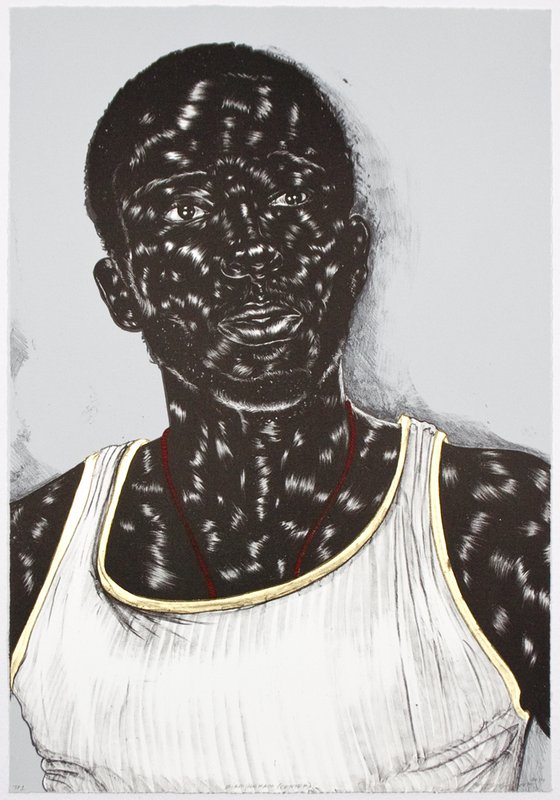 Toyin Ojih Odutola is the inspiration for this entire article. I first learned about the Nigerian-born, New York-based artist when I saw one of her pen and ink portraits included in a benefit auction four years ago and I have been watching her work's evolution ever since. Focused on identity politics and social issues, her work is characterized by the distinctive depiction of skin. She explains, "Skin as geography is the terrain I expand by emphasizing the specificity of blackness, where an individual's subjectivity, various realities, and experiences can be drawn into the diverse topography of the epidermis." Odutola opened her first solo museum exhibition in New York at the Whitney Museum this October and followed it with a solo exhibition at SCAD that is on view through September. Once that exhibition closes, she will be featured in a three-person exhibition at the Drawing Center in New York. To top that, she also graced the cover of Cultured magazine alongside Solange Knowles. Not bad, right? She does not make many artworks per year so as one can imagine, there is a substantial waitlist. We have one impression of this early edition of hers available, so join the ranks of MoMA, the Studio Museum of Harlem, and the Smithsonian by adding this work to your collection.
AMY SILLMAN
S & E, 2007
$5,000 or as low as $440 / month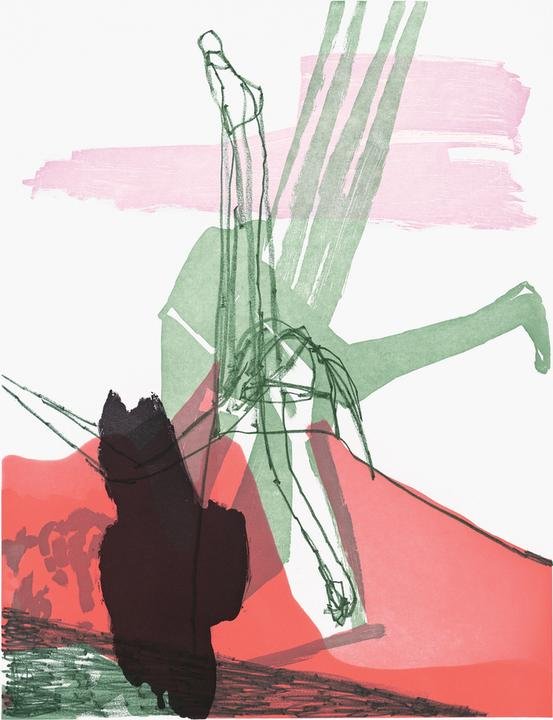 "Taking interest" is another response one might receive from a gallery in advance of an art fair or exhibition opening, meaning they're getting so many inquiries about a work, they've begun to keep a record to manage demand amongst multiple sales people and many hungry clients. Such is the case with Amy Sillman, whose booth at TEFAF in March was so popular that the gallery had to take interest during the first VIP hour and sold everything by the end of the first day. The celebrated painter is best known her her satirical humor and artistic practice that blurs the lines between figuration and abstraction. As seen with S & E, Sillman's work turns heads (sometimes literally) for its rich colors and seemingly multiple orientations. SFMOMA, the Hirschorn, and ModernaMuseet are among the numerous museums who collect her work; you should too.
SANYA KANTAROVSKY
Proximity II, 2016
$1,200 or as low as $106 / month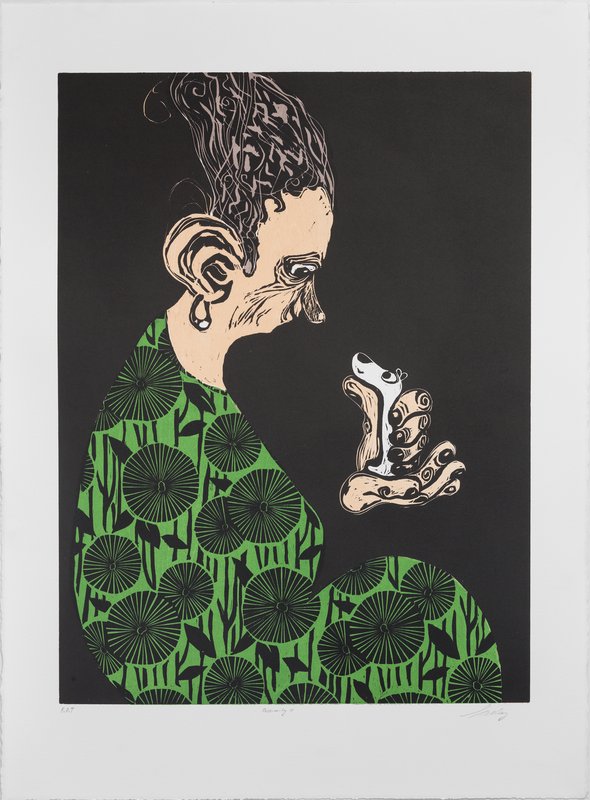 Multimedia artist Sanya Kantarovsky also falls into the "taking interest" category. The Russian artist's figurative paintings in particular have recently become so desirable that whenever a single work appears at a fair booth, it is either reserved or available to take interest. It's no surprise that this is case, considering Kantarovsky's delightfully odd work is representative of the many celebrated qualities of figurative painting today. As seen in Proximity II, the artist builds a narrative around a figurative subject that pushes the physical confines of the medium. The woman's uneasy expression contrasts with the vibrant, yet super flat, patterned textile she adorns. Kantarovsky is known to reference broad histories of painting and literature and tie them to his intimate subjects. Oh, and did I mention he was highlighted in the latest installment of Phaidon's popular Vitamin P3, a serial compendium of the most cutting edge painters pushing the medium today?
NICOLE EISENMAN
Grace II, 2015
$3,500 or as low as $308 / month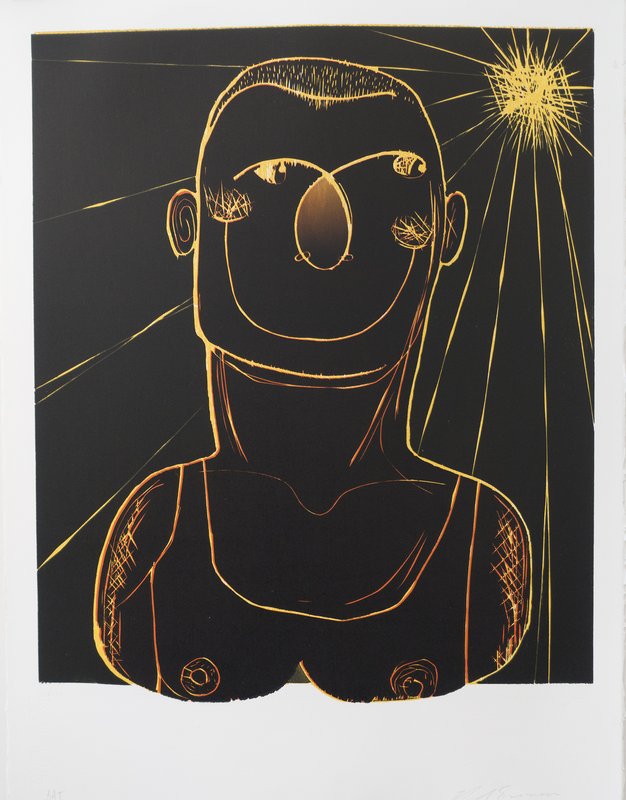 Nicole Eisenman has been very busy. Following her knockout solo exhibition at the New Museum is 2016, she exhibited at Secession in Vienna, Skulptur Projekte Münster in Germany, and made headlines for her surprise pop-up project during the Dallas Art Fair, "One Night Only." She recently opened a show of new work in Los Angeles at Suzanne Vielmetter Projects and in November will return to Germany at the Kunsthalle Baden-Baden. Institutional demand for her exhibitions is high; demand for her work is even higher. You might be able to find some nice ink drawings, but if a coveted painting is what you want, take a ticket. Instead, why not acquire this woodcut in Eisenman's signature style while it is still affordable and save yourself a few years of waiting? The value of work by this Carnegie-Prize-winning McArthur Genius is only rising.
KATHERINE BRADFORD
Single Plane, 88012, 2008
$3,500 or as low as $308 / month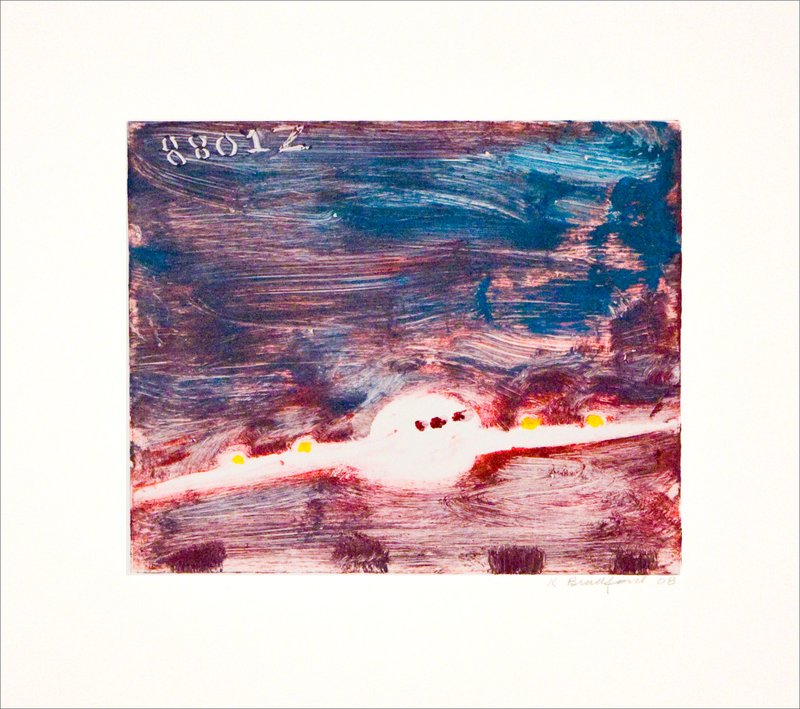 Katherine Bradford is my be-all-end-all of artists with a waitlist. Every gallery or curator you contact will inevitably tell you how many other people have also asked about acquiring her paintings… and then will offer to put you on an interest list. The award-winning artist (yes, she has won coveted awards from American Academy of Arts, Joan Mitchell and Pollock-Krasner foundations, and the Guggenheim Museum) is celebrated for her atmospheric, dreamlike landscapes typically featuring the sky and clouds. Bradford's lush use of color further adds to the poetic otherworldliness of her scenes, with her cast of characters flying and floating in space. Bradford's printmaking happens to be a substantial part of her overall practice, and Single Plane 88012 is a monotype, which means it was only printed once, making it unique! Don't waste another moment reading this article and purchase your one-of-a-kind Katherine Bradford work. (PS: If this one sells, or you prefer a moodier color scheme, check out Single Plane, Night.)
RELATED ARTICLES:
"Why I'd Buy This March": Artspace's Advisor Hannah Parker Shares the Large-Scale Works In Her Cart
"What I'd Buy This April": Artspace's Advisor Hannah Parker Shares The Artworks In Her Cart
"What I'd Buy This May": Artspace's Advisor Hannah Parker Shares the Landscapes in Her Cart