As the year comes to a close, Artspace's trusted advisor discusses some of the most talked-about artists of 2018—and anticipated artists of 2019. Read about who she selected and why, and add the artists' work from her collecting wish list to your cart before she does!
HANK WILLIS THOMAS
Rich Black Specimen Suite, 2013
$8,000, or as low as $704 per month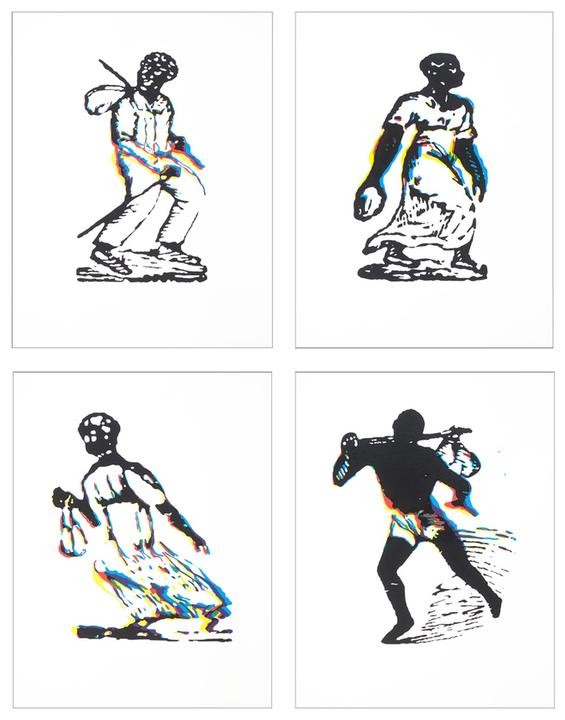 Hank Willis Thomas has been the talk of the town (really, the country) this year, particularly for his work via For Freedoms, "a platform for creative civic engagement, discourse, and direct action." In June, For Freedoms partnered with Kickstarter to launch "50 States, 50 Billboards," the largest creative collaboration in U.S. history. This campaign enlisted 52 artists to reproduce their artworks on billboards across 50 states, Washington D.C., and Puerto Rico, to encourage everyone to get involved in civic conversations (and to take it further, to vote in the midterms). He was recognized for his work with For Freedoms in a big spread in the New York Times last month. As a conceptual artist working primarily with themes related to perspective identity, commodity, media, and popular culture, Thomas makes work that brings to the forefront how history has presented and misrepresented African American identities and then reconfigures them. Thomas has even more ahead of him; next year, he will open a solo exhibition, "All Things Being Equal," at the Portland Art Museum, in addition to a solo exhibition at Goodman Gallery in South Africa.
KATE GILMORE
Leak from the Top, 2012
$2,500, or as low as $220 / month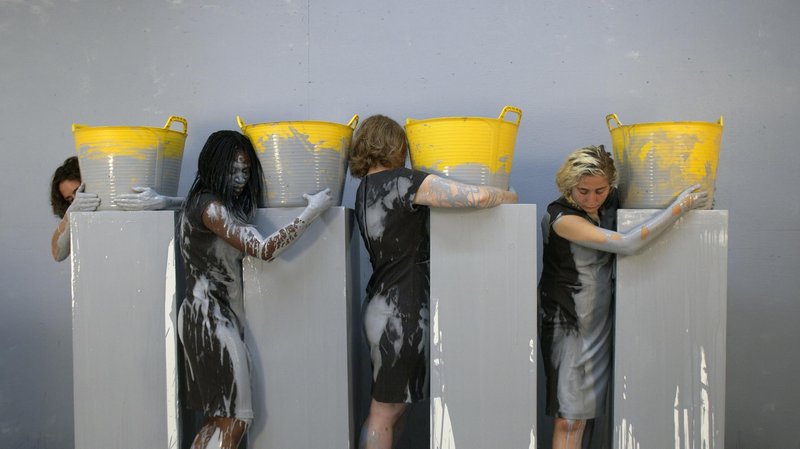 I've got my eye on Kate Gilmore, the New York-based artist who works in installation, video, and performance, often imposing upon her own physicality in post-feminist critiques of sex and gender. Her subject matter feels so relevant, both art-historically and in relation to the year's worth of events. She's had a very steady and successful career thus far, having participated in the Whitney Biennial (2010), the Moscow Biennial (2011), PS1 Greater New York, MoMA/PS1 (2005 and 2010) in addition to solo exhibitions at the Everson Museum, the Aldrich Contemporary Art Museum, MoCA Cleveland, Public Art Fund in Bryant Park, Institute of Contemporary Art, Philadelphia, and Contemporary Art Center, Cincinnati. Do you think that's a long list? I won't even mention all the awards she has received, with the exception of the most recent 2018 "Anonymous Was A Woman" award, which is "given in recognition of an artist's accomplishments, artistic growth, originality and potential." Recipients are nominated by past recipients and other distinguished women in the arts, so you know that other art-world insiders have their eyes on her too!
EBONY G. PATTERSON
Untitled (Among the weeds, plants, and peacock feathers), 2015/2018
$750, or as low as $66 / month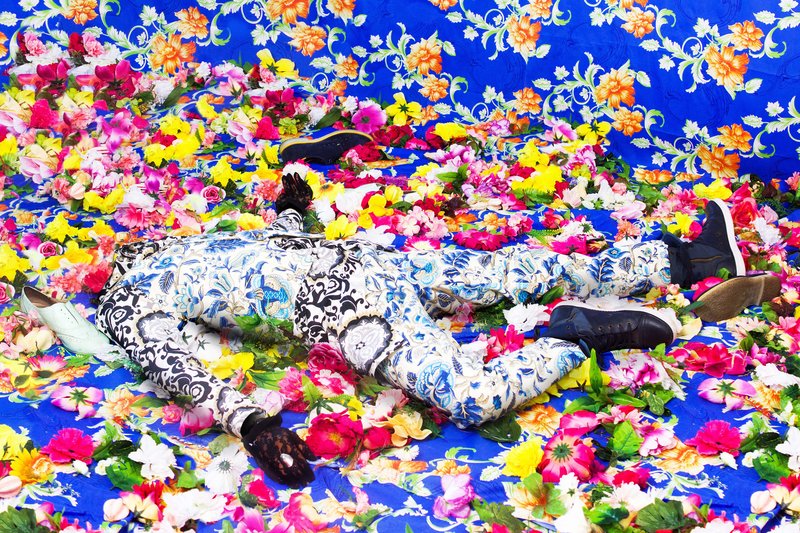 Ebony G. Patterson has had a triumphant 2018. In just one year, she staged five solo exhibitions and organized a site-specific installation for the inaugural "Open Spaces" Biennial in Kansas City, Missouri (curated by the venerated Dan Cameron). The artist, who lives between Kingston, Jamaica and Lexington, Kentucky, is lauded for her highly embellished drawings, tapestries, and mixed media installations. They are utterly seductive, yet they draw viewers' attention to darker themes such as youth culture within disenfranchised communities, the memorialization of the lost or forgotten, and acts of protest. I was captivated by her jaw-dropping exhibition at the Perez Art Museum in Miami, and was equally blown away by the resulting images of her "Open Spaces" installation. It's worth noting that Untitled (Among the weeds, plants, and peacock feathers) was produced in support of the artist's Kickstarter campaign that raised over $18,000 to bring this installation to life. Patterson's work is some of the most striking and thoughtful work I've encountered all year; she is certainly an artist worth supporting.
PETER HALLEY
Pardes 5761, 1999
$900, or as low as $80 / month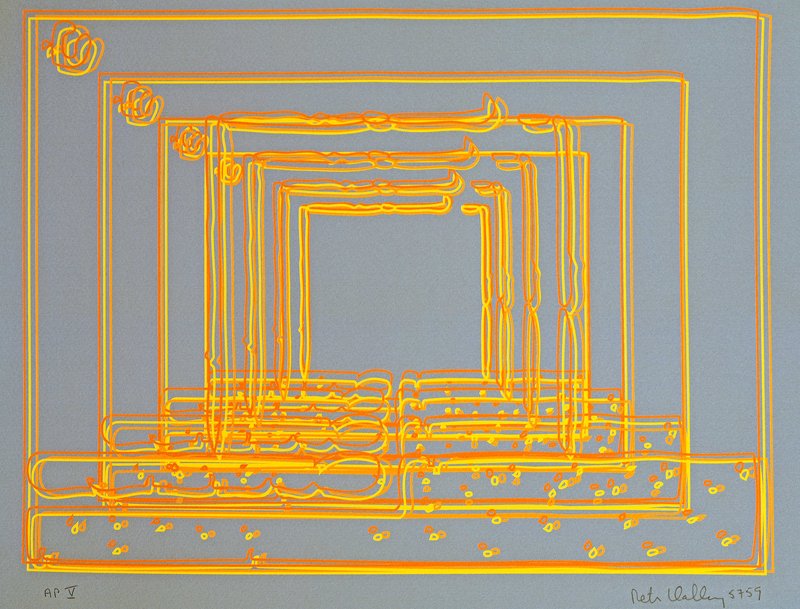 Peter Halley's work is unmistakable. Halley's geometric works play with the relationships between what he calls "prisons" and "cells"—icons that reflect the increasingly geometric social spaces we live in. The artist (and writer) came to prominence in the 1980s East Village scene, largely associated with the Neo‐Conceptualist movement, though he's been in the limelight this season for his largest, most ambitious New York City project to date: New York New York, a multi-media installation at the iconic Lever House in midtown Manhattan. (If you haven't seen it yet, hurry! It's on view until December 31st.) For what it's worth, I noticed many dealers exhibiting his work at their booths in Miami earlier this month, and that the artist has a solo exhibition with his New York City gallery slated for 2019. Halley's work has been sought-after throughout his career and demand is only growing.
JULIE MEHRETU
Haka, 2012
$3,800, or as low as $335 / month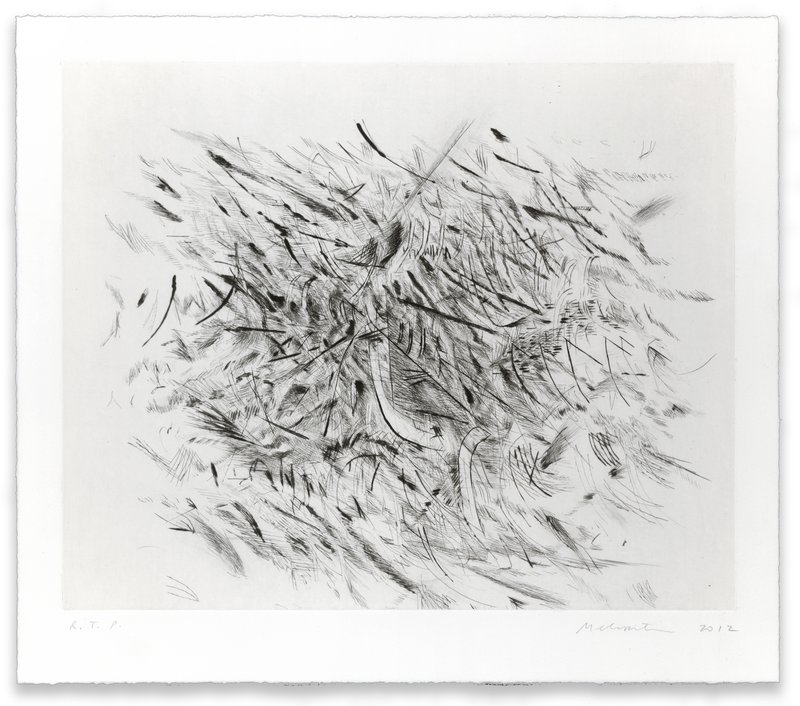 I first wrote about Julie Mehretu's work nearly a year ago after experiencing her monumental mural at SF MoMA. Quick recap: she's a MacArthur Genius, her work has achieved blockbuster auction results, and she is beloved by major museums around the world. This fall, Mehretu debuted a solo exhibition of new work, "SEXTANT," at White Cube in London. It was just announced that Mehretu will have her first major traveling mid-career survey in 2019. Organized by Christine Y. Kim from the Los Angeles County Museum of Art (LACMA) and Rujeko Hockley from The Whitney Museum, the exhibition will also travel to the High Museum of Art in Atlanta and the Walker Art Center in Minneapolis. The show will bring together her large-scale paintings with her more intimate drawings and prints. Now, I don't have a crystal ball, but I wouldn't be surprised if a work from this series, or another that the artist produced with respected printshop Gemini G.E.L., is included in the exhibition. Haka has the composition and movement of the artist's paintings and the intimacy of her mind-breath drawings—it's too good to pass up.
RELATED ARTICLES:
"What I'd Buy This October": Artspace's Advisor Hannah Parker Shares the Artworks in Her Cart
"What I'd Buy This September": Artspace's Advisor Hannah Parker Shares the Artworks in Her Cart
"What I'd Buy This June": Artspace's Advisor Hannah Parker Shares the Artworks in Her Cart