In contrast to the big-budget (and better-known) art fairs dominating New York's Armory Week, SPRING/BREAK offers something a little different: booths designed by curators, not gallerists, that feature genuinely exciting works at approachable prices by emerging or lesser-known artists. The fair, started in 2012 by the curatorial/organizational duo Ambre Kelly and Andrew Gori, prides itself on both its theme-based format (this year's is Copy & Paste; last year's was Transaction) and the youthful, devil-may-care energy that permeates its booths. Here, the founders give us the low-down on some of the most notable offerings from the fair's brief history. To check out the latest edition, stop by the Skylight at Moynihan Station from March 2-7.

RUSSELL TYLER
Curated by Adam Mignanelli (Ballast Projects)
2013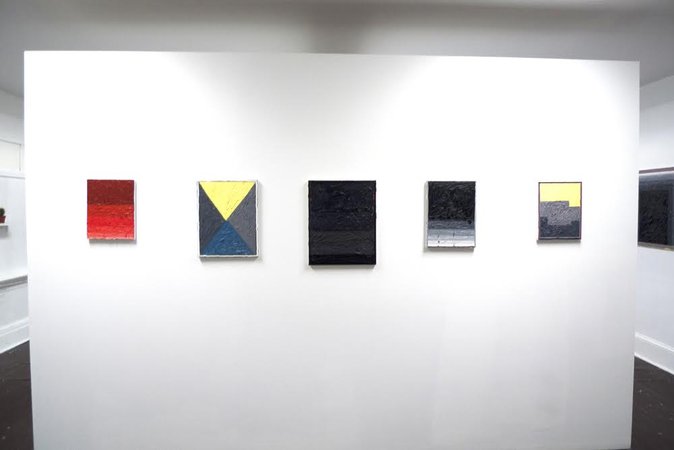 Photo credit: Adam Mignanelli/Ballast Projects
With a solo show at Richard Heller Gallery in February, and a solo show with Elizabeth Denny this past fall (not to mention a booth with Denny at Untitled during Art Basel/Miami), it's hard to believe Adam Mignanelli first introduced Russell's work to us just three years ago during our 2013 SPRING/BREAK Art Show. Under the theme New Mysticism, Russell's textural, Albers-esque gradients exalted 8-bit graphics from computer games and outdated TV graphics to the sublime. We were instantly blown away.
RACHEL ROSSIN
Curated by Aaron Levi Garvey
2012, 2015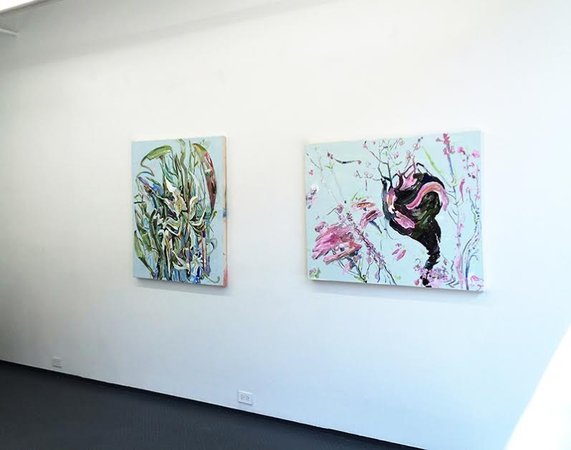 Photo courtesy: Elliott Levenglick Gallery
Rachel Rossin, with her well-received solo shows at Zieher Smith & Horton and Elliott Levenglick Gallery this past year, also showed her "Lossy" works at SPRING/BREAK 2015 through former SCAD curator Aaron Levi Garvey. Before this, she exhibited very different sculptural installation works with SPRING/BREAK through curator Cecelia Stucker for our 2012 show, Apocalist (also great), but it was last year's series that would go on to be heralded by the Times. A VR installation from her Signal Gallery Oculus Rift show was also written up.
JEAN-MICHEL BASQUIAT
Curated by Barry Frier from the Alexis Adler Archive
2015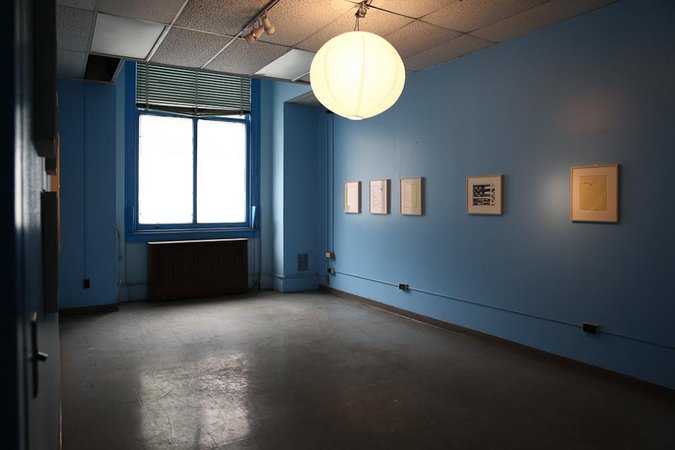 Photo credit: Tory Williams Photography
He's not exactly an unknown artist, and hell if we did anything to "break him out," but a selection of Basquiat's early, never-before-seen drawings, sketches, and SAMO-era musings from long-ago roommate Alexis Adler's archive were in our 2015 show. They were especially interesting considering that Frier showed them alongside Alexis's own photographs of Basquiat (taken during this period), in a display that was perfect for our 2015 theme Transaction. The true breakout here was Alexis herself, whose photographs, in their own right, are beautifully rendered portraits of a touching relationship—and Barry, whose stewardship to both was inspiring.
MYLA DALBESIO
Curated by Amanda Schmitt
2013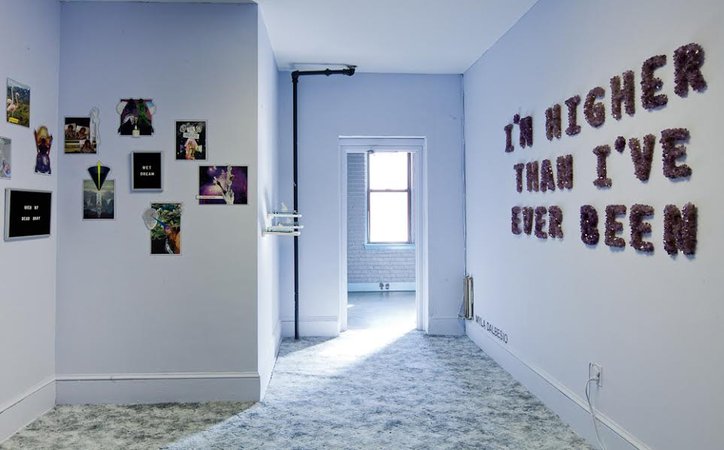 Photo credit: Samuel Sachs Morgan
Before Dalbesio's Elle.com column "Girl on Girl," her Today Show discourse about the standards of beauty as a plus size model, or her quite brave Young Money solo performance at Ramis Barquet, curator Amanda Schmitt showed her work in its first fully immersive installation context with her show "I Don't Know What It Is (but it feels good)." Dalbesio's formal interest in sex industry and drug culture representations as a metaphor for ancient ideals of femininity, fertility, and transcendence worked perfectly with our 2013 New Mysticism theme.
PETER SUTHERLAND
Curated by Cecelia Stucker
2012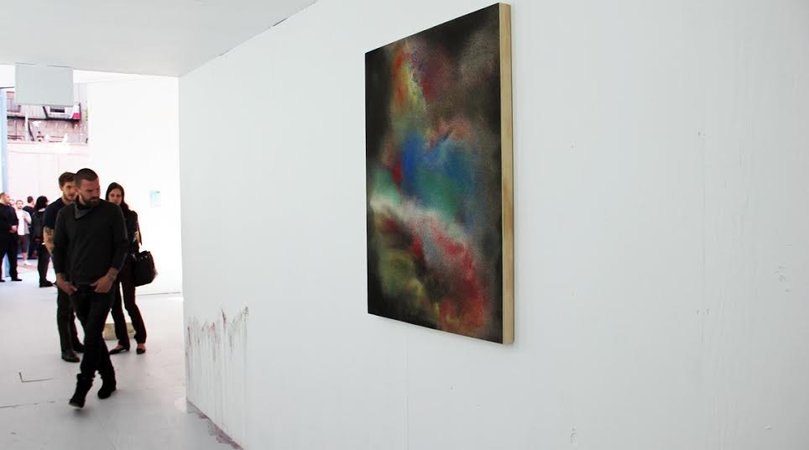 Photo credit: SPRING/BREAK Art Show 
One of Peter Sutherland's first New York City appearances was Cecelia Stucker's inclusion of him in a SPRING/BREAK offshoot during the first NYC Frieze Art Week, called Transhuman. His 2012 sand paintings (a rare departure just preceding his perforated vinyl works) were on display alongside works by other Still House alums of that era.
CELIA ROWLSON-HALL 
Curated by Alva Calymayor
2012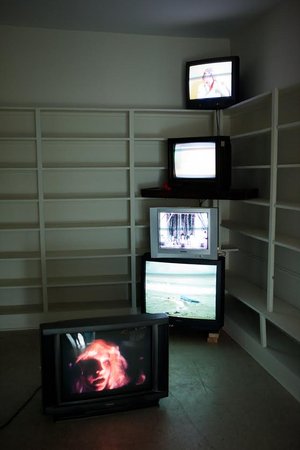 Photo credit: Tory Williams Photography
Celia Rowlson-Hall's gender-fluid re-imaging of the Christ parable as a self-actualization tale, MA, received accolades at the Tribeca, Venice, and LA Film Festivals this year. Before this self-acted, self-written, self-directed tour-de-force, SPRING/BREAK 2012 featured her video and installation work, which she also directed and starred in—a precursor to her meld of choreographed silent comedy-style narrative, haunted sensibility, and brutal Americana.

BRAD TROEMEL
Curated by Jamie Sterns
2012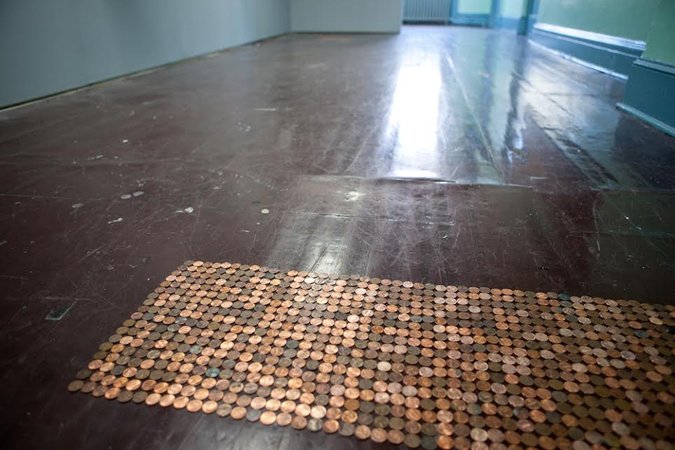 Photo credit: Tory Williams Photography
Troemel had his first solo show at Zach Feuer in 2014, and his site Jogging was listed as a Time Magazine Top 30 Tumblr site in 2013, but it was his 2012 show by curator Jamie Sterns that I'll never forget. Working mostly with items supposedly purchased on the now-defunct "Dark Net" market, Silk Road (including the post office-delivered LSD and pennies, pictured below), Troemel actually engineered an ingenious way of breaking down his possibly "illegal" installation that's difficult to put into words—let's just say it had a lot to do with the illicit context in which the works were portrayed. It was our first introduction to Troemel's specific cultural takedown of (and pleasure in) the art object's collusion with commodities.

JORDAN EAGLES
Curated by Amy Kisch and Tracy Causey-Jeffrey
2014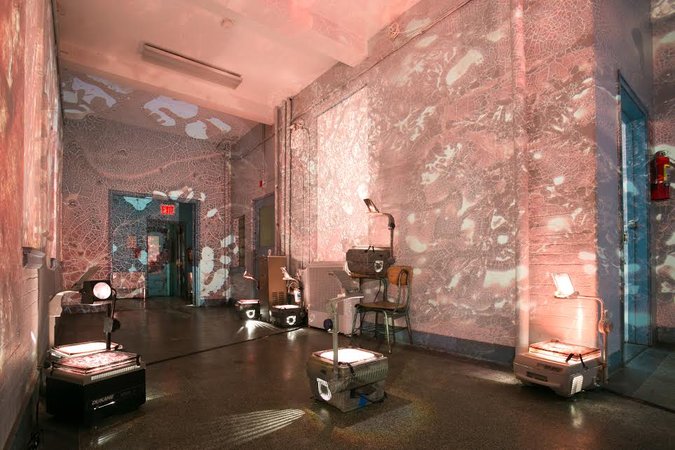 Photo credit: Tory Williams Photography
Jordan Eagles's work Blood Mirror, with blood thrown on site-specific abstractions via overhead projectors, has in recent years made headlines to protest the FDA ban on gay blood donors, but similar work made an earlier appearance at SPRING/BREAK Art Show's 2014 Public/Private show. Curated by Amy Kisch and Tracy Causey-Jeffrey, the work transformed the insides of the Old School with textural projections both haunting and ethereal, making the large hallways feel like gorgeous living guts.
FALL ON YOUR SWORD
Curated by Maureen Sullivan
2012, 2013, 2014, 2015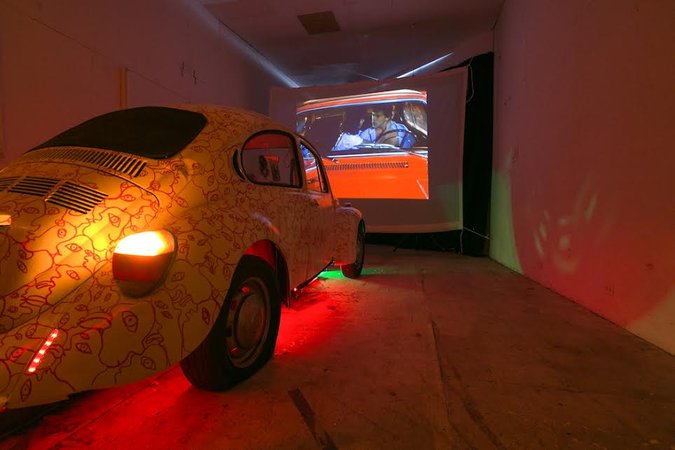 Photo credit: Tory Williams Photography
Music composer/art installation group Fall On Your Sword (and their common collaborator, artist Sarah Bereza) have had interactive works in every SPRING/BREAK Art Show in existence. In their own right (and irrespective of anything we did) they have been responsible for the scores on break-out films like Sundance award-winner Another Earth, and documentaries by Academy Award Nominees Fisher Stevens and Alex Gibney. But their art contributions have enlivened each subsequent SPRING/BREAK Art Show with interactive works as biting and menacing as they are hilarious.