Despite winter storm Quinn laying down a threatening layer of snow upon the streets of New York City less than 24 hours prior, NADA Art Fair persevered without a hitch! Here are some of the most exciting artists we saw at the fair's opening:
DANIEL HEIDKAMP
Living Sunset, 2018
LOYAL, Stockholm
$14,000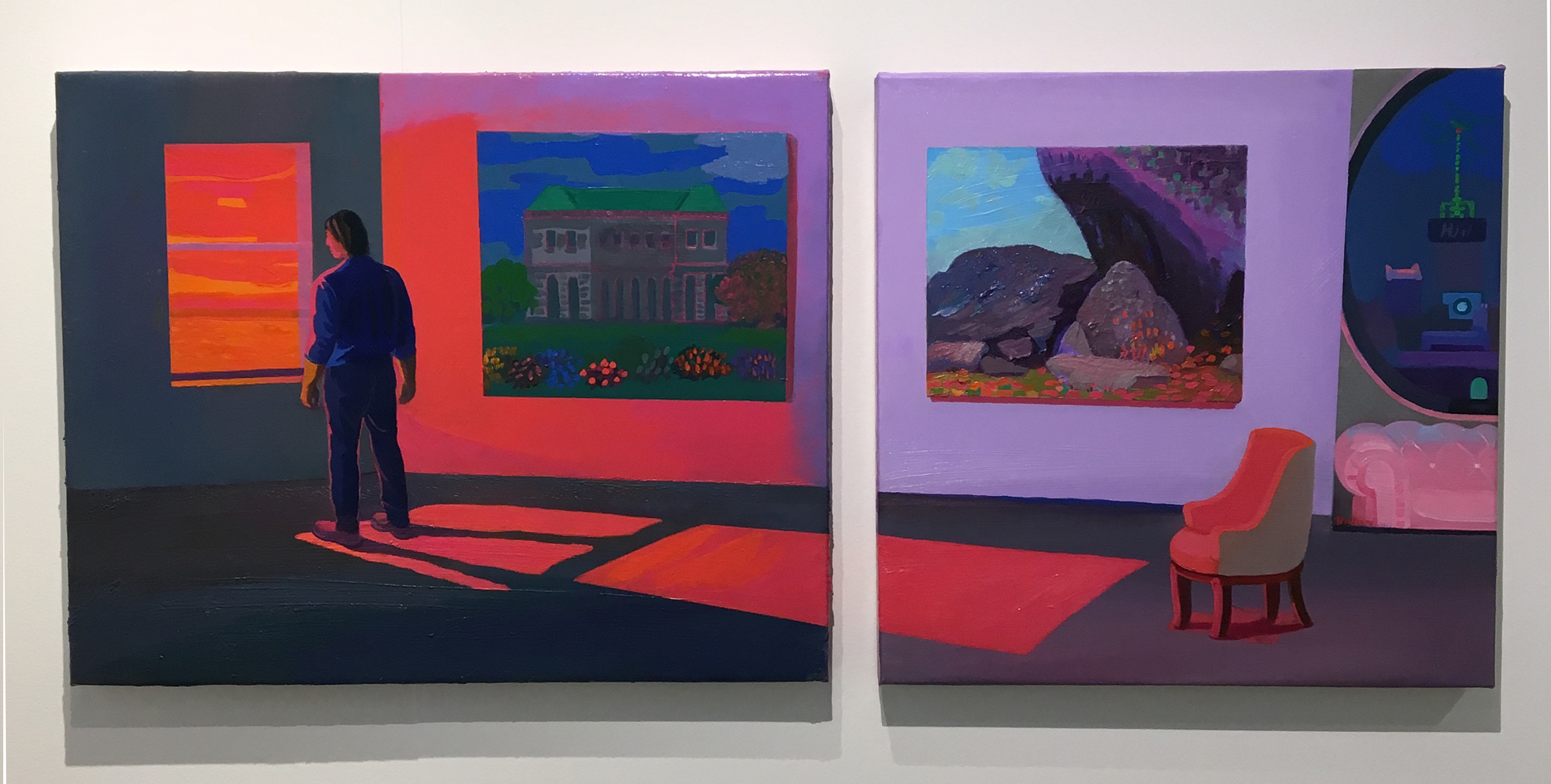 Since the closing of David Hockney's retrospective at the Met late last February, New Yorkers have been left hungry for idyllic palettes and lush, luxuriating scenes—just a little bit of color, for pity's sake! Painter Daniel Heidkamp's day-glo infused works more than quench our parched, wintery appetites. Represented by Stockholm's Loyal Gallery alongside artists Alicia Gibson, and Alake Shilling, Brooklyn-based Heidkamp's canvases often, unlike Hockney, depict scenes from the East coast: "I sit outside with my canvas on the ground and try to capture moments when the ordinary world appears entirely otherworldly." Like moths to a flame, it's just about impossible not to gravitate towards the near-flourescent glow of Heidkamp's Living Sunset diptych.
ZACH MARTIN
Crab Chair, 2018
Fisher Parrish, Brooklyn
$5,200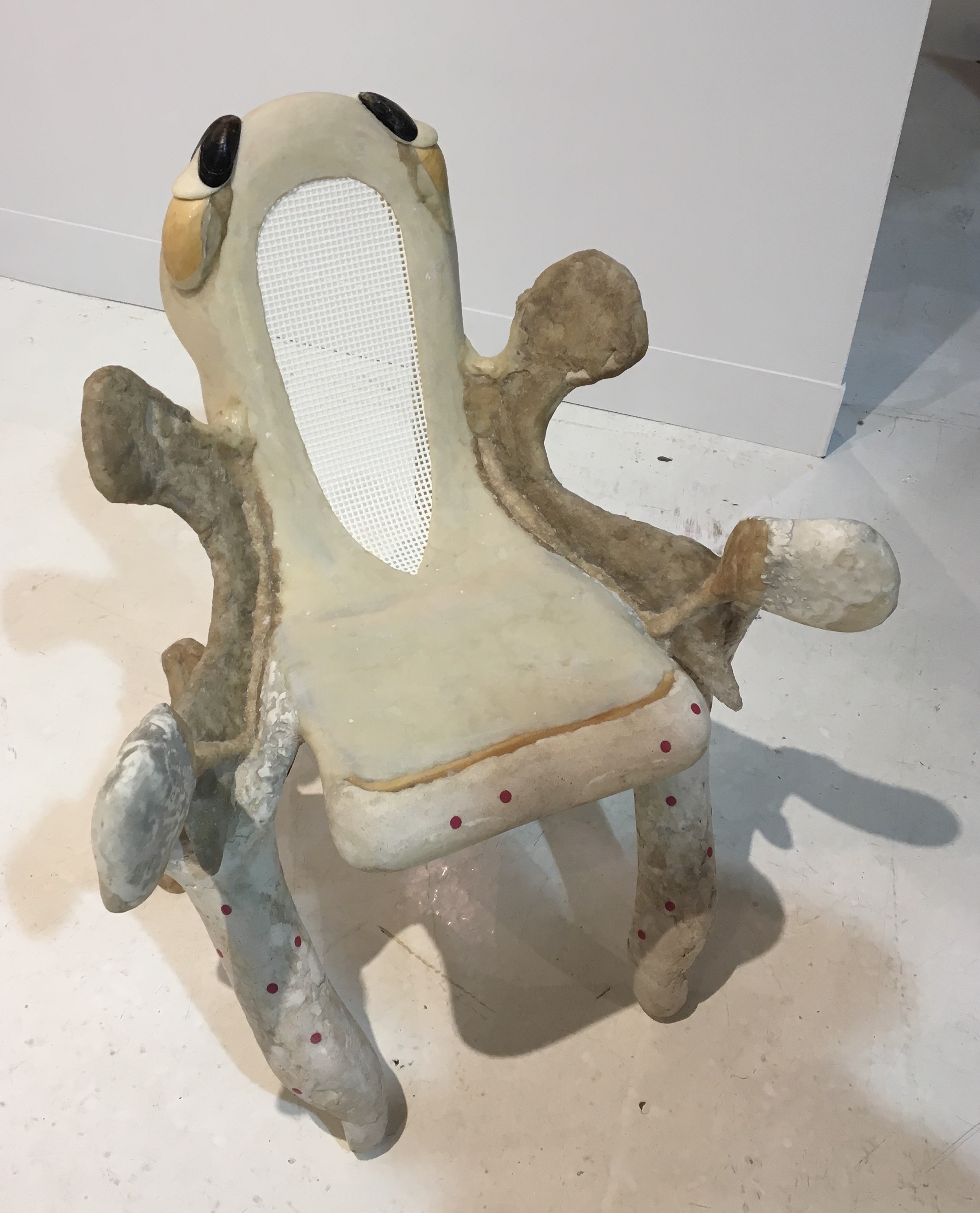 There's something about bones that are so immediately identifiable. Regardless of how innumerable they are in shape, and size, and despite the fact that most of us are likely unaware of other species skeletons, we always seem to know one when we see one. Sculptor Zach Martin makes excellent use of this uncanny ability by incorporating these corporeal, semi-skeletal forms in his furniture. Based in Rhode Island (the Ocean State), Martin's biomorphic forms appear like vestiges of a dying sea—a beautiful but haunting salvage of blubber, bone, netting, driftwood, and emptied shells.

GENESIS BELANGER
Mrs., Queens (NYC)
$5,000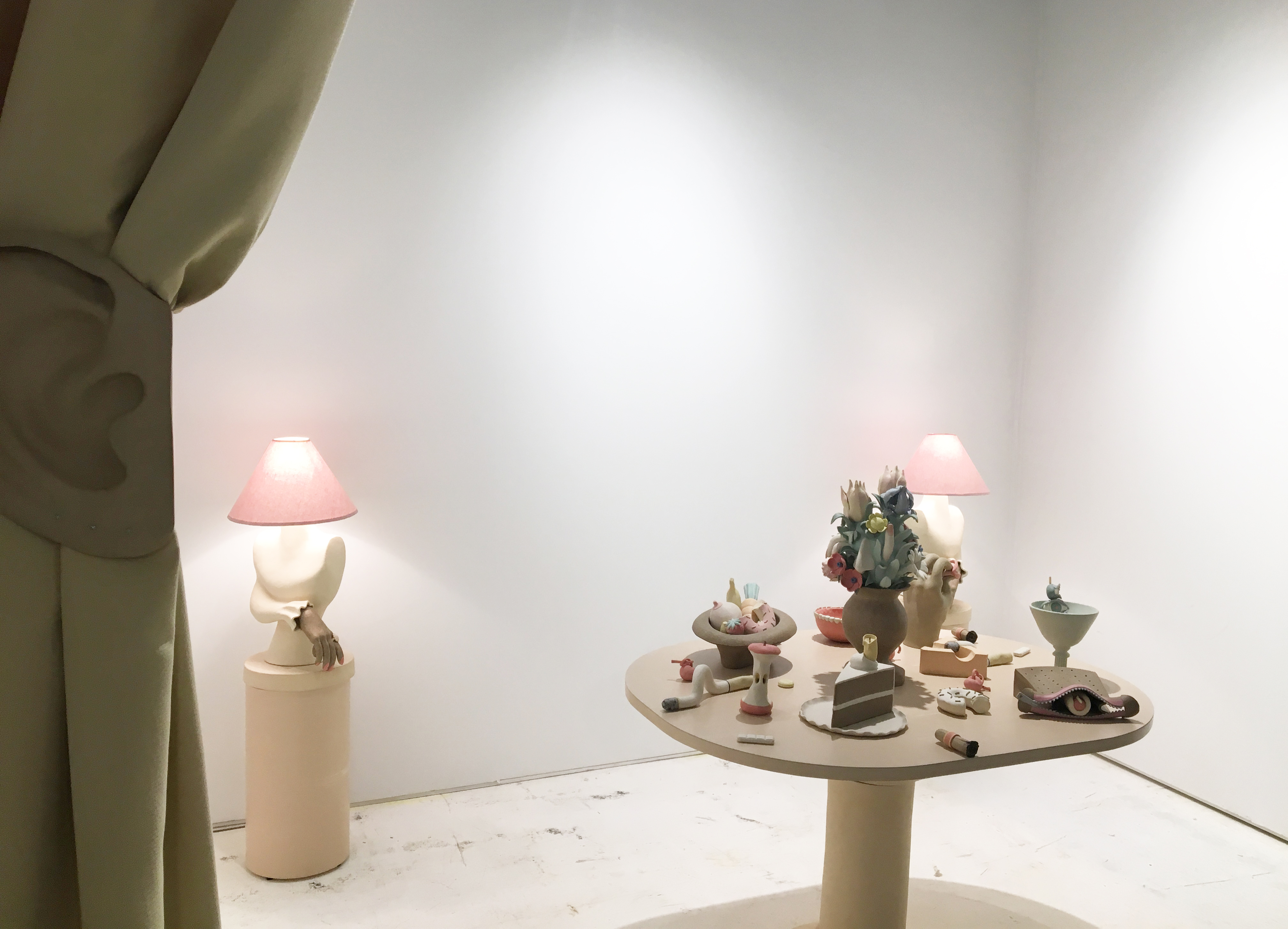 One of the most memorable displays at NADA artfair is, without question, presented by Mrs. Gallery from Maspeth, New York (as they put it, for reference, just north of the Jefferson L stop). Working closely with sculptor Genesis Belanger, the booth is framed by two dull yellow curtains, tucked back behind a large, greyish ear to reveal a curious assortment of corporeal housewares. A 2018 work titled Centerpiece is appropriately set in the middle of a small, unassuming coffee table amidst a scatter of half finished donuts, an apple core, and an abandoned purse with a hot dog peeking out of it. The matte finish and muted palette of Belanger's wonderfully tactile work create a kind of authenticity of the understated—no gloss or flashy colors here, folks!



SHEIDA SOLEIMANI
People's Minister of Petroleum, Venezuela, 2017
Edel Assanti, London
$8,000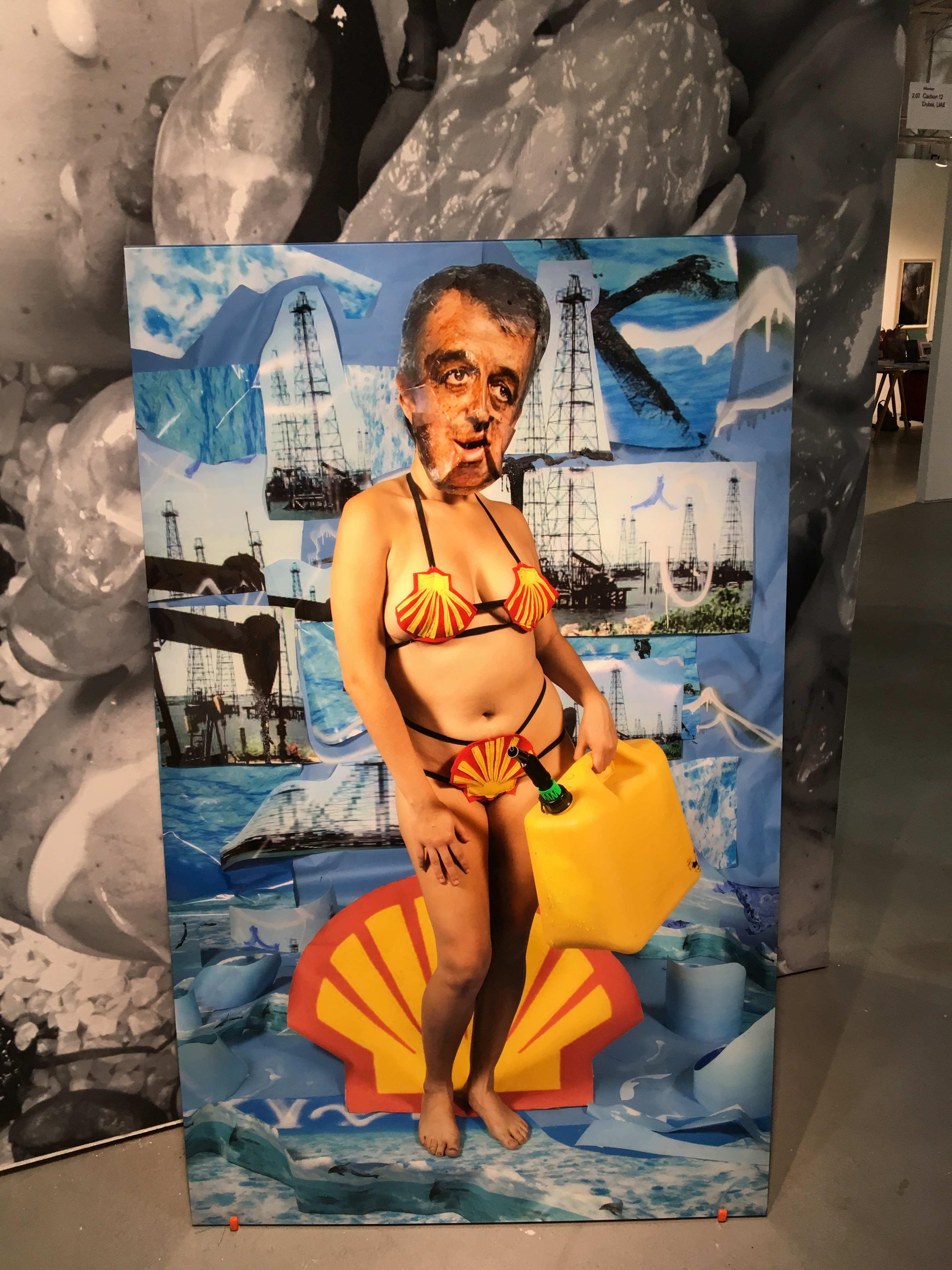 It takes a good minutes before your mind is able to fully register what it is you're looking at when you encounter Rhode Island-based artist Sheida Soleimani's work. While the subject of Soleimani's photographs are clear—caricatured portraits of OPEC Oil ministers in surreal, compromising situations with Western government officials and Halliburton CEOs—what's less obvious is her process. Most people assume her work utilized photoshop to achieve its surreal, post-internet collage aesthetic (in the artist's own words, "I click the 'Help' tool more than anything else"). Once you realize that the photographs are actual, constructed sets, an entirely new layer of metaphor is revealed, leaving one to ruminate on the constructs of capital, fossil fuels, the military industrial complex... it's all just one elaborate, surreal construct, man. Another one of NADA's most dynamic displays, Soleimani's work is impeccably well thought out, from concept to execution. Presented by London's Edel Assanti Gallery, Soleimani's work brings the light of a wonderfully vaudevillian, and a genuinely fun sense of humor to address our post-9/11 global power complex.



BÁSICA T.V.
Pajarracas, 2018
UV Studios, Argentina
$2,000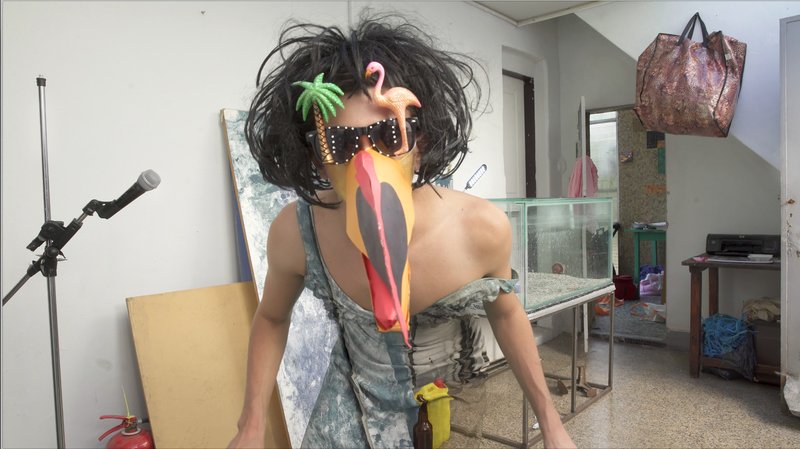 Tucked away (nearly hidden, really) within the maze of booths, were it not for the pulsing techno bass line reverberating through the hum of fair-goer chatter, one might entirely miss the Argentinian space UV Studios. Irrefutably the loudest show at NADA, most of the sound comes from the video works of Básica T.V., a queer collective based out of Uruguay. Formed in 2012 by Guzmán Paz, Emilio Bianchic and Luciano Demarco, the group creates Trecartin-esque videos and images. Saturated in commercial kitsch, their work is heavily informed by advertisements, and the internet, creating that kind of hyperactive, attention deficit fantasy that we've all come to know and love. In Pajarracas, one of the members of the collective dons a paper-made toucan beak and does an Oscar-worthy imitation of a bird, navigating the artist's studio, and the streets of Uruguay.
MAX MASLANSKY
Pile Up (Queen Size Bed), 2017
Dutton, NYC
$11,500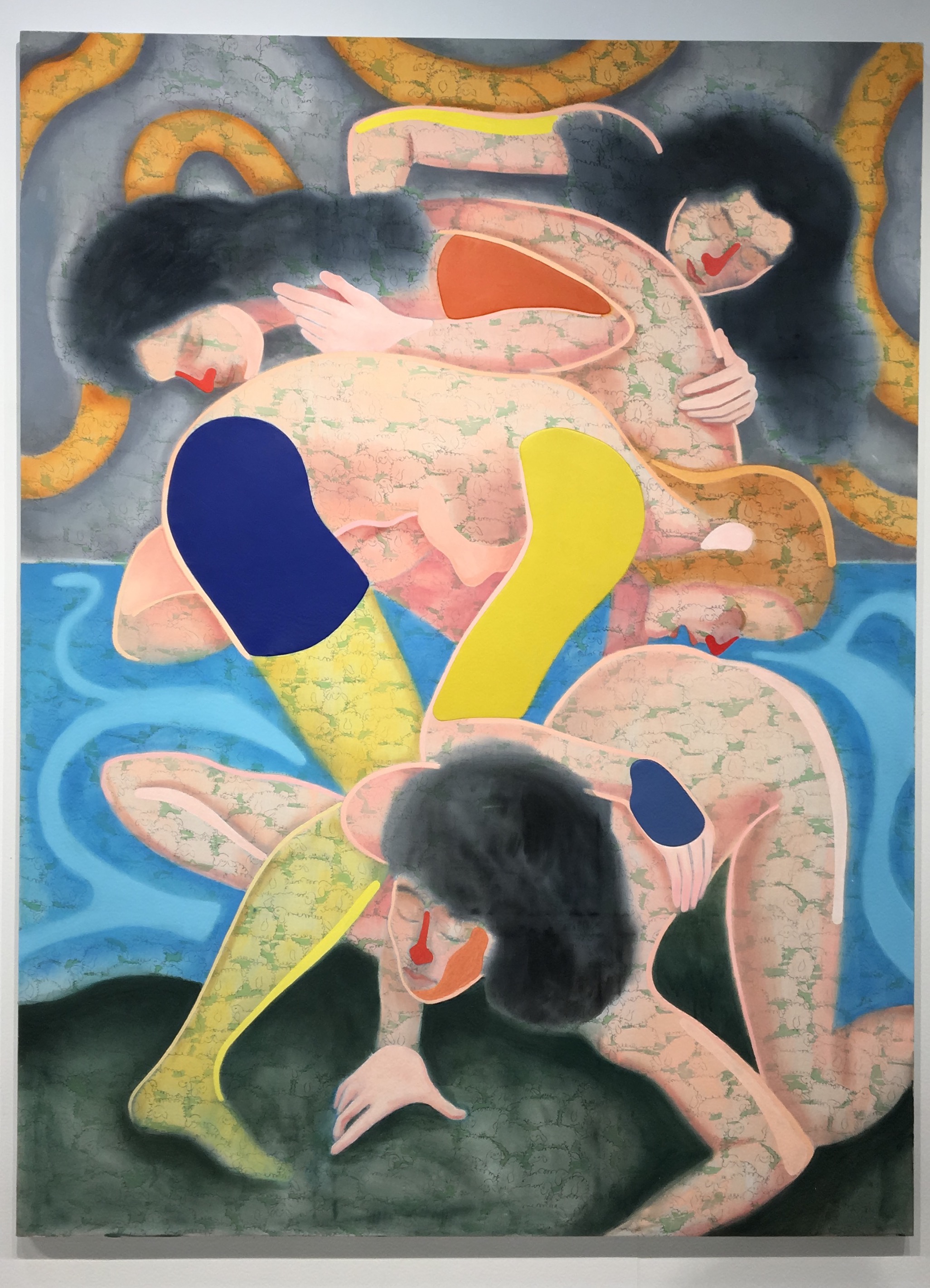 Max Maslansky's works are seductive for more reasons than might seem obvious. The image of a nude woman is so commonplace in art, we've become rather desensitized to the fact of the figure. So while Maslansky's work at first glance may seem a relatively innocuous painting of female nudes, there are subtle hints that allude to its less innocent actuality. Upon closer inspection, we see certain solid patches of color are actually patches of dyed leather. The canvas is actually a stretched sheet, patterned with little lambs. The more we observe the figures, the more sensual they become with one another. It isn't until a representative from Dutton Gallery informs you that Maslansky's reference material for his figures is actually vintage pornography where your suspicions are confirmed—it's the work that's perverted, not you! The Los Angeles based Maslansky's work investigates pornography's moral ambiguity in relation to the depiction of women, men and desire, while mining painting's history of figuration, pattern, gesture, and in particular, the stain.

HEIDI LAU
The Seventh and Eighth Level of Hell, 2018
Geary, NYC
$8,000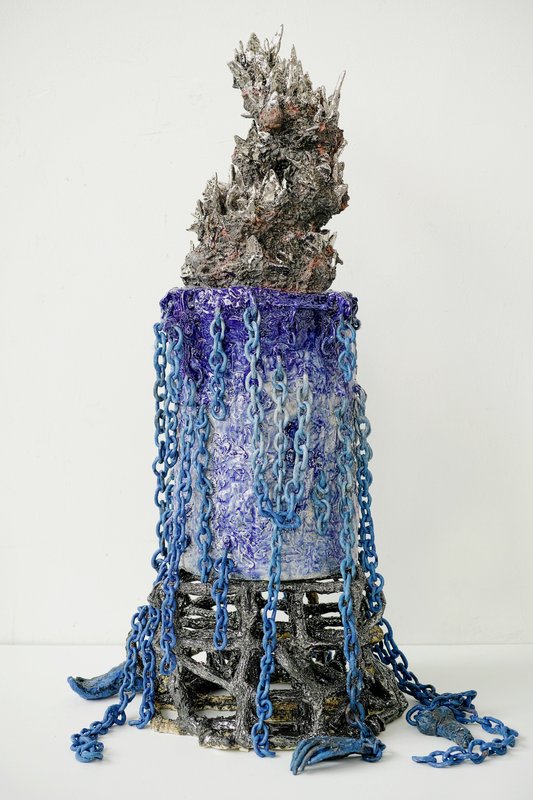 There were a lot of ceramics at NADA. Not that we blame the market for it (we love them too!), but there are only so many ways to spell kitsch, or commodity object. A stand-out example of ceramic works, however, was presented by Geary Gallery. Originally from Macau, Brooklyn-based artist Heidi Lau creates visionary ceramic sculptures that do not compromise. Her festering castles are remarkable exercises in delicate, chaotic structures, striking a haunting balance between beauty and abject terror. All of Lau's painstakingly crafted works are recreations of histories lost to time and to colonization. They are resurrections of past possible civilizations, entrenched in mysticisms and the primordial. One could almost imagine them as the discarded set miniatures from a Guillermo Del Toro film that was too controversial and dark to put into production. We'd watch that in a heartbeat!
CAJSA VON ZEIPEL
Butch Bench, 2017
Company, NYC
$22,000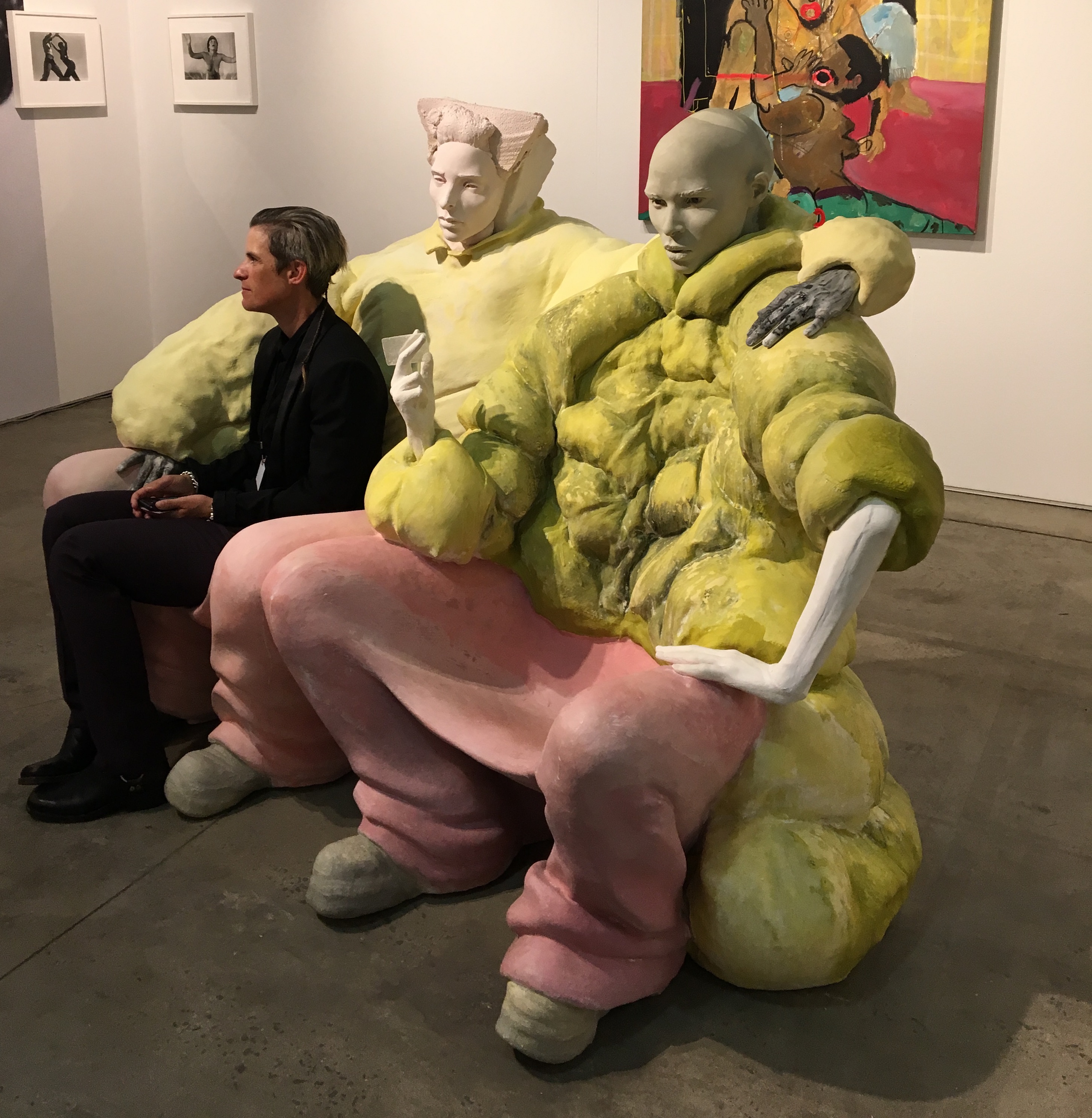 Swedish artist Casja Von Zeipel's practice as a sculptor very rarely involves color. In fact, Von Zeipel's strict use of white serves the exact purpose of deifying her figures, her slightly larger-than-life sized sculptures of gaunt, towering, heroin-chic bodies presented as new Adonises or Davids. A majority of Von Zeipel's works tend to shriek in their devil-may-care indignity, as they thrust their underwear-clad hips out, fingers in mouth, and brows furrowed. The fact that these two seated, billowy, pastel-clad women invite you to sit on their laps is a remarkable break from the Zeipel's typically intimidating cadre. While the rest of Zeipel's work seem like the dangerous clique of mean people your parents warned you about but are still are dying to be a part of, the women of Butch Bench have officially invited you to sit with (well, on) them. And boy, do you look just as cool and dangerous doing it.

[related-works-module]