UNTITLED, Art Miami Beach opened today, and here are the works that stuck with us all day.
ADEBUNMI GBADEBO
True Blue, 2019
Claire Oliver Gallery, New York (Booth B43)
$5,000 per individual work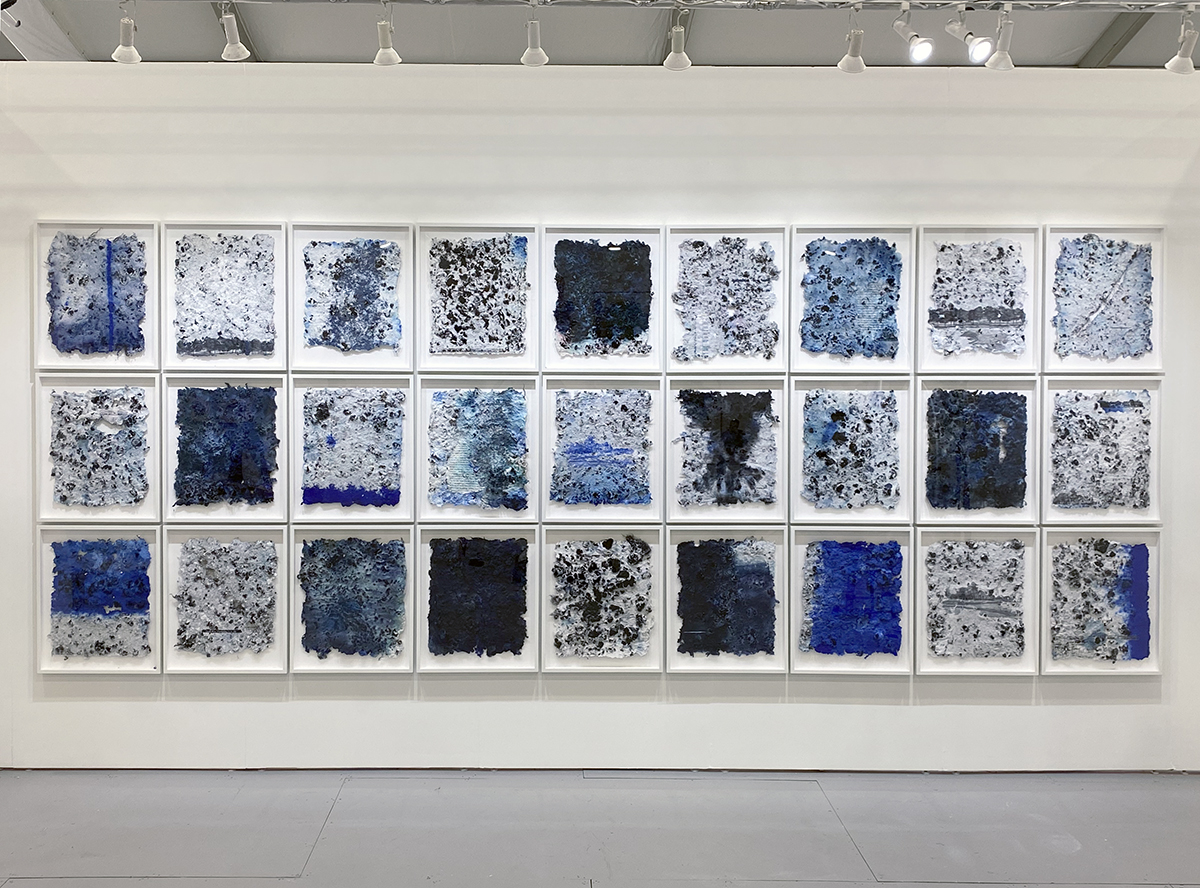 When New York-based artist Adebunmi Gbadebo took a deep dive into her ancestral history, she discovered that her Nigerian-born family became enslaved on a plantation in North Carolina called True Blue. The material remnants of her harrowing research—lists of slave's names, the planation owner's will, a photo of the property, etc.—can be found embedded in the pieces on view in Claire Oliver's booth: handmade paper works made of hair, rice, cotton, and indigo. Collected from African-American barber shops in the artist's neighborhood, the hair clippings retain human DNA, which become preserved in these artworks that the artist considers portraits. The gallery came to know Gbadebo's work through another artist they represent, Bisa Butler, who Gbadebo worked for as an artist's assistant. Since, the 27-year-old artist has had a solo show with the gallery, resulting in a sale to the Minneapolis Institute of Art. While this work, True Blue, is sold as a series in its entirety, the gallery does also have individual works available.
RANNVA KUNOY
Buccaneer, 2019
Nathalie Karg, New York (Booth C1)
$25,000 - $35,000 range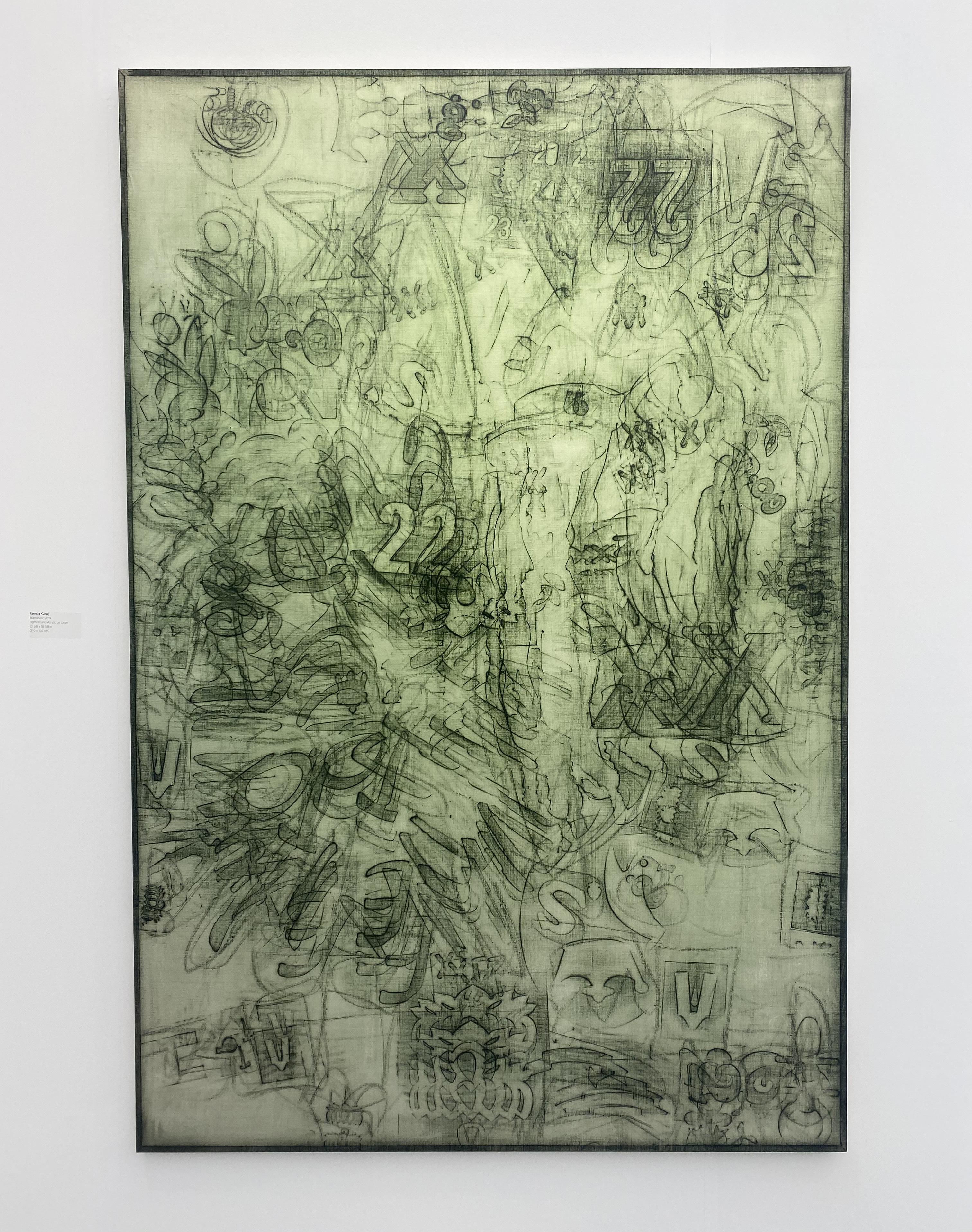 A highly private and protective artist, Rannva Kunoy seldom shows her work, making her booth at Nathalie Karg a rare, and fortunate, occasion. The works on view here were made using a technique the artist has been developing over the last ten years. It involves applying 20 layers of iridescent pigment on each canvas, which the artist places over objects before applying friction—similar to the process of creating "rubbings" on tombstones or coins. The sheen emanates a different shimmering hue depending on where you stand in relation to the work, making it almost impossible to document using a still image. These works are truly best enjoyed in person—which is perhaps why they garnered such a large crowd during the VIP preview this morning. Kunoy, born in 1975, is from the Faroe Islands north of Scandonavia. She studied at the Royal College of Art in London, where she still resides. Nathalie Karg discovered the artist through Saatchi Gallery—the only other gallery to show a solo exhibition of the innovative artist's work.
EMMA WEBSTER
Idyllic, 2019
Diane Rosenstein Gallery, Los Angeles (Booth B27)
$50,000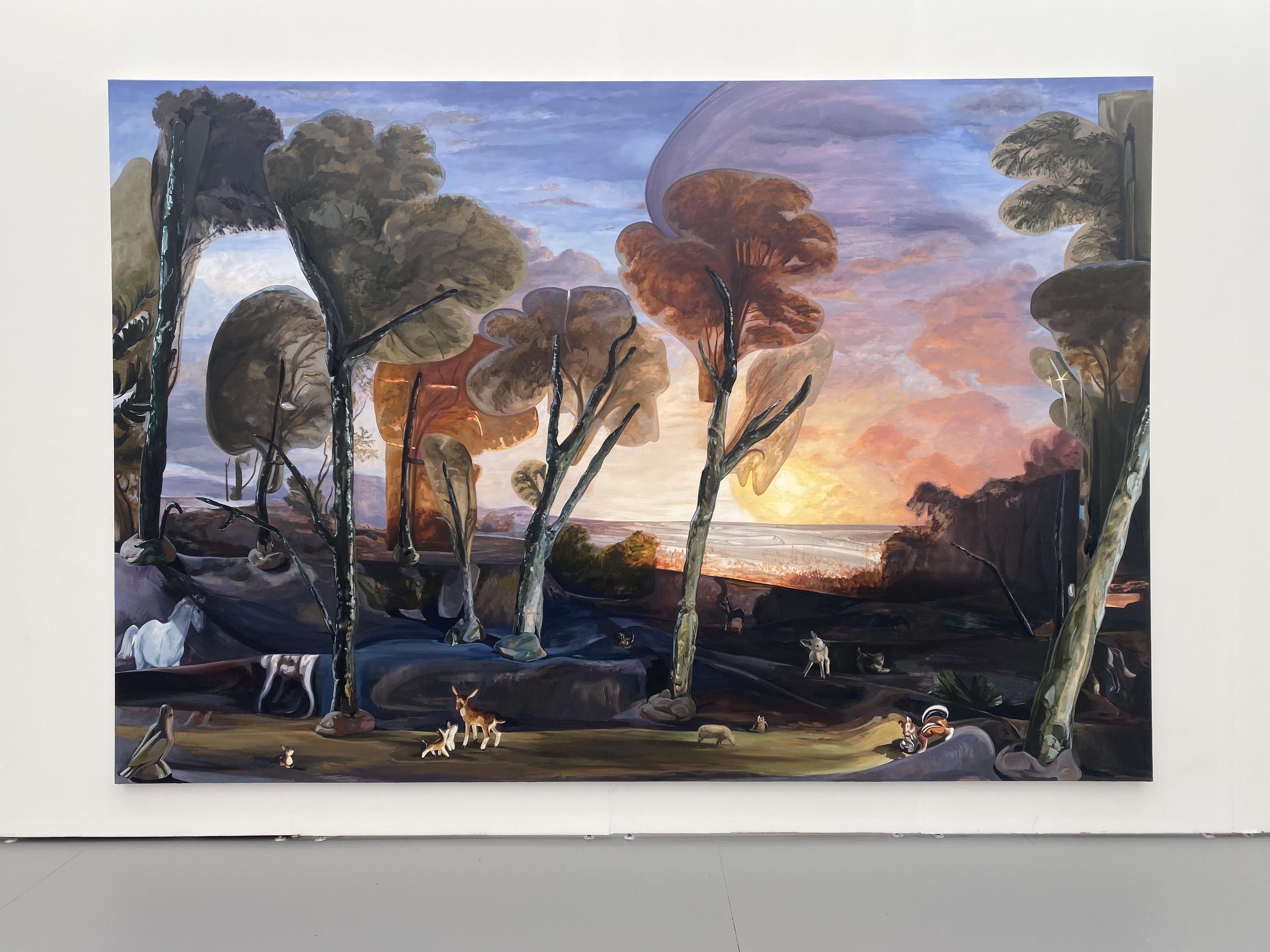 Perhaps the best discovery to be had at Untitled is the work of Emma Webster, a young artist who recently graduated from Yale's MFA program. Her fresh take builds on the long history of landscape painting, from the French Realists to the Surrealists to the great painters of the American west, recalibrating the tradition to fit our contemporary landscape: a climate in crisis. For Webster, climate change and has eroded our notion of nature as paradise. Thus, her paintings read like strange stage sets, amalgamated scenarios that are clearly fictional, driving home the point that the idyllic landscape that inspired the painters of yore are now fictitious too. The artist does paint from life, but her references aren't natural; instead Webster creates dioramas in her studio, sculpting animal figurines before rendering them in her scenes. Spanning 13 feet across, Idyllic is by far the largest of the paintings on view at the fair. Other, smaller works, like Last Horse, which depicts a distorted sculpted horse, glistening red before a smoldering forest fire, is going for $18,000. Webster's first solo exhibition with the gallery sold out. This is the first time Webster has shown her work at a fair, and we'll bet she does pretty well here too.
NOEL ANDERSON
Can I Get A Witness, 2019
Zidoun-Bossuyt, Luxembourg, LU (Booth B31)
$16,500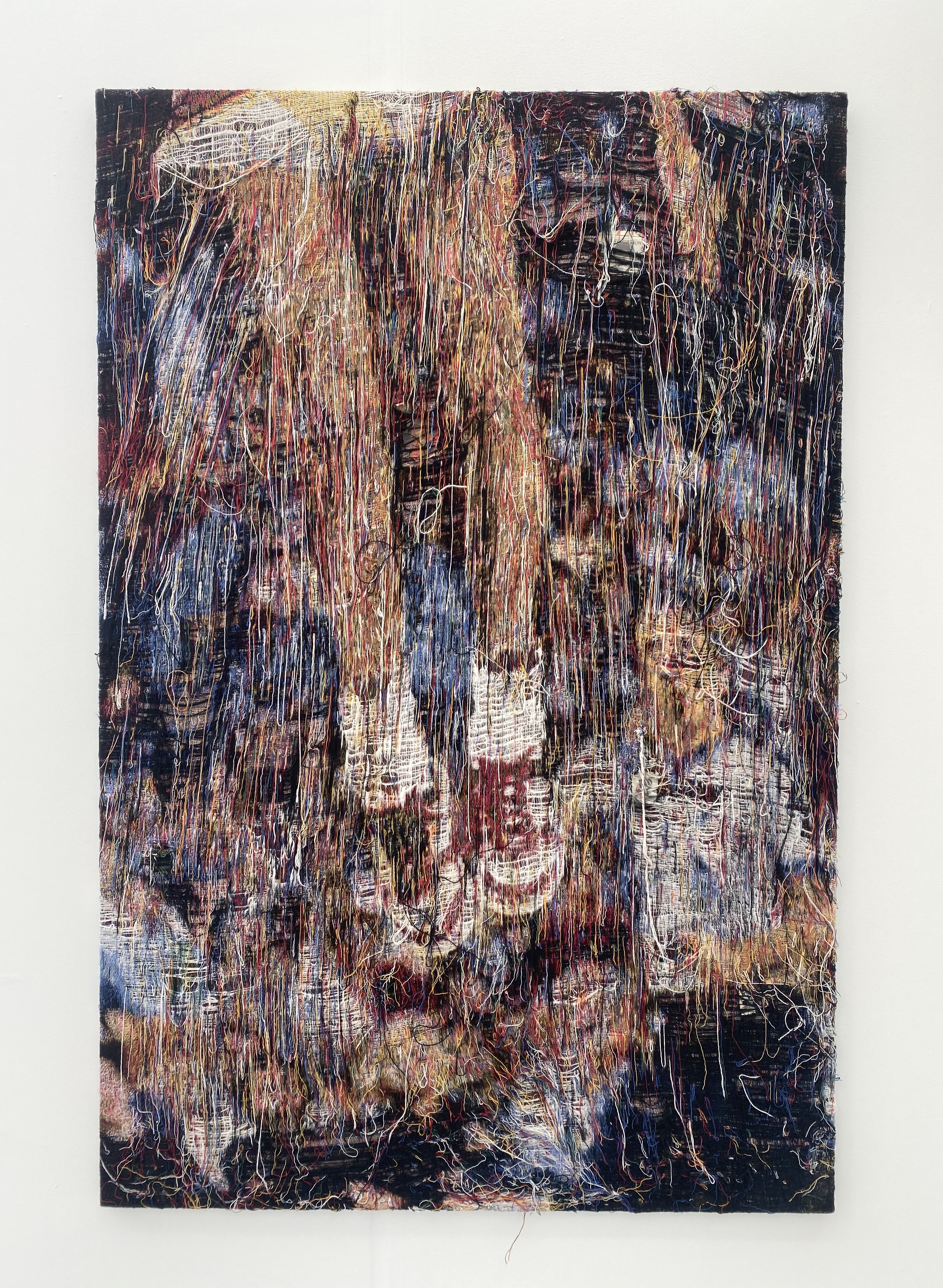 The woven tapestries of Noel Anderson benefit from the Monet affect: up close they appear to be abstract compositions of tangled threads, some paint, a bit of paper here and there. As you step back, an image emerges: basketball players on the court, closely cropped, sometimes distorted. Move even further away and the jersey graphics start to blur; without these signifiers the image becomes darker. "In this piece," says the booth attendant, "it almost looks like the referees are cops, and the man is hanged in the foreground—we only see his feet in the air." Anderson's work speaks to aspects African American culture, she goes onto explain, like both sports and violence, simultaneously. The 38-year-old artist was born in Louiseville, Kentucky and is currently living in New York where he teaches at NYU.
JENNA GRIBBON
Mutual Pleasure, 2019
Fredricks & Freiser, New York (Booth B22)
$5,000 (sold)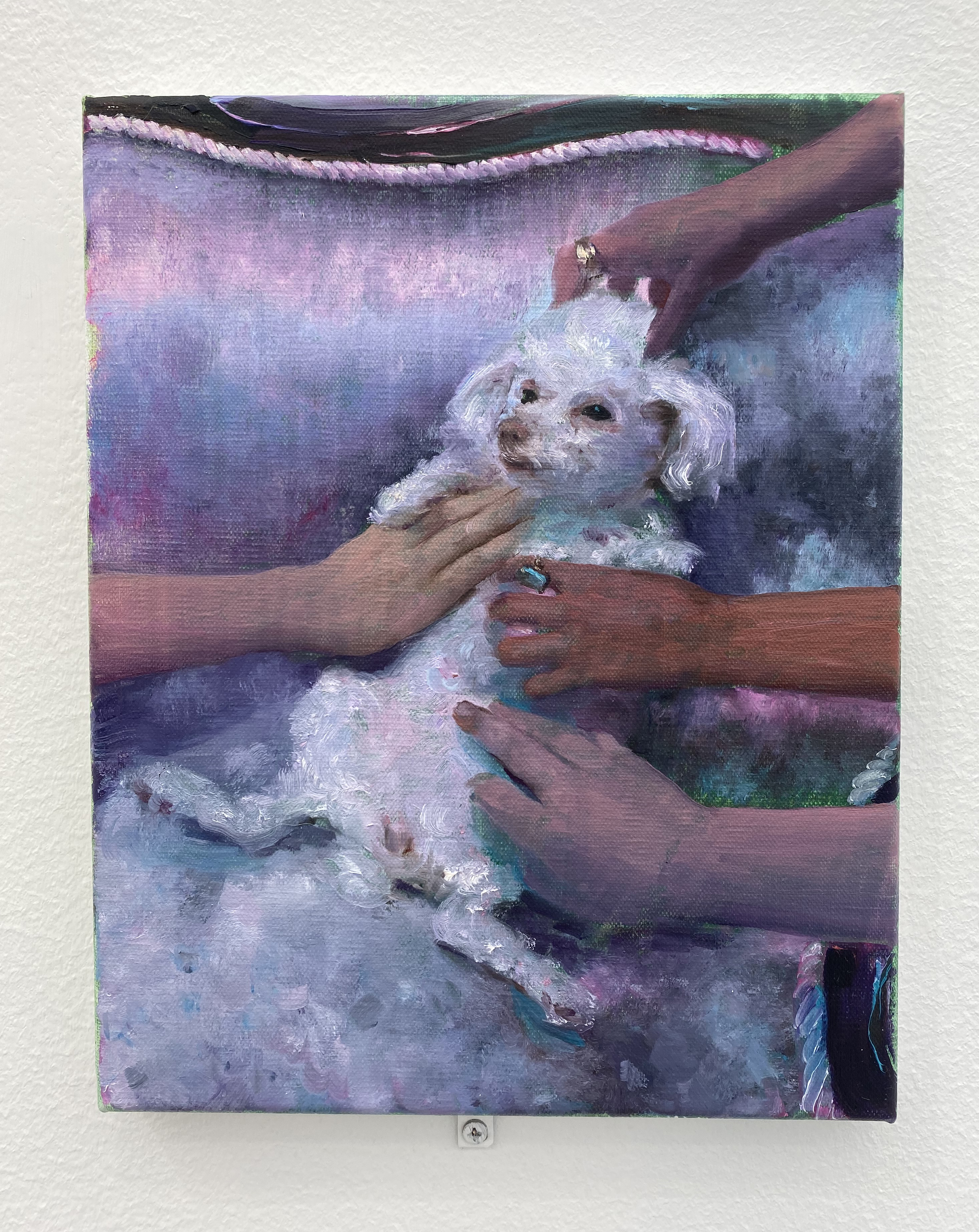 Jenna Gribbon's tiny painting, Mutual Pleasure, wins this year's cuteness award, staring four human hands and one adorable pup. The Brooklyn-based artist is showing nine works in Fredricks & Freiser's booth (all have already sold), three of which feature a dog who's clearly adored by both the artist, and the artist's friends and girlfriend, who are reliably the subjects of Gibson's intimate paintings. While roughly half of these domestically scaled paintings depict millennials lounging about, the other half render female wrestlers—mostly naked—grappling in unlikely scenes: the childhood memories of the artist. Earlier this fall, the New York gallery held an exhibition of Gribbon's wrestlers; the press release states, "Gribbon's wrestling series takes on the art-historical trope of grappling figures, extending from the bulging Greek athletes in Archaic friezes to the lean youths of Thomas Eakins's canvases. In placing women's bodies in these poses typically occupied by men, Gribbon inverts the homoerotic frisson inherent in such works." A similar token could be applied to my favorite, Mutual Pleasure, a riff on the sort of stuffy portraiture that renders dogs atop silk-draped laps, but in this case, with reverence for the love and pleasure of a queerer companionship.
RELATED ARTICLES:
The Laundromat Project's Ayesha Williams Shares Her Favorite Artworks from UNTITLED, ART Miami Beach
Curator Carmen Hermo Shares Her Favorite Works from UNTITLED, ART Miami Beach
Retail Visionary Brian Bolke's Favorites From UNTITLED, ART Miami Beach 2019