Even casual observers of this year's NADA Miami Beach will likely be struck by the prevalence of textiles, fabrics, and woven fibers of all types on view at the fair. This may not seem all that interesting in and of itself—after all, any painting or print on canvas would technically fall into this category. Many artists, however, are taking these materials beyond painting's purview, perhaps as part of an art-world-wide effort to break down boundaries between art and craft. Examples of this process in action range from reimagining the tapestry and elevating the humble floor rug to transforming clothing into art objects and working with materials like felt, silk, and velvet to create both wall works and soft sculptures. Keep an eye out for the plush pieces highlighted below.
TAPESTRIES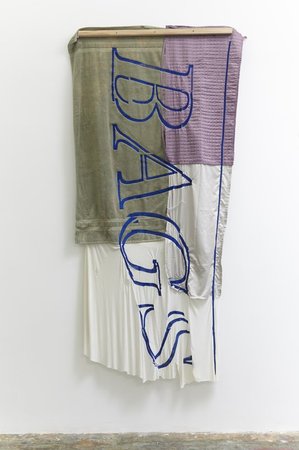 Brendan Fowler is perhaps best known for his work in photography and performance, but his San Francisco gallery Capital has given over its entire booth to his mixed media works which repurpose discarded towels, floor mats, bed sheets, and tablecloths. These textile collages are then industrially embroidered with the word "BAGS" (also the name of the series), referring to both the environmental destruction cased by plastic shopping bags—an ongoing concern for this eco-conscious artist—and the seemingly endless excess of tote bags being sold or given away at art fairs.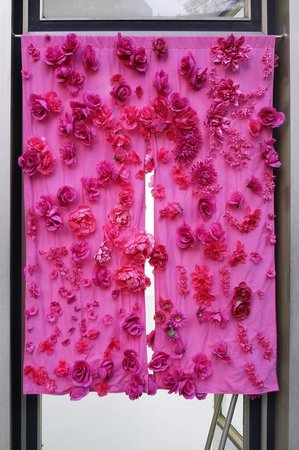 In VI VII's booth, Amy Yao reflects on her upbringing as the daughter of a florist with her piece Blumen (2015), which uses silk flowers on cotton fabric to create a kind of curtain that occationally drifts open with the breezes generated by passers-by. Artificial flowers are a recurring material in Yao's diverse repertoire, and are also featured in her untitled sculpture also on view in the gallery's booth.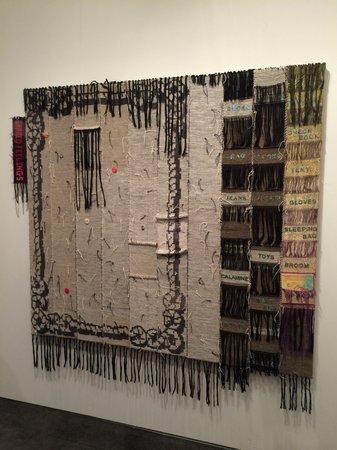 As an associate professor of Textiles and Fine Arts at California College of the Arts, Josh Faught knows a thing or two about working with fibers. His hand-woven tapestries in Lisa Cooley's booth are assemblages of a sort, with words like "toys" and "calamine" appearing alongside lapel buttons and other objects (a book called The Self Esteem Companion appears as part of one of his compositions). As Cooley says, Faught's works explore "marginalized feelings through a marginalized medium."
CLOTHING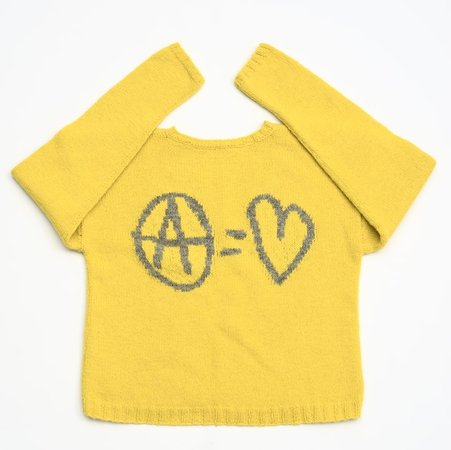 In Temnikova & Kasela's booth, the esteemed Estonian artist Jaanus Samma brings together public discourse (in the form of obscene or simply funny bathroom graffiti) and the equally public medium of fashion with his line of hand knitted sweaters called "Hair Sucks!" The sweaters bear an assortment of messages, from anarchy symbols and crudely-rendered genitalia to political slogans and expressions of lost love.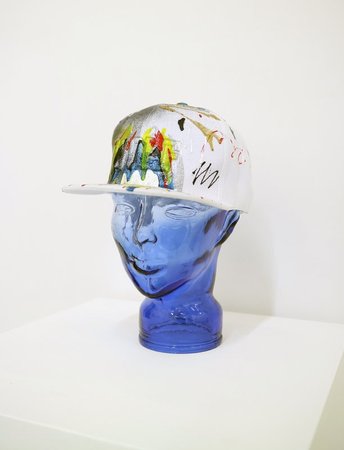 The Japanese artist Kaoru Arima is primarily a painter, but when the good people behind XYZ Collective visited his studio and saw his custom-made hat they knew they had to bring it to the fair (and they asked him to produce a few more). Made with a special clothing paint, these untitled works are subtle, messy commentaries on conspicuous consumption and the allure of "cool."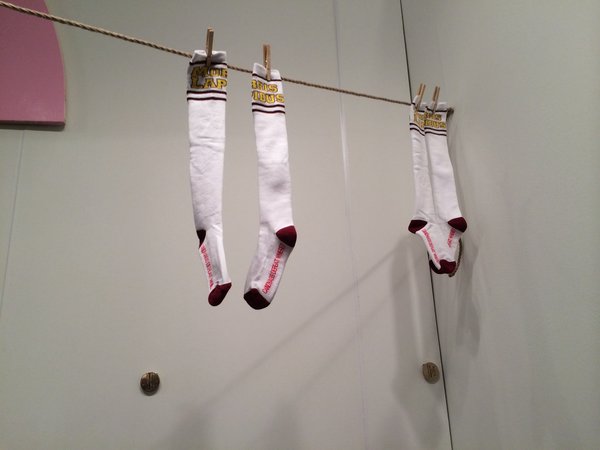 As we noted earlier this week, Cary Leibowitz (aka CandyAss) is a great supporter of one-off jokes and equally offbeat editions. For INVISIBLE-EXPORTS's NADA booth dedicated to his work, he's made a series of socks bearing the name Morris Lapidus, the modernist architect behind the iconic Fontainebleau Hotel (the site of this year's fair).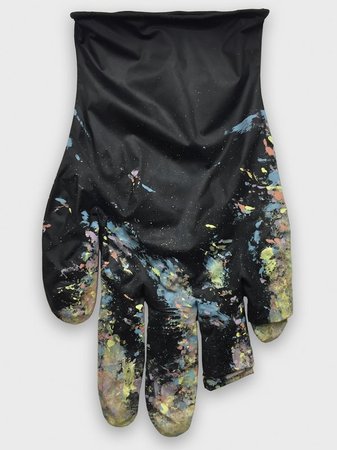 Though not technically functional pieces of clothing, Amanda Ross-Ho's oversized and paint-stained t-shirts are some of her most recognizable works (there's also one on view in Páramo's NADA booth). Even more compelling are her oversized Black Gloves at Shane Campbell, which show the artist's continuing effort to isolate and monumentalize pieces from her studio so that incidental marks left from other painting projects become abstract compositions in their own right.
RUGS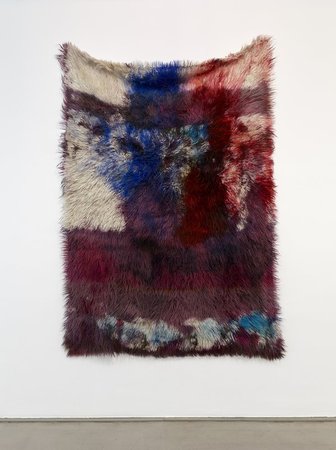 Anna Betbeze is the undisputed master of the rug-as-art. Her works at NADA (like Rising, seen above) show her at her best, burning and painting her shaggy canvases to make works that are a cross between the pelts of diseased Dr. Seuss creatures and that bathroom mat you really need to throw out. Markus Lüttgen's booth also features a fur-and-burnt-wood sculpture of hers called Oblivion, a nice behind-the-scenes look into her process that highlights the prehistoric predecessors to her contemporary works.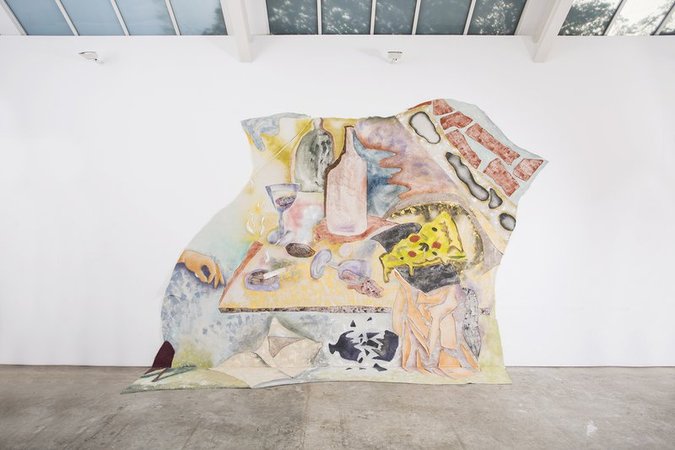 Samara Scott's massive painting on carpet Still Life VI (2015) is easily one of the largest works at the fair, and it's only a part of a still-larger work shown earlier this year at Jupiter Artsland in London. Despite the work's scale, Scott's expressionistic take on both painting traditions and consumer culture manages to come off as understated and thus avoids dominating The Sunday Painter's booth.
COMPOSING WITH CLOTH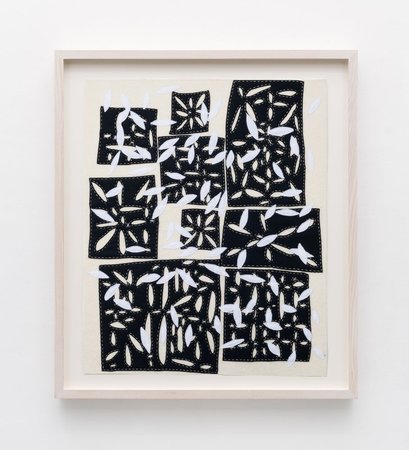 Like most of the artists mentioned here, William J. O'Brien makes work that ranges across mediums; his output includes painting, sculpture, and installation. His untitled works shown at Shane Campbell show off his recent experiments with felt, which combine the subconscious and intuitive act of cutting up the material with the far more methodical process of carefully stitching the pieces into new, vaguely geometric wall works.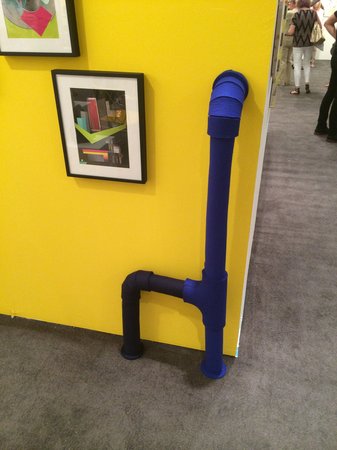 The Chilean-born artist Johanna Unzueta also works with felt in her sculptures, which reimagine pipes and plumbing in the soft material. These works, on view at Proyectors Ultravioleta, are an homage of sorts to art history—the felt references the work of Joseph Beuys, while the pipes recall the tradition of modernist industrial photography.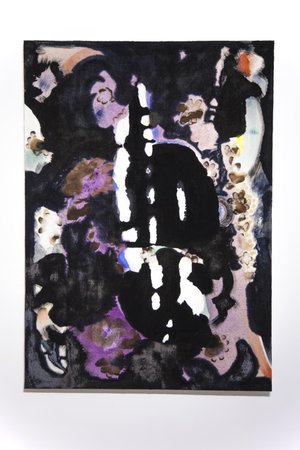 Inspired in part by a recent residency in the wild fjords of Norway, the Fort Worth native Travis Boyer has begun to incorporate naturalistic floral forms into his brooding pieces like Embellished Bra Hanging On Floral Wallpaper (above). His works in Hello Project's booth use hand-painted and dyed silk velvet on plastic to achieve a rare texture. Keep an eye out for his upholstered bench as well.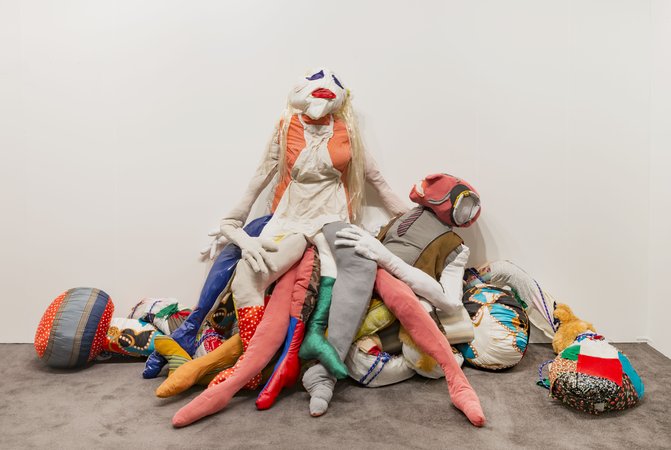 The Journal Gallery commissioned Agathe Snow to make her massive soft sculpture titled Since the Beginning of Time, Love is A Battlefield following her recent show at the Brooklyn space. In keeping with its epic scope, the piece incorporates symbolic and historical references including fallen Greek columns and a huge serpent, upon which a plushy couple sit victorious.