Full of quirky art that would look great on the wall, the Untitled art fair has resumed its post on the sandy bottom of South Beach, trawling along with it a lineup of international galleries with their phasers set on "sell." Here are a few of the most intriguing artworks on view, including several by artists who seem to be at the outsets of major careers.
HASSAN HAJJAJ 
Taymour Grahne Gallery (New York)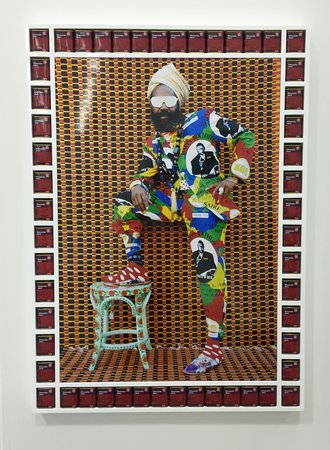 In this photograph, the Moroccan artist seems to be taking a page from other photographers further south on the continent such as Malick Sidibe and Samuel Fosso—but he adds a pronounced hip-hop twist, influenced by the underground club scenes of London where he cut his artistic teeth. Here, he underscores the portrait's whimsicality by adding a cheeky design flourish: a border of miniature shelves stocked with cans of Portuguese peppers. 
ALEJANDRO DIAZ
Royale Project: Contemporary Art (Los Angeles)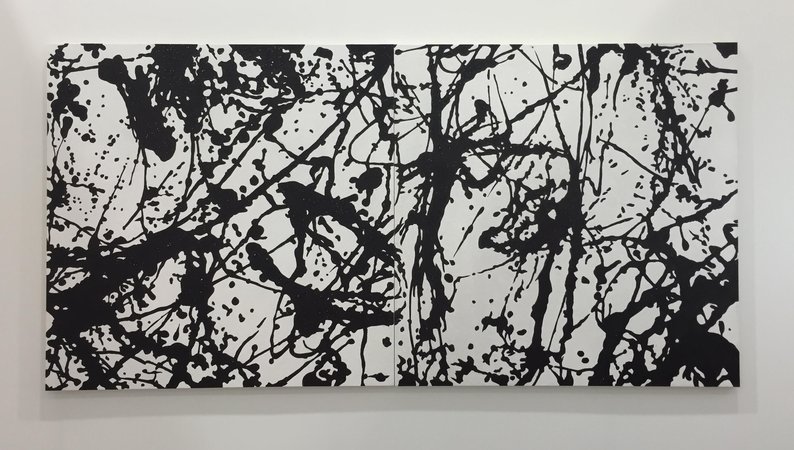 An irrepressible prankster who occasionally spikes his humor with politics, Alejandro Diaz makes the artistic equivalent of "dad jokes"—they're broad and fairly obvious, but charming nonetheless. In this piece he mashes up the drip paintings of Jackson Pollock with one of Rob Pruitt's panda diptychs to create a glitter-infused riff on art history.
NINA CHANEL ABNEY
Kravets Wehby Gallery (New York)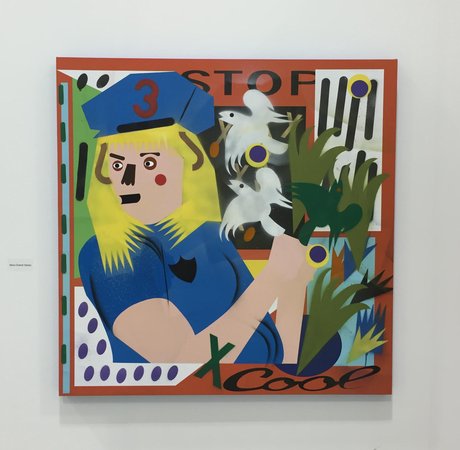 A celebrity since the Rubells bought her 2007 Parsons thesis painting after seeing it in a photograph (it depicted her white art-school classmates as black prison inmates, and herself as the blond warden with a machine gun), Nina Chanel Abney keeps using her brush to probe the tenderest points of race relations. In the process she has developed into an artist of bravura and visionary ability, one who is able to knock you out with a portrait or a giant history-painting tableaux. Watch out for her: she's destined for great things. 
ANOKA FARUQEE
Koenig & Clinton (New York)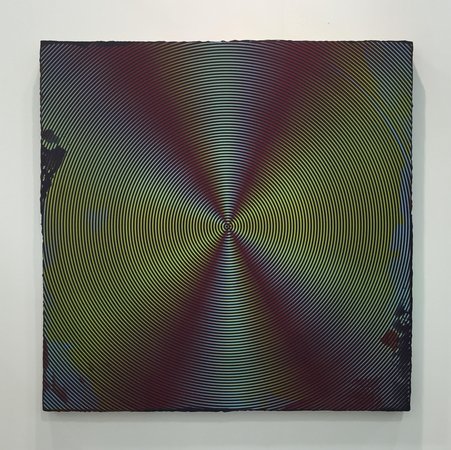 A meticulous and methodical painter, Anoka Faruqee uses a variety of "combs" to lay paint down onto canvas, dragging them around to create perfect concentric circles and layers of different colors. The result is hypnotic, a bit like the Magic Eye posters you had up in your dorm room at college but infinitely more sophisticated—and speaking of higher education, Faruqee just took over the head of the Yale MFA program's paintings department from Rochelle Feinstein.
JOHN WESLEY
Fredericks & Freiser (New York)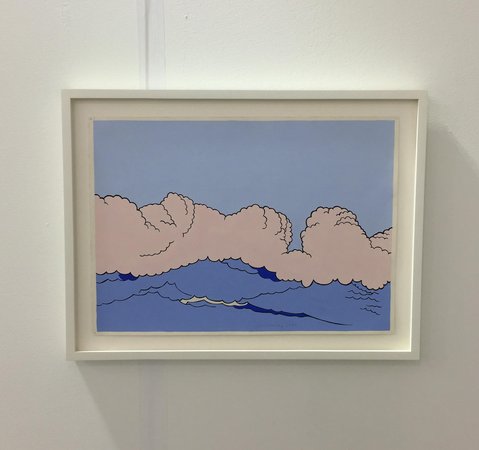 You know him, you love him: John Wesley, homegrown surrealist, elevator of Dagwood Bumstead, perverse poet of the American dream. This seascape looks like a lovely morning off the Miami coast, all pinks and blues, until you pause and think, "Why is that pink cloud creeping toward me across the water? Aren't those usually in the sky?" Suddenly, you're in John Carpenter's 1980 horror flick The Fog.
AUSTIN LEE 
Postmasters (New York)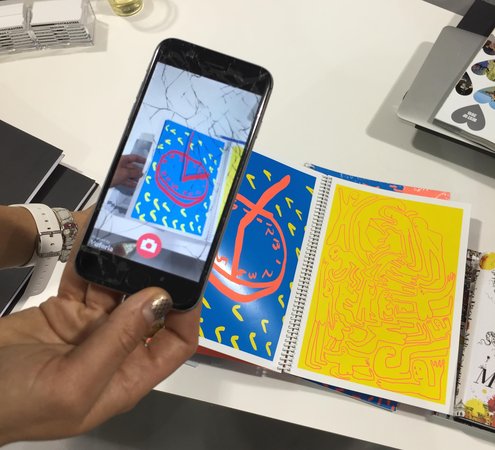 The cartoon-inspired digital savant artist Austin Lee will never be confused with Velázquez, but he's making painting do new and unusual things. He's made paintings jump off the walls and literally walk away (as cutouts), he's painted paintings on top of paintings on the wall, he's casually split giant portraits across multiple panels (see photo at top), and now he's pairing paintings with apps. At Untitled, he had a spiral-bound book of his work ($20) that, when viewed through a downloadable app, made the compositions dance, flicker, and do naughty things in three dimensions. 
ALAIN SÉCHAS
Galerie Laurent Godin (Paris)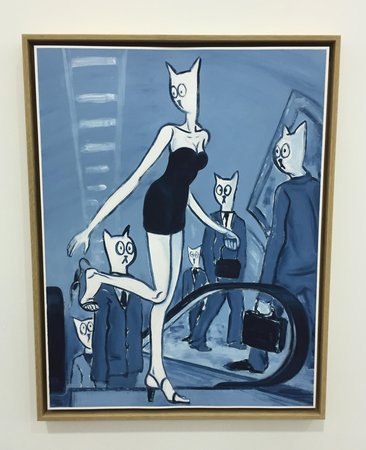 The cat people are coming! And they have been for quite some time in the work of the Colombian-born French painter Alain Séchas, who paints continually befuddled-looking felines as they navigate quirky everyday scenarios. His purring protagonists embody a kind of existential anomie, but they require the cuteness factor to capture attention. See one (or seven) of these and you think, "Who is this artist? How droll." See a hundred and it's more, "Hmm"—kind of like the bronze hares of the Welsh sculptor Barry Flanegan, but with kitties!
ADRIANA MINOLITI
Diablo Rosso (Panama)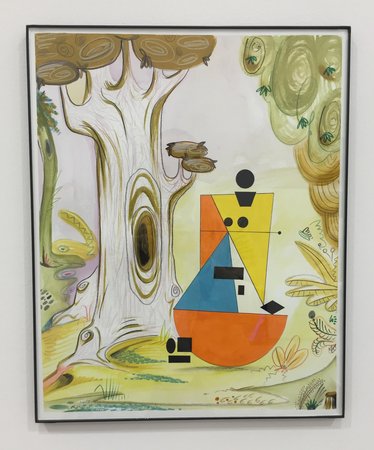 An artist whose work arises from hard thinking about gender politics, Adriana Minoliti aims to find a place for resistance in the gap between realism and geometric abstraction (with the former being the embodied world and the latter being the realm of pure mind). In her work, the woods also represent a zone of libidinal freedom and exploration, à la "A Midsummer's Night's Dream." In this extremely appealing piece, Minolitti fuses these themes with a scene that looks as if a Russian émigré had joined Chuck E. Jones's studio at Warner Bros. and peopled a Looney Tunes vignette with Constructivist art.
YARA PINA
Gallery Nosco (London)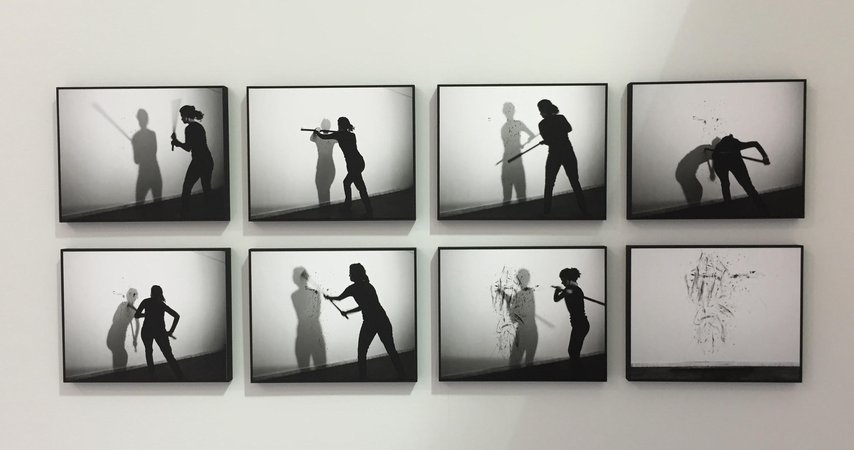 Following in the footsteps of the great Helena Almeida and Ana Mendieta, the Brazilian artist Yara Pina creates performative works that document their own making by leaving a trace on the surrounding environment. In this piece she takes a club to her shadow, brutally engaging in a homemade form of psychotherapy—with the last frame showing the not-so-bad result.
HOWARD KANOVITZ
Eric Firestone Gallery (East Hampton)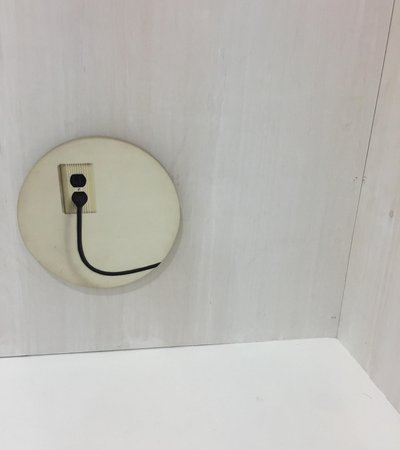 How coy, this tiny painting discreetly tucked into the corner of Eric Firestone Gallery's booth. Is it by some young artist, pepped on jimmies from art school and looking to destabilize the viewer's expectations of the painterly medium in our digital era? No, it's actually by Howard Kanovitz, a onetime assistant of Franz Kline's who became a pioneer of American photorealist painting before passing away at age 80 in 2009. This piece is, in fact, from 1971.