If the artworks are the preening, spotlit stars of an art fair, then the design pieces—tables, chairs, the rare couch—that dealers bring to their booths are the character actors: sturdy, comfortably familiar, and just exciting enough to keep the pace without distracting from the plot. And just like any director, dealers agonize over their casting decisions for these supporting roles. Should I bring the same lineup again? How little can I get away with spending? Will it go with my dress (and should I wear such a bright floral dress anyway)? Then again, some dealers, in the vein of John Ford or Orson Welles, have a repertory stable that follows them from fair to fair, so they don't need to think about it.
At the Paris fairs, a few things could be observed vis à vis this décor. Typically, the fancier the gallery, the fancier the furniture—but there were some disarming exceptions. (Look out for the Room & Board cameo.) At Officielle, galleries had nice, convincing knockoffs available for cheap (about €300, compared to $50 per piece per day at a New York fair), and most of the younger galleries took advantage. At FIAC, the fair-provided furniture was surprisingly shoddy—a fact cast into further relief by its grand architectural context. Then again, most galleries there brought their own.
Here is a survey of furniture at the fairs.
Rachel Uffner at Officielle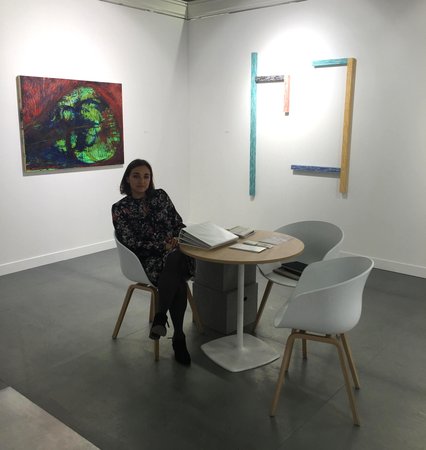 Not quite Eames chairs, these elegant pieces of Ersatz did the trick—and allowed the art's personality to shine.


Gallery 8+4 at Officielle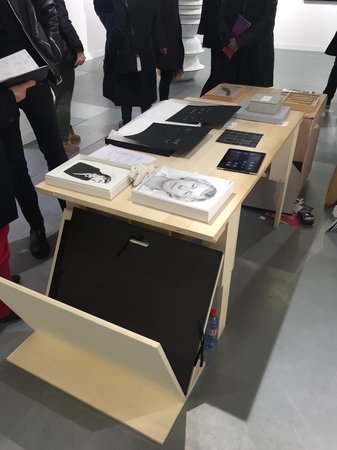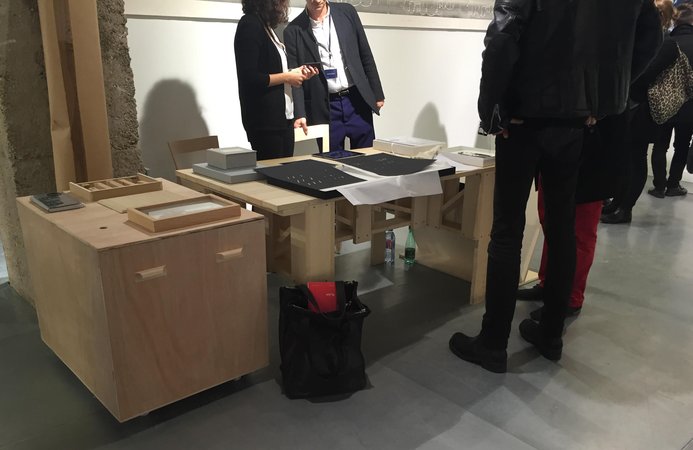 Gallery 8+4 decided to go a little more high-concept with a table designed by the Italian "open-source" Modernist designer Enzo Mari. The way it works is as follows: you buy a book of his sketches, source wood to his specifications, and build it yourself, kind of like an Ikea kit without the prefab kit, only the instructions. The dealers abutted this sturdy little desk, which they use in the gallery, with a side table by a friend and two chairs by François Azambourg.


Peter Freeman Gallery at FIAC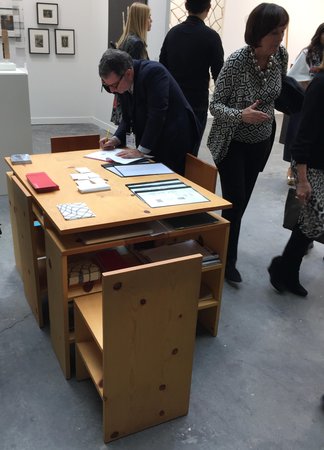 Peter Freeman is a devotee to the designs of Donald Judd (his ex-wife used to work with the estate), using a Judd desk and coffee table in his gallery and porting the same Judd desk to every fair, season after season. "It's beat to hell because we've been traveling with it for all these years, but it just works," Freeman explains.


Metro Pictures at FIAC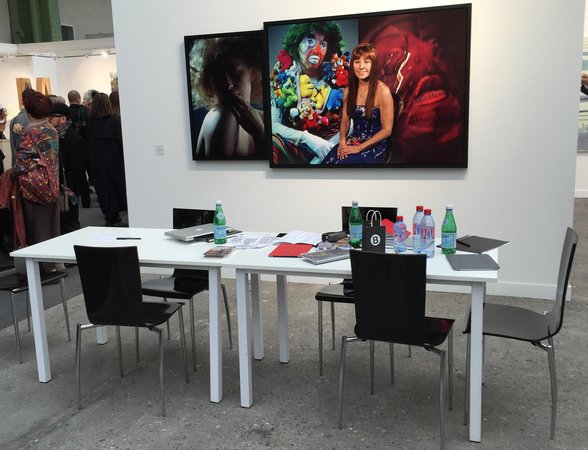 This year Metro Pictures decided to rent furniture from FIAC, and the serviceable tables were fine—but the plastic, arachnid-legged chairs left something to be desired among the dealers. Told of Peter Freeman's beat-up Judd table, one murmured wistfully, "What's more charming than that?"


Sadie Coles HQ at FIAC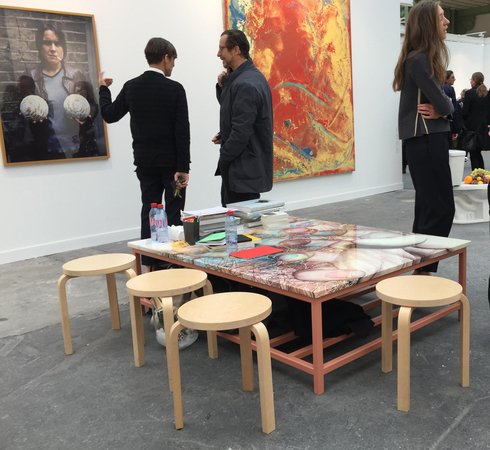 Urs Fischer table, Alvar Aalto chairs. C'est chic, no?


Air de Paris at FIAC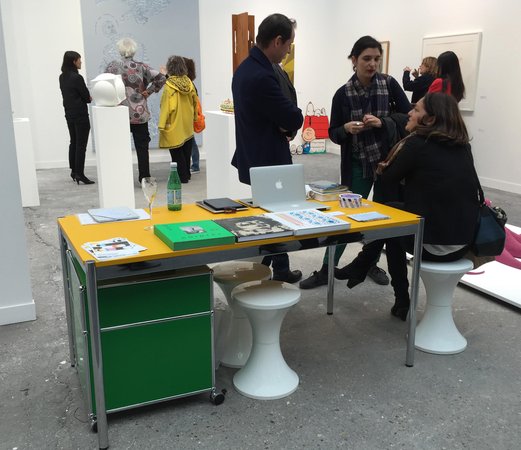 While the dealers at Air de Paris couldn't remember the exact name of the Swiss design collective that made their table (it was something like "CSM"), they praised it as "very functional and useful" for fairs. Before they would always bring Guyton/Walker sculpture/furniture to these kinds of events, but eventually they sold all the editions; this was the second appearance of the new table, following this summer's Art Basel.


White Cube at FIAC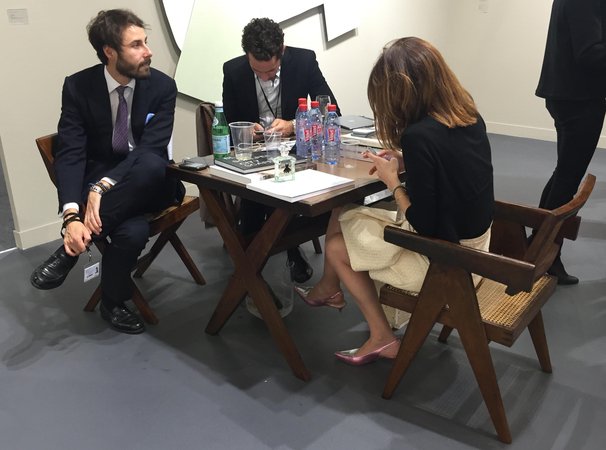 Two days before the vernissage, White Cube paid a visit to the legendary design dealer Patrick Seguin to buy these Pierre Jeanneret pieces from the Modernist architectural utopian in India's Chandigarh. The chairs came from that city's university and main library, the table from its city hall.


Van de Weghe Gallery at FIAC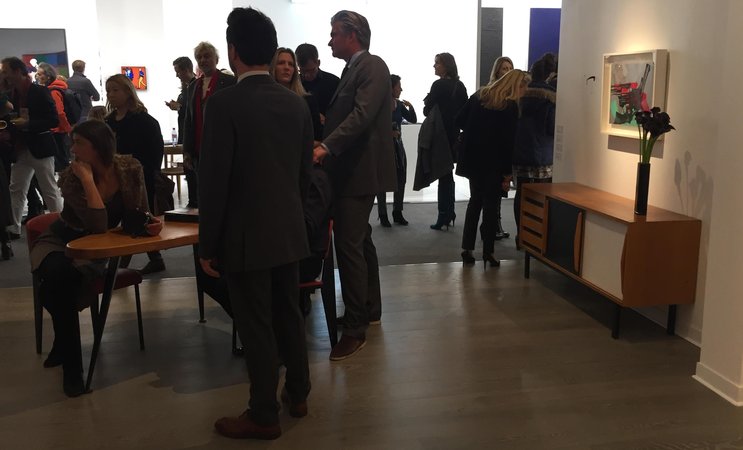 More treasures from Seguin's famous design stable could be found at Van de Weghe, where a Prouve desk and Charlotte Perriand table from the gallery's collection furnished the ne plus ultra of early-20th-century refinement. "Usually we have older artworks, but these are oldest pieces in the booth," said Christophe Van de Weghe.

Luhring Augustine at FIAC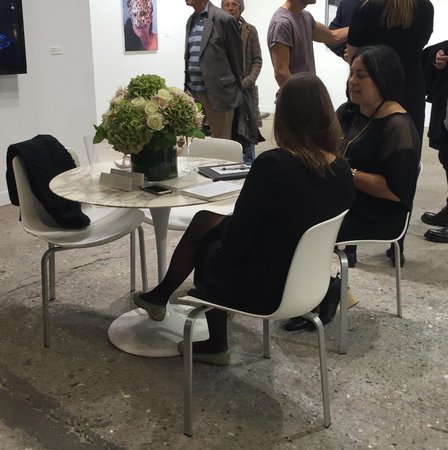 The good folks at Lurhring Augustine have excellent taste—in fact, they hosted a dinner at Seguin's Paris home to celebrate with their longtime collaborator—but here they opted for a more practical route, bringing some Poul Kjaerholm design produced through the Republic of Fritz Hansen. The chair and table set is their European warhorse, shuttling each year between Basel and FIAC.


Matthew Marks at FIAC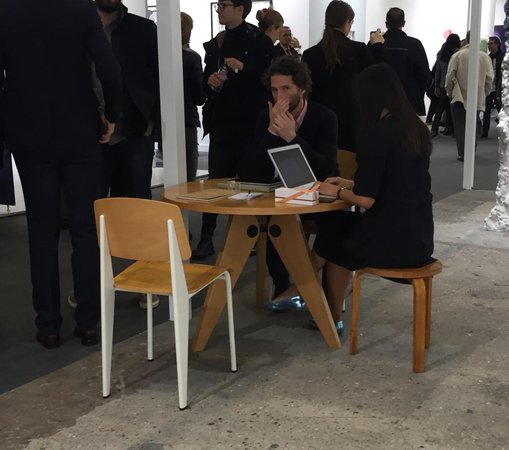 A Prouvé chair from Design Within Reach and a vintage Aalto stool set a low-key vibe at Matthew Marks.


Eva Presenhuber at FIAC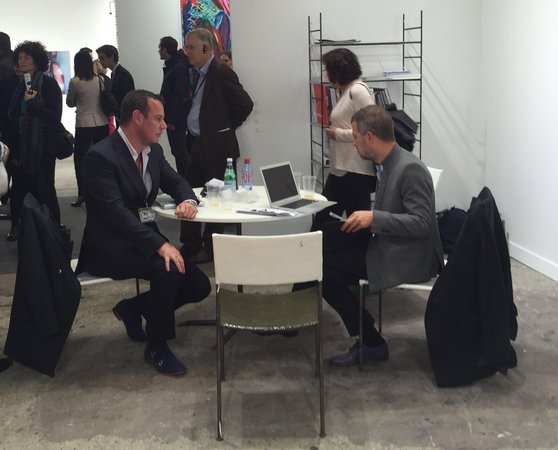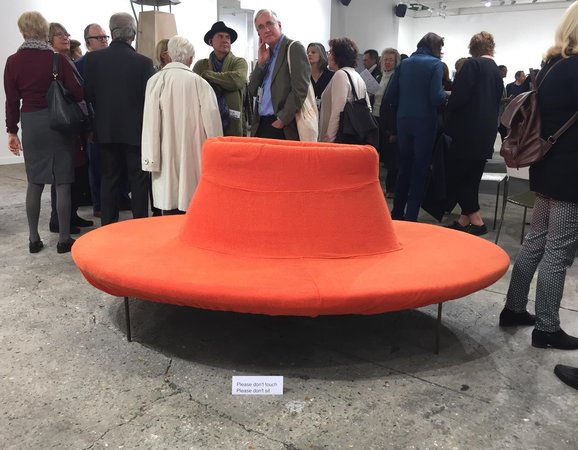 Some of the Franz West designs at Eva Presenhuber's booth were functional, like the chairs, table, and bookshelf where the dealers were working away; the orange couch that was the centerpiece of the display, however, was art, pure and simple. "We often take Franz West furniture to fairs, because it's very comfortable," said one dealer, who explained that the artist designated certain of his designs to be reproduced as furniture editions after his death.

Elvira Gonzalez at FIAC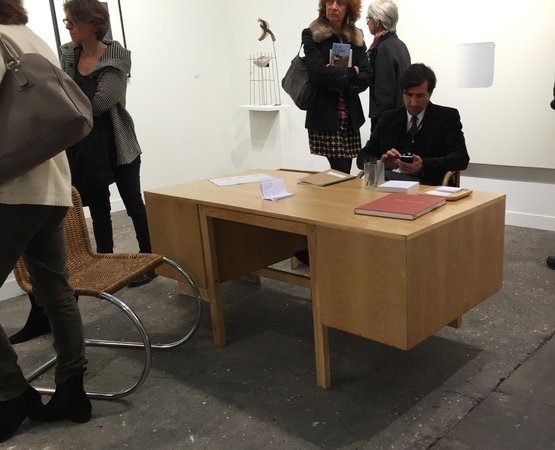 Marcel Breuer chairs and desk: smart and classic.
Nahmad Contemporary at FIAC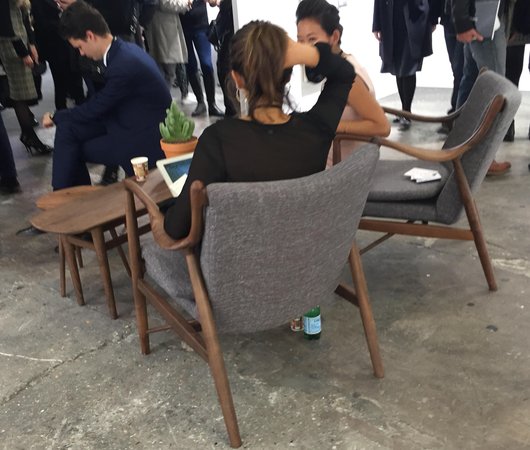 Brazilian Modernism is one of the most elegant strains of 20th-century design, and Nahmad Contemporary is one of the wealthiest galleries in the world. Its owners know the virtues of thrift and practicality, however. These pieces were from Room & Board.


Annely Juda at FIAC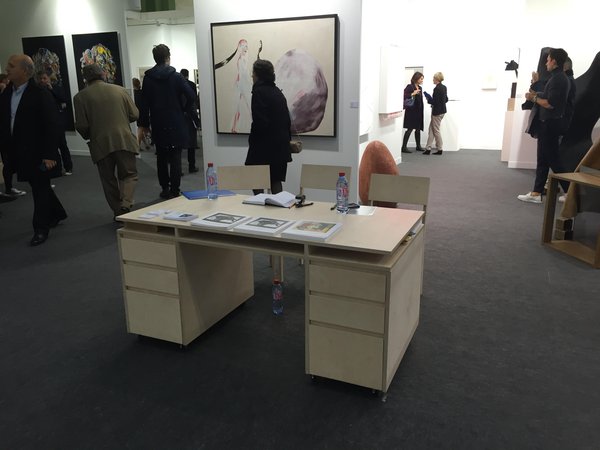 This "relatively new" table by Katsuhito Nishikawa is "completely what the gallery is—it's practical, it's not too fancy, it suits our aesthetic quite well," said one dealer. "We're not fancy, schmancy."


Thomas Zander at FIAC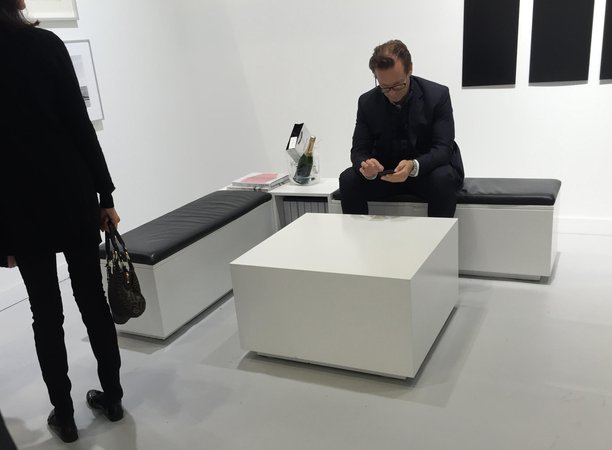 If you want something done right, do it yourself. "We need something that can store a lot of things," says Thomas Zander. "So many years ago we designed these pieces ourselves. There are books hidden everywhere." Form, once again, follows function.