Currently on view at the Institute of Contemporary Art/Boston is "ICA Collection: New Acquisitions," which showcases work added to the museum's collection within the last three years. "Dating from the 1970s to the present, the works on view focus on the use of language as a material in art, the vulnerability of the human body, and the ability of artworks to shape-shift, taking on the character of architecture, décor, or found objects," according to the press release. If there's one thing that suggests an artist's market value is quickly on the rise, it's the inclusion of their work into a museum's collection—an act that decidedly marks the artist's contribution to art history as significant. Here you'll find works by artists featured in the ICA's "New Acquisitions" show—get 'em while they're hot!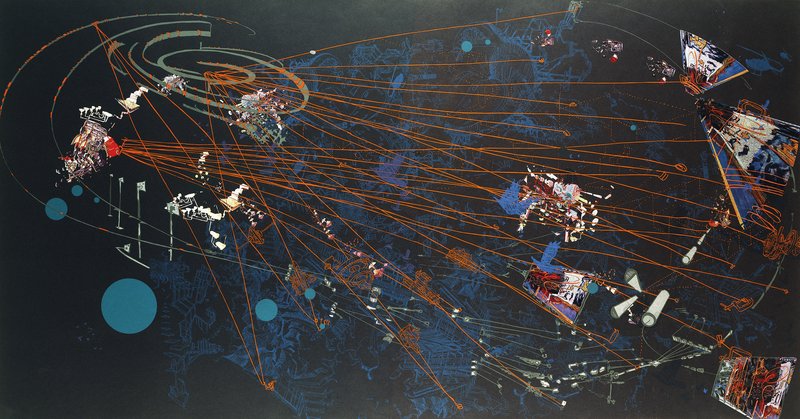 In one corner of the rectangular gallery is Sarah Sze's Hidden Relief (2001), an installation that divides the space with a mesmerizing web of tape, string, lights, and rulers. The Boston native represented the United States in the 2013 Venice Biennale, where she created the installation Triple Point that alluded to various scientific and natural processes, transforming the American Pavilion into a playful laboratory of sorts. Her work has been featured in numerous prestigious cultural institutions, including the Foundation Cartier pour l'art contemporain in Paris, the Museum of Contemporary Art in Chicago, the Sao Paulo Biennial, the Walker Art Center in Minneapolis, the Asia Society Museum in New York, and the Fabric Workshop and Museum in Philadelphia. Of this large-scale offset lithograph and silkscreen print (pictured above), Sarah Sze has said, this work "investigates movement, disintegration, and disorientation. Here I wanted to enter a two-dimensional frame and find a location that is entropic, fragmenting, spinning, and adrift. [This drawing] frames a fragment of a larger system that could potentially expand beyond the frame. It starts from an exploration of atmosphere, fleeting situations, and environments with a specific kind of weather."
SOPHIE CALLE
Attendez-moi/Wait for me, 2013
$500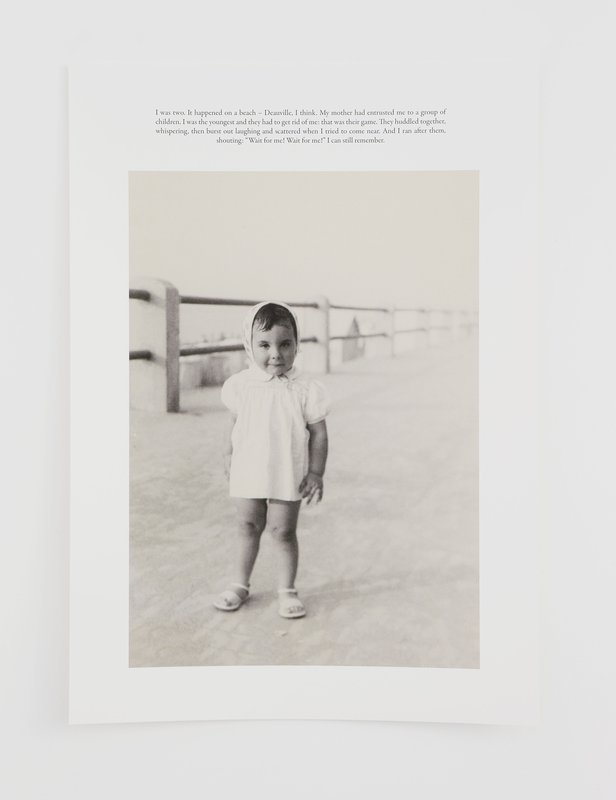 Recently acquired by the ICA/Boston is The Doctor's Daughter (La filled du docteur) (1991), a photograph from Sophie Calle's larger project by the same title that explores a fictional character named Sophie (played by Calle), the daughter of a doctor, who grows up to become a striptease artist. "Most closely associated with conceptual art," states ICA/Boston, "Calle employs provocative methods… to investigate subjects such as identity and intimacy. She is well known for her voyeuristic and detective-like projects, which have featured others', and, several times, her own, life in its emotional and psychological dimensions. In her documentation and presentation of these performances, she often uses text and photography in ways that redefine notions of truth, fiction, and narrative." Attendez-moi/Wait for me (pictured above), shows Calle as a toddler and recounts an early memory. (See the "About the Work" section to read Calle's memory.)
WILLIAM POPE.L
The Hug, 2015
$15,00 or as low as $1319/month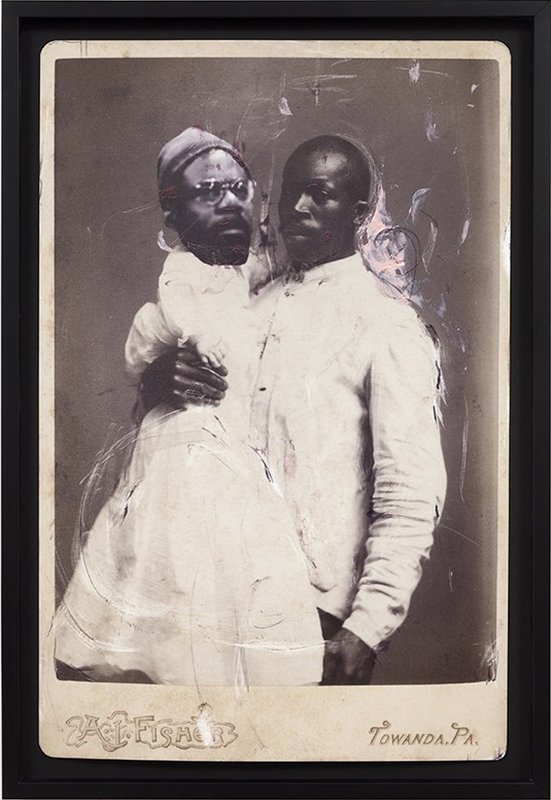 A poet and performance artist of astonishing power, William Pope.L has devoured and regurgitated the Wall Street Journal, crawled 22 miles in a Superman costume, and sent a truck called the Black Factory around the United States to spread promotional materials, books, and artifacts related to the African American experience. In 2012 Pope.L received the Joyce Foundation Award, and has had recent solo exhibitions at the Museum of Contemporary Art Los Angeles, Galerie Catherine Bastide in Brussels, Littman Gallery at Portland State University, Mitchell-Innes & Nash in New York, and The Renaissance Society in Chicago. Collect the artist's C-print photograph on fiber silk paper, The Hug, characteristic of the artist's investigations into the politics of race and identity.
KEITH SONNIER
Meridian Codex One, 1992
$3,500 or as low as $308/month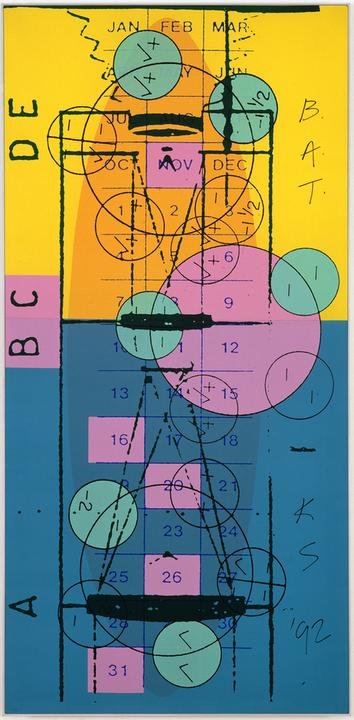 The first artwork by postminimalist artist Keith Sonnier just recently entered the ICA/Boston's collection, entitled Depose II (1997). Sonnier came up in the downtown New York scene of the 1960s with the likes of Eva Hesse, Barry Le Va, Jackie Winsor, and Richard Tuttle—artists who rejected the industrial, geometric strategies of Minimalism in favor of a process-oriented approach. Although Sonnier studied painting, his oeuvre involves a combination of sculpture, painting, and printmaking—all three of which can be seen in Meridian Codex One (pictured above).
JENNY HOLZER
20 Inflammatory Essays - Documenta Set, 1982
$8,000 for 20 offset lithographs, or as low as $704/month
"Hand on Your Breast Can Keep Your Heart Beating" reads Jenny Holzer's red granite bench, recently acquired by the ICA/Boston thanks to a gift from The Barbara Lee Collection of Art by Women. "Rooted in conceptual art, semiotics, and feminism, [Holzer's] text-based works engage spectators in fundamental questions: Who is speaking? Where does this text come from? What does it mean? Answers, however, remain productively elusive," states the ICA/Boston. This couldn't be more accurate of Holzer's truism "Abuse of Power Comes as No Surprise," which has become endlessly sharable as a powerful slogan for the #metoo movement as of late. Read more of Holzer's powerful words that punch straight for the gut, in 20 Inflammatory Essays - Documenta Set—a suite of twenty offset lithographs. At $400 a pop, this suite is a steal. Hang the suite in a grid on a large wall or down a hallway—or divvy them up as gifts for your fiercest of friends.
RELATED ARTICLES:
8 Artists Recently Acquired By the MoMA to Add to Your Collection