Four reasons to collect Nina Chanel Abney :
1. In the words of the artist, Abney's work is "easy to swallow, hard to digest." The young Black American painter uses symbols to explore race, pop culture, and politics in her work.
2. Yesterday Abney's solo show opened at Mary Boone Gallery, curated by Piper Marshall and in collaboration with Jack Shainman Gallery. The exhibition entitled "Safe House" offers "sincere portrayals that counter how black life is represented in the mainstream media."
3. Four of Abney's paintings were included in "30 Americans"—an exhibition of "works by many of the most important African-American artists of the last three decades" organized by the Rubell Family Collection. The famed collectors bought her now-celebrated piece Class of 2007 after just seeing a photograph of it at the artist's MFA thesis show at Parsons.
4. Abney was featured in Vanity Fair. The headline was "How Nina Chanel Abney Is Championing the Black Lives Matter Movement with a Paintbrush." Abney's geometric compositions often include police officers in sky-blue uniforms restraining black bodies and shouting in black faces, "a playfully ferocious effort to keep the Black Lives Matter life raft afloat while bringing some much-need excitement to Chelsea," says Vanity Fair.
5. Abney has shown her work at the Whitney, Jack Shaman Gallery, and Cravats Wehby Gallery in Chelsea. This past February, at the age of 35, the artist had her first solo exhibition in a museum at the Nasher Museum of Art at Duke University in Durham, North Carolina. The exhibition featured roughly 30 paintings and collages by the artist from over the past 10 years.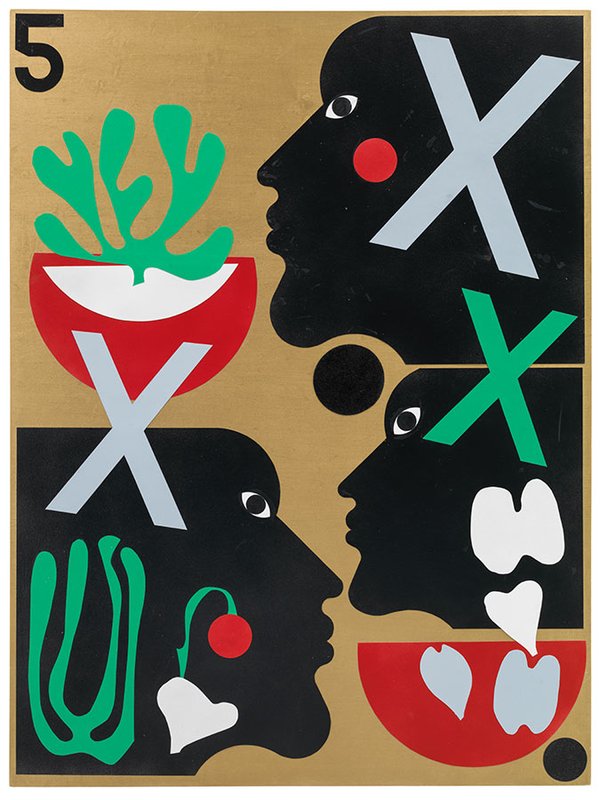 Untitled is available on Artspace for $1,500 or as low as $132/month