Happy birthday, Claude Monet! Monet, who would have been 178 years old today, was one of the founders of French Impressionism, whose loose brushstrokes and light-soaked palettes traded an "objective" point of view for a self-consciously subjective perspective, and "traditional" painting topics for subjects pulled from everyday life. Monet is perhaps best known for his large-scale water lily paintings, which he painted as he was going blind.

Les Nymphéas by Claude Monet (c. 1920-1926), image via Wikimedia
As we learned on the newest season of Great British Bake-Off––which is perhaps the friendliest, least competitive, uplifting baking competition show––Claude Monet's favorite cake was a Gateau Vert, which he would request every year for his birthday. The cake, also known as a Vert-Vert (or "Green-Green") was part of a larger birthday ritual: the male members of Monet's family would compete for the honor of killing woodcocks, small, rare birds with eyes on each side of their heads that allowed them 360-degree vision. According to the blog Plein Aire in Maine, Monet's butler "would present the cooked woodcock at the table, accompanied with a large slice of bread. Monet would remove the innards, spread them on the bread, and eat it." As for the cake, pistachio-flavored Genoise sponge is layered with pistachio marzipan and a touch of kirsh, a cherry-flavored brandy, with crumbled pistachios along the sides, before being iced. Topped with a few pink flowers, the Gateau Vert is strikingly reminiscent of a famous Monet lily pad.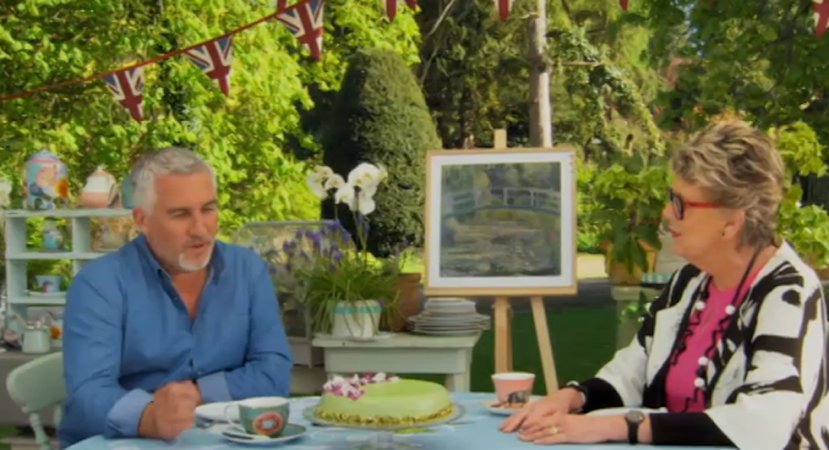 Judges Paul and Prue, image via Metro UK
Judges Prue Leith and Paul Hollywood (known for eyes the color of frozen Blue Glacier Gatorade and whose name was made, perhaps intentionally, for reality TV) asked each Bake-Off contestant to make a Gateau Vert as the technical challenge on episode two, "Cake Week." In a shocking twist, the recipe asked contestants to color the Gateau Vert's shiny green icing with spinach, a flavor is meant to mingle with the cake's pistachio flavor. Co-host Noel Fielding––formerly of The Mighty Boosh––did his regular shtick of being aggressively scandalized by the spinach. (Prior to Bakeoff, Fielding's "thing" was being "Old Gregg," a sea creature/person who he played in blackface while making fun of transmasc genitalia––whatever your critiques of "performative wokeness," we can at least be grateful that this sketch would, in 2018, be rightly pilloried online.)
Ultimately, however, the episode did what the Great British Bake-Off does best: visual ASMR. Soothing us with shots of baby ducks, icing being piped, and British-accented cameraderie, the least competitive baking competition was, as always, the perfect thing to watch before passing out asleep.
RELATED ARTICLES:
Impressionist and Modern Art is Losing Value at Auction––Could This Be a Good Thing?
Trading the Paintbrush for Pastry: Why Many New York Artists Have Been Turning to Food as a Response to Troubling Times
Chef Alice Waters Is Obsessed With Ólafur Elíasson's Studio Kitchen––Here's Why